We are reader supported and may earn a commission when you buy through links on our site.
Learn more
Resistance Kodi Add-on for Spanish Language Content – Install Guide & Overview
The Resistance add-on is a relatively new piece of Kodi software that has some unique content. It is one of the few add-ons that specializes in Spanish-language content. But it can also be interesting to non-Spanish Kodi users. It has, for instance, a rather huge selection of American live IPTV channels. It also has a great selection of movies and TV shows with a mix of Spanish dubbed and subtitled content. The add-on also boasts a great selection of sports content with a strong football bias although there's also some basketball and fitness content. Finally, there's a music section that's full of English and Spanish rock concerts as well as reggae concerts.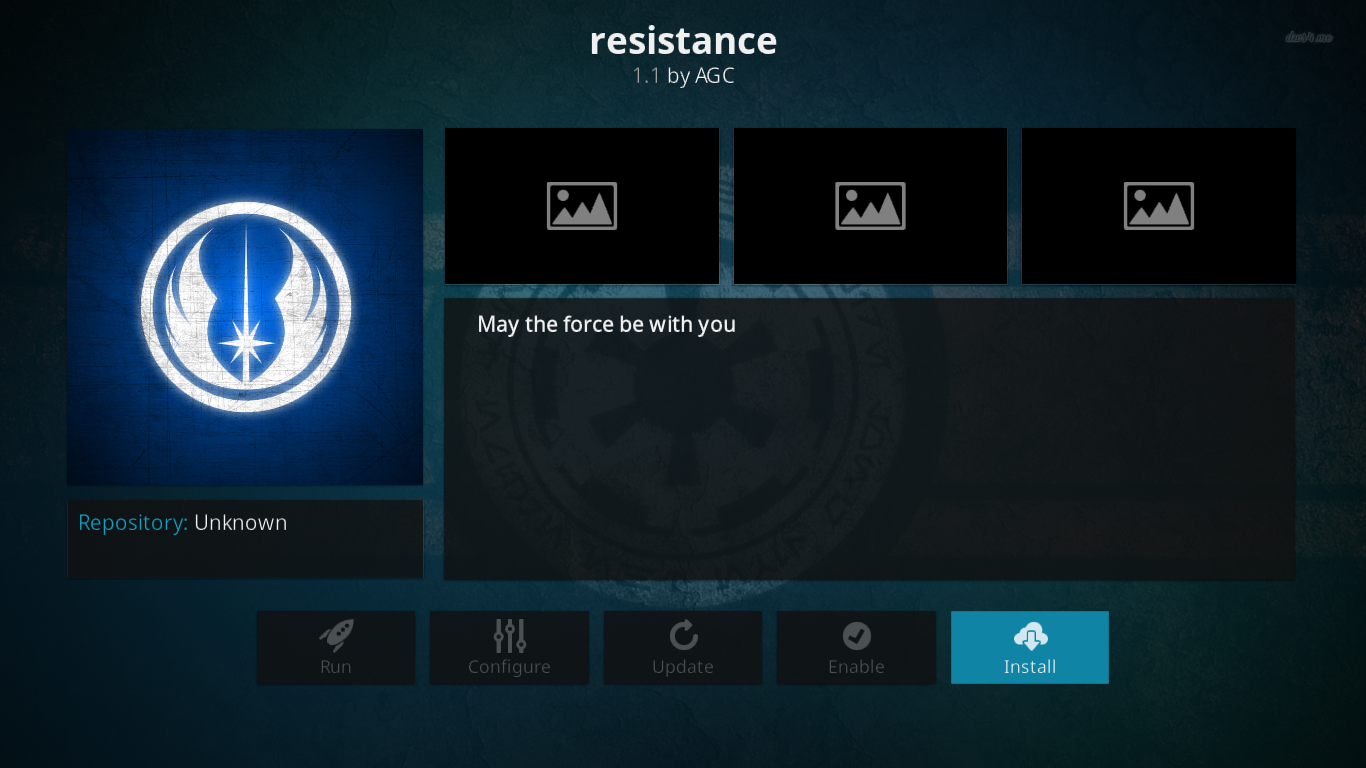 We'll begin our discussion by showing you step-by-step how to download and install the Resistance add-on on Kodi. As you'll see, while the installation requires multiple steps, it is actually not that complicated. And our detailed instructions will ensure you can complete the installation without any issues.
Once we're done installing the add-on, we'll take you on a guided tour of its main features. We'll show you how its user interface operates, translate some of the Spanish menu items and make sure you are comfortable navigating the add-on and finding the content you like.
30-days money back guarantee
For Added Privacy When Using Kodi, Use A VPN
Before streaming any content, you should know that your Internet Service Provider may be monitoring your online activity. They do it to ensure no one is violating their terms and conditions. And when they suspect one of their users are (even wrongfully), they can react by sending them infringement notices, throttling down their speed or even completely interrupting their service. These are all annoyances that we'd rather avoid.
A Virtual Private Network, or VPN, protects your privacy by encrypting all data in and out of your computer or TV box using strong algorithms that make it virtually impossible to crack. Even if someone–like your ISP, an ill-intentioned hacker, or the authorities–was to intercept your traffic, all they'd see is scrambled data. They's have no way of knowing what you were doing or where you were going online.
With so many VPN providers available, choosing the best for your need can seem like an impossible task. There are so many factors one should consider. Among the most important, a fast connection speed will reduce–and sometimes eliminate–buffering, a strict no-logging policy will further protect your privacy, no usage restrictions will let you access any content at full speed and software for multiple devices will ensure the VPN can work with any equipment you own.
The Best VPN For Kodi – IPVanish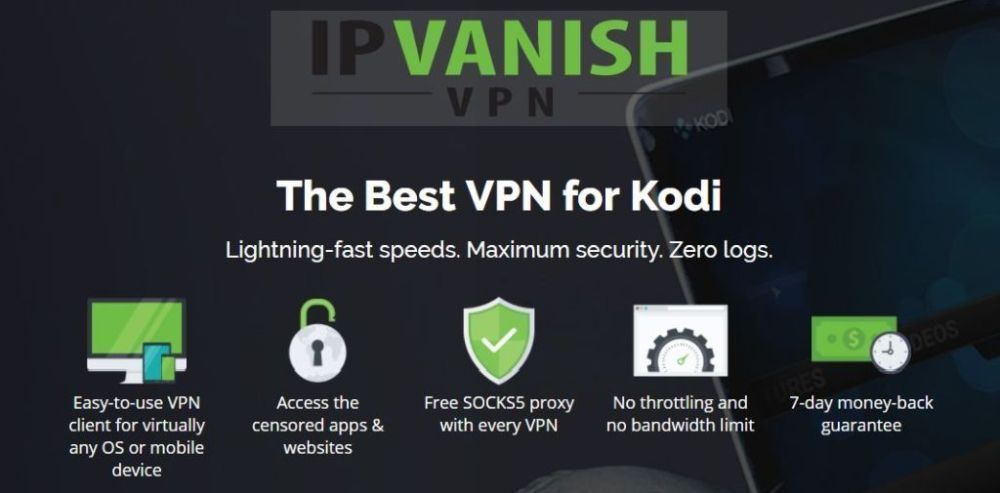 At additcitvetips.com, we've been testing many–if not all–VPN providers. The one we'd recommend with no hesitation for Kodi users is IPVanish. With a worldwide network of hundreds of servers, no speed cap or throttling, unlimited bandwidth, unrestricted traffic, a strict no-logging policy and client software available for all popular platforms, IPVanish meets our criteria and offers excellent performance and impressive value.
IPVanish offers a 7-day money back guarantee which means you have a week to test it risk-free. Please note that Addictive Tips readers can save a massive 60% here on the IPVanish annual plan, taking the monthly price down to only $4.87/mo.
The Resistance Add-on Installation Step-by-step
If you're at all familiar with installing third-party Kodi add-ons from repositories, you'll be on familiar ground with this one. And if you've never done it before, have no worries. If you simply follow our detailed instructions, you should be up-and-running and ready to use the add-on within minutes. There are several steps to the process but each is very short and easy to execute. Let's go!
Enabling Unknown Sources
Before you can install third-party add-ons on Kodi, you must first ensure that Unknown sources are enabled.
From the Kodi Home screen, click the Settings icon. It is the little gear at the top left of the screen.
Then, from the Settings screen, click System settings.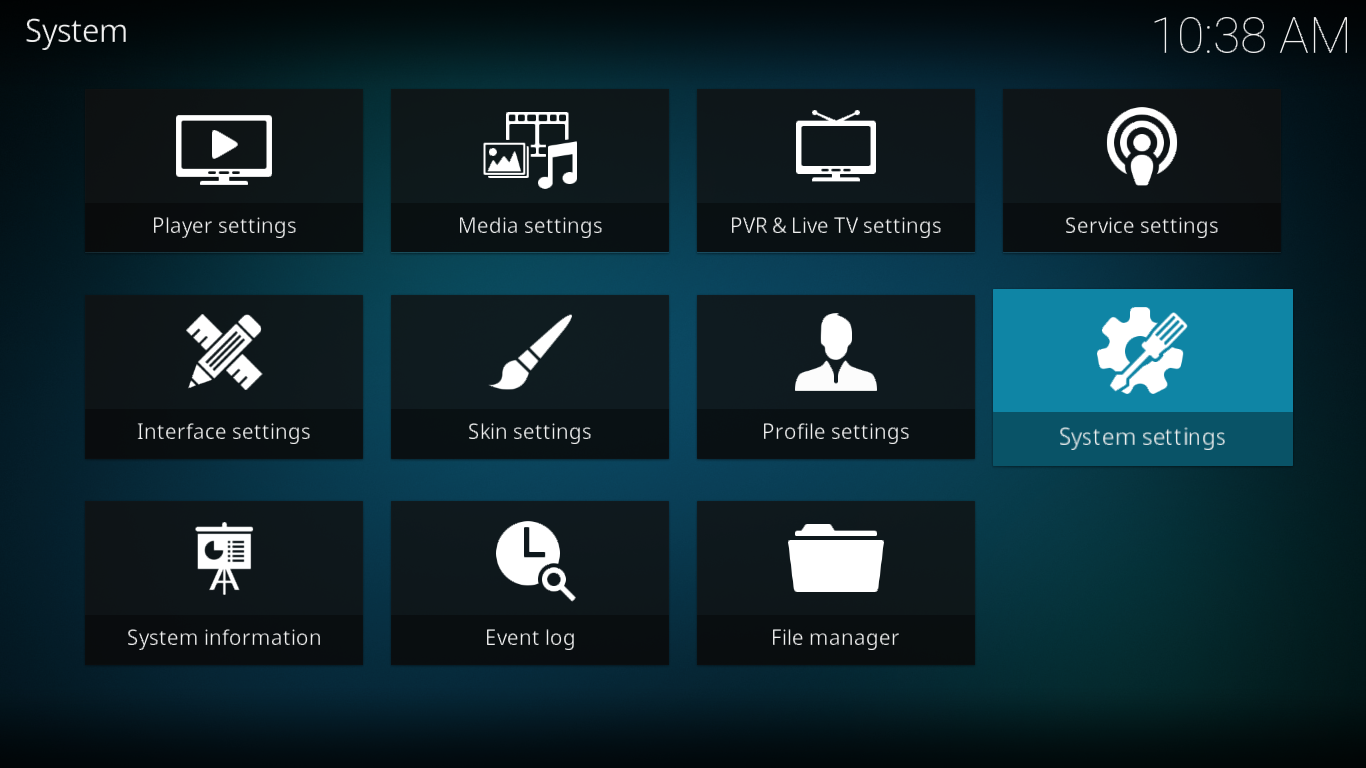 On the System settings screen, click Add-ons on the left side then locate the line that says Enable Unknown sources. Click that line to enable them.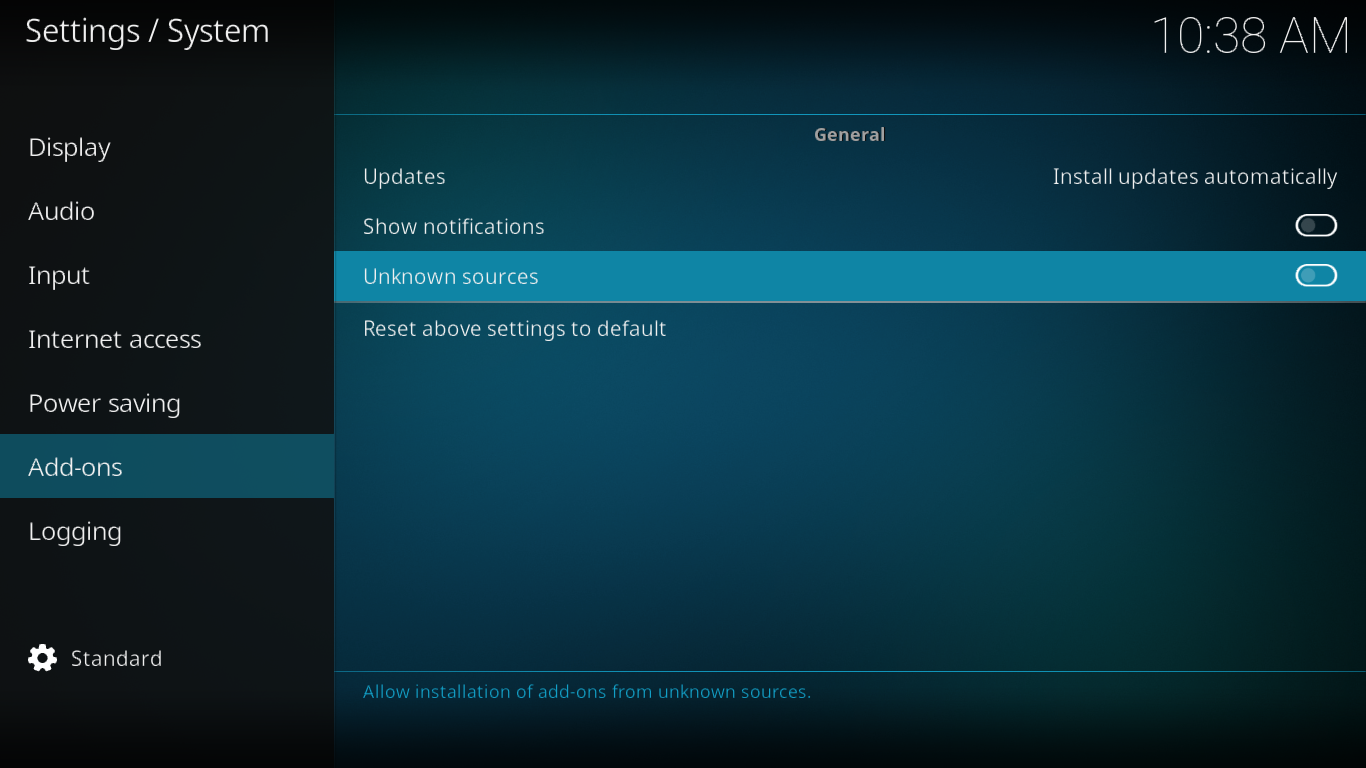 A message box will display a warning. Read it and click Yes to close the box
Adding the Repository Installation Source
Go back to the Kodi Home screen and click the Settings icon once more. This time, though, click File manager.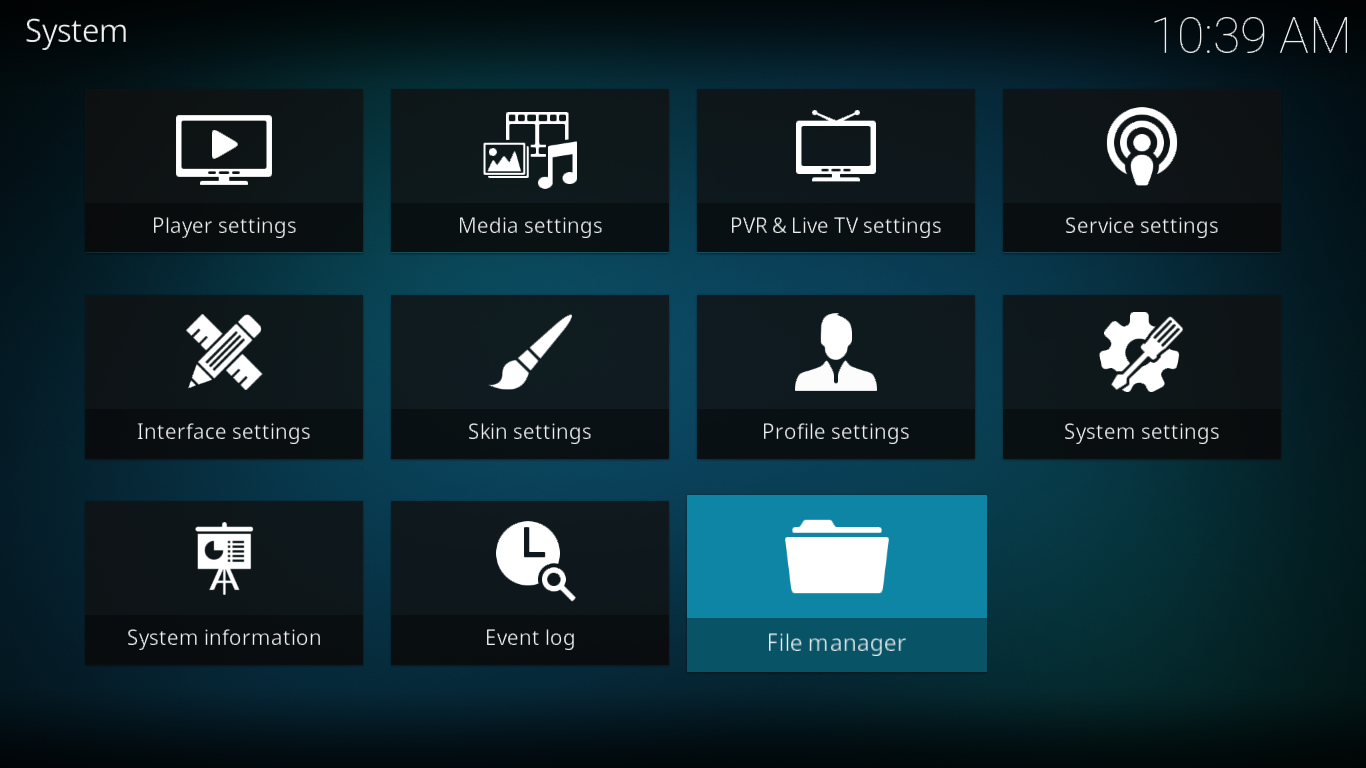 From the File manager screen, double-click Add source on the left side.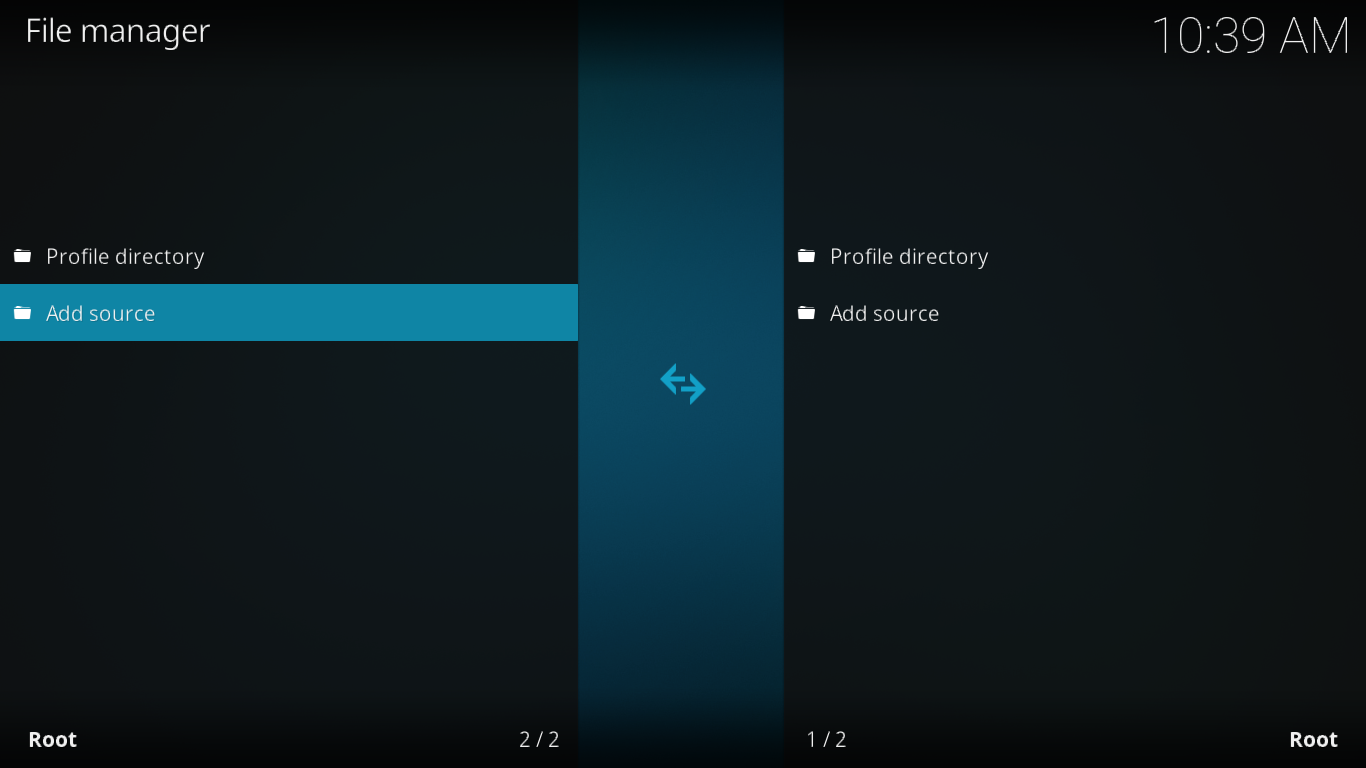 Click <None> and, in the next screen, enter the source's path exactly as follows: https://resistance.es/info/ then click OK.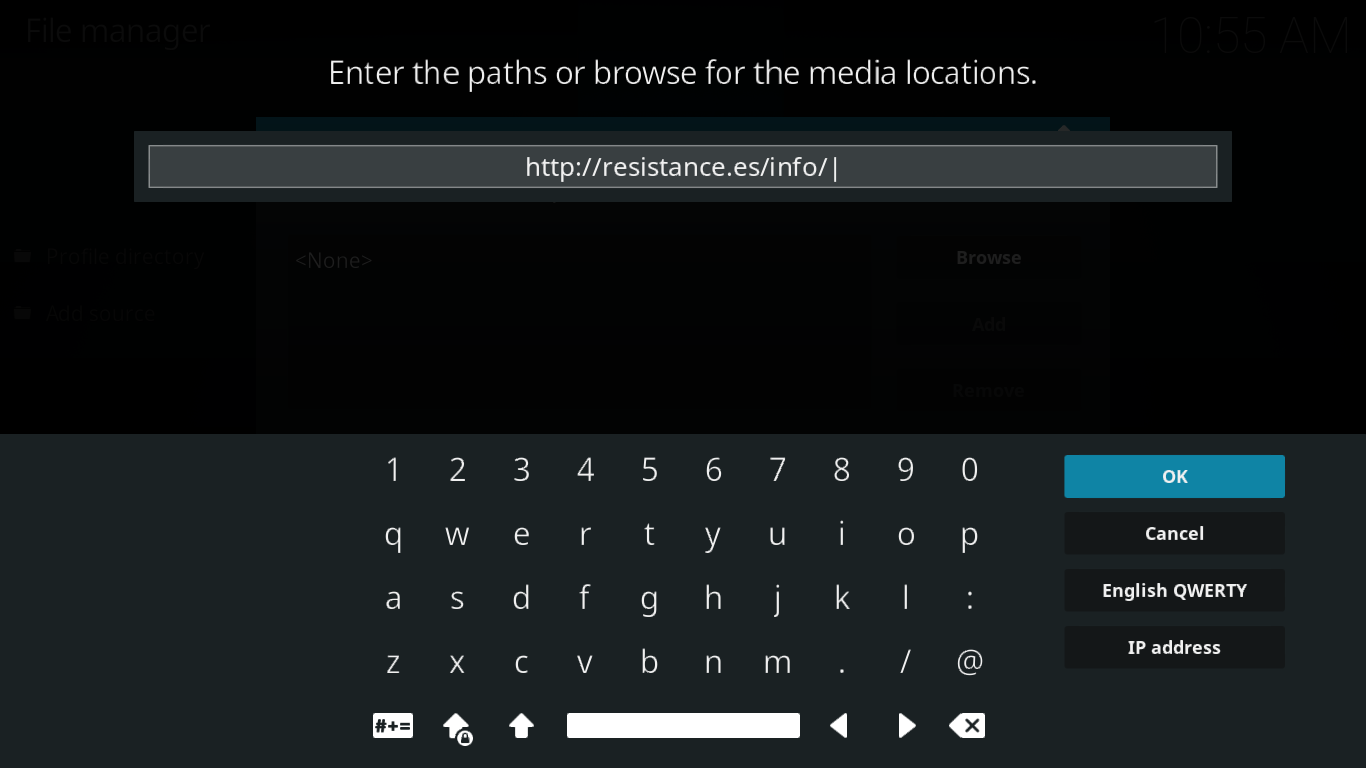 Back to the Add file source screen, click the text box underneath Enter a name for this media source and replace info with Resistance. After all, this is the source for the resistance repository.
Make sure everything looks OK and… click OK to save the new file source.
Installing The Resistance Repository
Back to the Kodi Home screen once more, click Add-ons on the left-side menu. Then, click the Add-on browser icon at the top left of the screen. This one looks like an open box.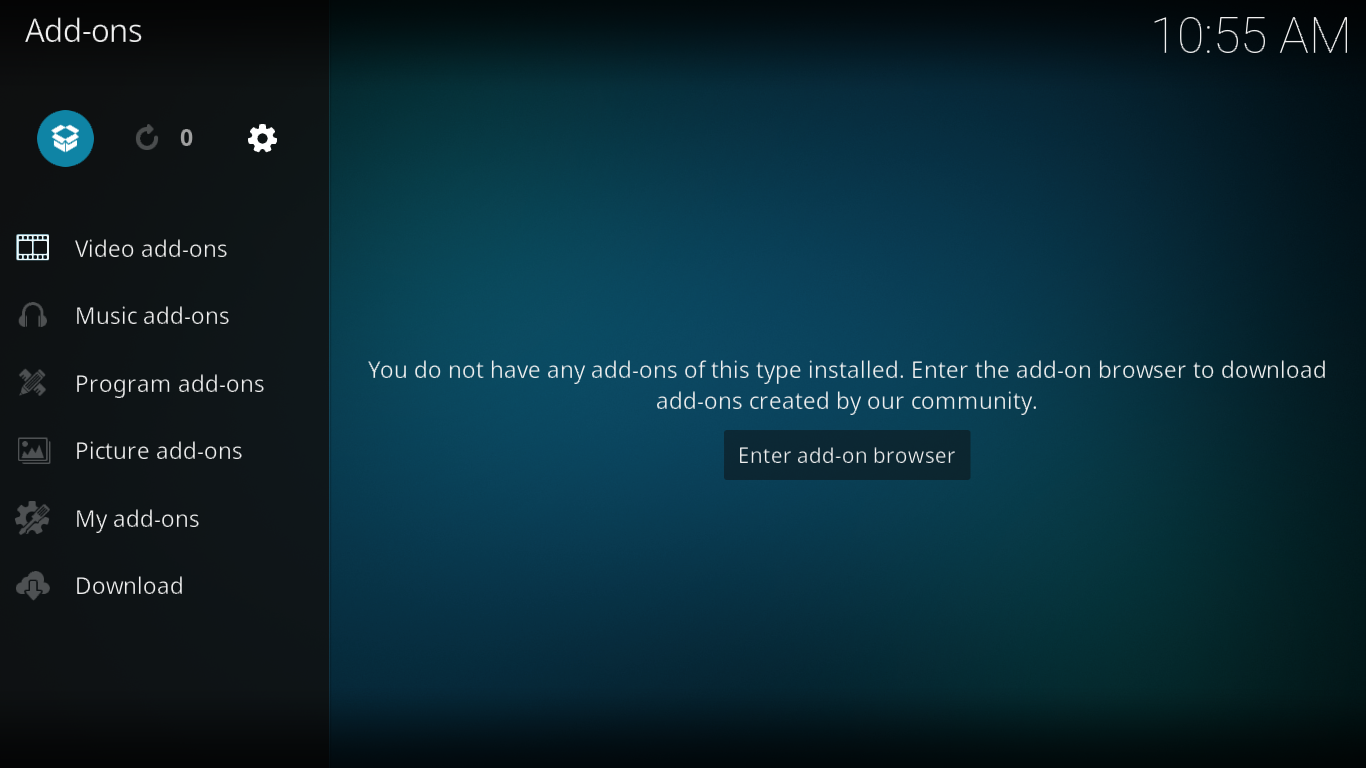 From the add-on browser screen, click install from zip file.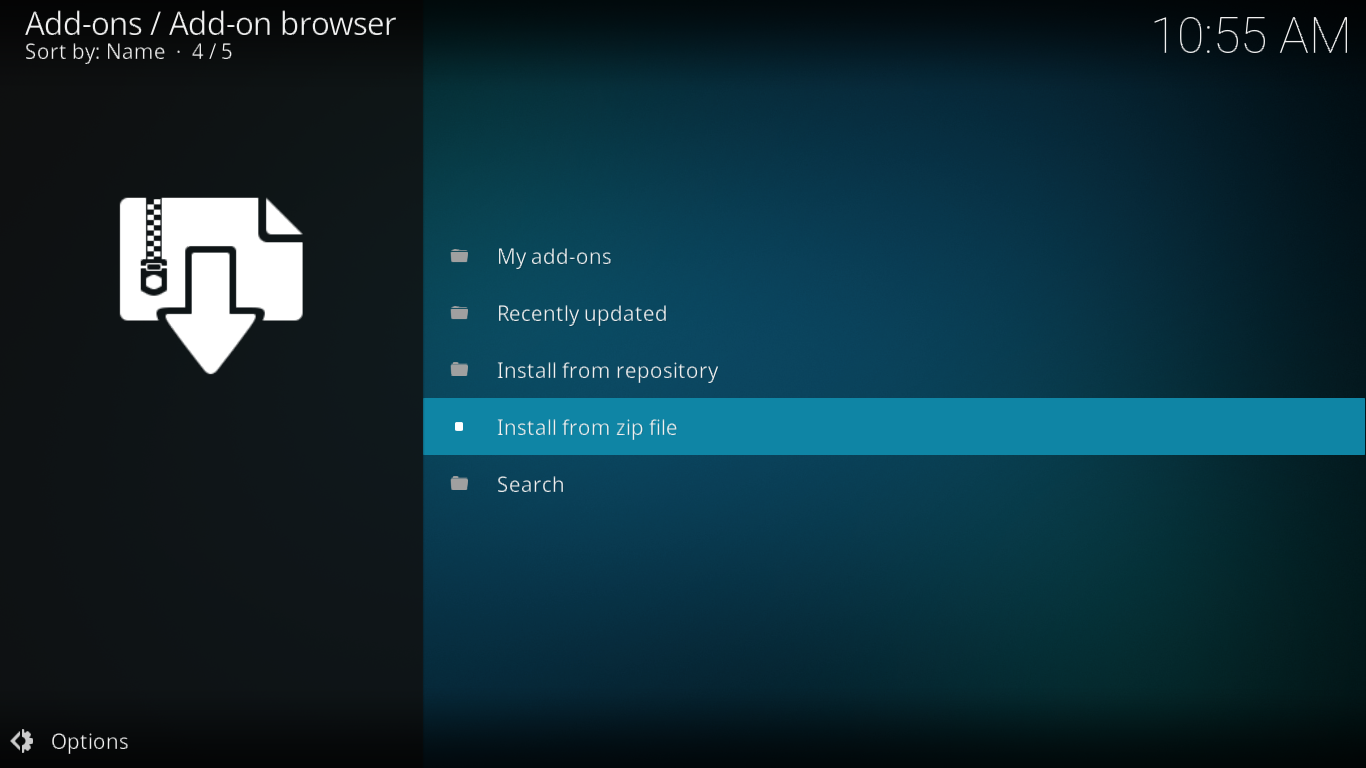 Next, click the Resistance source that we've just added in the previous step and then click the line that says repository.resistance.zip.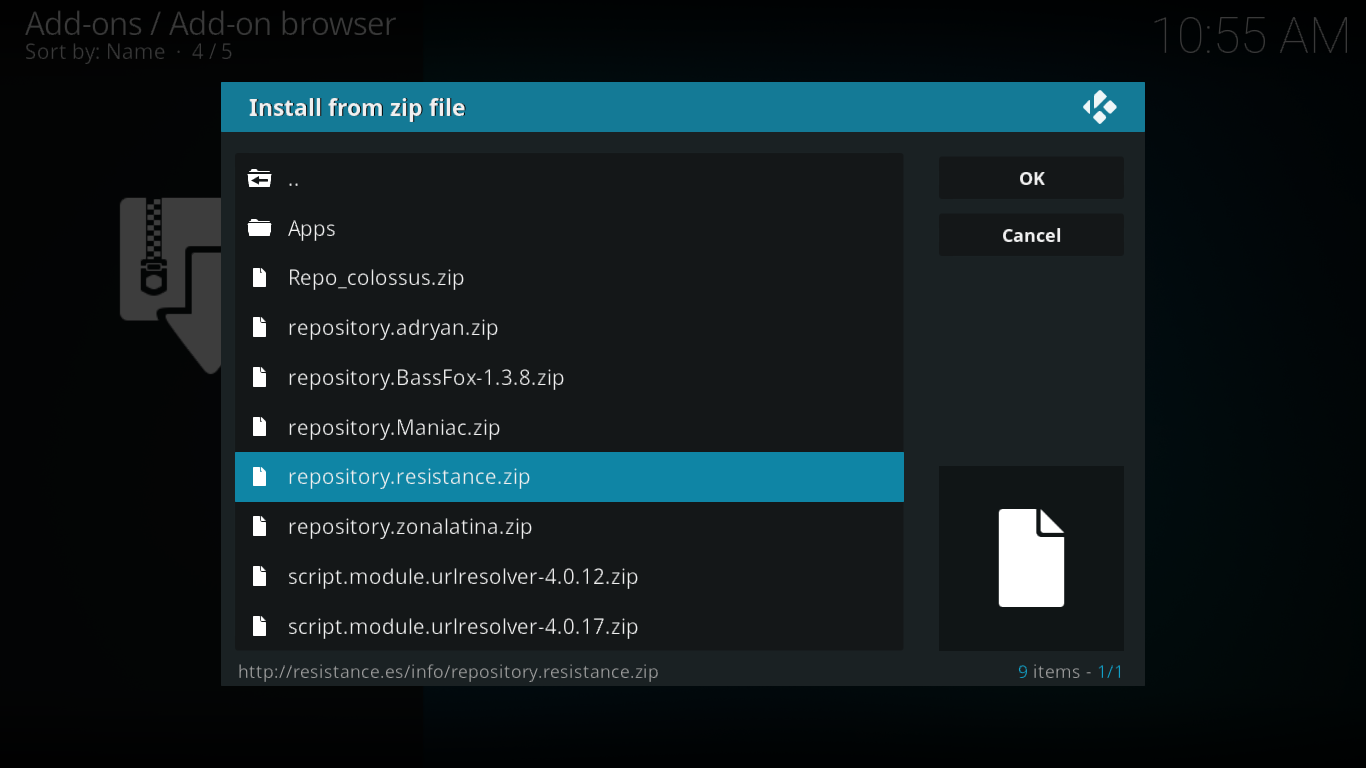 This will launch the installation of the Resistance repository. It should only take a few seconds and be confirmed by a message flashing at the top right of your screen.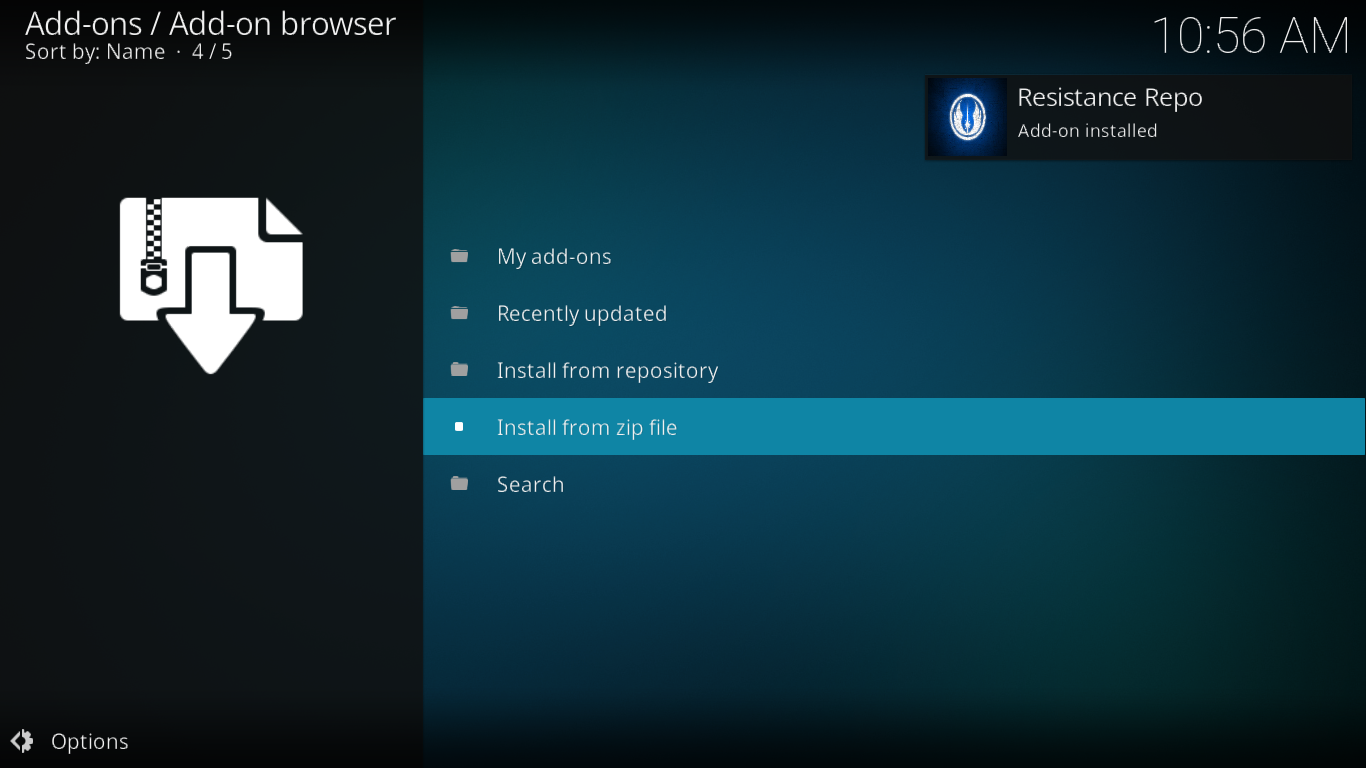 Installing the Resistance Add-on
OK! We've now completed all the preliminary steps and we're ready to proceed with the actual installation of the Resistance add-on. Let's see how it's done.
You should still be on the add-on browser screen from the previous step. Click Install from repository this time.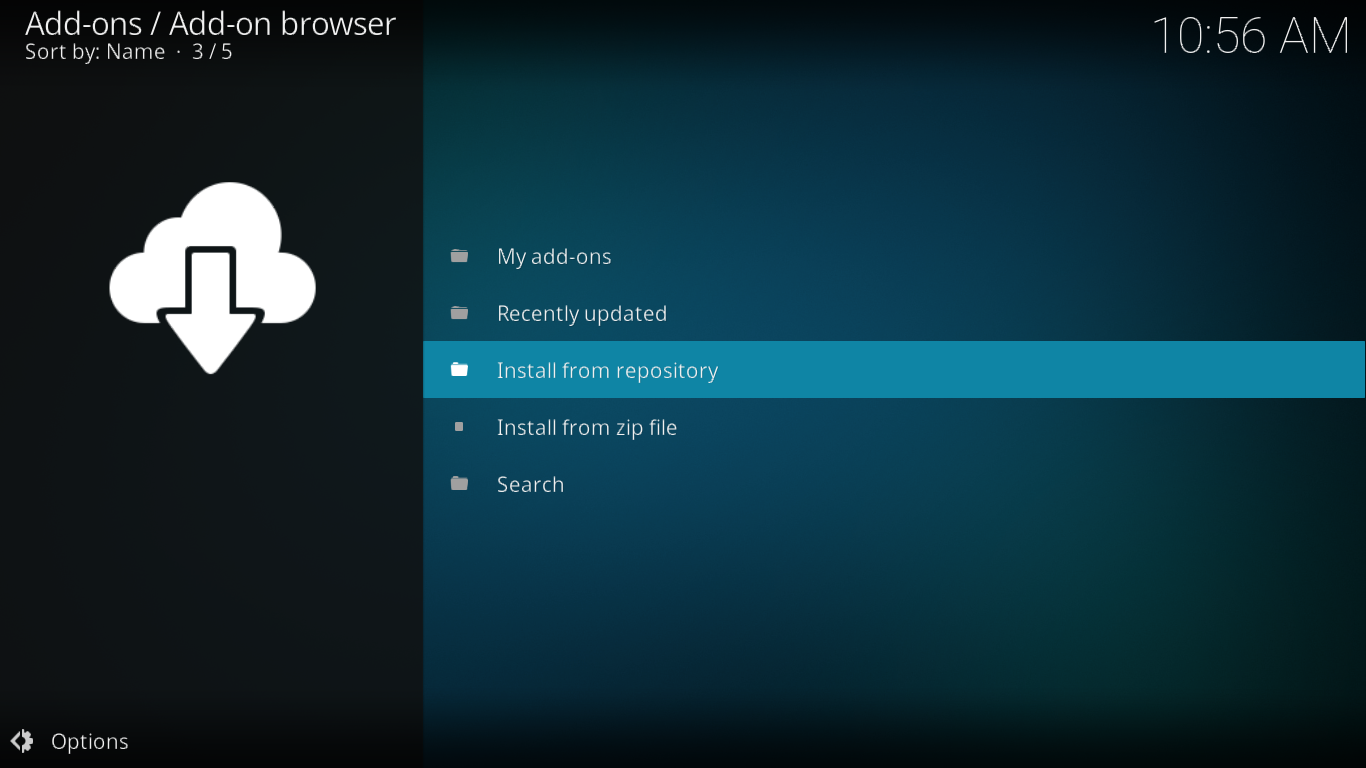 Next, click Resistance Repo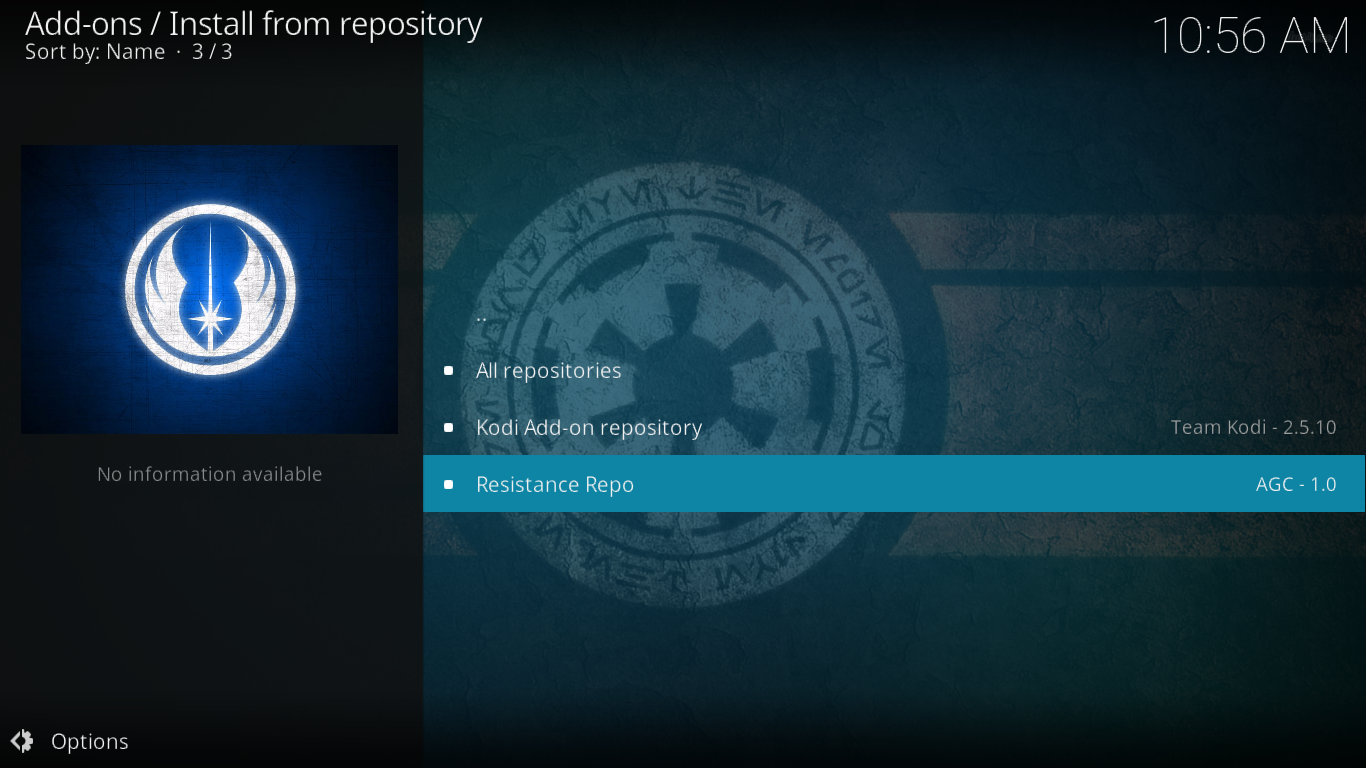 Click Video add-ons and then, from the list of available add-ons, click resistance.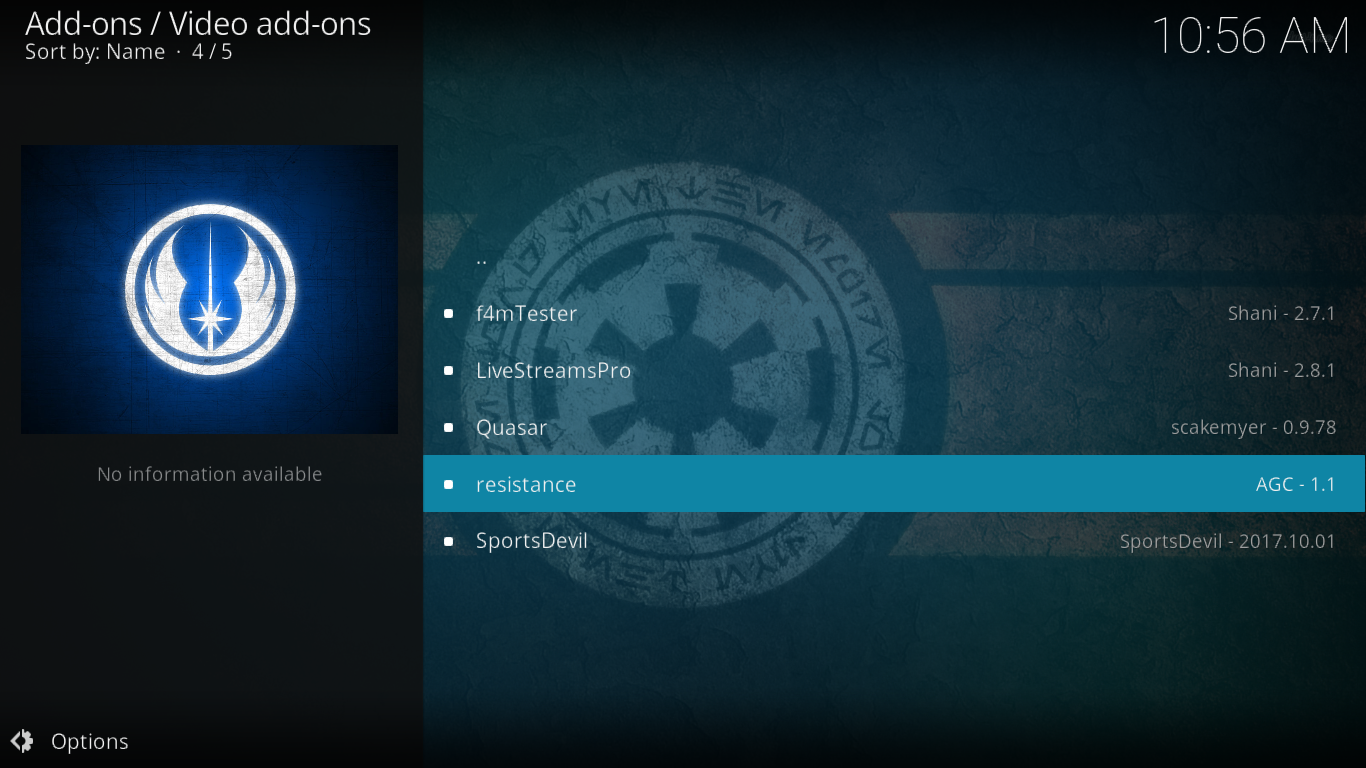 The Resistance add-on installation screen will open. Click the Install button at the bottom right of the screen.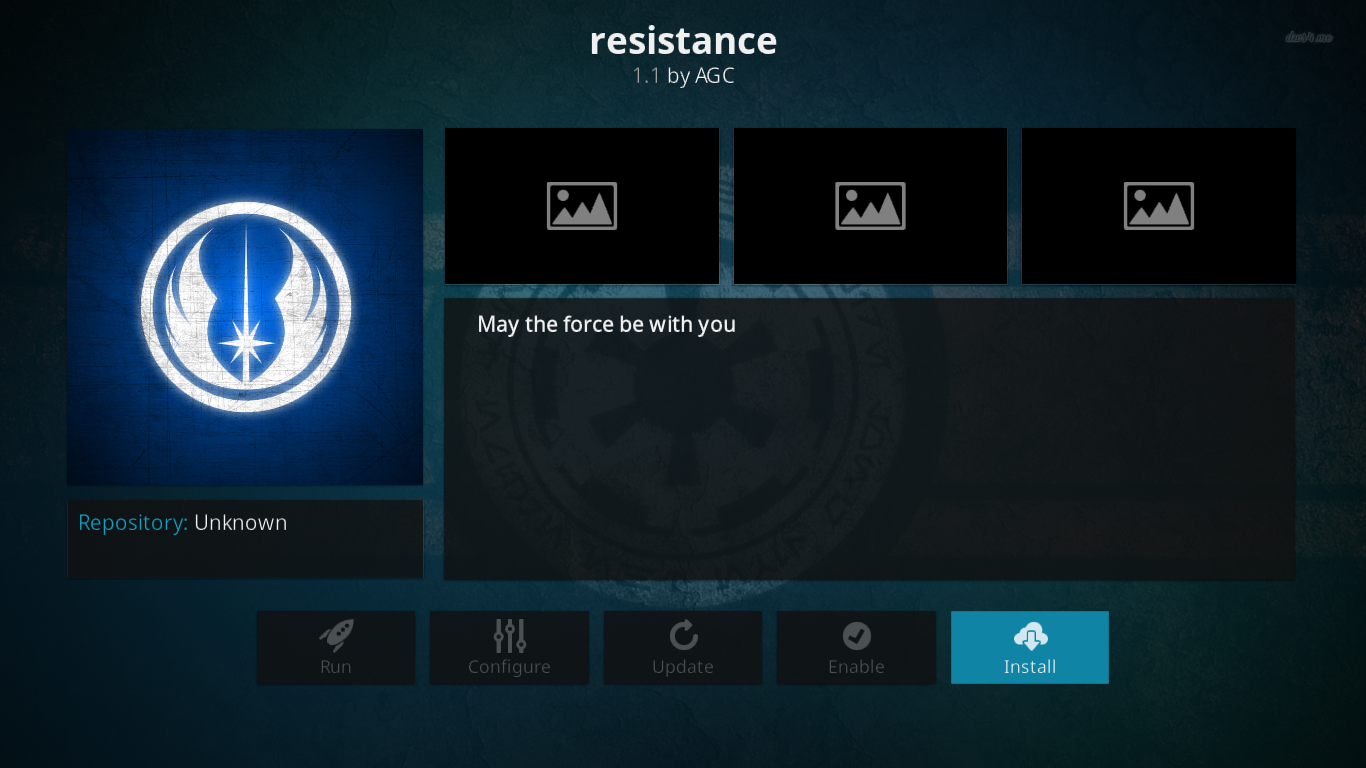 This launches the installation of the add-on but also of all its dependencies. These are other add-ons that the Resistance add-on needs to operate. Due to all the dependencies being installed, the add-on's installation is longer than the repository was. Multiple messages will flash on screen as each dependency is installed.
When the add-on installation completes, a last message will flash at the top right of your screen.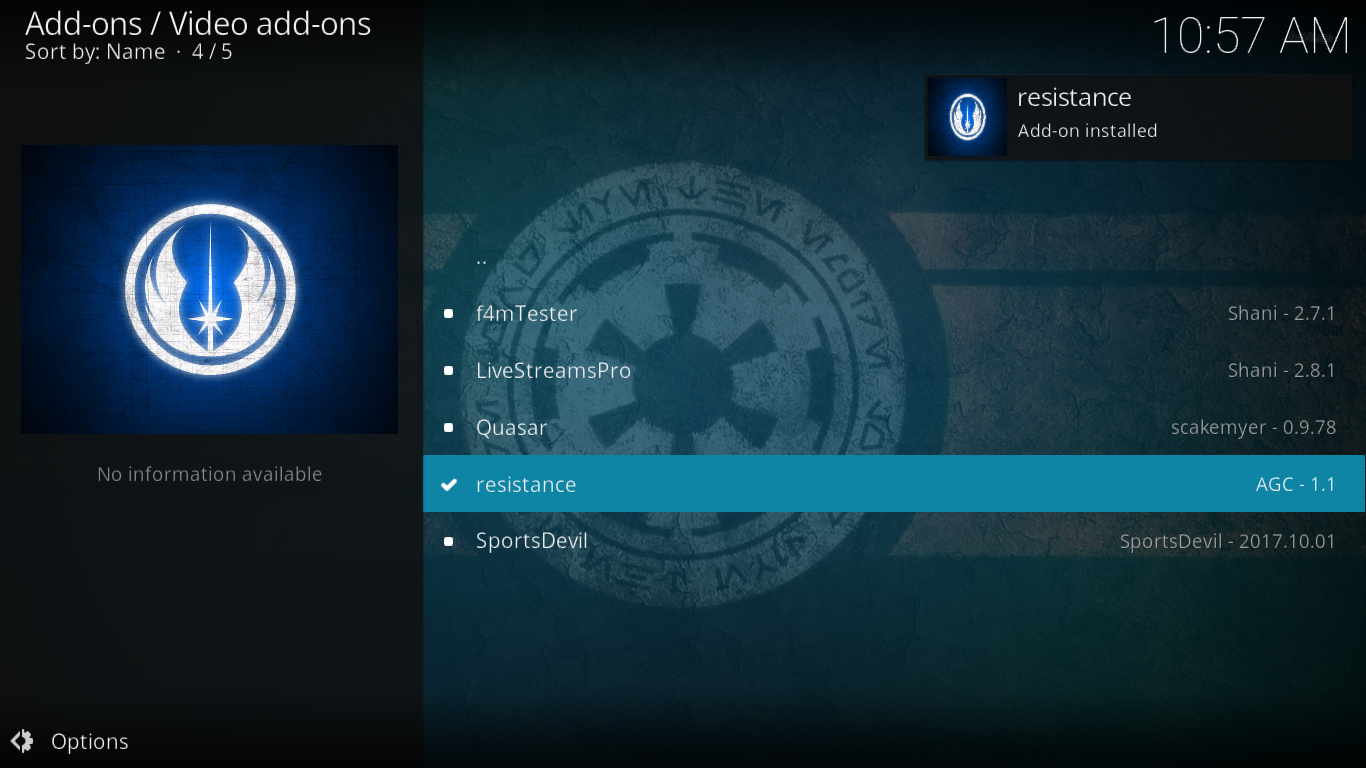 A Quick Tour Of The Resistance Add-on
Now that we've successfully installed the Resistance add-on, let's have a look at it. While there's too much content in there to cover it all, we'll try to show you the best that the add-on has to offer.
The Main Menu
The main menu is the first thing one sees when launching the add-on. And straight from the get-go, you're in for a surprise as the menu is in Spanish.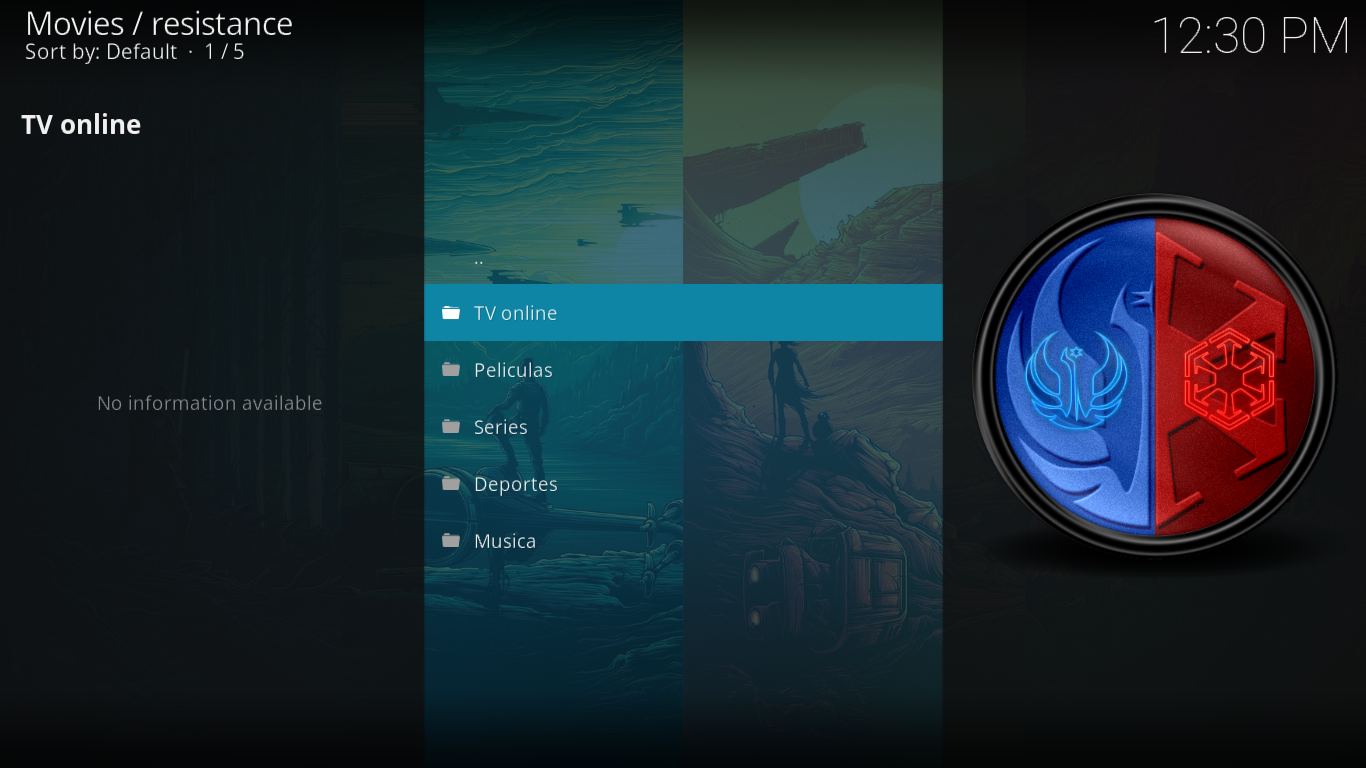 Don't speak much Spanish, don't let that stop you. There's some great English content within the add-on. And we'll try to explain what each menu selection is all about and what content you can expect to find under each option.
TV Online
As the name implies, this is the section where you'll find live IPTV streams. And one thing is for sure, you'll find lots of them. The section is quite neatly organized with some five subsections.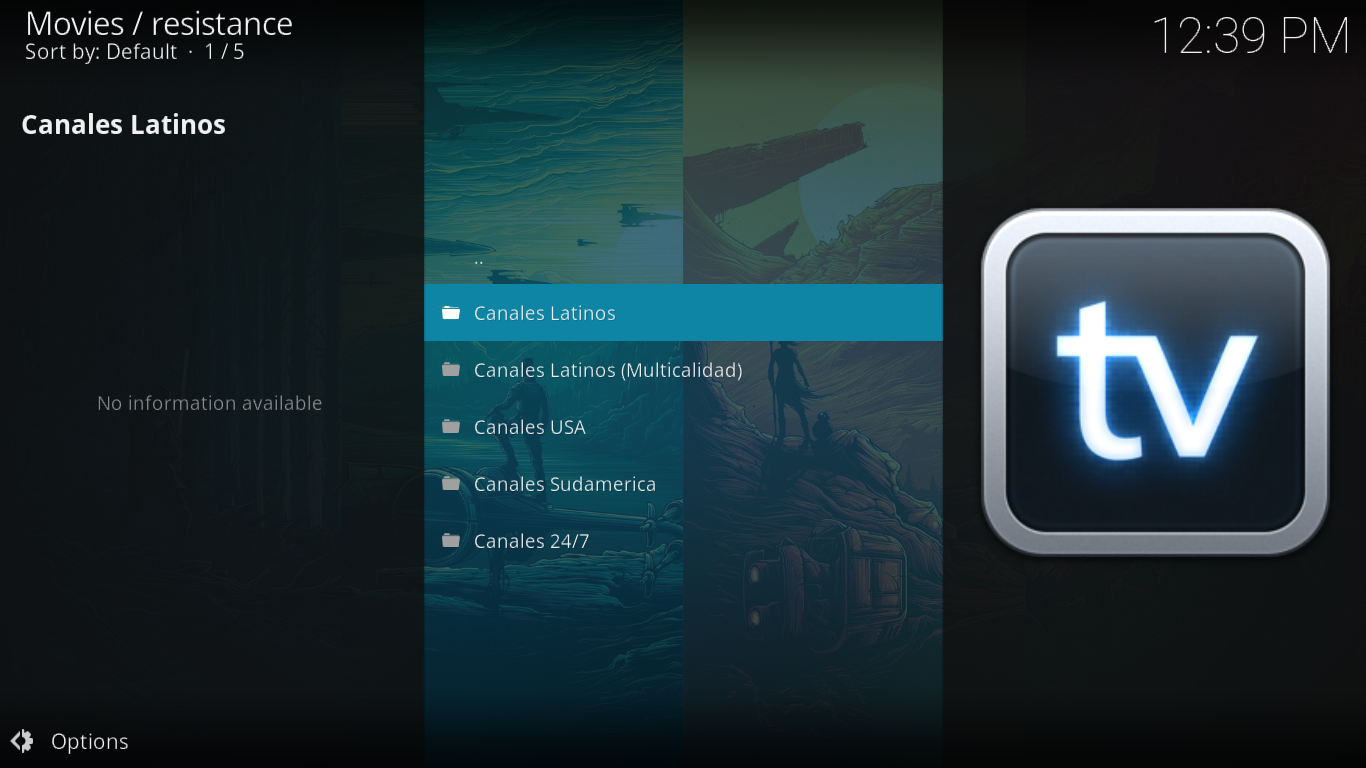 Canales Latinos is where you'll go for Latin TV channels. The section has close to 150 different channels. Their organization could be better, though. instead of opting for subsections, the add-on developers included subheadings throughout the list.
Canales Latinos (Multicalidad) is also about Latin TV channels, as you could have guessed. What makes the list unique is its Multicalidad identifier which literally translates to multi-quality. And this is exactly what you get, an alphabetized list of channels, most of which are available in four different resolutions. You have SD, 480P, 720P and 1080P.
Canales USA is the section with live TV channels from the USA. The list is huge with close to 900 channels. But unfortunately, it doesn't seem to be in any kind of order. Well, some parts appear to be in some sort of order but some parts really seem random. And don't go looking for networks, the entries are based on channel call letters like WPTZ or KPTX. But then again, there are entries for networks as well. Overall, there a lot of content but the list is quite confusing.
Canales Sudamerica has over 500 live channels from Argentina, Uruguay, Bolivia, and Brasil. As expected given the respective sizes of these countries, Argentina and Brasil make up the bulk of the offering.
Last is Canales 24/7, a short list of about 50 channels in Spanish that all broadcast 24 hours a day, every day.
Peliculas
Peliculas is "Movies" in English and movies are exactly what you'll find in this section. The section is pretty well-organized and has several subsections. Let's see what each has to offer.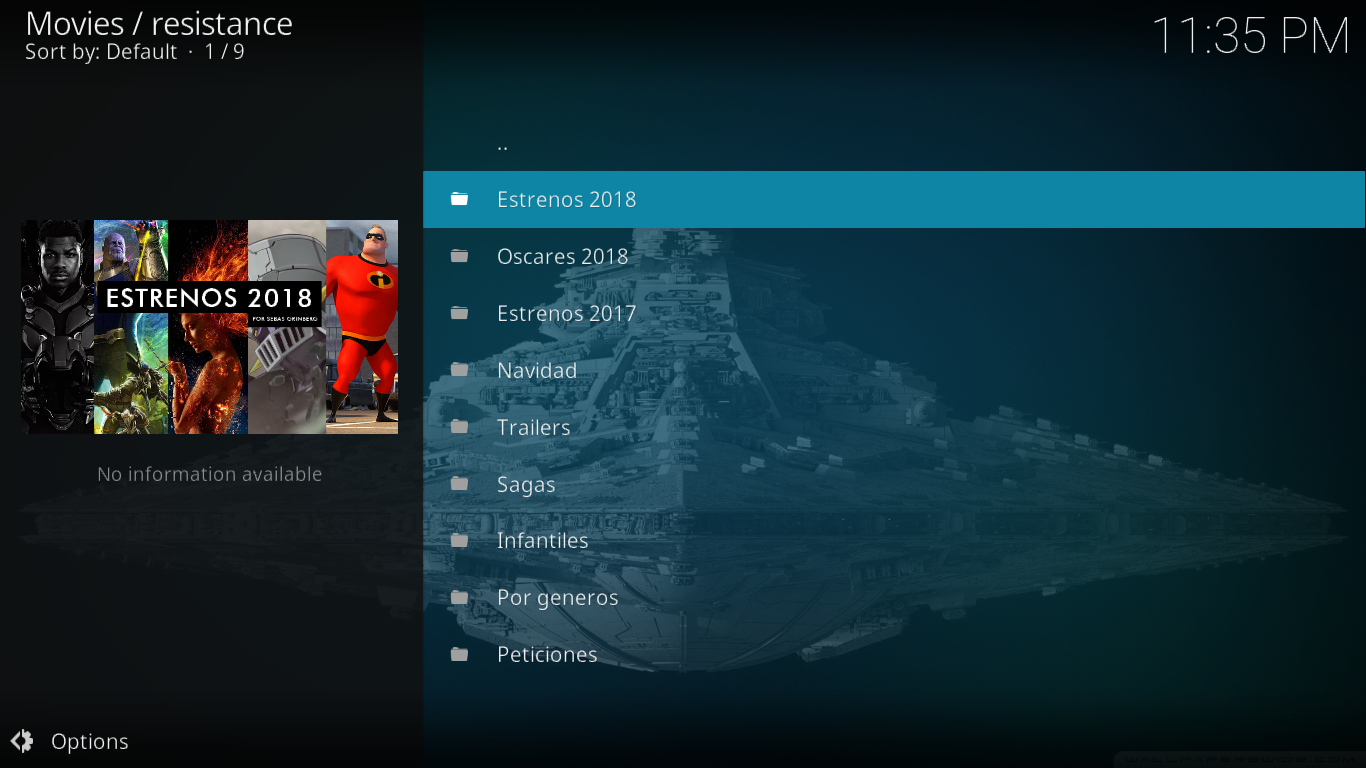 Estrenos 2018 and the corresponding Estrenos 2017 have movies that were released in 2018 and 2017. There's a mix of Spanish-dubbed and subtitled movies, each clearly identifiable by its (lat) or (sub) suffix. The selection is good with both sections totalling over 200 titles.
Oscares 2018 is a short selection of nine 2018 Oscar-winning movies. All these are in original version with Spanish subtitles.
Navidad is a little outdated and is where you'll find Christmas movies. There are two subsections but only the first one works, the second is empty.
The Trailers section is where you go to watch movie trailers, mostly in Spanish although some original trailed with Spanish subtitles are also available.
The Saga section is where you'll find series of movies such as Star Wars, Fast and Furious, Harry Potter, Lord of the Ring or The Hobbit.
The Infantiles section offers an excellent selection of Kids movies. It contains over 400 titles. These include all the popular kid's movies from recent and not-so-recent years.
The Por generos section allows you to browse the available movie selection by genre, a useful feature if you're looking for something specific.
And finally, Peticiones is a very short list of special requests from users. As of this writing, it had only three titles and none of them was working.
Series
This is the section where you'll find on-demand TV shows. The section is, just like the Movies section very well-organized with content arranged into ten subsections. There's just one drawback with this section, it is where you'll find the most dead links.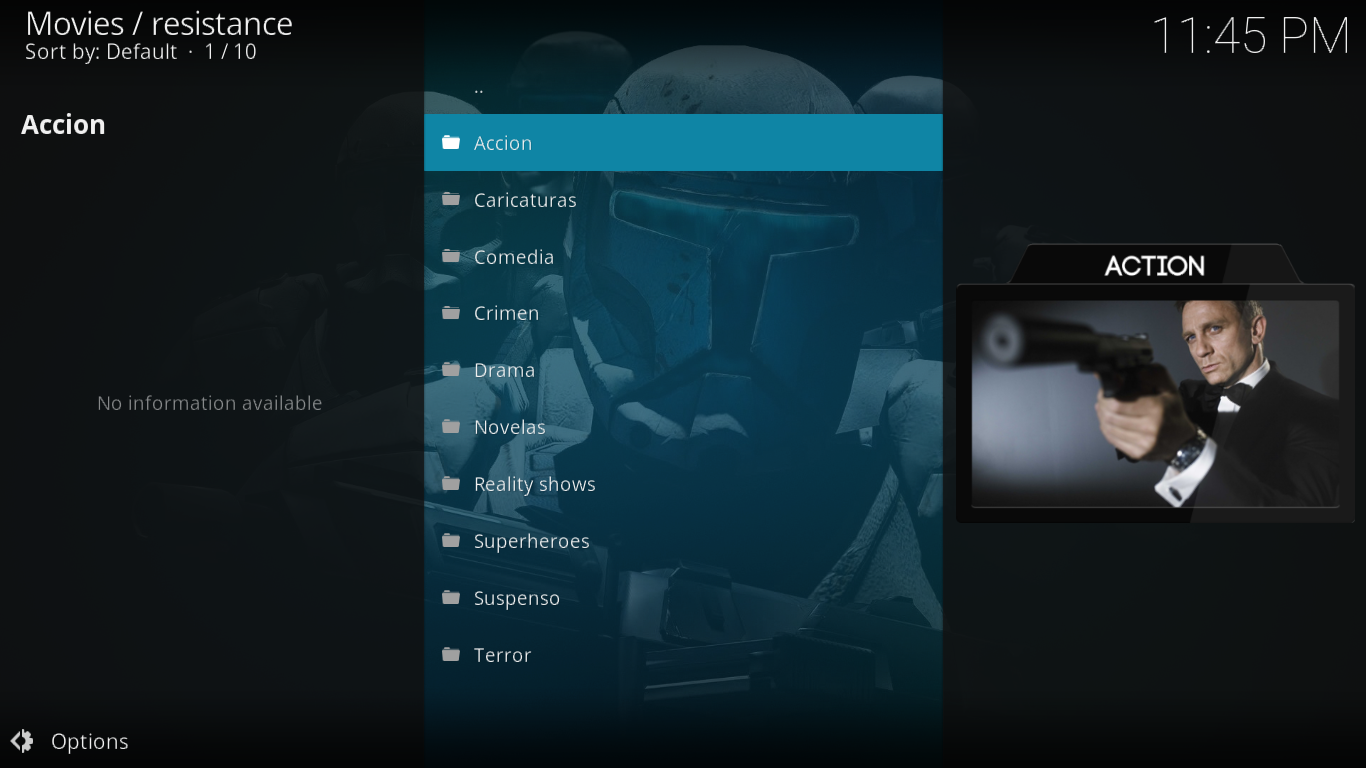 Accion is where you have action TV series such as Homeland, Breaking Bad or Prison Break.
Caricaturas roughly translates to cartoons and Japanese Anime is what you'll find in that subsection.There isn't such a great selection but you'll find classics like Dragon ball or Mazinger Z.
Comedia features a few comedy TV shows among which you'll find The Big bang theory and Young Sheldon.
Crimen has a few crime TV shows like Netflix's Narcos or How to get away with murder.
Drama and Novelas have exactly what you'd expect. The former is rather complete with a dozen titles while the latter only has two.
Reality shows as so little content that it is hardly worth mentioning.
Superheroes, on the other hand as about a dozen available titles among the recent popular Superhero TV shows with titles like Agent Carter, The Fash, Legends of tomorrow or Defenders.
You'd expect the Suspenso section to have thriller TV shows and this is mostly what you'll find in there but there's also Stranger Things which we wouldn't really consider a thriller. YMMV.
And last it the Terror section where you'll find an excellent selection of horror TV shows. It has classics such as American Horror Story, or The Walking Dead. 
Deportes
Deportes means "Sports" in English and this is what you'll find in here. Expect the selection to have an obvious latin bias, though. What you'll mostly find in the section's seven subsections of football.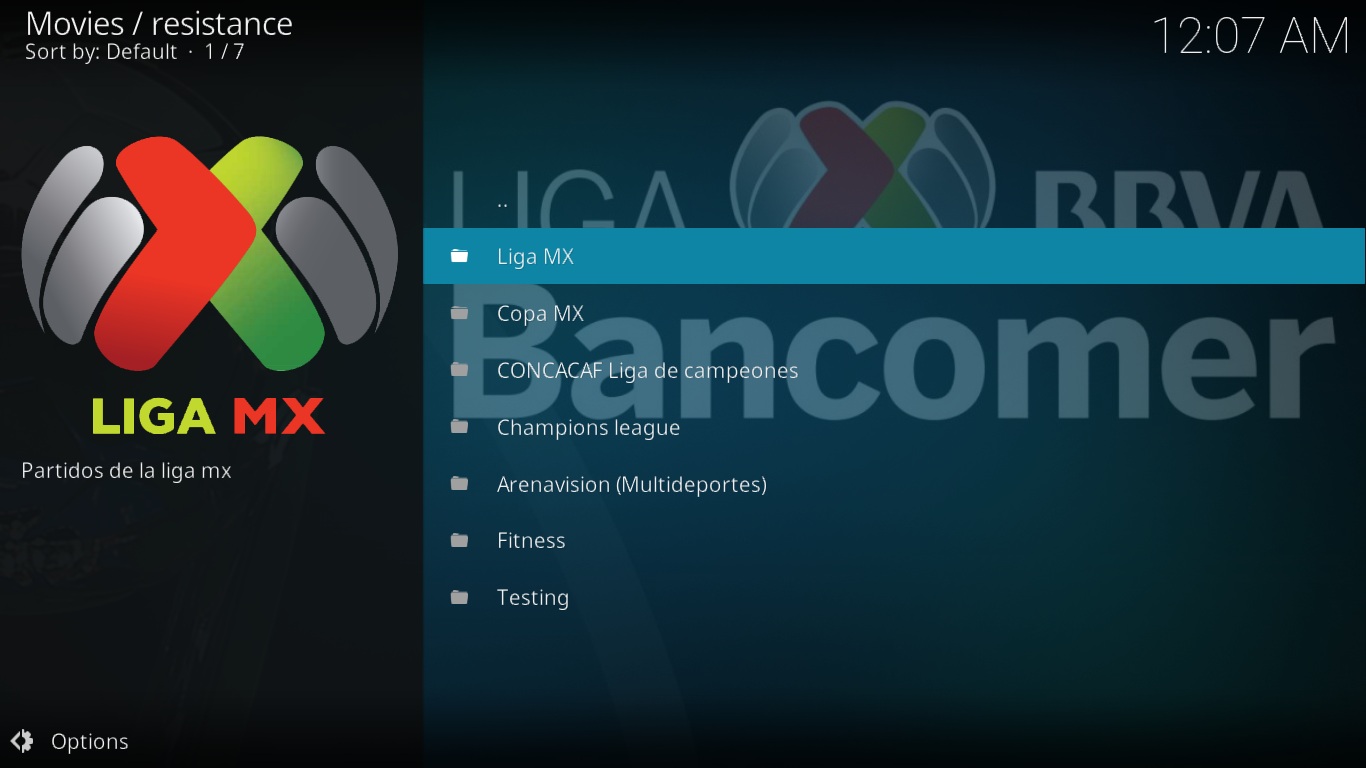 The first four sections, Liga MX, Copa MX, CONCACAF Liga the campeones, and Champions league will let you watch on-demand football matches from some of the most prestigious football leagues. As of this writing, the football match offer for the four sections combined included some 25 matches. Some of them were featuring famous teams like Real Madrid, Liverpool, or Manchester City.
Next is the Arenavision (Multideportes) section. Its name would lead you to believe that you'll find multiple sports in the section and, to be totally honest, this is true. The selection is somewhat poor, though, with only four choices, Basketball, Formula 1, Soccer, and Tennis.
The Last section, Fitness is quite unique. It is mostly fitness content like you'd find in many sports add-ons or all-in-one add-ons. No surprise there. But most of the content is in Spanish. This is how it is different. There are 11 different subsections, each with multiple videos. Not that even though sections have Spanish names, their content is sometimes in English as it is the case with the two Tapout XT sections. And if you want to start Yoga, the Yoga para principiantes translates to Yoga for beginners and has close to 75 videos from Yoga trainer Elena Malova.
Musica (250 – 2400)
The last section is called Musica and, as expected, it is about music. To be more specific, it is about live music. its three subsections offer a selection of recorded live concerts that you can watch on-demand.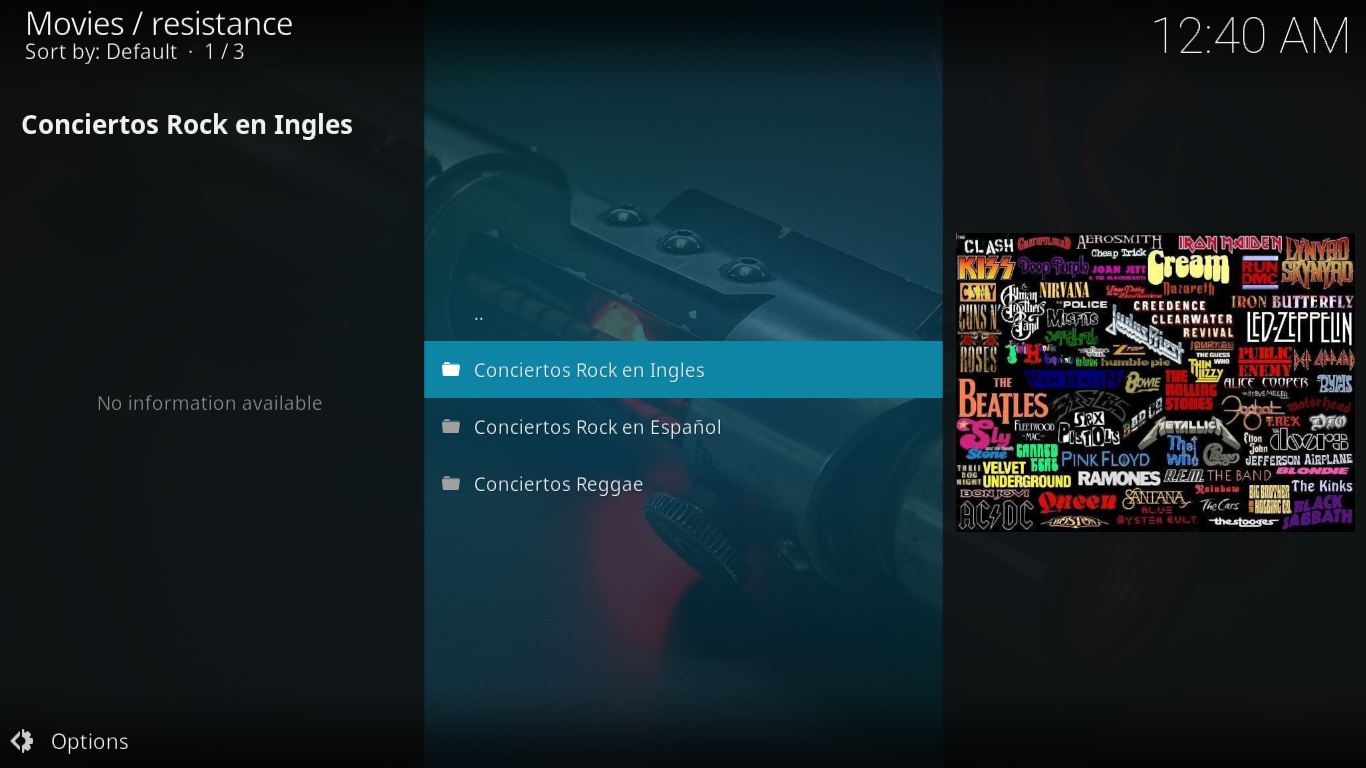 Conciertos Rock en Ingles (Rock concerts in English) has a small selection of some twenty-something live rock concerts. The selection is good with classics like KISS, AC/DC, Metallica and more recent bands like Cold Play or Red Hot Chili Peppers. We didn't try them all but they seem to mostly be unedited concerts.
Conciertos Rock en Espanol (Rock concerts in Spanish) has a lot less content than its English counterpart with only nine titles available. And knowing nothing at all about Spanish rock, I can' t say if they'Re good and well-known bands. One thing I can tell you is that the quality of the video is uneven with some looking like they've been shot from a smartphone in the assistance while others appear to be professional work.
And last, Conciertos Reggae (Reggae concerts) is an even smaller subsection with only five different Spanish reggae concerts. Again, being a total stranger to the genre, I can't vouch for its quality.
Wrapping It Up
If you're a fan of Spanish content, Resistance is one of the few add-ons that specializes in it. Much like most all-in-one add-ons featuring English content, this one has a pretty good mix of Movies, TV shows, live TV, sports, Kid's content and more. Despite a few dead links, there's still quite a bit of great content for your enjoyment.
Have you tried the Resistance add-on? Have you had any issues installing or using it? Use the comments below to share your experience with us and let us knwo what you think of the add-on.