We are reader supported and may earn a commission when you buy through links on our site.
Learn more
SportsDevil Kodi Add-on: How to Install SportsDevil in Minutes
SportsDevil is one of the best known and most popular live sports addons available. It has long been a favourite with Kodi users thanks to its huge range of content, a vast network of sources, and its reputation for always having at least a few working links to all the biggest events. For a long time, it had a home on the Smash Repository, but since that disappeared it had been unavailable.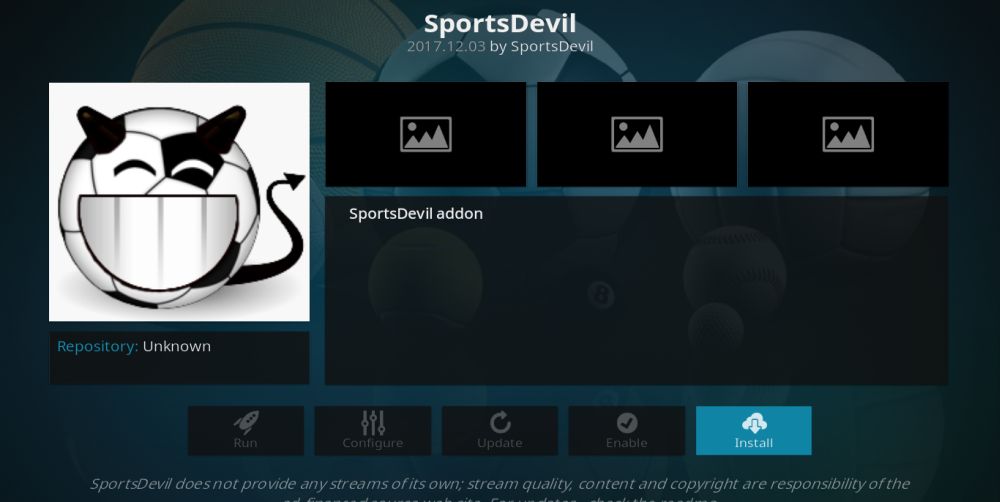 But now it is back, with a new home on the Kodil Repository, an updated version, but the same great range of content and service that users have to expect and to love. In this article, we will tell you all you need to know about how to download the latest version of the SportsDevil Kodi addon as well as remind of just what it is that makes SPortsDevil one of the best live sports addons available for Kodi.
Quick reminder, use protection
If you are planning to watch live sports coverage through the SportsDevil Kodi addon, it is essential that you also make use of a VPN. This is because in recent months there has been a huge crackdown on copyright infringement through unofficial Kodi addons and sports copyright holders have been at the forefront of this push. As a result, users of addons such as SportsDevil have found themselves in receipt of legal letters or even facing further legal action as a result of using these addons. But a VPN can offer some protection. It will encrypt all of your internet data and change your IP Address, which helps to keep your online activity safe from prying eyes and potential legal threats. The question all Kodi users should be asking themselves is not whether to buy a VPN, but which one to invest in.
The Best VPN for Kodi – IPVanish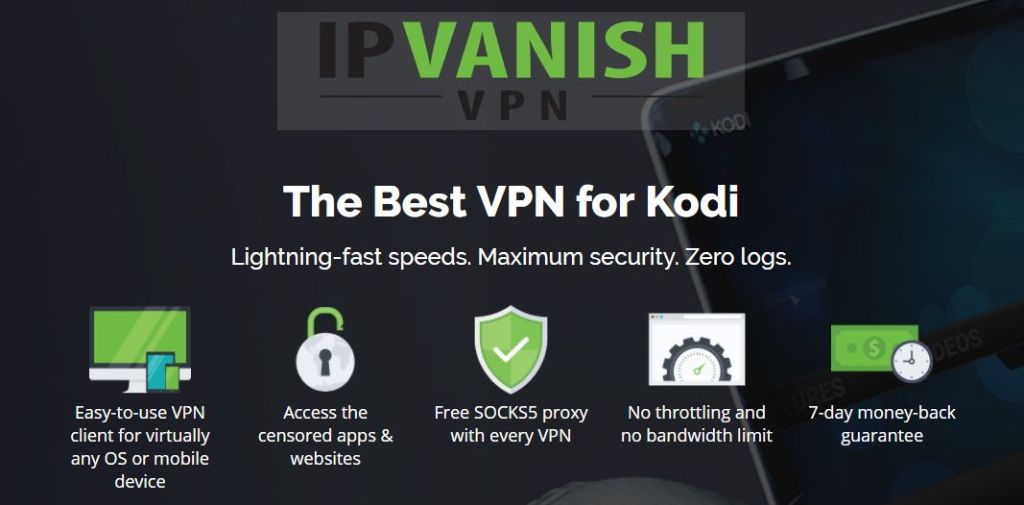 In our considered opinion, the best VPN on the market for Kodi users right now is IPVanish. There are a number of compelling reasons why we have reached this conclusion. IPVanish offers the fast and consistent connection speeds that Kodi users need to stream live sports and other media content reliably. It also has super-strong encryption which will keep your data safe and privacy policies which ensure that you can be confident what you do online is not recorded anywhere.
The IPVanish server network consists of more than 850 servers in 60 countries around the world, which means users can open up content from all the most popular countries around the world. And they also have no restrictions on either file types or data amounts either, which is ideal for Kodi users. IPVanish has dedicated apps for any device you might want to use Kodi on, including the Amazon Firestick, which is the final reason why IPVanish is the perfect VPN for Kodi users.
IPVanish offers a 7-day money back guarantee which means you have a week to test it risk-free. Please note that Addictive Tips readers can save a massive 60% here on the IPVanish annual plan, taking the monthly price down to only $4.87/mo.
How to install the SportsDevil Kodi addon
For a long time, SportsDevil has been accessed by most users through the Smash Repository. But with the demise of that popular repository, there was a short period when SportsDevil was unavailable to download. But it remained supported and now it is back having found a new home on the Kodil Repository. It is simple to download and install it onto your Kodi media player, and to help you get everything set up, here is a simple step-by-step guide:
SportsDevil Addon Reviewed
SportsDevil remains one of the most popular sports addons for Kodi, despite its brief period of unavailability. For those not already familiar with it, SportsDevil is not technically a streaming addon itself. Rather, it is an aggregator, which sources links to live sports streams from various locations around the internet and allows users to access them quickly and easily from a single location.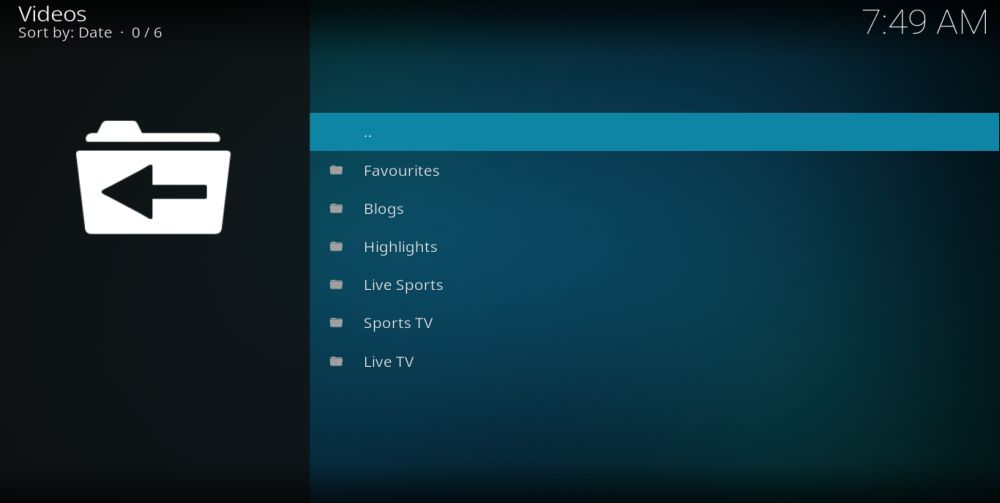 The beauty of SPortsDevil is in its simplicity and ease-of-use as well as its depth of content. Nowhere is this more apparent than on its main menu, where users are met with just six options. They are:
Favourites
A really neat little feature where you can store links to your favourite events or from your favourite sources to access them easily next time you log-on.
Blogs
This menu option has links to two German language sports blogs and for most users is an option you will only ever click on once.
Highlights
This offers links to six different sites all of which offer sports highlights. The range of content available here is not huge but then highlights and on-demand content are not what SportsDevil is all about really.
Live Sports
The final three options on the menu are where the SportsDevil action is mostly to be found. And it begins with the most important of the menu options, Live Sports. This link opens up links to the 14 main sites where SportsDevil sources its live sports links from. Obviously, these sites can change on occasion, but at the moment, those available are:
Bundesliga-Streams.net
Dimsports.eu
FirstRowSports.eu
FirstRowSports.ge
Live9.co
LiveFootball.ws
LiveFootballVideo.com
LiveTV.ru
LSHunter.tv
RojaDirecta.me
SportsStream365
StopStream.com
Vlpboc.tv
VipGoal.net
Each of these sites offers links to a wide range of live sports content. As some names suggest, there are a few which specialise on football and a few more that a language-specific too. But generally speaking, if you are seeking a stream for a sporting event, it is well worth exploring each of them to find the most reliable and best quality streams you can. Over time, you will no doubt settle on a site which offers the best coverage of what you are after.
SportsTV
This section offers users links to watch live streams of major sports-focused TV channels from around the world. Again, the sources SportsDevil uses can change from time to time, but as we tested it, the sites available were:
Cricfree.tv
CricHD.tv
Cricket
HDFree.tv
iLive.to-Sports
MamaHD.com
ShowSport.com
Sports4u.tv
StreamHD.eu
Each of these sites offers links to live sports TV channels, which are often a great alternative if you know what channel the event you want to watch is on but can't find a reliable feed.
Live TV
In a bit of break from the rest of the addon, this menu options offers links to various sites that offer a wide range of live TV streams. This includes some sports channels but much more besides. By all means, take a look around, but if you are after a general live IPTV addon, there are others that do the job better than SportsDevil.
SportsDevil Pros and Cons
A brief search for SportsDevil in Google will reveal that there are some very heated viewpoints about how good this addon is. It appears to be the marmite of Kodi unofficial addons, with lots of users loving it, but just as many dismissing it is scathing terms. While we have some sympathies for the viewpoints of both sides, we definitely fall more into the 'great addon' camp.
SportsDevil has a lot going for it. It scrapes links from a large number of sites which means there are usually multiple links to all the big events. This means that you shouldn't have trouble finding a working link, even if you do have to try a few to get there. Once you do find a working link, our experience is that their links are pretty reliable too. Other users do contest this, so it seems likely that your experience may depend on the speed of your internet connection, and therefore the quality of the VPN you are using. But we had no trouble with buffering and for the most part, the quality of the streams was pretty good.
But we will readily admit that SportsDirect is not perfect. It is not uncommon to find links that don't work and finding multiple links to the same stream is also a frequent and often frustrating experience. However, you have to remember that SportsDevil is an aggregator site and the broken links are not explicitly their fault but rather the sites they are connected to. If you find too many, just try a different site and see if you experience improves.
SportsDevil Conclusion
At a time when live sports addons are an increasingly endangered species, SportsDevil remains a constant and reliable source of live sports streams. It has a huge range of content available and whether you are looking for big sporting events or more niche content, SportsDevil will invariably deliver. It is not perfect and broken links can be frustrating for users at times. But they are a small price to pay for the generally excellent service they offer. SportsDevil's enduring popularity is no accident. It really is still one of the best live sports addons around right now.
What are your experiences with SportsDevil? Did our installation guide help you download the latest version? Have you had good or bad experiences streaming content on it? Please do share your thoughts on SportsDevil and this article in the comment box below.