We are reader supported and may earn a commission when you buy through links on our site.
Learn more
ThunderStruck Kodi Add-on: How to Install ThunderStruck and Quick Use Guide
Today's article it one that music fans will love. If you use Kodi, the open source media centre software, you'll already know that it's great for organising and playing back the media which you have on your hard drive or on your network. But you can get even more from Kodi by installing add-ons which are created by third-party developers to extend the functionality to include things like streaming media from the internet.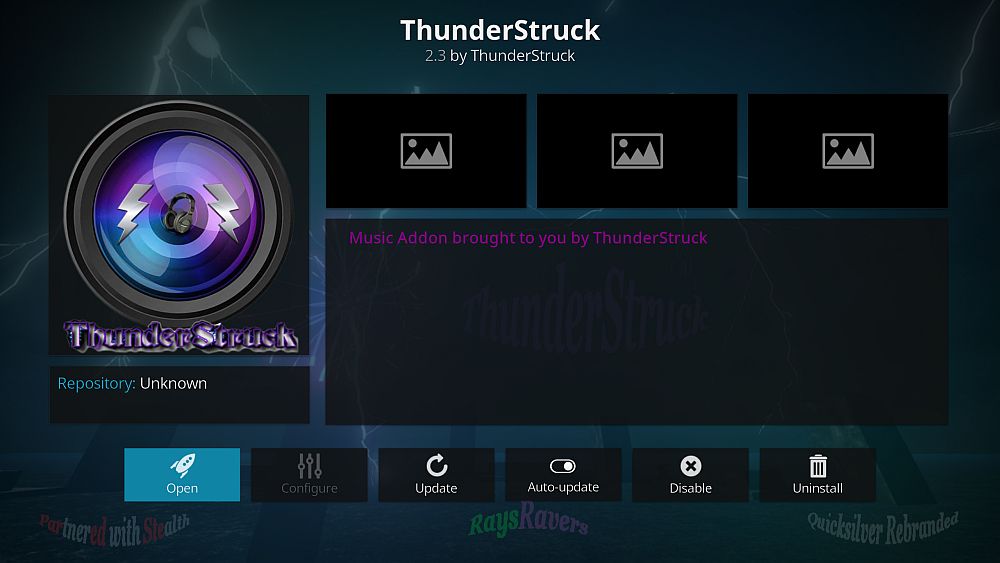 We're going to introduce you to ThunderStruck, a music streaming add-on for Kodi. This is the perfect add-ons for fans of classic rock or country music, or people who love retro tunes from the 80s. It has other genres too, but these are the areas where it is strongest. Other music add-ons for Kodi try to have the biggest selection of artists, but ThunderStruck is different. It has a carefully curated selection of artists and playlists which aim to be specific rather than generic. This isn't the best add-on if you want to search for any music artist and play their songs, but it is great if you want recommendations, playlists, and collections of tracks which are hand-picked by other music fans.
30-days money back guarantee
Before Installing Add-Ons for Kodi, Get a VPN
We'll get to the installation and use of the ThunderStruck add-on in just a second, but before that we need to acknowledge some security issues. Although the Kodi media centre software is fully legal to use, some add-ons like ThunderStruck are created by third-party developers and exist in a legal grey area. If you use these add-ons to stream content illegally over an unsecured internet connection, you could be liable for a fine if you are caught.
To protect you from this, we suggest installing a VPN. This software protects you by encrypting all of the data which you send over the internet, so that no one, not even ISPs or law enforcement, can see what sites you have been visiting or what content you have been streaming.
There are a very large number of VPN providers out there, however, so how do you know which one you should pick? There are four factors which are most important when assessing a VPN provider:
Support for several different operating systems
Plenty of servers in many different countries
We Recommend IPVanish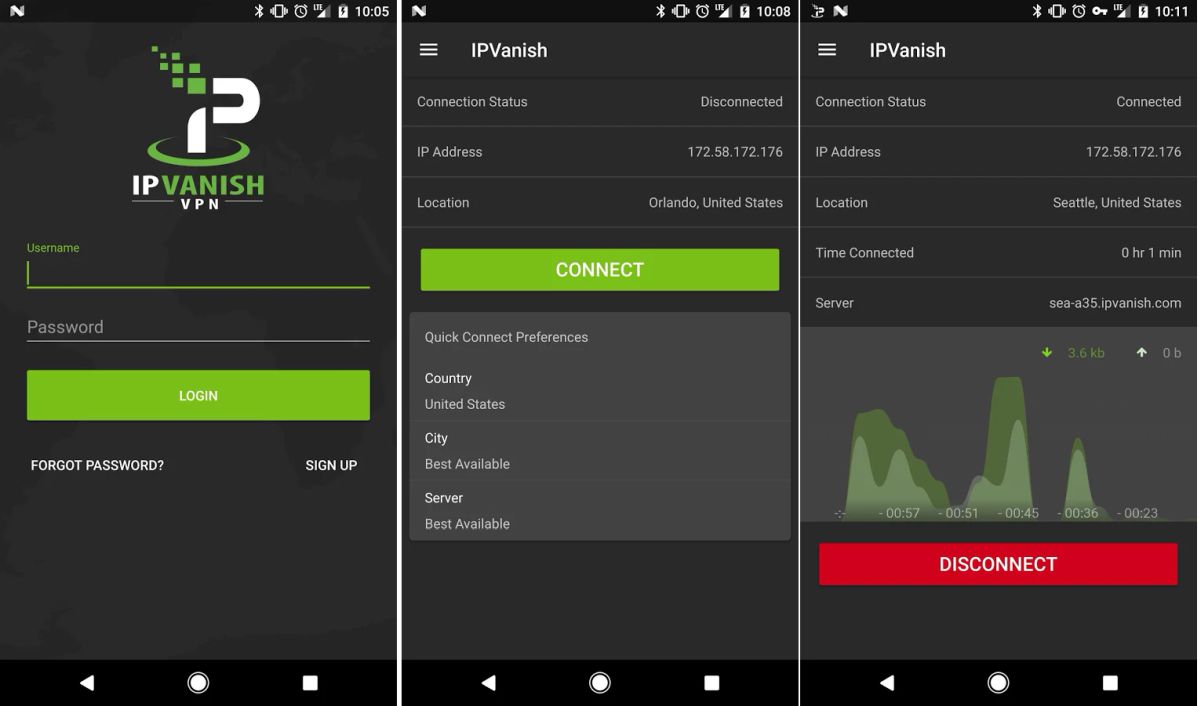 Given these four factors, the VPN provider that we recommend for Kodi users is IPVanish. The easy-to-use software supports Windows, Mac, iOS, Android, and even the Amazon Fire TV stick. The company has a no-logging policy, it has fast connection speeds and 850 servers in 60 countries. It meets all of our requirements for a VPN service to use when streaming through Kodi add-ons.
IPVanish offers a 7-day money back guarantee which means you have a week to test it risk-free. Please note that Addictive Tips readers can save a massive 60% here on the IPVanish annual plan, taking the monthly price down to only $4.87/mo.
How to Install the ThunderStruck Add-On
In order to install ThunderStruck, we first need to add a repository to our Kodi system. A repository is a location for holding add-ons from which we can download the files we need to install the add-on. We'll walk you through the whole process of adding the repository and installing the add-on below.
Before continuing, you'll need to ensure that your Kodi software allows installation of add-ons from unknown sources:
Open Kodi and click on the gear icon to enter the System menu
Go to System Settings > Add-ons
Toggle the slider next to the "Unknown sources" option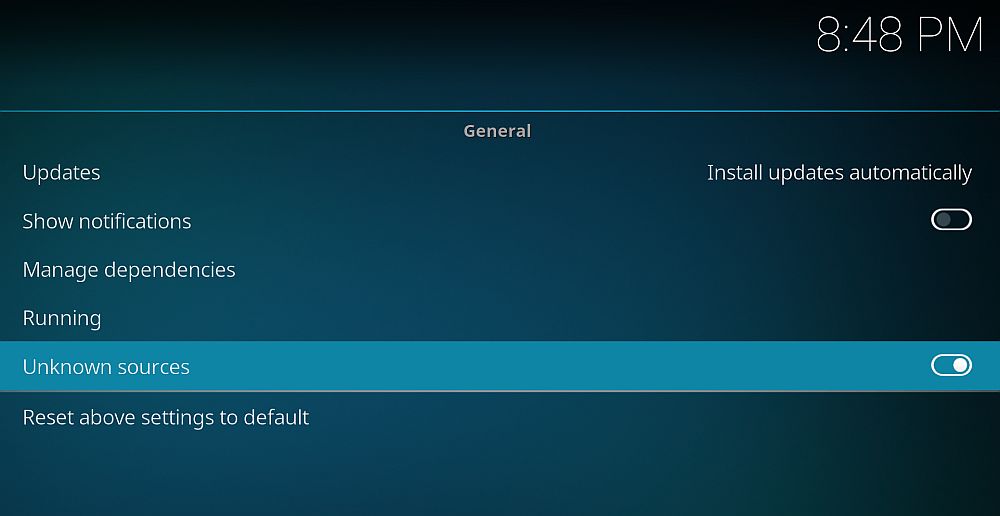 Accept the warning message that pops up.
Now that's settled, here's how to install the ThunderStruck add-on for Kodi:
Begin on your Kodi homepage
Click on the settings icon, then go to File Manager
Click on Add source
Click on the box where it says <None>
Enter in this URL: https://andybuilds79.com/repo/ Make sure to type it exactly as written, including the https://, or it won't work
Give the source a name. We'll call it andy
Click OK
Go back to your home screen
Click on Add-ons
Click on the icon that looks like an open box
Click on Install from zip file
Click on andy, then on repository.stealth.zip
Wait for a moment and you'll see a notification once the source has been installed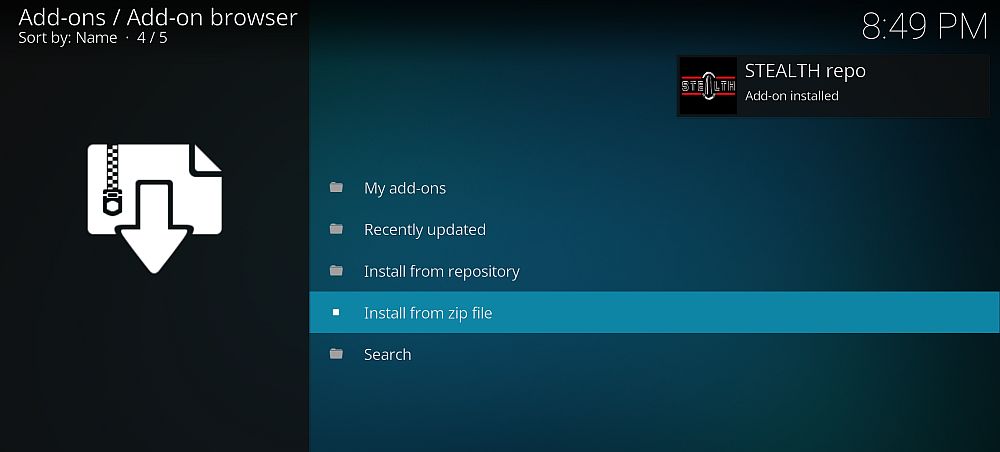 Click on Install from repository
Click on STEALTH repo

Click on Music Add-ons, then click on ThunderStruck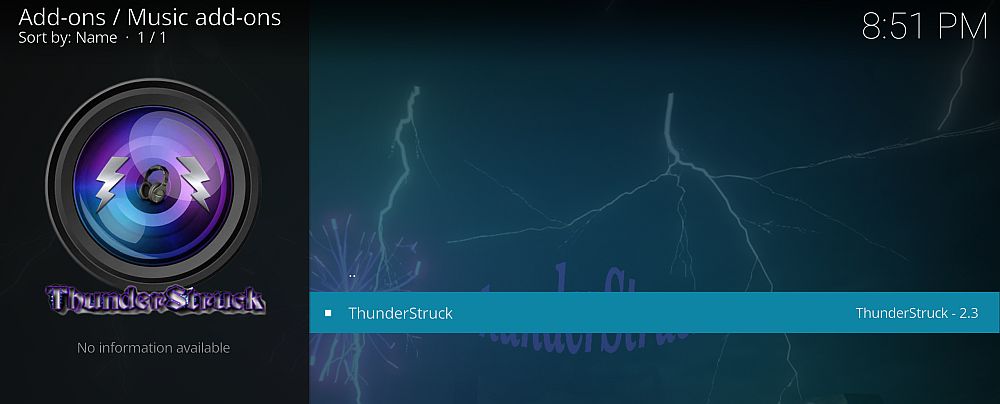 A screen will open describing the add-on. Select Install from the menu at the bottom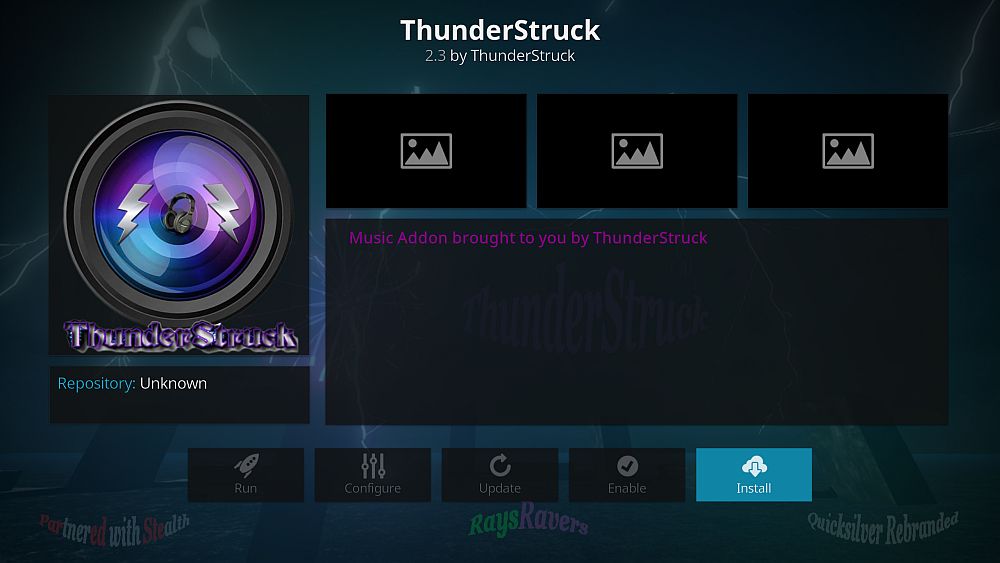 Wait for a moment and you'll see a notification once the add-on has been installed
How to Use the ThunderStruck Add-On
With the add-on installed onto our Kodi system, now we can use it to start streaming music. There are lots of interesting subsections to this add-on, so read on for full instructions on how to use the add-on to find the songs, artists, and compilations that you want.
Here's how to use this add-on:
Begin on your Kodi homepage
Go to Add-ons
Go to Music add-ons
Click on ThunderStruck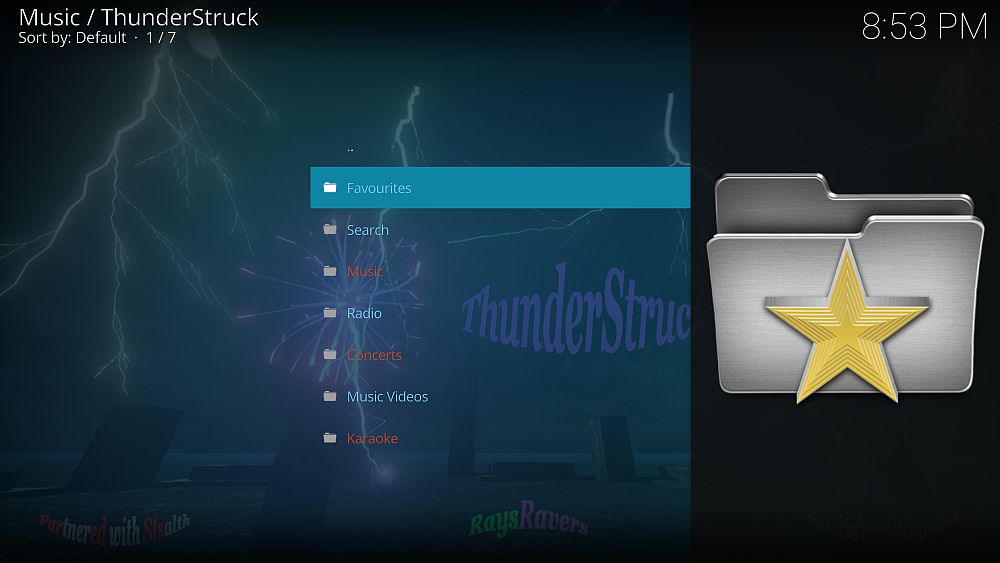 Now you will see categories of Favourites, Search, Music, Radio, Concerts, Music Videos, and Karaoke

The Favourite section doesn't work at the moment, so skip over that one-on-one
The Search function is rather temperamental. It doesn't do a great job of finding what you're looking for, so it's best to ignore this and find music through the other categories
The Music category is the main section that you'll want to use. Here you'll find the sections you'd expect, like Genres, Charts, and Fresh Albums. But there are some interesting subcategories that you should check out too:

Soundtracks has an excellent selection of movie soundtracks from both movies and TV shows
Now That's What I Call Music will be a flashback for anyone who grew up in the 80s and 90s. These compilations were ubiquitous in these decades, and now a bunch of the compilations are all collected here
The Back to the 80s and 60's Music sections are perfect for fans of those decades, holding compilations of some of the most popular songs of the eras
Finally, the ThunderStruck Picks section is a real gem. This is a list of favourite songs of the add-on's developers, and if you like classic rock then you'll have a great time with the selection here

The Radio section lets you listen to radio from all over the world. It is divided into UK, Canada, US, and World News sections. Click on any country and it will bring up a big list of radio stations. Just click on the title of the station and playback will begin. This is very quick and easy and is great when you want some music on in the background while you're pottering around the house
The Concerts section is fun. This has video recordings of major concert events for you to stream, such as the headline acts from Glastonbury Festival or Reading Festival last year. The videos are in very good quality and include full sets. There aren't that many concerts here, but the one that are here are excellent
The Music Videos section is, like the Music section, specialised on certain genres. There's rock, country, and 80s videos, plus a few favourite picks from the ThunderStruck team. Click on the name of a video and the playback will begin. The videos are in as good quality as possible, but as many of them are from the 80s, the quality is inevitably spotty. Still, they're a fun walk down memory lane
Finally, the Karaoke section is a lot of fun. This has karaoke videos – that is, videos with lyrics and audio tracks without vocals – so you and your friends can sing along to your favourite songs. There are videos for rock, country, pop, 80s, and 60s and 70s. Have fun but maybe warn your neighbours before you get too carried away singing along to headbangers!
DON'T FORGET
: Use a VPN when streaming through Kodi. IPVanish gives our readers 
an exclusive discount of 60%
 and you'll only pay $4.87 a month to keep your browsing safe and private.
Conclusion
The ThunderStruck add-on will be appealing to any music fan, but it's especially good for those who love classic rock or country, particularly from the 80s. Unlike other music add-ons, ThunderStruck does not attempt to give you access to music from every band or from every era. Instead, it specialises in particular genres and in hand-created playlists. This is the add-ons main strength, as it is clearly put together by someone who is highly knowledgeable and enthusiastic about music. If you are looking for new music recommendations or you want to listen to a playlist with a lot of variety and maybe discover some new favourites, then we recommend this add-on for you.
The ThunderStruck add-on is a great addition to Kodi for music lovers. Do you use ThunderStruck on your Kodi installation? Or is there another music streaming add-on which you prefer? Then let us know about it in the comments below!