We are reader supported and may earn a commission when you buy through links on our site.
Learn more
How to Transfer Kodi Builds to Amazon Fire Stick and Other Devices
So you've spent countless hours setting up Kodi with the build of your choice. You've then spent just as much time tweaking it to your liking. Now you've just got a brand new Amazon Fire TV Stick device and the perspective of having to do it all again is kind of depressing, isn't it? What if you could easily transfer your build–and all its customizations–to your Fire Tv Stick? Well, Transfering a Kodi Build to the Fire Stick–or any other device, for that matter–is actually not that hard, if you know how to do it.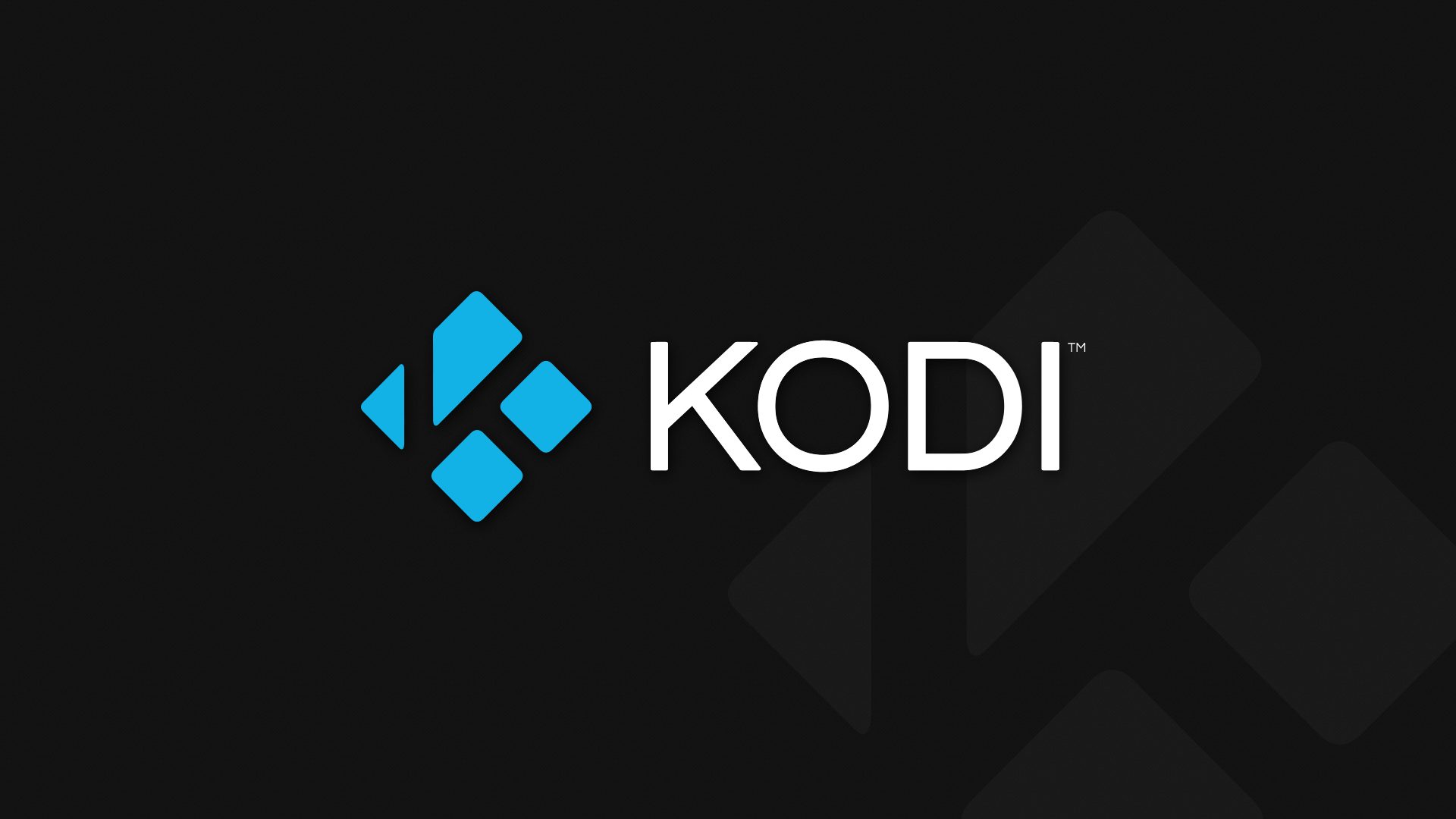 Today, we'll start off by explaining what builds are. We suppose most of you already know but, for those who don't, it will ensure we all start from the same page. We'll then guide you through the transfer of a Kodi Build to a Fire TV Stick using two different methods. And before we conclude, we'll also discuss transferring a Kodi build to a different type of device.
30-days money back guarantee
For Added Privacy While Using Kodi, Use A VPN
Internet Service Providers have been known to monitor their user's online activity. They do it to ensure no one is violating their terms and conditions. And when they suspect someone might be, they could react by throttling down their speed, sending them copyright infringement notices or even interrupting their service. A VPN protects your privacy by encrypting all data in and out of your computer using strong algorithms that make it almost impossible to crack. Not even your ISP will know where you're going or what you're doing online. As a bonus, by using appropriately located servers, A VPN allows bypassing geographic restrictions.
Choosing a VPN can be a challenge when you consider the many providers available. Among the most important factors to consider are a fast connection speed to avoid buffering, a no-logging policy to further protect your privacy, no usage restrictions to access any content at full speed and software that is available for your device.
The Best VPN For Kodi Users: IPVanish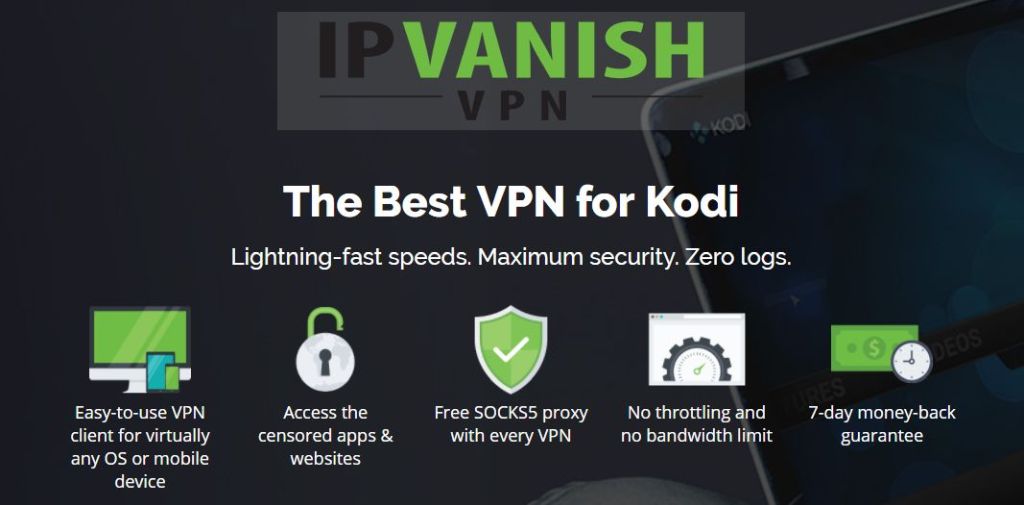 We've tested several VPN against our most important criteria and the provider we recommend for Kodi users is IPVanish. With servers worldwide, no speed cap or throttling, unlimited bandwidth, unrestricted traffic, a strict no-logging policy and client software available for most platforms, IPVanish delivers impressive performance and value.
IPVanish offers a 7-day money back guarantee which means you have a week to test it risk-free. Please note that Addictive Tips readers can save a massive 60% here on the IPVanish annual plan, taking the monthly price down to only $4.87/mo.
What's A Kodi Build?
A Kodi build can be thought of as a preconfigured set of add-ons, repositories, shortcuts, skins, parameters and/or other settings. They're created by Kodi developers to make user's life easier. Instead of installing several repositories and add-ons separately, you install a single build that takes care of everything. Like add-ons, builds are most of the time installed from a repository. The result of installing a Kodi build is what its developer considers to be the perfect Kodi installation.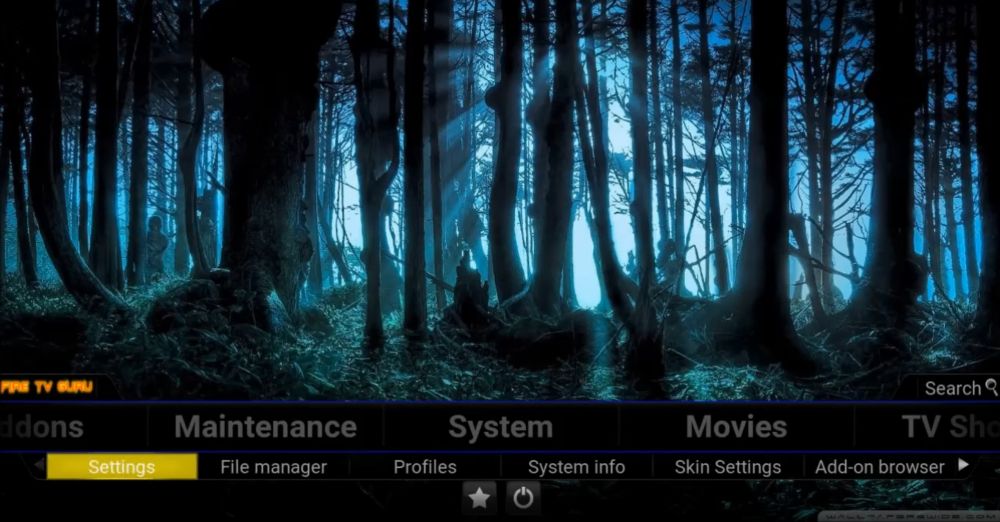 There are "specialized" builds like, for instance, builds that put their primary focus on movies, or others that focus on TV shows or sports. There are also builds that are targeting specific types of hardware or methods of user input. For example, some builds are created to make better use of touchscreen input. And there are builds created to run on reduced-features hardware such as the Amazon Fire Stick.
A big advantage of Kodi builds is that they can hide the complexities of using Kodi. For example, a Kodi build could include a Movies section that includes shortcuts to different parts of the multiple add-ons it installed. As a user, you don't have to know about any of these add-ons. They are hidden from you.
Why Transfer Builds To A different Device?
I hear you asking "if installing a build is so easy, why would I bother transferring it to a different device?" This is a very good question and there are several reasons for it. One of them, and it is probably the most important, is that you might have done some customization to your build. You could have added some add-on you felt were missing from it, configured other add-ons with your own personalized settings such as IMDB or Trakt account information for add-ons that support this kind of integration.
Another reason is just that installing builds can sometimes take quite a while. Due to the large number of add-ons of various kinds that are being installed, it's not uncommon for build installations to take several minutes. It can sometimes take less time to transfer your build to your target device that to reinstall a build.
This Is Not Only For Builds
The processes and methods outlined here are not just for builds. You can use them to transfer the state if your current Kodi installation too. Imagine you've spent weeks installing add-ons, adjusting their settings to your liking, choosing skins and screensavers. In fact, you've done considerably more work that someone who has installed a build. You certainly won't want to have to do it all over again just because you're changing platforms.
The truth is that our procedures don't really transfer builds. What they actually do is transfer the current state of your Kodi installation, the add-ons, skins, screensavers and all together with all your custom settings and adjustments.
Transfering the Kodi Build
There are several ways this task can be accomplished. It depends on the connectivity your source and target devices have. This guide assumes that you'll be transferring builds from a computer to a Fire TV Stick device and also to other types of devices, including another computer. And as we'll see, it can also be used to transfer your settings to the same computer. Believe us, once we explain why this could be useful, you won't find it that bizarre anymore.
Note: All the procedures outlined below assume that you've already installed Kodi on your target device and that you've run it at least once.
Locating The Build Files On The Source Device
In a nutshell, transferring a build from one device to another is just a matter of transferring three directories or folders. The folders in question are named addons, media, and userdata. They are all located in your Kodi data folder but this is where it gets more complicated. The location of the Kodi data folder varies depending on your operating system. Here's where you'll find them on the most common Kodi operating systems.
Windows: C:\Users\USERNAME\AppData\Roaming\Kodi\  (replacing USERNAME with your actual username)
Linux: ~/.kodi/
MacOS: /Users/USERNAME/Library/Application Support/Kodi/  (replacing USERNAME with your actual username)
Note: Under MacOS this folder's content is hidden by default. To display it, open a terminal and navigate to the above folder by typing the following command
cd /Users/USERNAME/Library/Application Support/Kodi/
Next, enter the following command to display all hidden files in the folder.
chflags nohidden ~/Library
iOS: /private/var/mobile/Library/Preferences/Kodi/
Note: There is no way to view hidden files or folders from within iOS. You can't, therefore, directly transfer a build from or to an iOS device. There are ways around that limitation but they are out of the scope of this article. These are cases where it may be simpler to just reinstall the build on the new device.
Android: Android/data/org.xbmc.kodi/files/.kodi/
Note: You might have to tell your file explorer to show hidden files. This option is usually accessible through the file explorer's settings menu.
LibreELEC/OpenELEC: /storage/.kodi/
Transfering A Build To An Amazon Fire TV Stick (Or Any Android Device With No External Storage)
Our goal with this article is to show you how to transfer a Kodi build to a Fire TV Stick device, a piece of hardware with limited interfacing capabilities. Contrary to other similar devices, the Fire TV Stick has no USB port so you can't connect it to a computer and you can't connect some external storage device–such as a USB key or external hard disk–to it. The only thing you have is a WiFi connection with very limited local network access capabilities.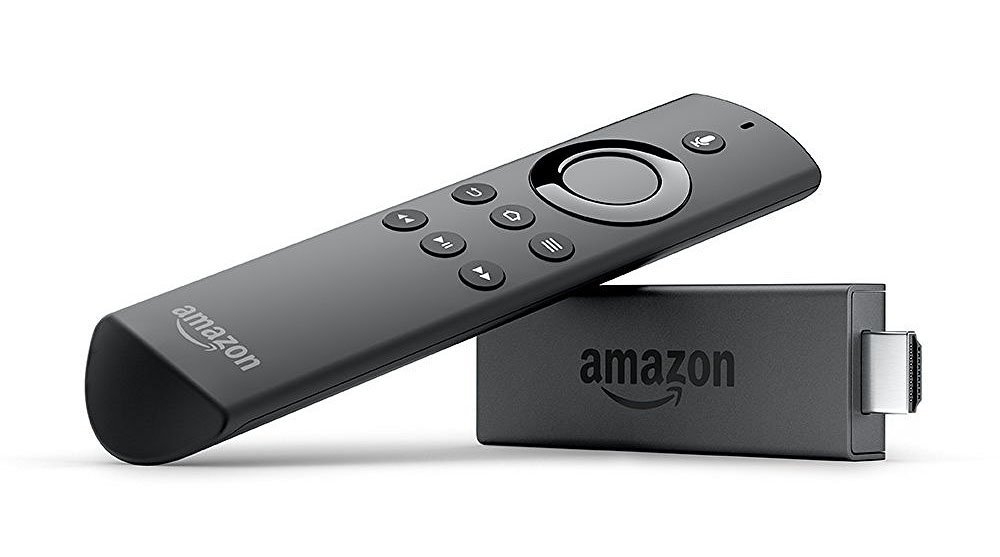 Installing ES File Explorer On The Amazon Fire TV Stick
Given the limited connectivity of the device, the only way we can transfer a build is through the network. There are two ways you can do that, through the local network or by using the Dropbox online storage service. Both require that you install ES file explorer on the Fire TV Stick
Note: If you're using another type of Android device with no external storage facility, you can install ES File Explorer from the Google Play Store.
Installing ES File Explorer On The Amazon Fire TV Stick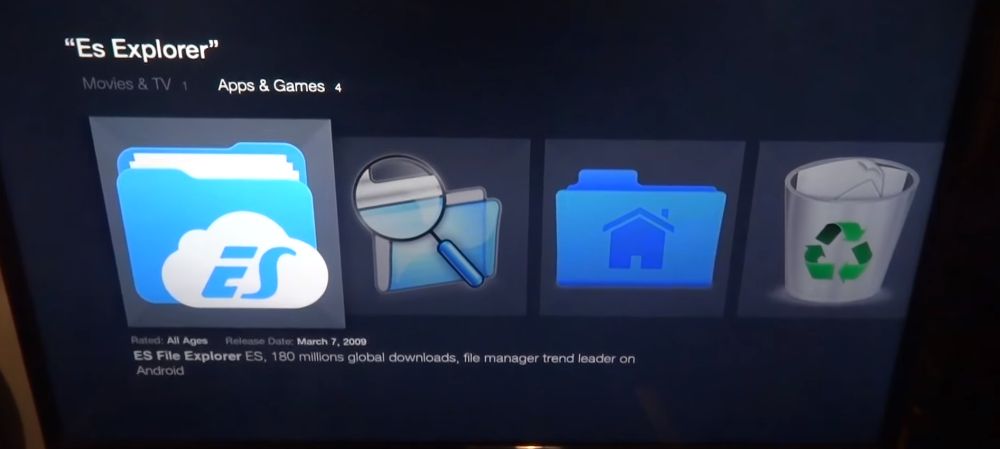 Go to your Fire Tv Stick Home screen by pressing the Home button on the remote. From there, click Search which is at the very top of the Home screen menu.
Search for es file by typing it in using the on-screen keyboard.
From the search results, select the ES File Explorer app.
Select Download to start downloading and installing the ES File Explorer on your Fire TV Stick.
Once the installation is complete, click Open to launch ES File Explorer on your Fire TV Stick.
You're now ready to use it.
Method 1: Direct Transfer Using the Local Network
This method assumes the source computer is connected to the same network as the Fire TV Stick and that its Kodi data folder is available from a network share.
From the Es File Explorer app that we've just installed and launched, click Network from the menu on the left side. The tab will expand and you then need to click LAN. Then, on the right side, click the Scan button.
This will launch a scan of the local network for available devices. Your source computer should soon appear. You can then navigate its shares to find the Kodi data folder with the addons, media and userdata folders in it.
If you don't see the source computer of the proper share and can't navigate to where the three folders are located, check your sharing parameters on your source computer. And if you change something, be patient as some sharing changes can take a few minutes to take effect.
Once you can see the three folders on the source device within ES File Explorer on the Fire Tv Stick, you're ready to start copying them. Hold the remote control's Select button and click each of the addons, media, and userdata folders.
The Fire TV Stick's user interface is a bit tricky to use but you now need to move back to the menu on the left, go down to the bottom and find and click the Copy button.  Don't worry, it sounds more complicated than it actually is.
Go back to the Network tab on the left side. This time, click Local and navigate to Android/data/org.xbmc.kodi/files/.kodi/. Once you're there, click the Paste button. You'll be asked if you want to overwrite the existing files. This is exactly what we want to do so click Overwrite.
Depending on the size of the build you're transferring, the copying can take several minutes. Once the copy completes, you can start Kodi and verify that everything installed properly. The new skin may take a short while to complete its initial setup and then it should work normally.
Method 2: Using Dropbox
The second method assumes that you're familiar with Dropbox and that you've already got a Dropbox account and have copied the three folders (addons, media, and userdata) to your Dropbox. There are a couple of advantages to using this method. First, it can be used between devices which are not connected to the same network. In fact, they could be on different continents. All that is required is that both devices have access to the Internet. The other advantage is that it doesn't require to change anything to the source computer in terms of shares and all.
The first step is to copy all three addons, media, and userdata folder to your Dropbox from the source computer. The way to accomplish that differs depending on the operating system but we're assuming that you're familiar enough with Dropbox and your operating system to complete this step.
Now, on the Fire TV Stick with the ES File Explorer started, click network once more from the left-side menu but this time, click Cloud rather than LAN.
Then click New at the top right and then choose Dropbox from the available options. You'll be asked to log into your Dropbox account.
Once you're connected to your Dropbox account, navigate to the location of the addon, media, and userdata folders. Then, as explained in the previous section, hold the remote control's Select button and click each of the addon, media, and userdata folders.
Also like we showed before, click the Copy button.  Then go back to the Network tab on the left side, click Local and navigate to Android/data/org.xbmc.kodi/files/.kodi/ and finally, click the Paste button. When asked if you want to overwrite the existing files, click Overwrite.
The time it will take largely depends on your Internet bandwidth and the size of the build. Expect it to take considerably longer than the direct transfer explained previously.
Transfering A Build To Other Types Of Devices
Transferring files to an Amazon Fire TV Stick is amongst the most complicated type of transfer you'll encounter. Transferring a build to any other device is a piece of cake compared to it. Of course, if your target device runs Android, you can install ES File Explorer on it and use one of the two methods described previously.
There are countless ways you can go about transferring the addons, media, and userdata folders to other devices. We'll concentrate on two of them as they are the most used methods
Method 1: Direct Transfer Using the Local Network The Devices
This one is similar to the first method of transferring files to a Fire TV Stick but, instead of using ES file explorer, you're going to use the target operating system's file explorer or manager. The method differs vastly from one system to the other, making it almost impossible for us to give you the details instructions we usually provide.
You'll need to be somewhat familiar and comfortable with both the source and destination operating systems. And while we can't really tell you how to do each step, we can tell you what they are.
From the target device, open the file explorer or manager, depending on how it's called.
Then navigate to the local network and find the source device. Navigate the device's folders until you get to where the addons, media, and userdata are located and copy them.
Next, you need to navigate back to the local device's Kodi folder and paste the three copied folder.
Method 2: Using Some External Storage Media
The last method we'll explore involves using some external storage media such as a USB key. The requirement, of course, is that both devices support this kind of devices. The process varies for different operating systems but it simply requires that you copy the three folders from the source device to the USB key, remove the key and connect it to the target device and copy the three folders again from the USB key to the target device's Kodi Folder.
With this last method, the source and target devices can be one and the same. Imagine, for example, that you were running Kodi on a Raspberry Pi with the Raspbian Operating system. For whatever reason, you decide that you'd rather switch to the LibreELEC operating System. In that case, you'd copy the three folders from Raspbian to the USB key, then reformat the Raspberry Pi SD card and install LibreELEC and finally copy the three folders from the USB key back to the Raspberry Pi and voilà! You now have an identical Kodi except that it's now running on LibreELEC.
Wrapping it up
There are likely several more ways of transferring a Kodi build to the Fire Stick and other devices but our goal was to tell you about the most common and the easiest ways. And since transferring a build is nothing more than copying three folders from the source device to the target, it's not rocket science. With the help of an application such as ES File Explorer, the task is relatively simple and quick, requiring minimal preparation.
Have you ever tried transferring a build from one Kodi device to another? Would you care to share your experience with us? We're particularly interested in hearing about any issues you may have encountered and how you solved them. And if you have unsolved issues, why not mention them too. perhaps another reader will be able to help. Use the comments below to share your experience.