We are reader supported and may earn a commission when you buy through links on our site.
Learn more
Ligue 1 on Kodi: How to Watch Ligue 1 Live Online, Plus Alternatives
If you're a football fan and you like to watch the French Ligue 1, you'll know that it's not easy to watch streams of games over the internet. Of course, if you're located within France then it's simple enough to find Ligue 1 games on the television or being broadcast in bars. But if you're in another country, then it's trickier to find places to watch the matches. Popular French clubs like Paris Saint-Germain, Monaco, and Lyon have fans all around the world who want to keep up with their progress in the league, and who want to watch their matches as soon as possible.
There are ways to watch Ligue 1 online from elsewhere in the world, however. Today we're sharing a variety of ways in which you can watch French Ligue 1 from anywhere on your computer. We'll show you two add-ons for the Kodi media centre software, Sportie and SportsDevil, which can both be used to stream live Ligue 1 matches. If you don't want to install Kodi, we'll also show you two alternative ways to watch Ligue 1 in your web browser. Read on to find out more.
30-days money back guarantee
Watch Ligue 1 Live with Kodi
If you've been frustrated with trying to find quality streams of Ligue 1 matches, you'll be happy to know that there are reliable options out there. While web streams can be often of low quality or may even just cut out half way through a match, there are ways to find high-quality streams to watch on your computer or TV.
One of the best ways to watch live sports online is using the Kodi media centre software. This open-source software was created for managing and playing media that you have stored on your device, but you can install additional add-ons to greatly extend its functionality. These add-ons can be used to stream content from the internet, including live sports like Ligue 1 matches. We'll show you two great add-ons for watching sports: Sportie and SportsDevil.
Why You Need a VPN to Use Kodi Add-ons
Before we get into instructions for installing and using the add-ons, it's important to address the issue of security. These add-ons can allow you to stream content like sports events illegally, and so it can be risky to use them over an unsecured internet connection.
To protect yourself when using add-ons, it's advisable to get a VPN, which is a piece of software which you install on your device to encrypt all of the data that you send over the internet. This encryption makes it impossible for your ISP or law enforcement to directly see what content you have been accessing online, helping to keep you safe when you're streaming.
We Recommend IPVanish for Kodi Users
We recommend VPNs based primarily on their degree of security – for example, does the VPN use strong encryption and have a no-logging policy? We also consider ease of use of the VPN software and its support for different operating systems. Finally, we assess the quality of the service in terms of the speed of the connections and the number of servers available for your use.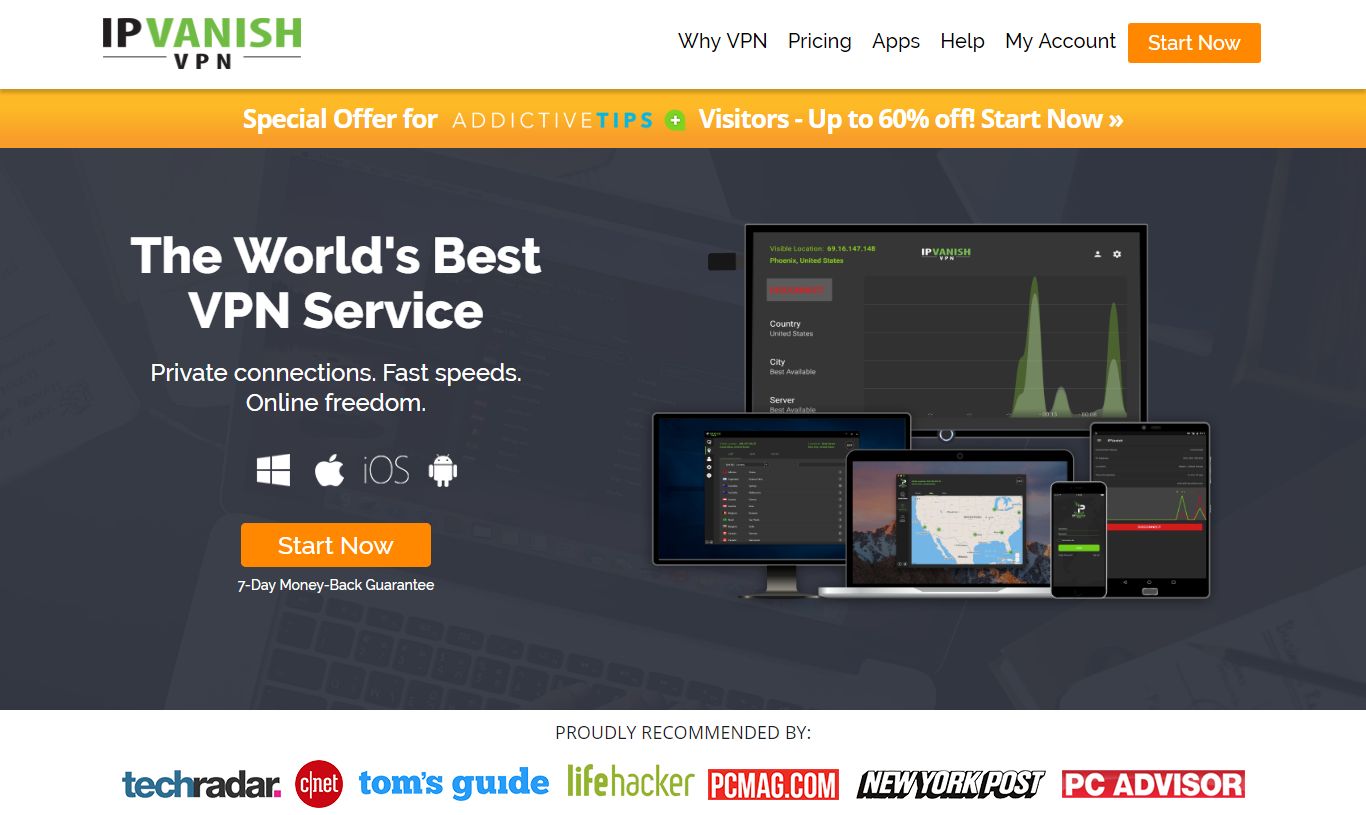 Based on these factors, we recommend the IPVanish VPN service for Kodi users. IPVanish has strong 256-bit AES encryption and an outstanding no-logging policy, with software support for all the major platforms. Furthermore, they provide access to over 850 servers in 61 countries, as well as fast connections which are ideal for streaming video.
IPVanish offers a 7-day money back guarantee which means you have a week to test it risk-free. Please note that Addictive Tips readers can save a massive 60% here on the IPVanish annual plan, taking the monthly price down to only $4.87/mo.
Use the SportsDevil Add-on for Kodi to Watch Ligue 1 Live
The most viable add-on you can use to watch Ligue 1 is SportsDevil. It features links to streams for a big range of sports including rugby, basketball, tennis, and cricket as well as football.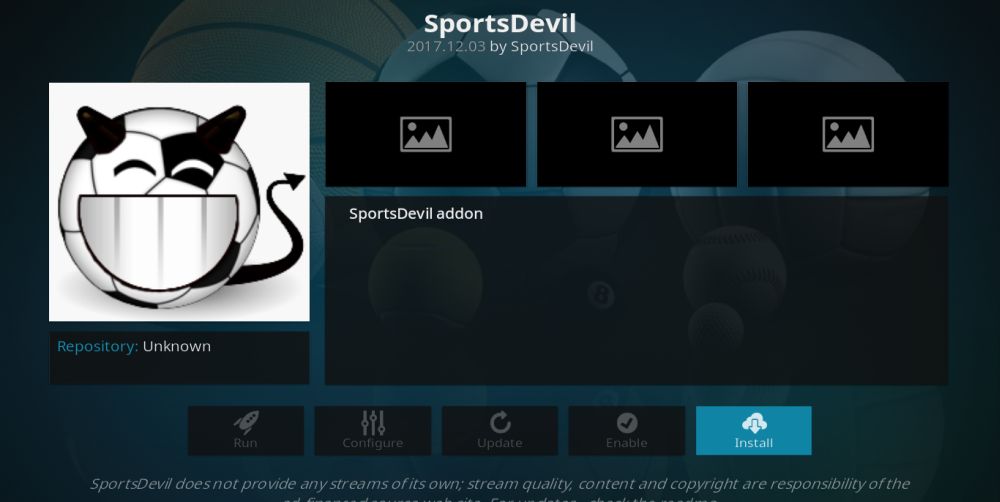 Here's how to install and use SportsDevil to watch Ligue 1 matches:
Begin on your Kodi home screen
Click on the settings icon, then go to File Manager
Click on Add source
Click on the box where it says <None>
Enter in this URL: https://kdil.co/repo/ Make sure to type it exactly as written, including the https://, or it won't work
Give the source a name. We'll call it kodil
Click OK
Go back to your home screen
Click on Add-ons
Click on the icon that looks like an open box
Click on Install from zip file
Click on kodil, then on kodil.zip
Wait for a moment and you'll see a notification once the source has been installed
Click on Install from repository
Click on ..Kodil Repository
Click on Video add-ons
Click on SportsDevil
A screen will open describing the add-on. Select Install from the menu at the bottom
Wait for a moment and you'll see a notification once the add-on has been installed
Now that the add-on is installed, here's how to find the right matches:
Start on your Kodi home screen
Go to Add-ons
Go to Video add-ons
Select SportsDevil
Go to Live Sports
Go to SportStream365, then to Football
You'll see a list of current and upcoming football matches from different leagues, including Ligue 1. Click on the title of a match and you'll be taken to a list of streams. Here you'll see the name of the channel and the bit rate of the stream in kbps in brackets next to it. Click on the name of the channel and you'll see options for external player or Plexus addon. Select External Player and the stream will begin
Sometimes the streams might not work as their availability depends on hosters. If these streams don't work, you can try another source instead. Within Live Sports you'll find the LiveTV.ru section. Click on this
Go to Football and you'll see a large list of current and upcoming games including Ligue 1 games. Click on the title of a game and the stream will begin
Watch Ligue 1 with BeIN Connect
If you'd like to watch streams from an official source, then you can look into a BeIN Connect pass. BeIN is one of the most popular sports networks in Europe, and the BeIN streaming service includes access to all of the Ligue 1 matches. The streams are of high quality, and allow you to watch every game live. You will also get access to streams of other European sports events to boot. This includes streams of other European football leagues like the Premier League, the Bundesliga, La Liga, and the Champions League.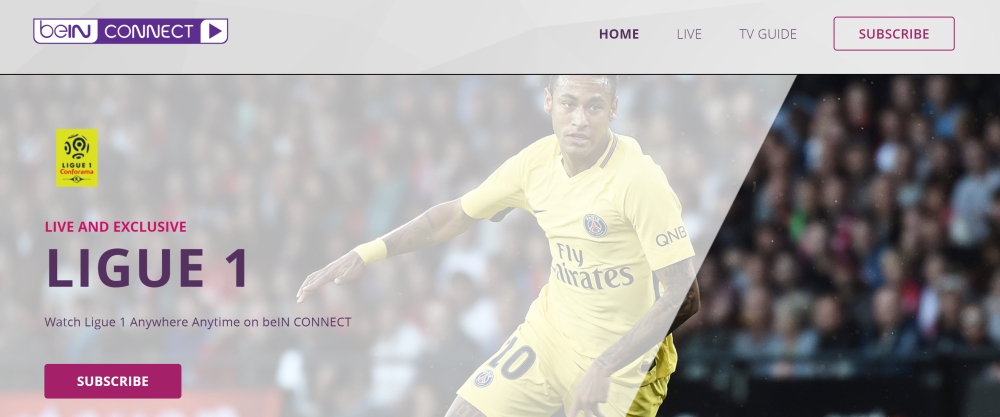 You can purchase a BeIN Connect monthly pass for $18 per month, or a yearly pass for $180. If you watch Ligue 1 games regularly, this works out to be very good value, as with this pass you have unlimited access to live streams which you can watch through any web browser.
You can sign up for a BeIN Connect pass at https://connect.bein.net/en/
Watch Ligue 1 with Links from SoccerStreams
It is also possible to watch Ligue 1 games for free through online streams. Although it's difficult to find streams, as many streams are of poor quality or are not reliable, there are some sources which are more solid than others.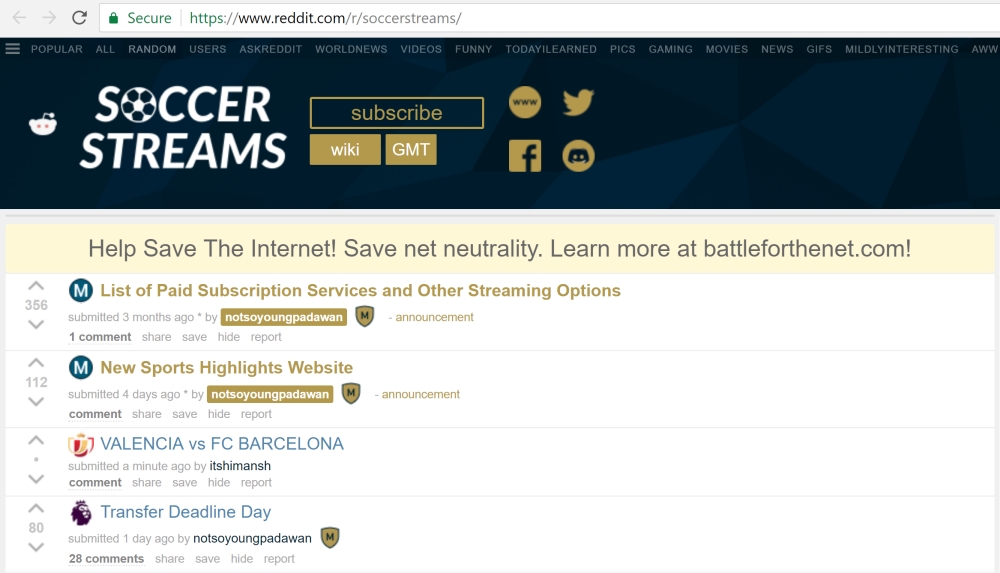 The best source for links to quality football streams is the SoccerStreams site on Reddit. This site collects links which are submitted by football fans from around the world, and it has the most up-to-date and reliable collection of links. You can visit the site at https://www.reddit.com/r/soccerstreams/ and see the list of games on the front page. Each title shows the starting time in square brackets, followed by the name of the two teams which are playing. Unfortunately, it isn't possible to search the matches by league, so you'll have to scroll through the list to find the Ligue 1 matches.
Once you find the title of the game you want to watch, click it and you'll be taken to a page where users can submit links to streams for that game. These links are labelled with SD for standard definition or HD for high definition, and you may also see notes on whether the stream has adverts or not, and what language the commentary is in. Clicking on any link will take you to the stream where you can watch the game.
Sometimes you will have to try a few different links before you find one that works, so be prepared to click around a little bit and you'll get a stream that works eventually.
Watch Ligue 1 with FTFA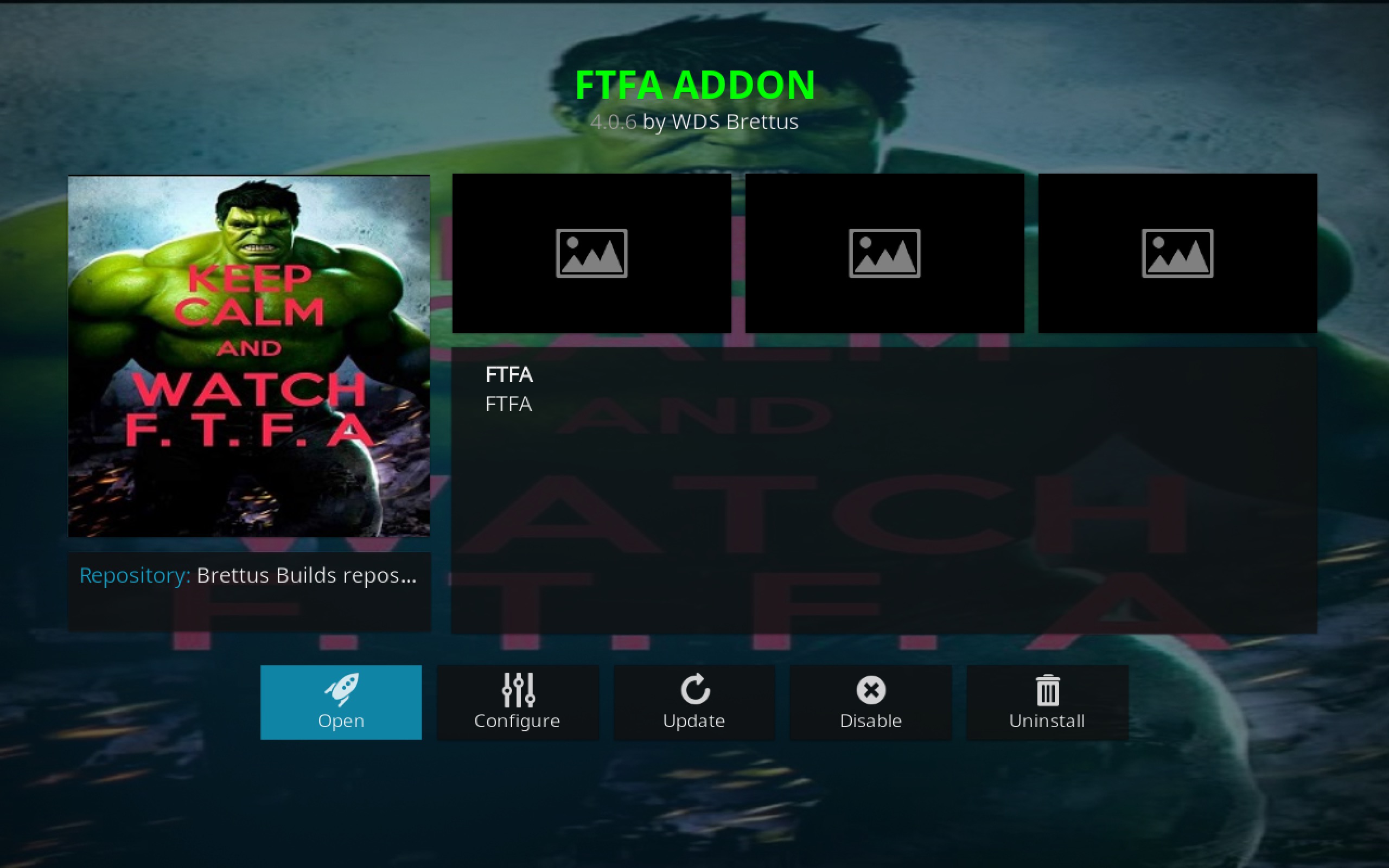 FTFA does things a little differently. Most sports and movie streaming add-ons focus on specific titles or events, building up an archive of on-demand content you can sift through and watch at your leisure. With FTFA, however, you're presented with a list of IPTV channels that stream in real-time. No stale archives or broken links, just fresh content on-tap and ready. There's even a live pay-per-view section that rotates on a regular basis!
How to Install FTFA
FTFA is available through the Brettus Repository. Installation is pretty standard as far as Kodi add-ons go, but you will need to sort through a list of repos and possibly even activate the add-on with a free PIN. We've outlined the installation steps below to make things as easy as possible.
Open Kodi and click on the gear icon.
Go to File Manager > Add Source.
Add the following URL exactly as it appears: https://toptutorialsrepo.co.uk/kodi/Repos/
Enter an easy to remember name, such as toptuts
Click OK. Kodi will add the repo to your sources list.
Go back to the main menu and select Add-ons, then click the open box icon.
Choose Install from Zip File, then select the repo named above.
Scroll down and find the file named repository.Brettusrepo-#.#.zip
Install the repo, then go back to the open box menu and choose Install from Repository.
Select the entry named Brettus Builds Repository.
Navigate to Video add-ons.
Look for the FTFA add-on in the list and install it.
Launch the add-on. You may be prompted to activate the add-on through an external site. If so, continue with the steps below. Don't worry, it's free and perfectly safe.
Click OK to confirm the pop-up window. A website will load in your browser.
Click the blue GENERATE button to receive a PIN.
Copy the PIN, then go back to Kodi and paste it into the window.
After a moment the FTFA add-on will validate and be ready to use.
How to Use FTFA
As soon as you fire up FTFA you'll see a collection of servers located in the U.S. and UK. Each one has a variety of channels broadcasting all kinds of content, including new movies, classic TV shows, and of course, every sport imaginable. You'll need to consult a schedule to see when Ligue 1 matches will be shown, but once you have that information in hand, jumping on to catch the latest in French football is extremely easy.
Ligue 1 is shown on several channels in the UK, most prominently on the BT Sport network. FTFA has several of these streams ready to go at all times. Simply run the add-on, click on the Live TV Server 2 UK IPTV category, then choose one of the channels below:
BT Sport ESPN HD UK
BT Sport ESPN UK
BT Sport 3 UK
When the match airs, make sure you have your stream queued up and ready to go. You'll be able to watch everything live on your Kodi device as easily as you would on TV!
Conclusion
We've shown you a variety of ways to watch Ligue 1 matches. For those who watch a lot of sports online, you can try the Kodi software with add-ons like Sportie or SportsDevil. These add-ons collect links for streaming live football matches including Ligue 1, and you can use Sportie to rewatch older games too.
Alternatively, you can watch matches in your web browser instead. You can purchase a monthly or annual pass for BeIN Connect which lets you watch BeIN streams in high quality and for not too much expense. If you don't have the cash to spend on a subscription, you can find links at the SoccerStreams site instead.
How do you watch Ligue 1? Do you use one of these methods for streaming matches, or is there another way that you prefer to use to watch online? Let us know in the comments below!