We are reader supported and may earn a commission when you buy through links on our site.
Learn more
Xtreme Wilderness Kodi Add-on, Best For Everything Wild
If you're a fan of wildlife videos, the Xtreme Wilderness add-on for Kodi might be just what you need. It was just very recently released by developer Loose Cannon from team Looking Glass. The add-on has hundreds of great-quality video documentaries about everything wild. There are videos about animals from all over the world, from the hottest to the coolest places one can think of and even from under the oceans. There are films about survival in the wild as well. There's even a whole section of extreme outdoor recreational activities.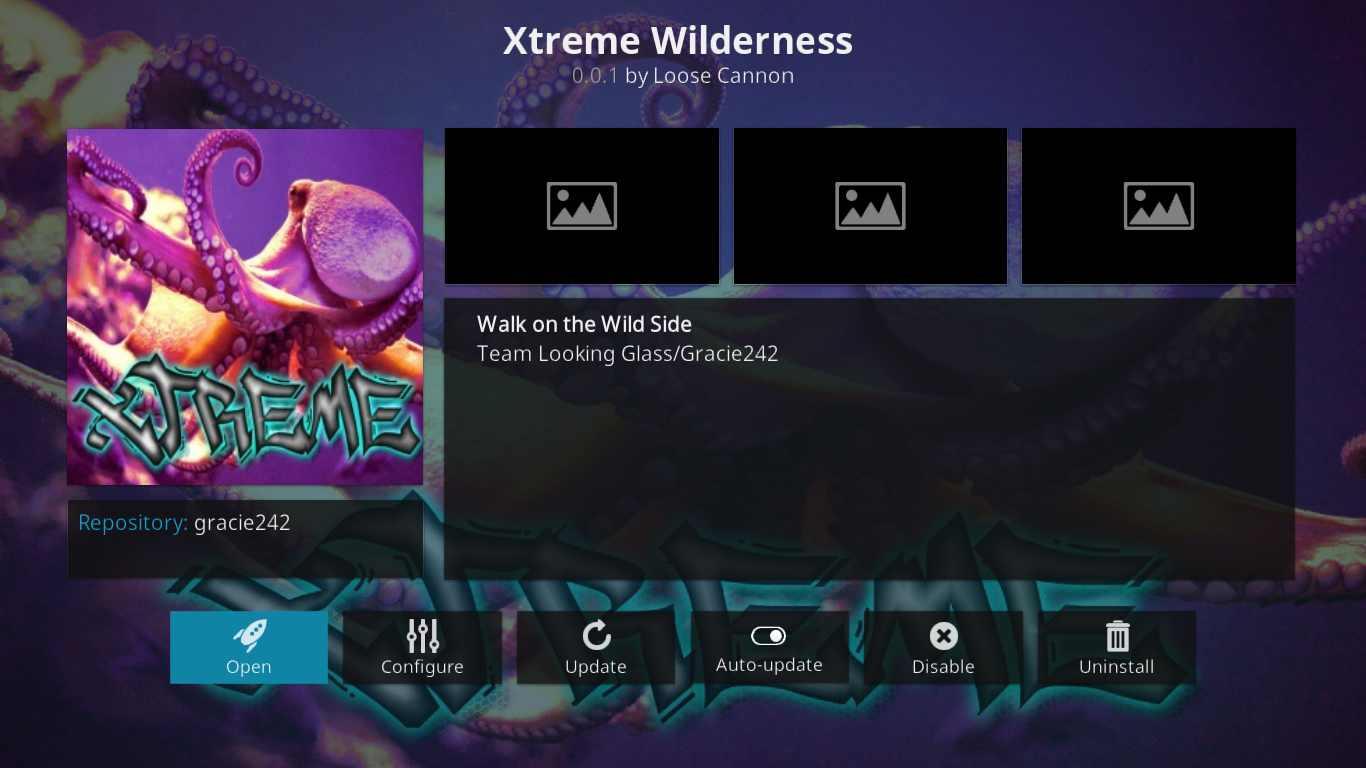 Since you might be eager to start using this great add-on, we'll start our discussion by showing you the steps required to install the Xtreme Wilderness add-on. As usual, our detailed instructions will help make the process a smooth one. Then, we'll take you through a guided tour of what the Xtreme Wilderness add-on has to offer (and as you'll soon see, there is quite a lot). Finally, we'll try to give you our unbiased opinion about this add-on. Ready to begin? Read on!
30-days money back guarantee
A VPN is an Essential Tool to Protect Your Privacy
If you want to keep what you're doing to yourself and want to avoid the scrutiny of overzealous Internet Service Providers, you must use a VPN. When an ISP suspects someone might be violating their terms and conditions, they can react by throttling down their speed, sending them copyright infringement notices or even interrupting their service. A VPN protects one's privacy by encrypting the data using strong algorithms that make it almost impossible to crack. Furthermore, by using appropriately located servers, A VPN allows bypassing geographic restrictions.
Choosing a VPN can be a difficult task. There are so many suppliers available. Important factors to consider are a fast connection speed to avoid buffering, a no-logging policy to further protect your privacy, no usage restrictions to access any content at full speed and software that is available for your device.
The One We Recommend for Kodi – IPVanish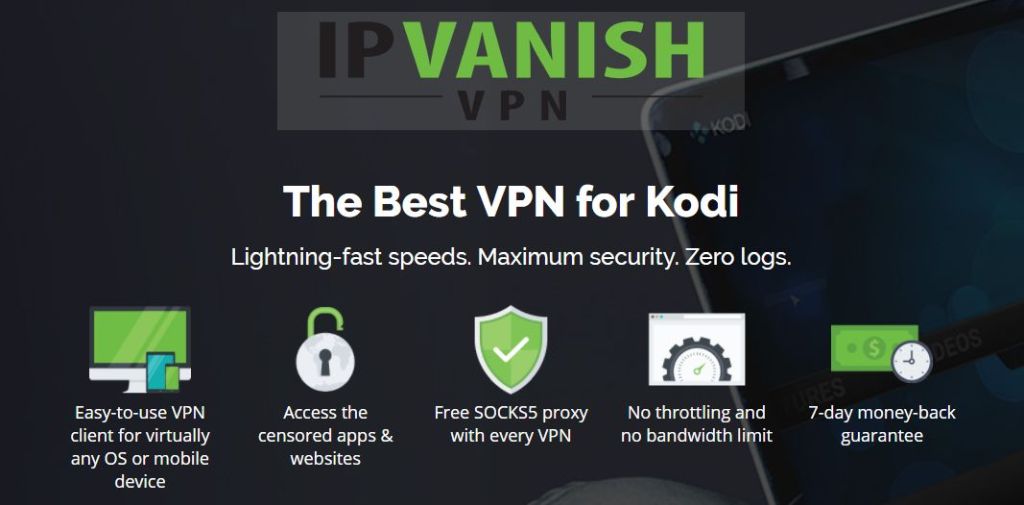 We've tested several VPN against these criteria and the provider we recommend for Kodi users is IPVanish. With servers worldwide, no speed cap or throttling, unlimited bandwidth, unrestricted traffic, a strict no-logging policy and client software available for most platforms, IPVanish delivers impressive performance and value.
IPVanish offers a 7-day money back guarantee which means you have a week to test it risk-free. Please note that Addictive Tips readers can save a massive 60% here on the IPVanish annual plan, taking the monthly price down to only $4.87/mo.
Installing the Extreme Wilderness Add-on on Kodi
Just like most Kodi add-ons, installing Extreme Wilderness is a three steps process. You first configure the repository installation source path. Then, you continue by installing the Gracie242 repository. Finally, you install the Xtreme Wilderness add-on from that repository. Let's start!
Step One – Adding the Repository Source
Starting from the Kodi Home screen, click the Settings icon at the top left of the screen. It resembles a little gear.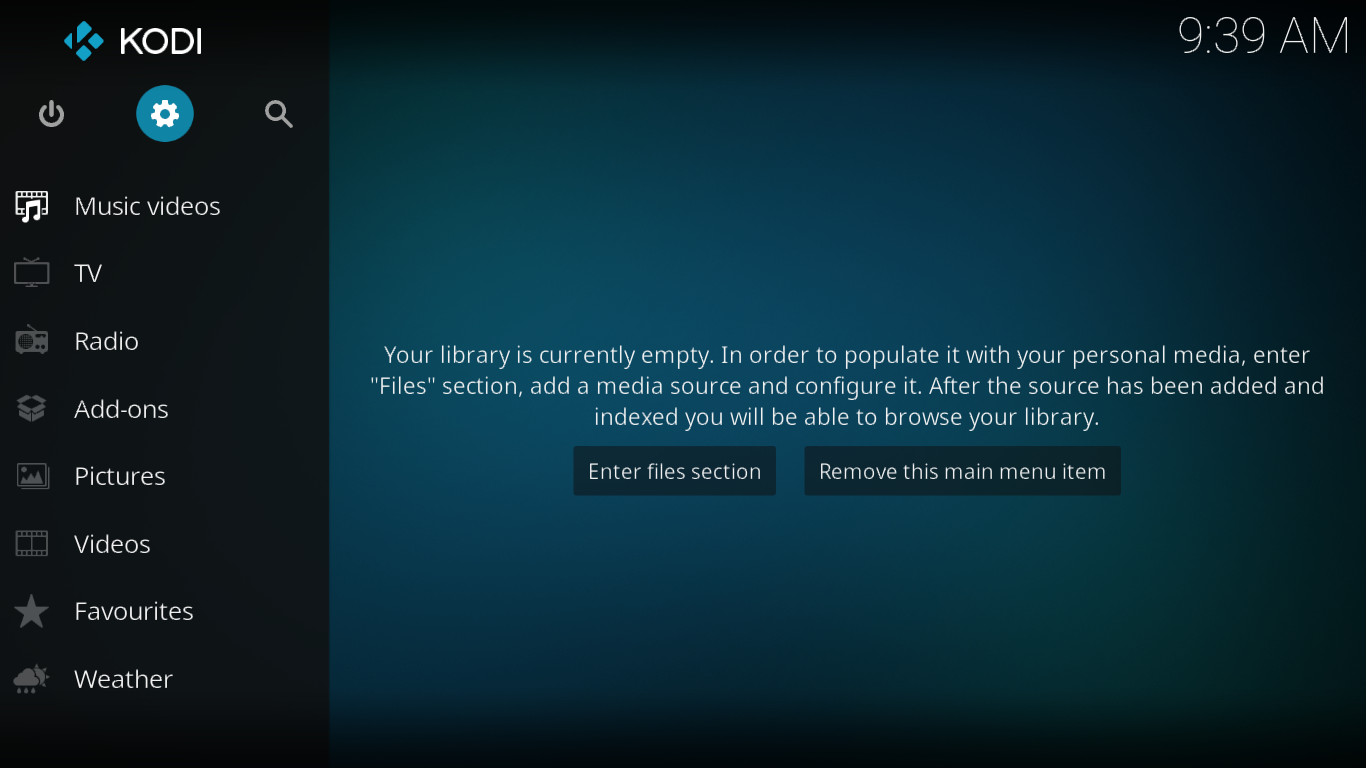 From the Settings screen, click File manager and then, from the File manager screen, double-click Add-source on the left pane. You'll get to this screen: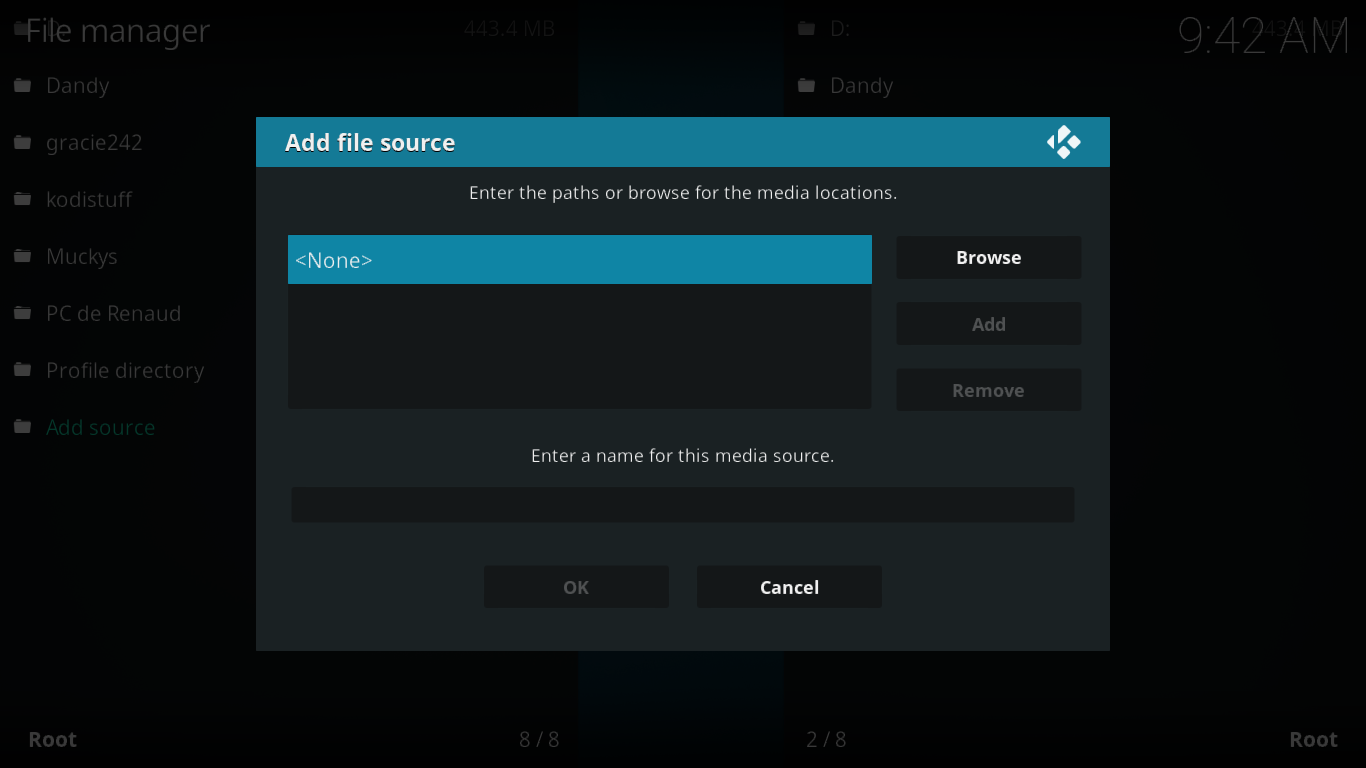 Click <None> and, at the top of the next screen, enter this path exactly as shown: https://archive.org/download/gracie242 then click OK.
Back to the Add File Source screen, just click OK at the bottom of the screen to complete this step.
Step Two – Instaling the Gracie 242 Repository
Go back to the Kodi Home screen. Now, click Add-ons on the left pane and then click the Add-on Browser icon at the top left of the screen. This one looks like an open box.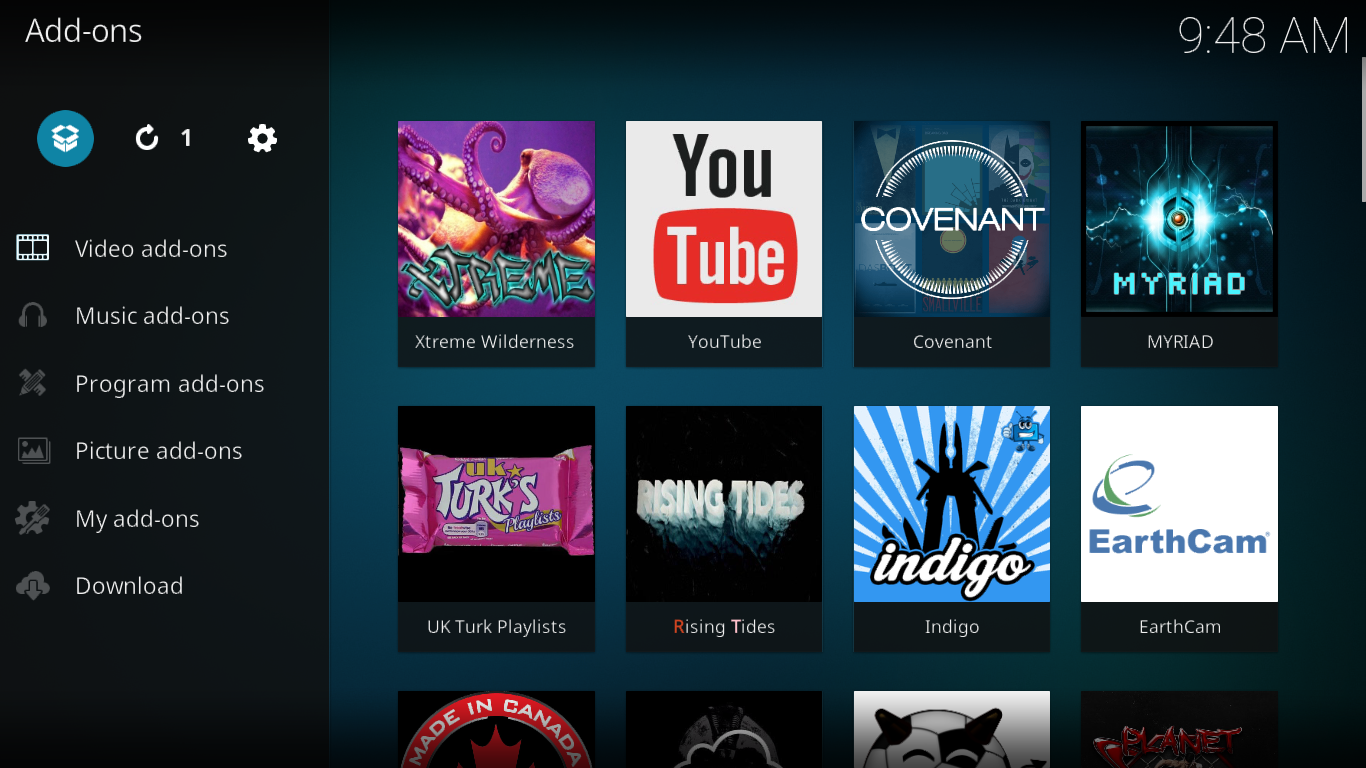 From the add-on browser screen, click Install from zip file. After that, click the gracie242 source you just added in the previous step. And finally, click repository.gracie242.zip to launch the repository installation.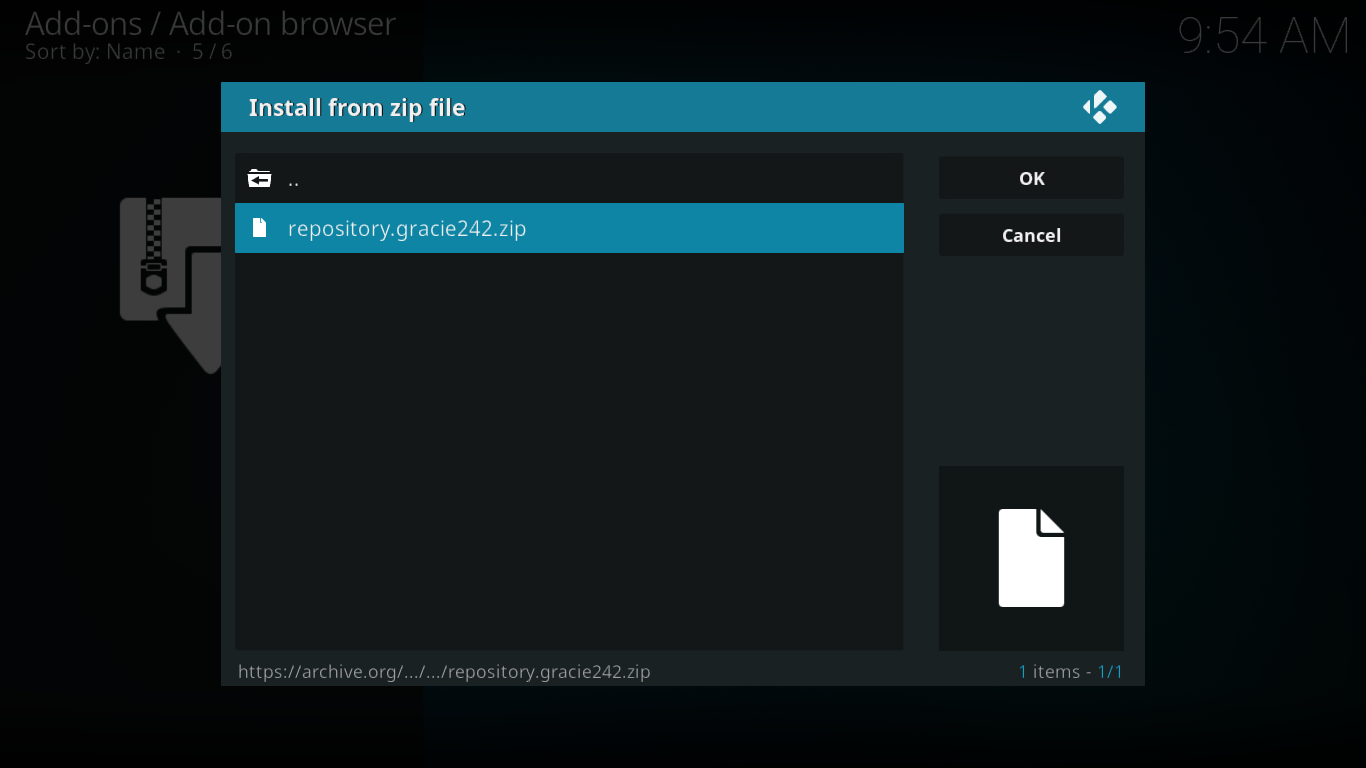 In a very short while, a message at the top right of your screen will confirm the successful installation of Gracie242.
Step Three – Installing the Add-on
With all the preliminary steps completed, we're now ready for the actual Xtreme Wilderness add-on installation. You should still be on the Add-on Browser screen. Simply click Install from repository this time. A list of all your installed repositories will appear.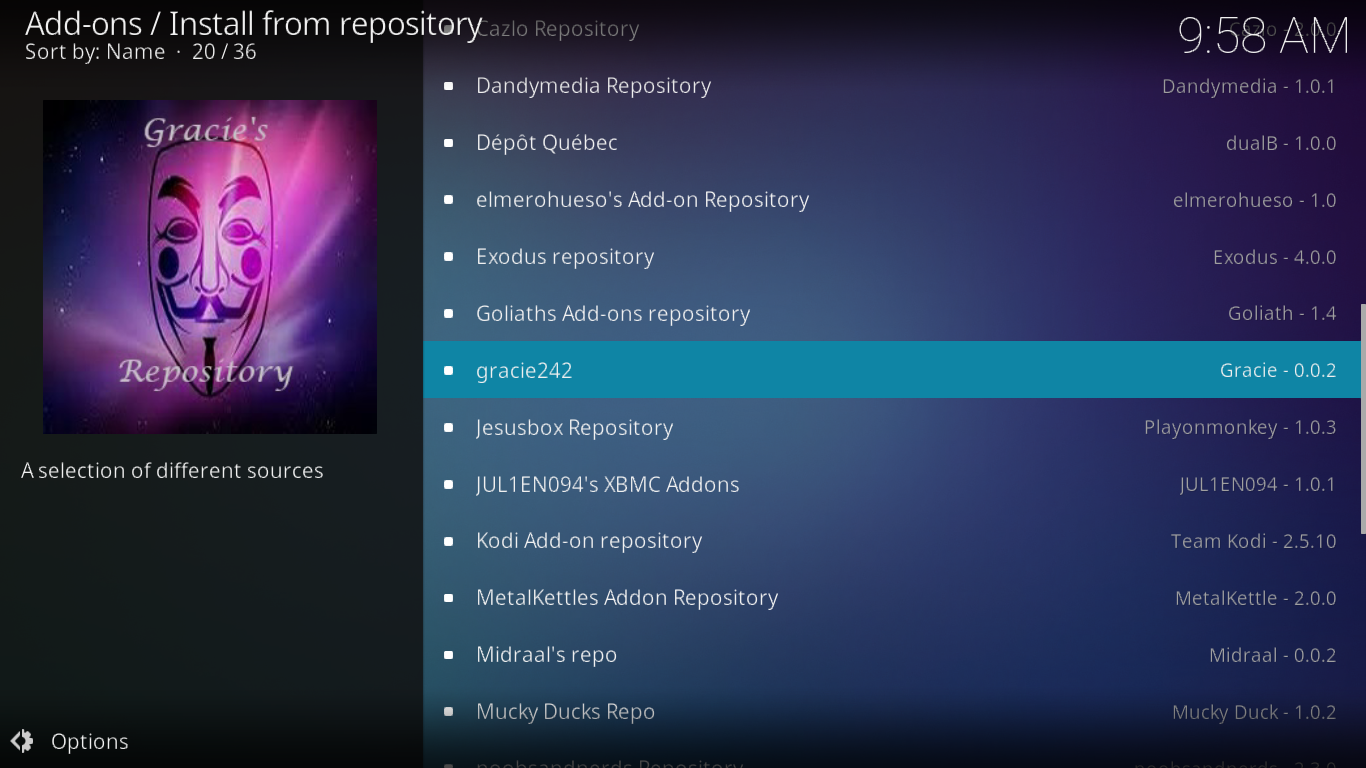 Find and click the gracie242 repository, then Video add-ons and finally Xtreme Wilderness. They're in alphabetical order so it should be near the end of the list. The Xtreme Wilderness information screen will appear.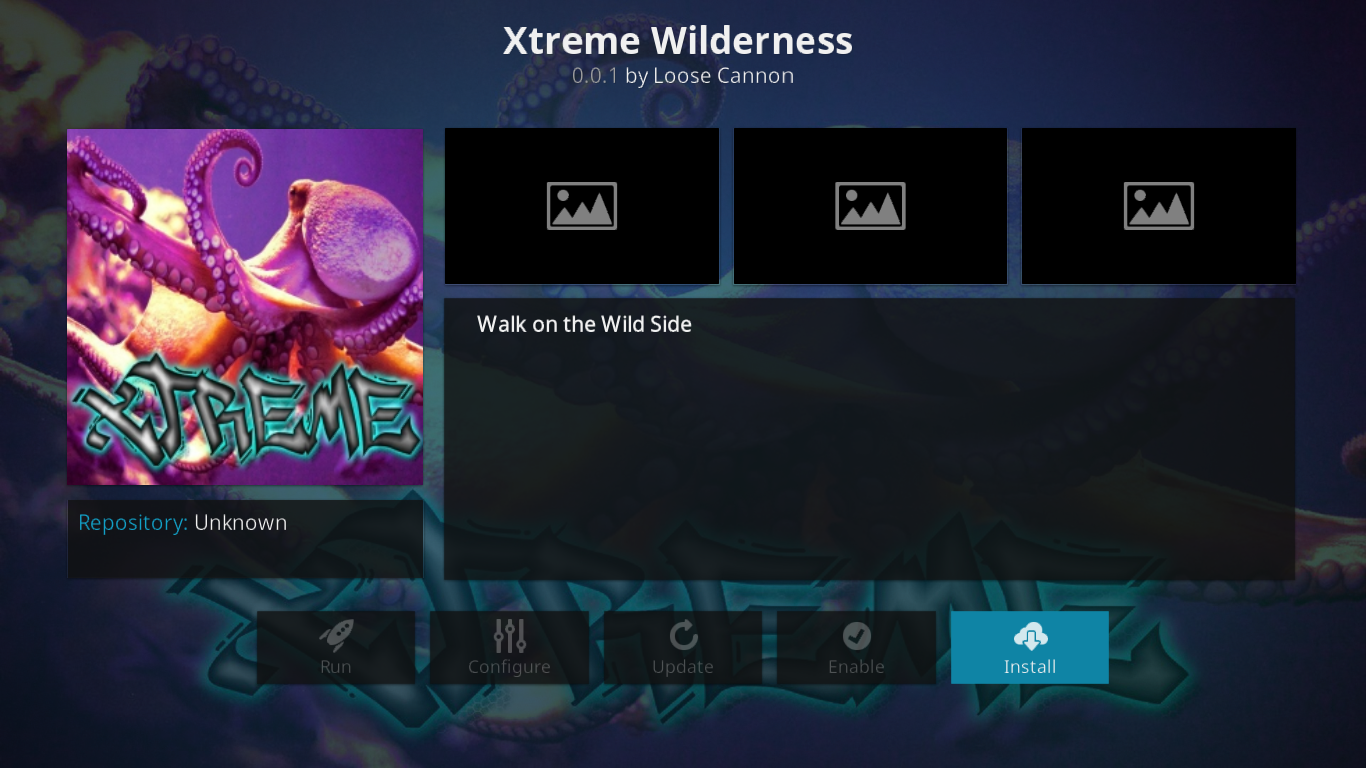 Click the Install button at the bottom right to launch the installation. Within a few seconds, a message at the top right of your screen will confirm the successful installation of the Xtreme Wilderness add-on.
That's it! We're done. We're ready to start discovering what this great add-on has to offer.
A Guided Tour of the Xtreme Wilderness Add-on
Upon starting the Xtreme Wilderness add-on, its main menu will be displayed. It is simple yet very comprehensive.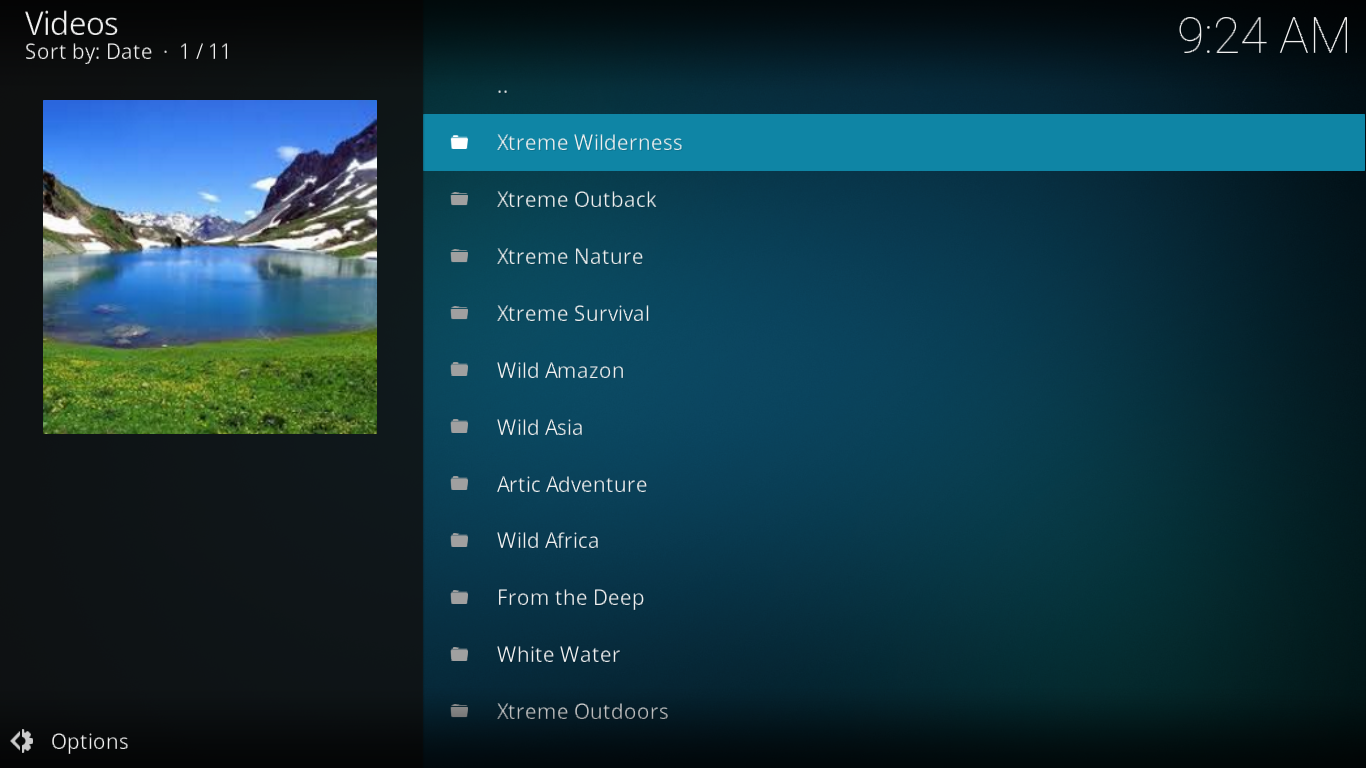 There are 11 subsections to this add-on. As you'll see, some are pretty obvious while others are a tad more obscure. Let's try to shed some light on this.
Xtreme Wilderness
This section seems to contain a mix of documentaries and fiction films. It's got short films as well as feature-length movies. Overall there are over 60 selections in this category. This section covers all regions of the globe, and you'll find everything from snow owls to Amazonian wildlife.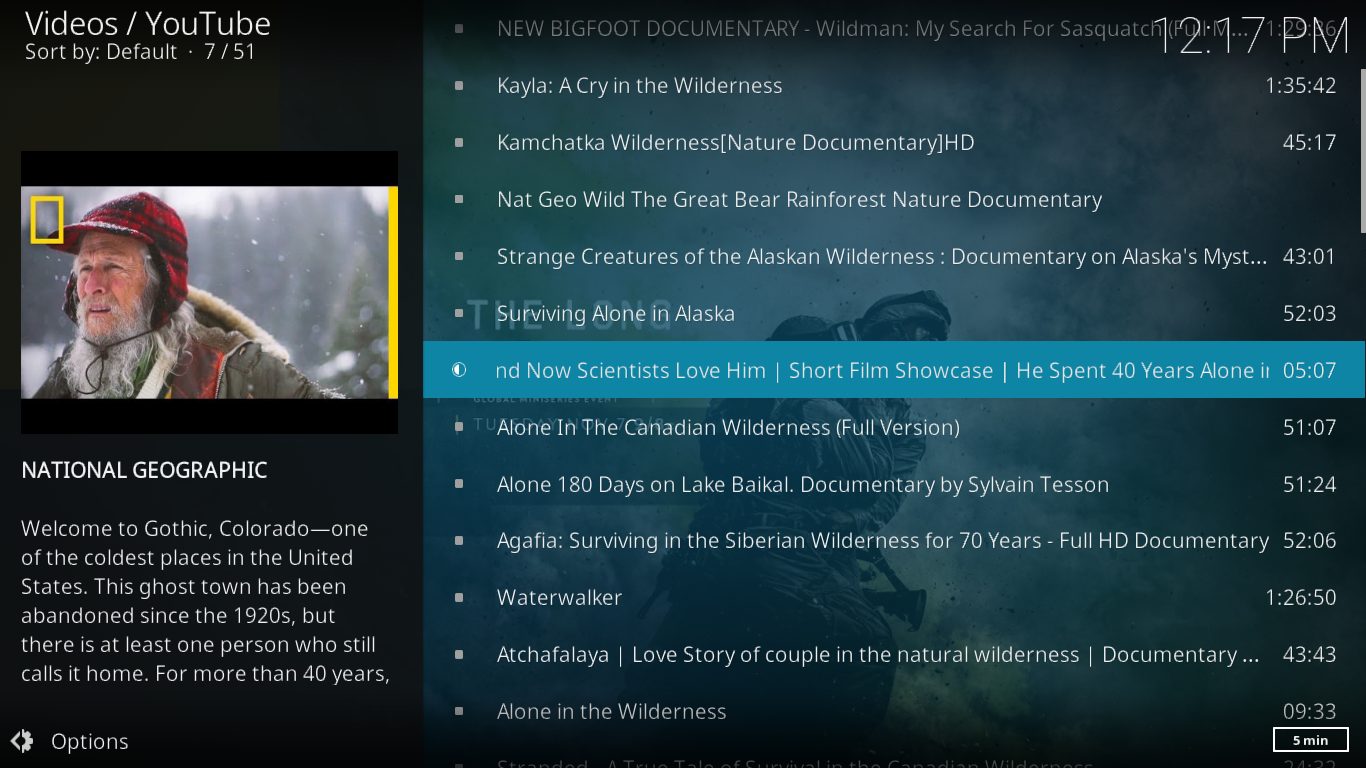 You'll find a selection of films featuring wild animals together with tales of people living (or surviving) in some of the most remote and wild locations. This section is kind of a "best of" of what the add-on contains with content that could fit in other sections as well as in this one.
Xtreme Outback
The Extreme Outback section is all about Australia, as you would have guessed. With Australia being such an isolated place, it's got more than its share of unique animals. You'll find numerous videos in that section about some of the most unique animals down under. There are films that feature Australia at its most beautiful but also at its most terrifying.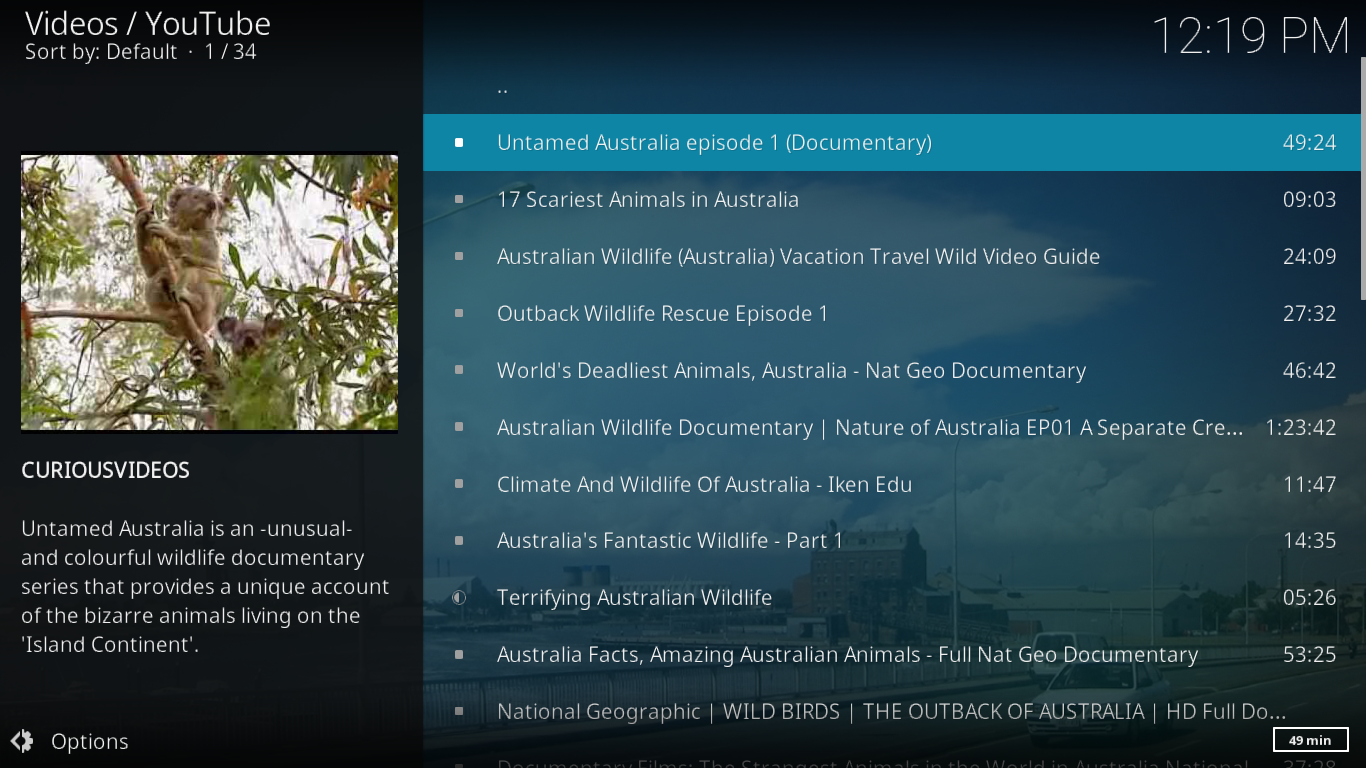 Australia has lots of remote, uninhabited locations, some of them the home of some of the most dangerous animals on earth. Of course, many charismatic fauna like koalas, kangaroos, wombats and a whole host of exotic birds get plenty of screen time as well. Whatever you're in the mood for, you'll find a good mix of it all within the 30+ selections in this section.
Xtreme Nature
This next section, one of the add-on's largest with over 200 videos, is not so much about animals as it is about nature in general. You'll find a mix of films about some of the wildest and remotest places on earth. Alongside these videos, you'll also find some about the forces of nature, weather and other natural phenomena.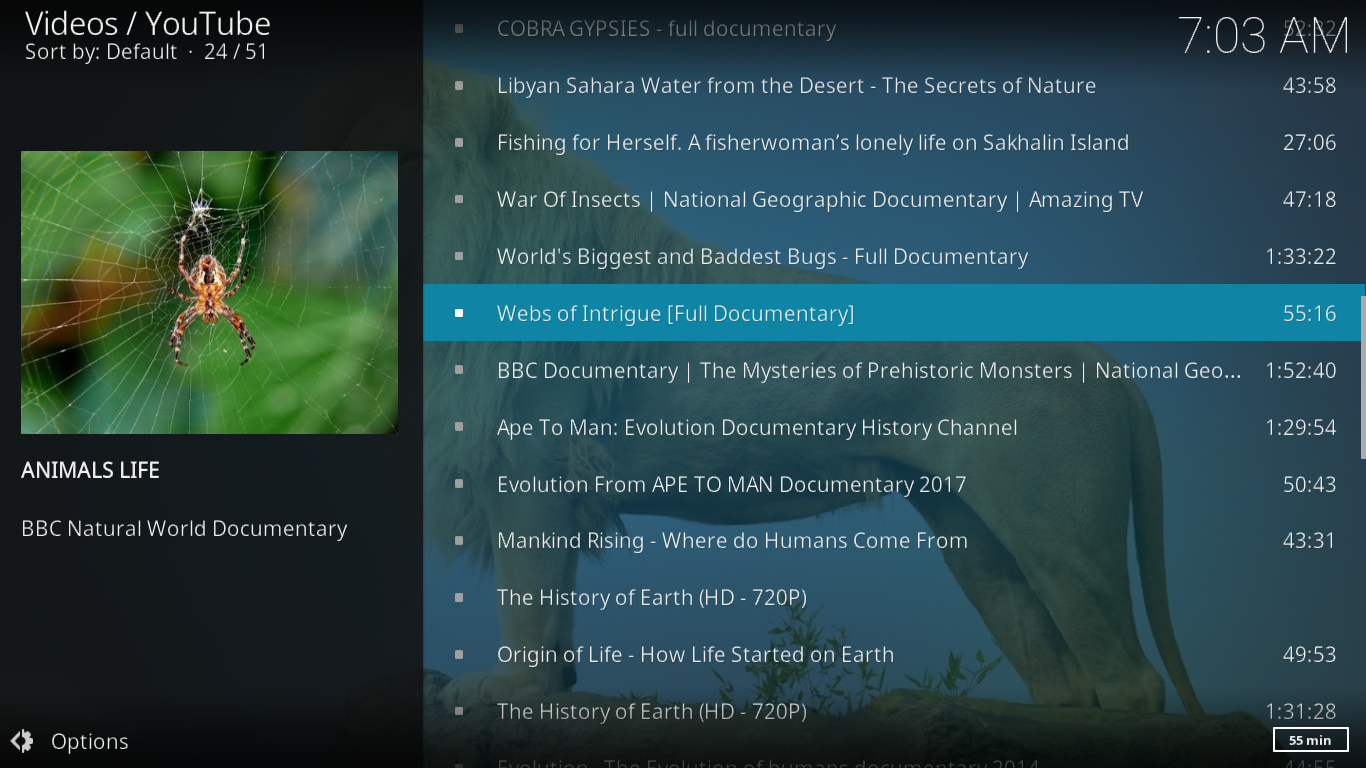 The Xtreme Nature section also hosts a number of films about prehistoric creatures. Another popular section focuses on, perhaps unsurprisingly given the name, nature's most extreme animals. As an example, there is a very short film about the carnivorous caterpillars of Hawaii that features absolutely astounding footage.
You'll also find a good number of documentaries about wonders of nature such as volcanoes and oceans. Browsing its five pages of content is sure to reveal something of interest to almost anyone.
Xtreme Survival
This section features tales of how people survive in some of the wildest places on earth, either by choice or by obligation. If you're interested in learning why some people choose to live in inhospitable locations, this section is definitely for you. The same is true if you want to know how people who were forced to survive in the toughest locations managed to do it.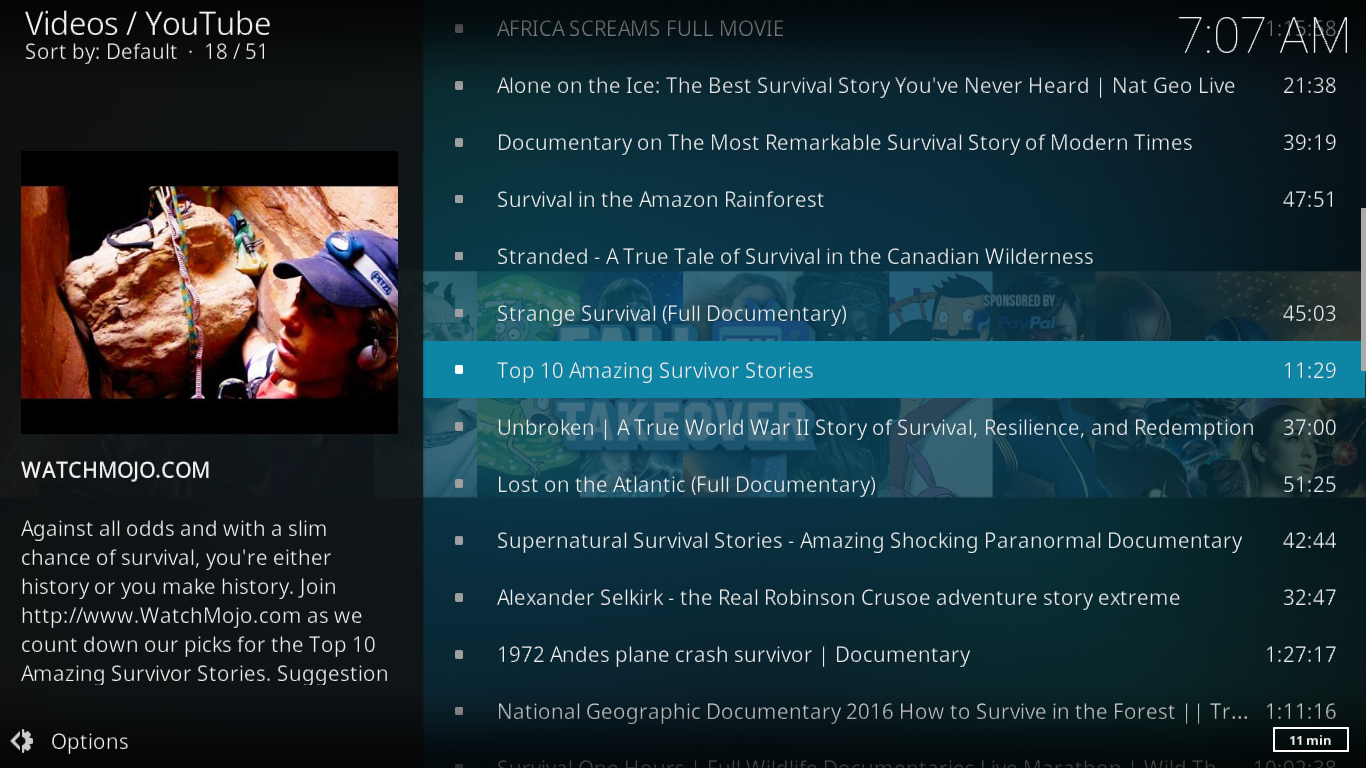 The sixty-something selections in this section all have one common theme: Man versus nature. Some of them are about struggle, others are about harmony. All of them reveal some unknown aspect of human nature.
Wild Amazon
The Amazon is the world's largest river by volume of water and the second-largest by length. But it's not only a river, it is the name given to the whole region drained by the river. It is the world's most famous rainforest and it has some of the most fascinating animals, people, and places.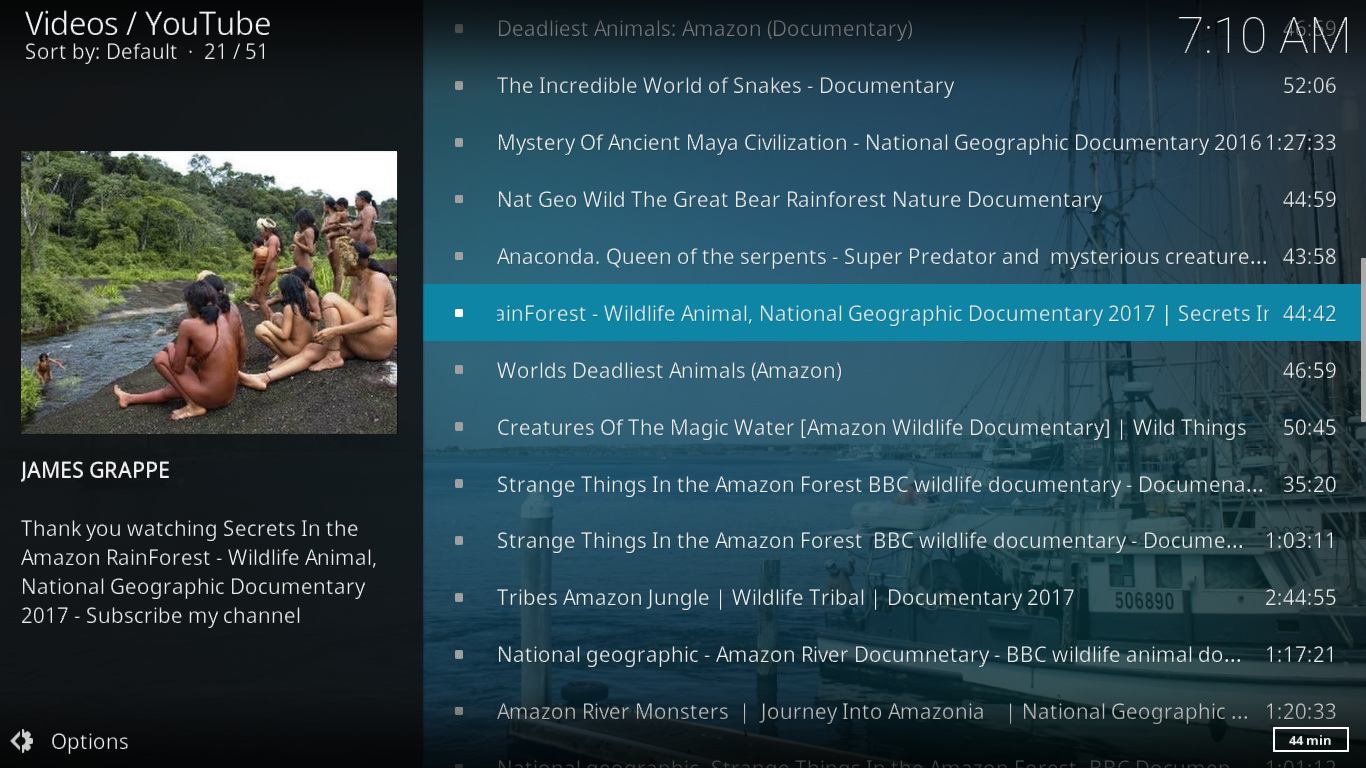 This section is all about the Amazon. It has a good mix of content about the people, the wildlife and the Amazonian nature in general. The animals covered in this section's video sixty-something videos range from the amazingly beautiful to the totally unique to the absolutely terrifying.
Wild Asia
Asia is the largest continent by far and, as such, it has some of the wildest places and animals anywhere in the world. You'll find footages of some truly breathtaking and unique animals, from the noble tiger to the ever-impressive elephant. But it also has some lesser-known animals like the red-crowned cranes of Japan.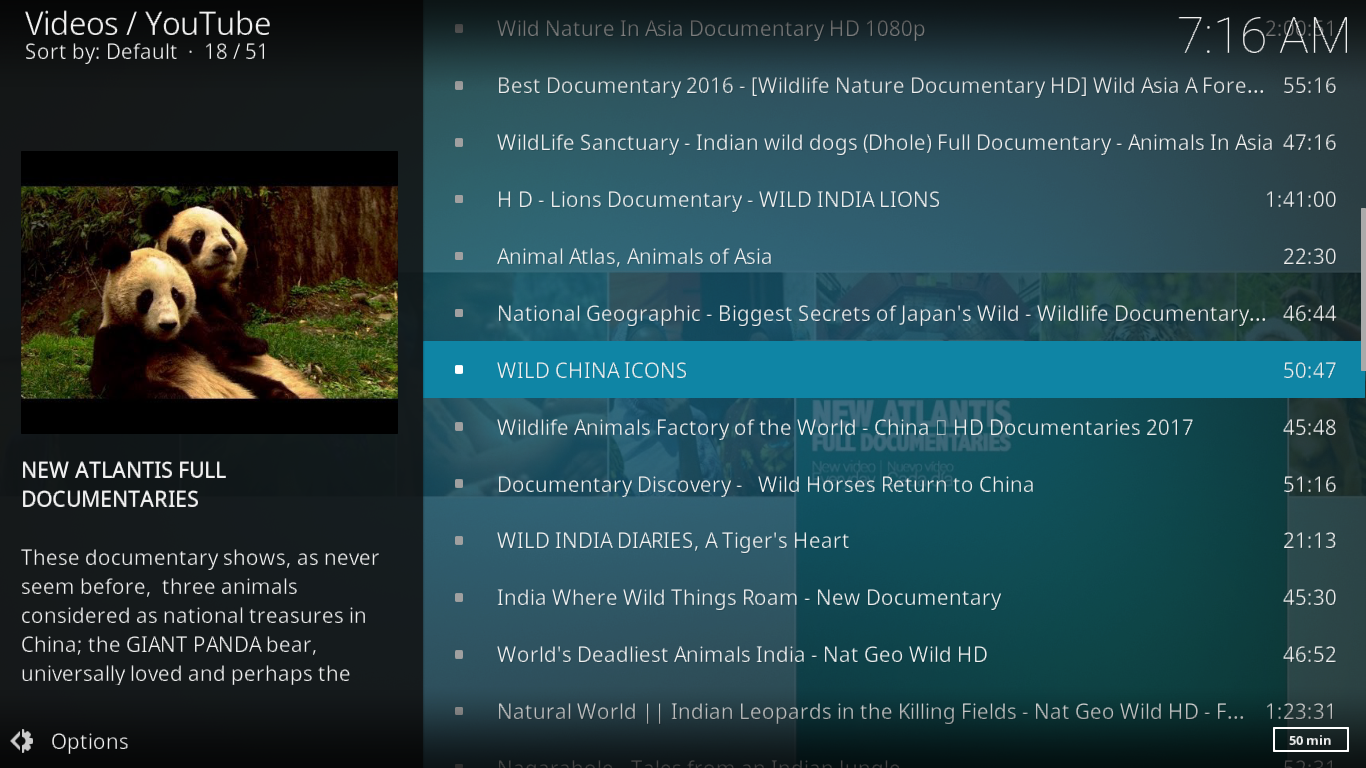 Throughout some sixty selections in the Wild Asia section, you'll find a good mix of all sorts of wilderness documentaries. One of our favorite examples of the unusual content you can find here surrounds the incredible phenomenon where a male tiger adopts two orphan cubs to protect and raise as his own until maturity.
Artic Adventure
The Wild Amazon section took us to some of the warmest places on the globe, this one takes us to the coldest. The great white north has more than its share of extreme wilderness. It's got plenty of rare animals too–many of them not found anywhere else. There are polar bears, seals, penguins, arctic wolves and more.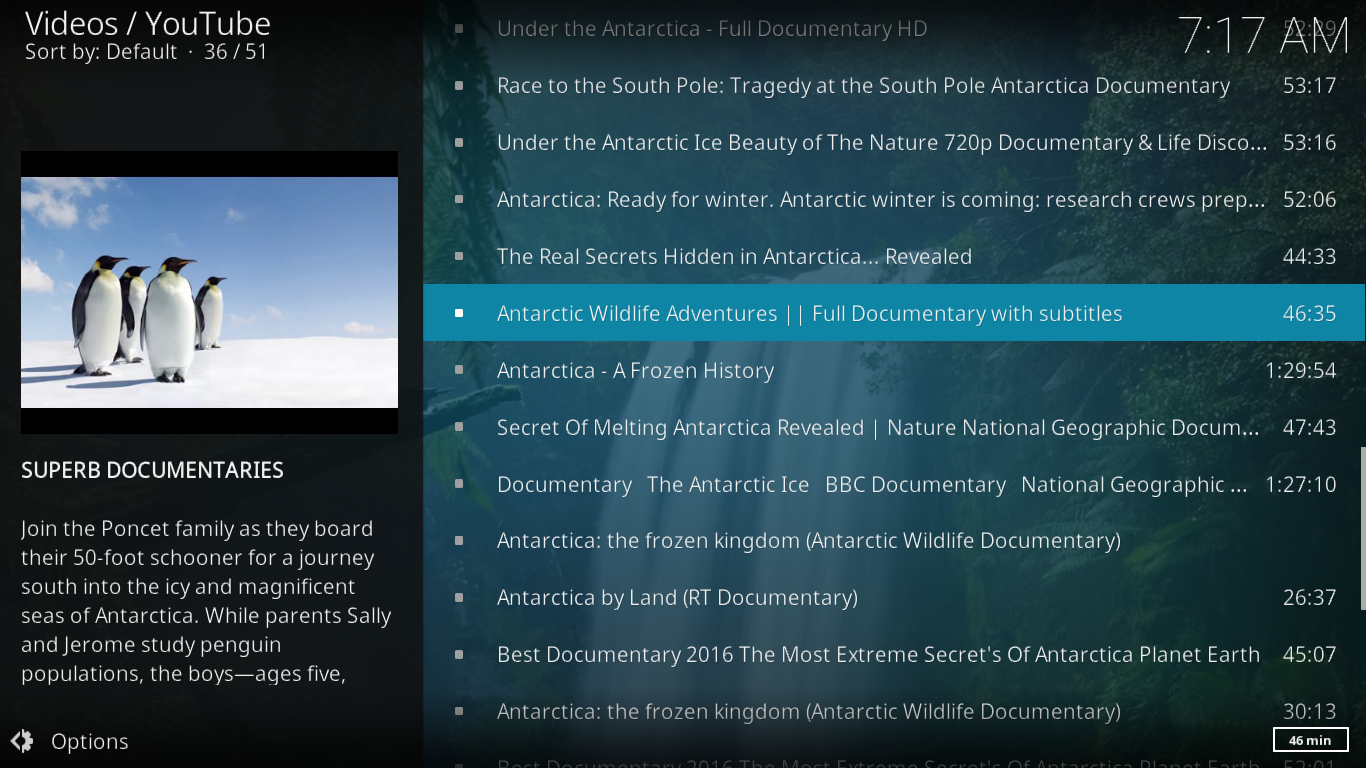 But this section's title (despite its typo) is a bit of a misnomer. It's actually more about the polar world in general rather than the Arctic alone, so there is just as much content featuring Antarctic wilderness. If you're fond of polar wilderness, over a hundred different selections should keep you watching for a while.
Wild Africa
When thinking about wilderness, Africa and African animals are often what first come to mind. Africa is possibly where the most extreme wilderness is located. Lions, hyenas but also zebras, elephants, and giraffes are all great examples of the exceptional wildlife in these parts.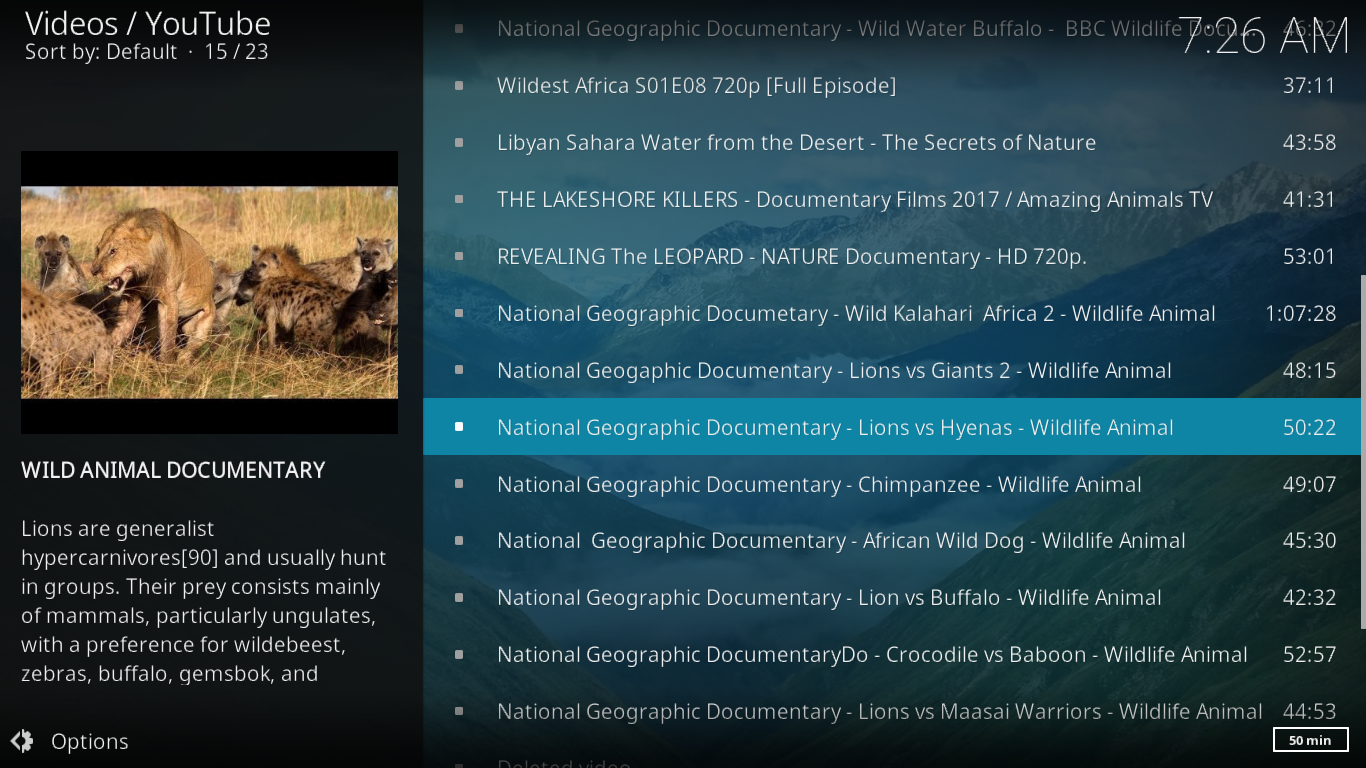 Through over 70 different videos, this section will let you discover some of the world's wildest animals and places. And if you're a fan of lions, in particular, this section is for you.
From the Deep
The previous sections took us to some of the most extreme places on earth and showed us all sorts of wild animals. This one takes us under the oceans and lets us discover another universe of wilderness. After spending some time watching these videos, you'll come to realize the undersea is truly a world of its own.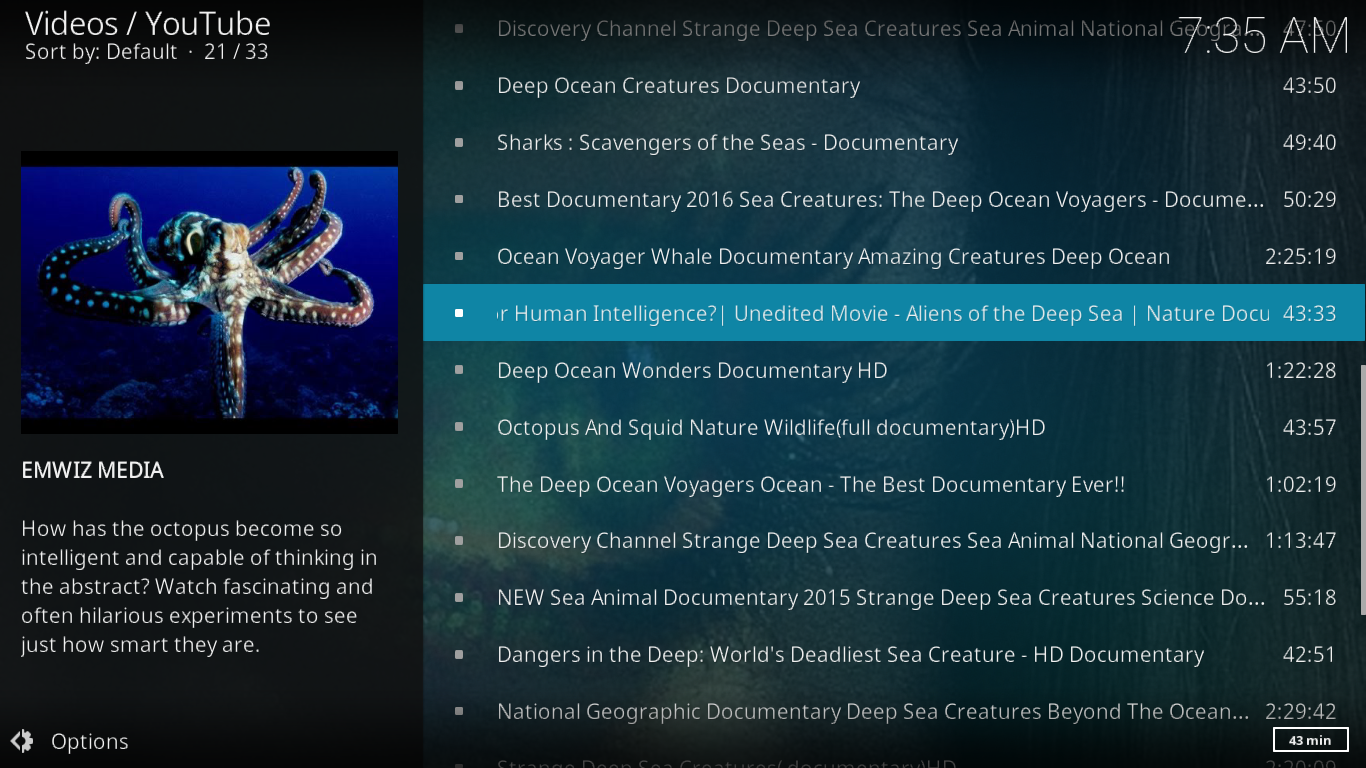 It is often said that humanity knows more about outer space than the deepest reaches of our oceans, so it stands to reason there is plenty of unique and thought-provoking content here. Yes, you'll find plenty of videos of sharks, but we recommend that you check out the full range of other astounding sea monsters throughout the 80-some videos.
White Water
Extreme aquatic wilderness is limited to the oceans, though. There's plenty of it in our rivers too! But the wilderness this section is about has nothing to do with wildlife–it is all about water sports. Whitewater rivers are where some of the most extreme sports take place, like rafting and kayaking.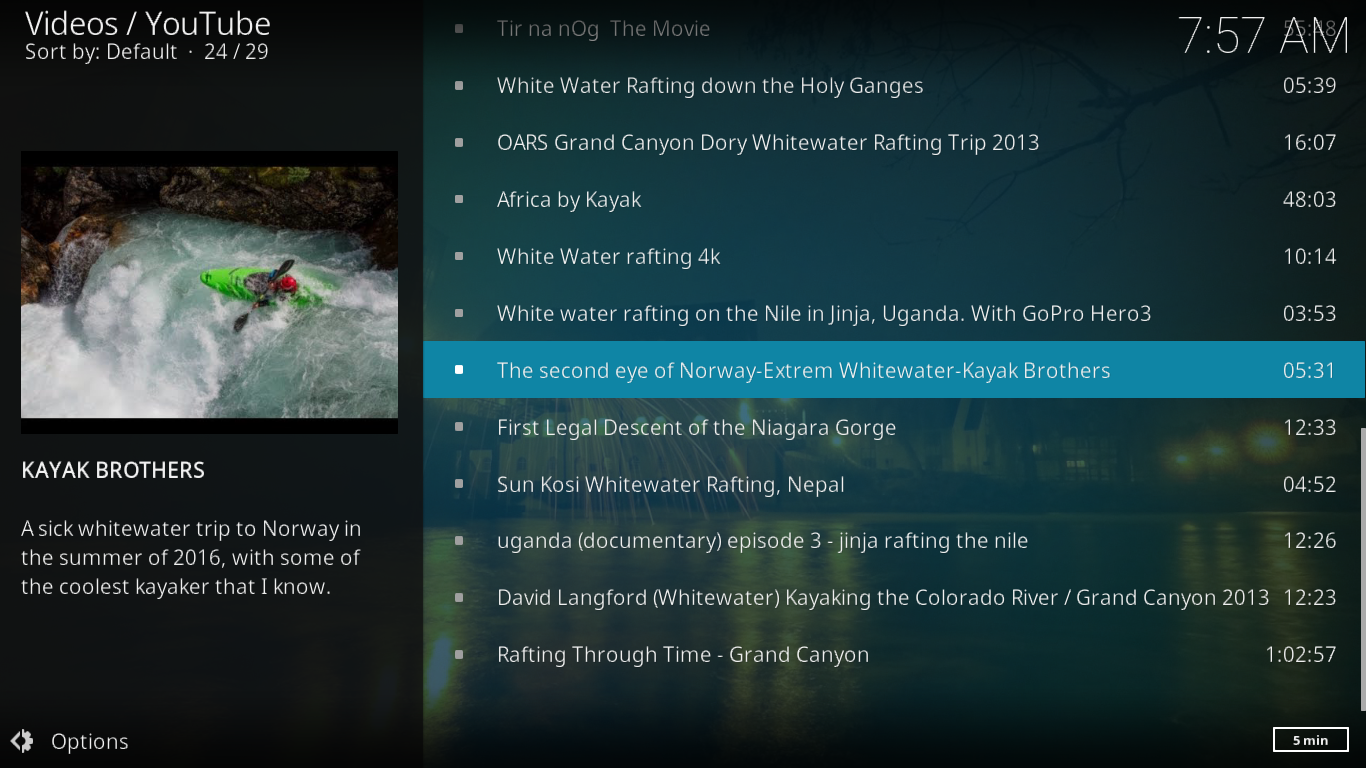 With less than 30 videos to choose from, this section might be one of the smallest of the Xtreme Wilderness add-on. However, much of its content is quite impressive. There's even some 4K super HD content if your viewing equipment supports it.
Xtreme Outdoors
This last section is also about people, this time taking part in extremely wild activities (or taking part in activities in extremely wild places). This includes hiking in some of the world's most hostile wilderness, as well as camping and mountain climbing. Overall, this section features a fantastic mix of outdoor activities.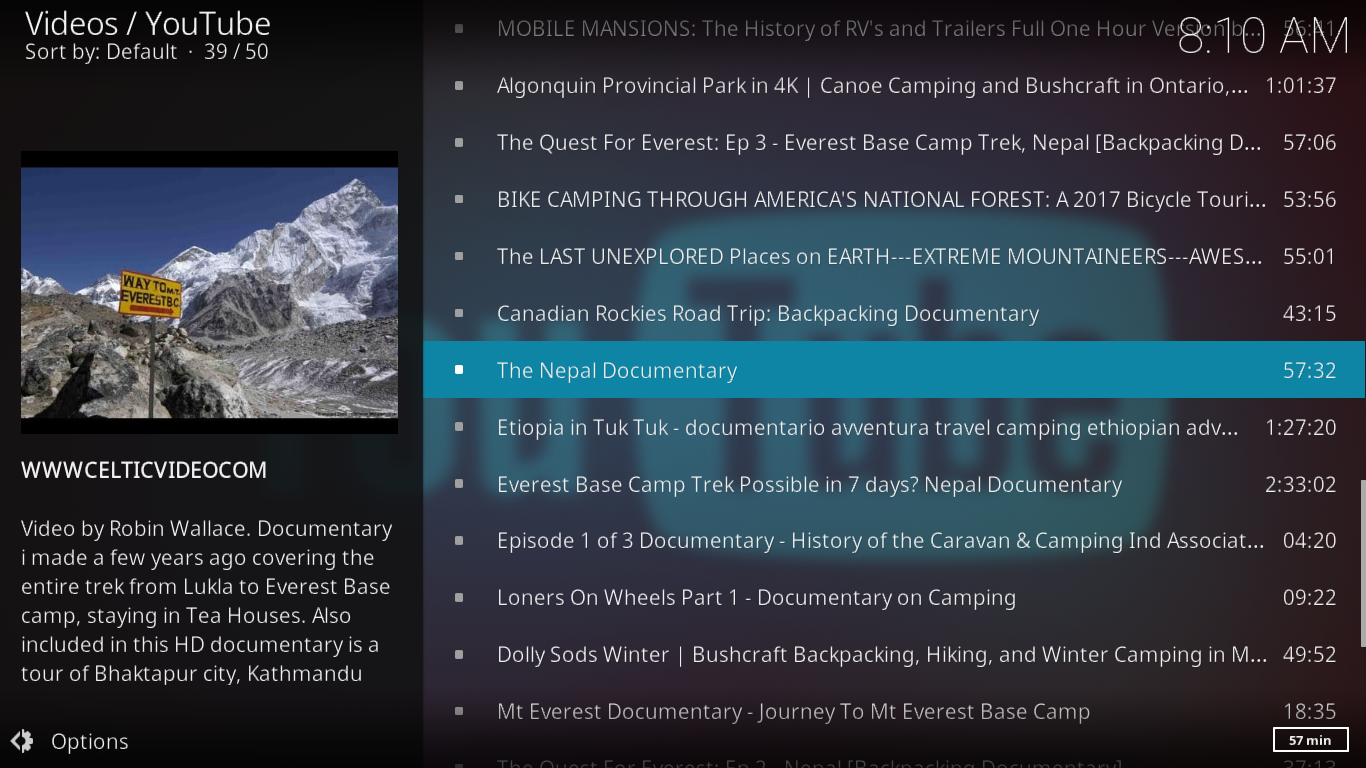 If you like stories of people going all the way to their limit, sometimes even beyond, this section's fifty videos are sure to have something that will interest you. And just like all the other sections of the Xtreme Wilderness add-on, the quality of the material is second to none.
Pros and Cons of the Xtreme Wilderness Add-on
There are a lot of great things about the Xtreme Wilderness add-on for Kodi but there are also a few sticking points.
Pros
Most of the content in this add-on is of high quality–and we don't just mean the resolution or picture quality. These are quality films by some of the greatest filmmakers. There is, for instance, a considerable amount of content from the National Geographic Society or from the BBC, two organizations that are known for producing some of the best documentaries.
Another thing we quite loved about this add-on is that it seems to be free of dead links. During our testing period, we did not encounter a single video that wouldn't play. Instead of leaving dead links like most other add-ons, many entries are changed to "Deleted Video" as they become unavailable.
Cons
On the downside, the Xtreme Wilderness add-on is based on the YouTube add-on and uses it extensively to fetch content. This means that you have to live with YouTube's limitation. The add-on uses the YouTube API which has a quota system. On a couple of occasions, I could not watch any video or even display the contents of sections in the late evening. Instead, I had a message that the quotas had been exceeded and would be reset at midnight Pacific time. Bummer…
Other YouTube errors would appear on occasion when trying to play a video or to list out the content of a section. However, in every instance, exiting the add-on and restarting it seemed to fix the issue.
Conclusion
The Xtreme Wilderness add-on is one of the best for lovers of wildlife videos. It has very high-quality content from some of the top producers in the field. It works very well and, despite a few quirks and limitations, it is one of the most reliable Kodi add-ons. This is not the kind of add-on where you'll have to weed through tons of amateur videos to find the good ones–they're all good.
Have you tried the Xtreme Wilderness add-on? How was your experience? Have you had any issues with its installation or operation? We'd like to hear from you. Share your comments below!