We are reader supported and may earn a commission when you buy through links on our site.
Learn more
X Games Kodi Add-on: How to Install, Should You Use It?
If extreme sports are your thing then the sports addons which are usually recommended for Kodi users may leave you feeling a bit let down. They are great for conventional sports, and while there is some extreme sports content, it is not the comprehensive coverage most fans will be looking for. To find that, they need to seek out a specialist addon. In the X Games Kodi addon, the developers have delivered the perfect solution!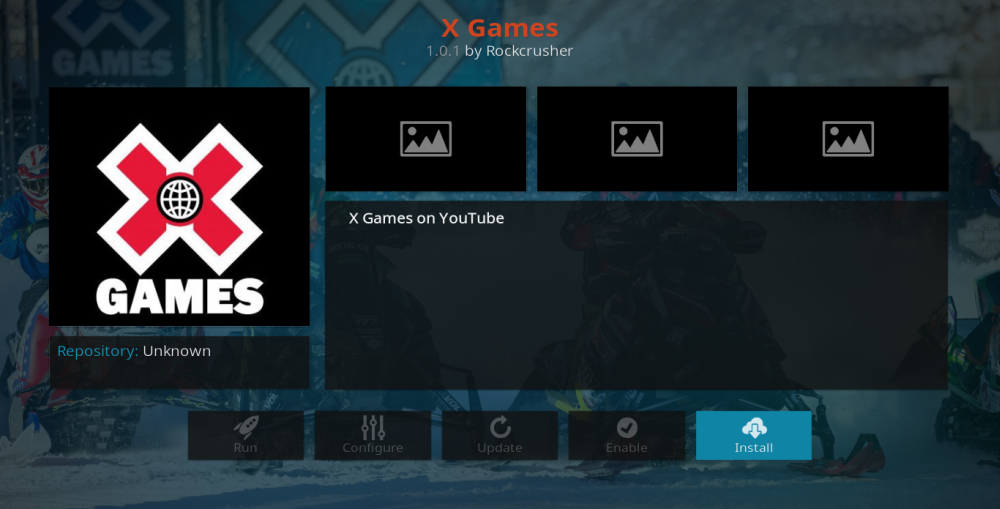 The X Games addon is the place to go to stay in touch with all your favourite X Games events and X Games competitors. It has a little bit of everything, from highlights packages and full on-demand coverage of past events to live updates and streams of the latest X Games. It is packed with a wide array of high-quality content which will allow fans of extreme sports to spend many happy hours indulging in their favourite pastimes. In this guide, we will show you how to download and install the X Games Kodi addon as well as review the addon and give more detail about what kind of content you can expect to find.
30-days money back guarantee
Before Using Kodi – Install a VPN
When using any Kodi addon, especially unofficial ones like X Games, it is always highly advisable to use a VPN. Copyright holders and ISPs have taken a dim view of open-source Kodi and its ecosystem of third-party addons which may grant users access to restricted content. As such, they may reactively or even preemptively issue warnings, fines and even service interruptions to users they deem risky.
But with a VPN your data is encrypted and your IP Address is hidden, which helps to protect you from both legal and security risks. The only question you need to ask is which VPN you should use. When choosing, you should consider these four core criteria:
Fast connection speeds – Streaming online content needs fast connection speeds, but some VPNs can slow down your connection speeds, so Kodi users need to find one which won't.
Strong privacy and encryption settings – To protect Kodi users from legal risks, they need a VPN with the best possible privacy provisions for users as well as strong encryption settings.
No restrictions on data or traffic – Some VPNs restrict data amounts and file types, but this is no good for Kodi users. They need a VPN with no such limitations.
Broad server availability – The more servers on offer, the faster your connection speeds are likely to be and the more content you can unblock.
The Best VPN for Kodi – IPVanish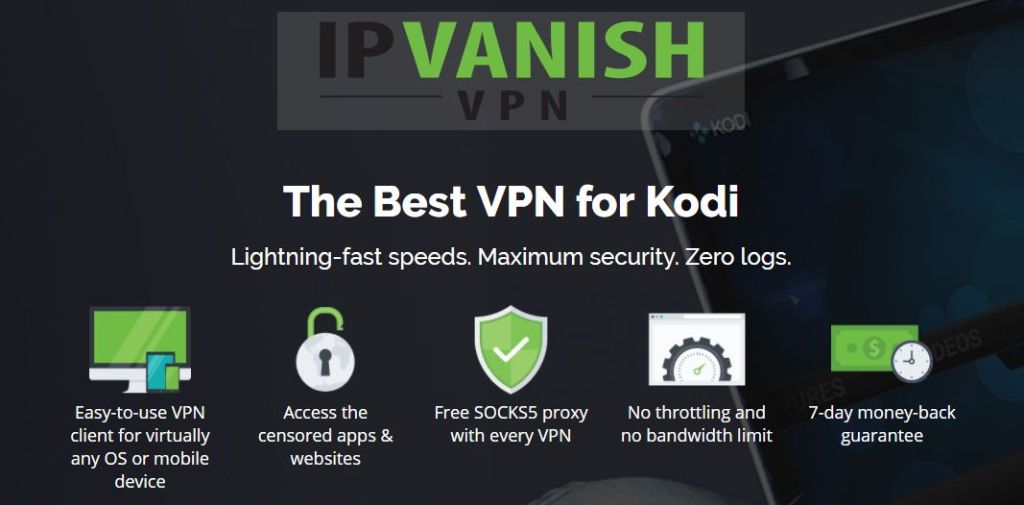 Using these four criteria, it is clear that IPVanish is the best VPN for Kodi users. It has fast and reliable connection speeds across its who network which is perfect for streaming content through Kodi. The network itself is sizable too, consisting of more than 850 servers available in 60 countries, which is more than enough for Kodi users. Their privacy settings are superb with absolutely no user logs retained. And their 256-bit AES encryption, too, is about as good as it gets. With the IPVanish app available on just about every device imaginable, including the Amazon Firestick, this means IPVanish ticks all the boxes and is the perfect VPN for Kodi users.
Readers Offer
Text to be added by Alex.
How to Install X Games Kodi Addon
The X Games Kodi addon is an unofficial one and therefore needs to be installed from an external repository. Fortunately, the process for doing this is a quick and simple one. Just follow this easy 10-step guide to get the X Games addon installed and ready to enjoy on your Kodi:
Open Kodi and click on the Settings icon which looks like a gear wheel.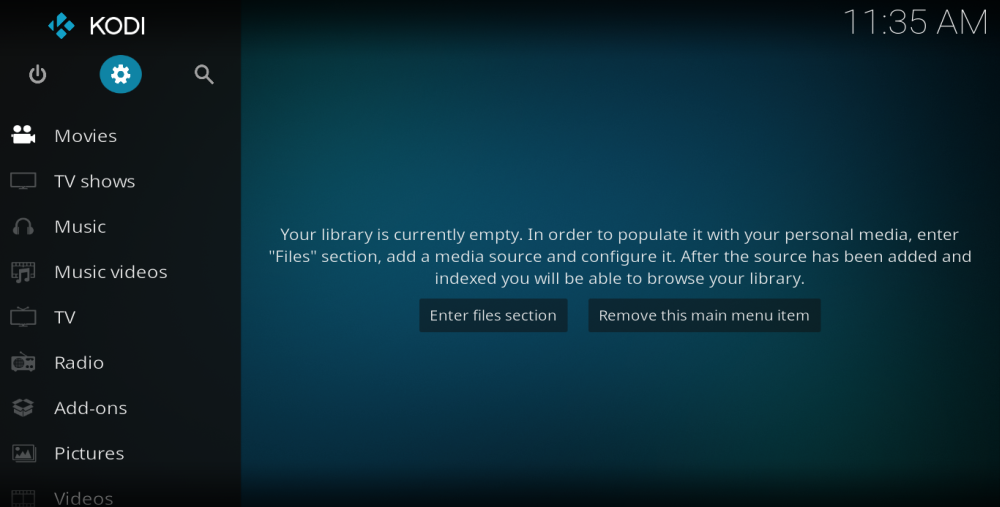 Click on the File Manager tab and scroll down the menu until you see Add Source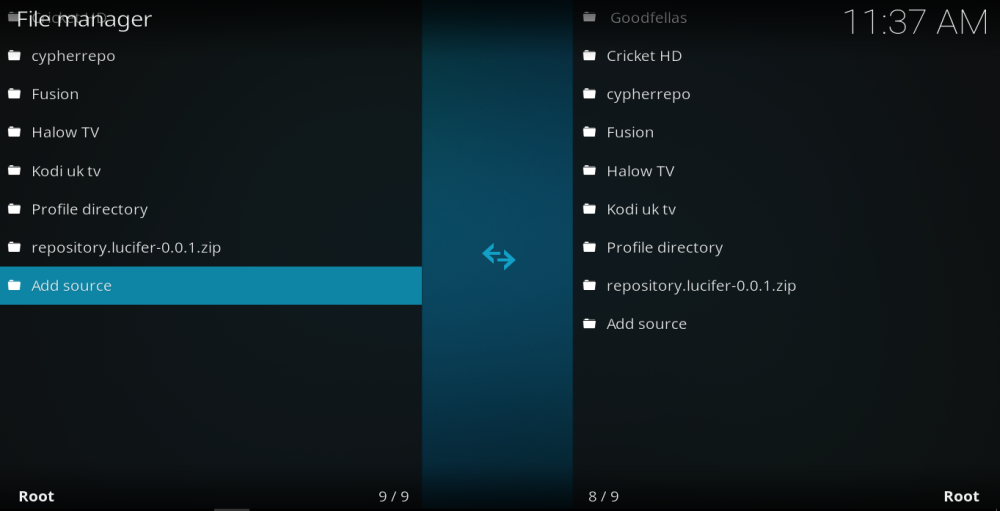 Double click this and a pop-up box entitled Add file source will appear. On the highlighted line that says <None> enter the following URL exactly: https://rockodi.com/ Select ok and then give this source a name like Rock. Then click Ok.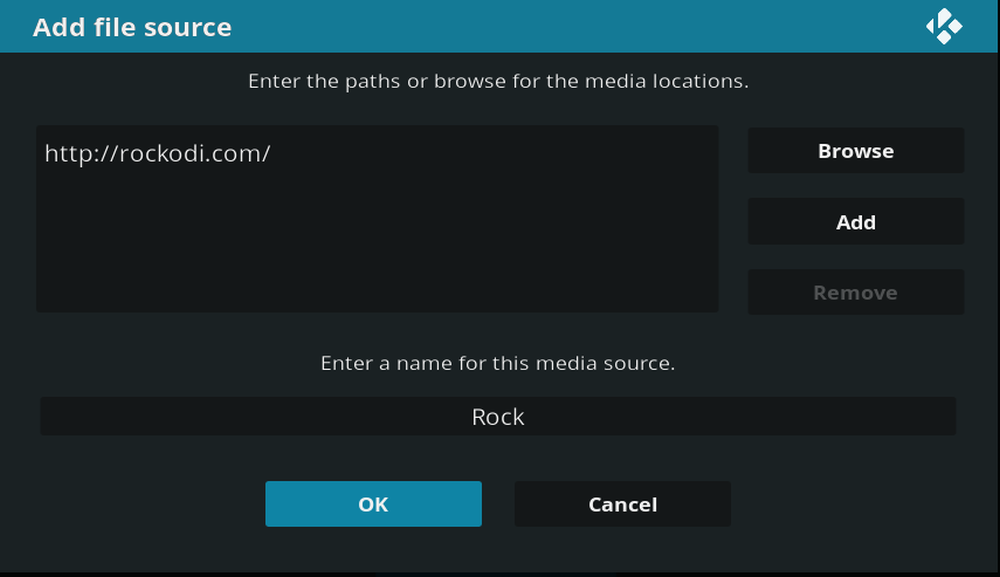 Now return to the Kodi Home Screen and this time select Add-ons.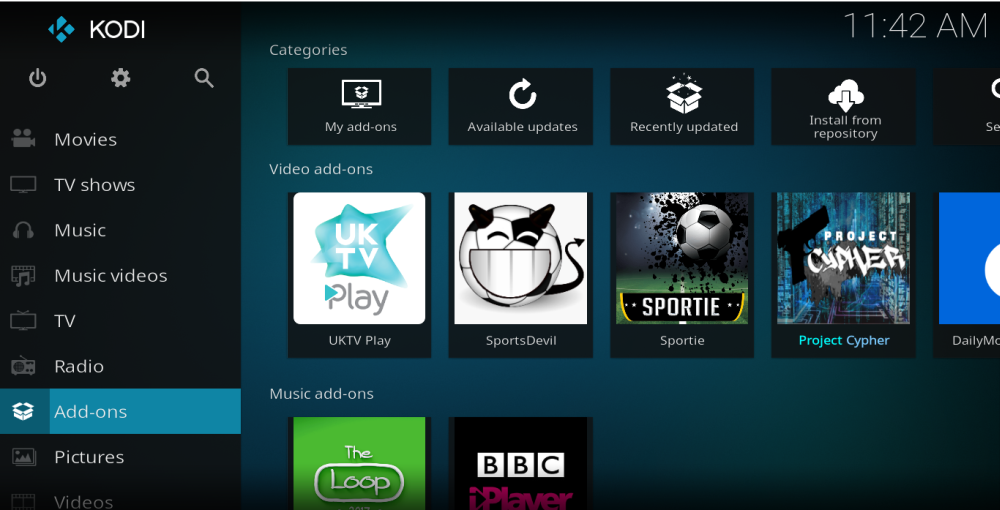 Click on the Addon Browser icon which looks like an open box and is located in the top left of the screen.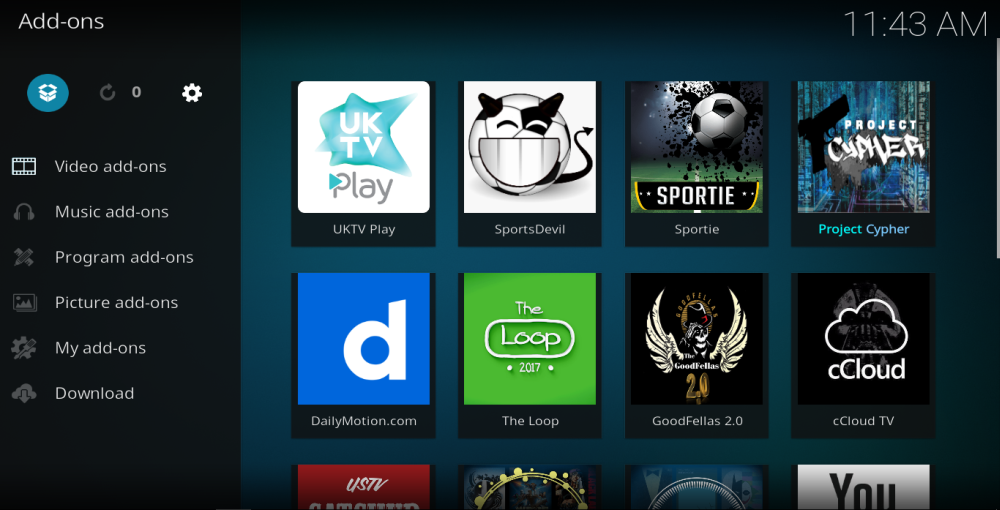 Select Install from zip file and then click on Rock followed by RockCrusher-x.x.x.zip.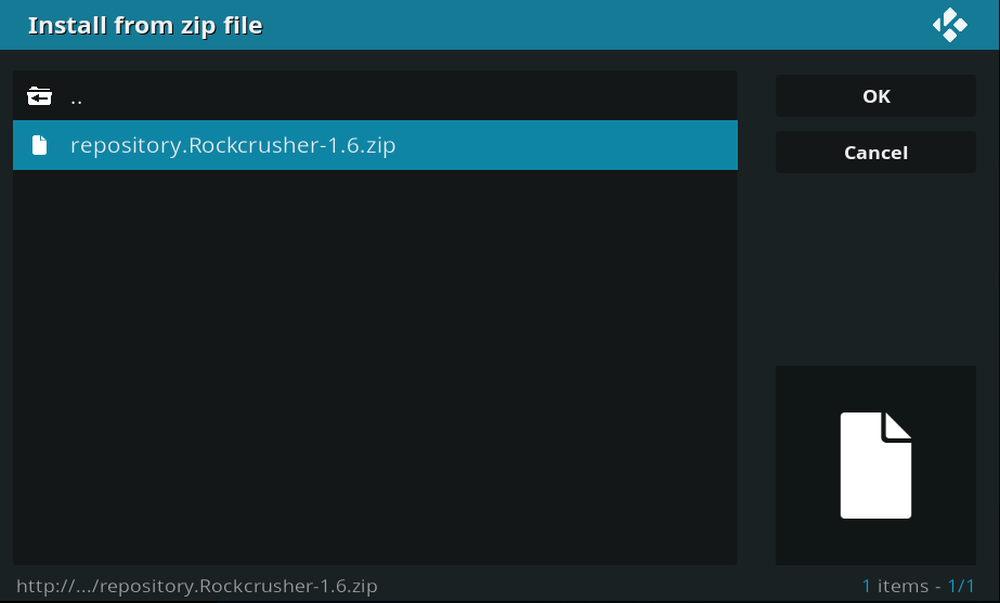 This will install the Rockcrusher Repository to your Kodi. When this process has successfully completed, you will see a notification in the top right of your screen.
Return to the Addon Browser menu and this time click on Install from repository. Scroll down and then select the Rockcrusher Repository.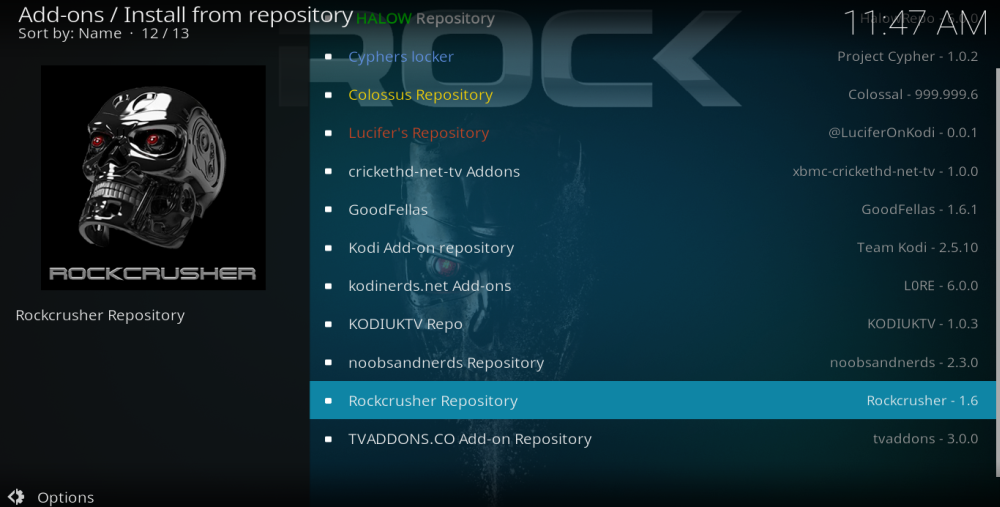 Click on Video Addons and then select the X Games addon. Once again you will see a notification in the top right of your screen when the addon has been successfully rested.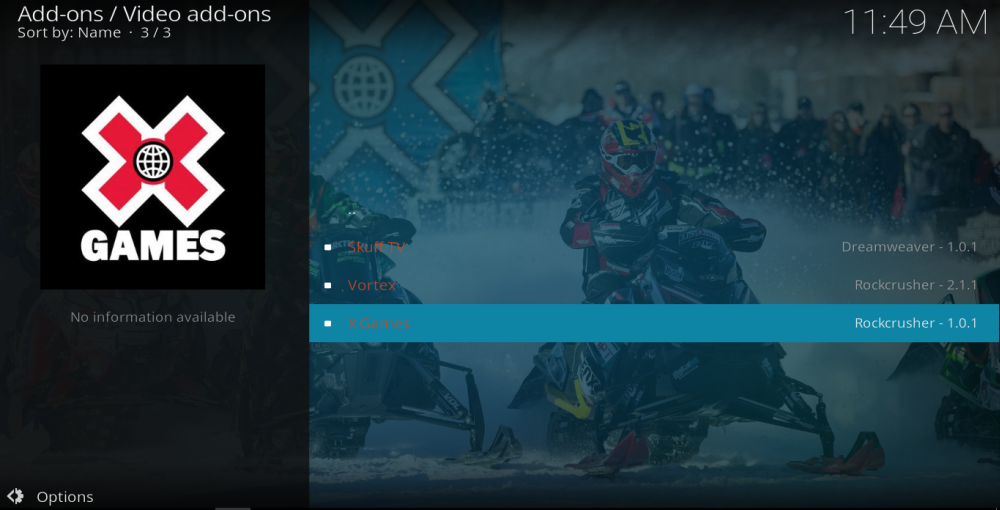 Return to the Kodi Home page and the X Games addon should be listed in your addons menu and be ready to enjoy.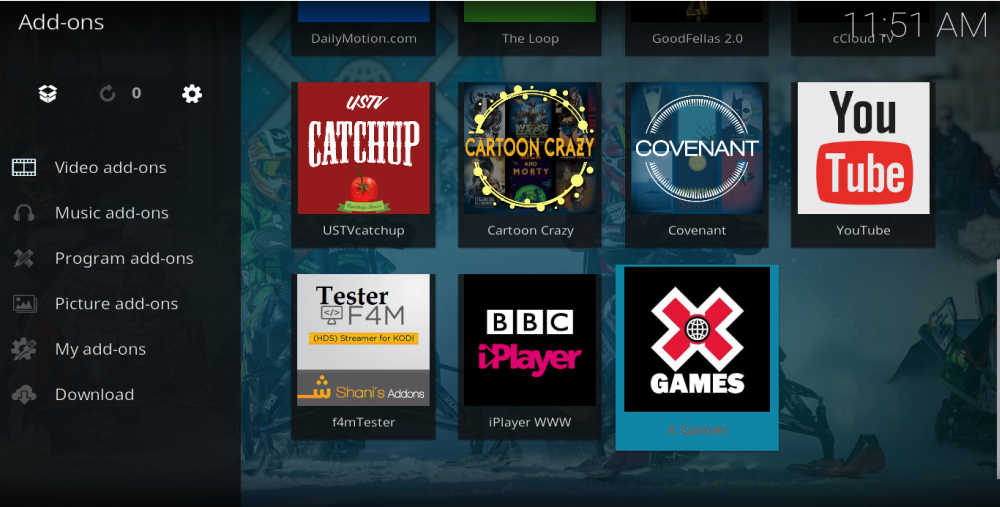 X Games Kodi Addon Review
The X Games Kodi addon has a simple, easy-to-use layout and design and is pleasingly straightforward to navigate around.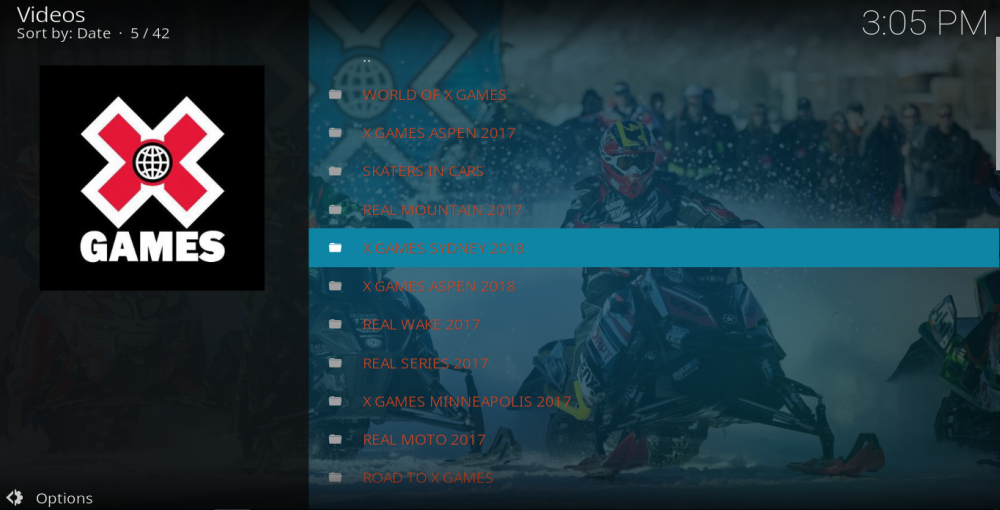 On first opening the X Games Kodi addon, you will be confronted with a long list of X Games events which runs (mostly) in chronological order backwards from the most recent event. The list contains:
World of X Games
X Games Aspen 2017
Skaters in Cars
Real Mountain 2017
X Games Sydney 2018
X Games Aspen 2018
Real Wake 2017
Real Series 2017
X Games Minneapolis 2017
Real Moto 2017
Road to X Games
From the Ground Up
X Games Norway 2017
Skate
Real BMX 2017
Real Snow 2017
Real Ski 2017
Real Street 2017
Medal Runs X Games Minneapolis
Athlete Profiles X Games Minneapolis
X Games Athlete Profiles
Road to X Games 2017
Being X Games
Best of X Games
X Games Firsts
X Games Gear Checks
Medal Runs X Games Aspen 2017
X Games Aspen 2017 Collection
X Games First Aspen 2017
Highlights X Games Aspen 2017
Real Wake 2016
Real Street 2016
Real Snow 2016
Real Ski 2016
Real Moto
Real BMX
Real Series 2016
X Games Austin 2015
X Games Real Snow 2015
X Games Real Most 2015
X Games Real Street 2015
When users click on a menu link, they open up a sub-menu which contains a long list of links to video clips from that event. These include short clips, interviews, highlights packages, competitors Go-Pro footage and much more besides. The length of the clips varies from a minute or two right up to full-length TV shows.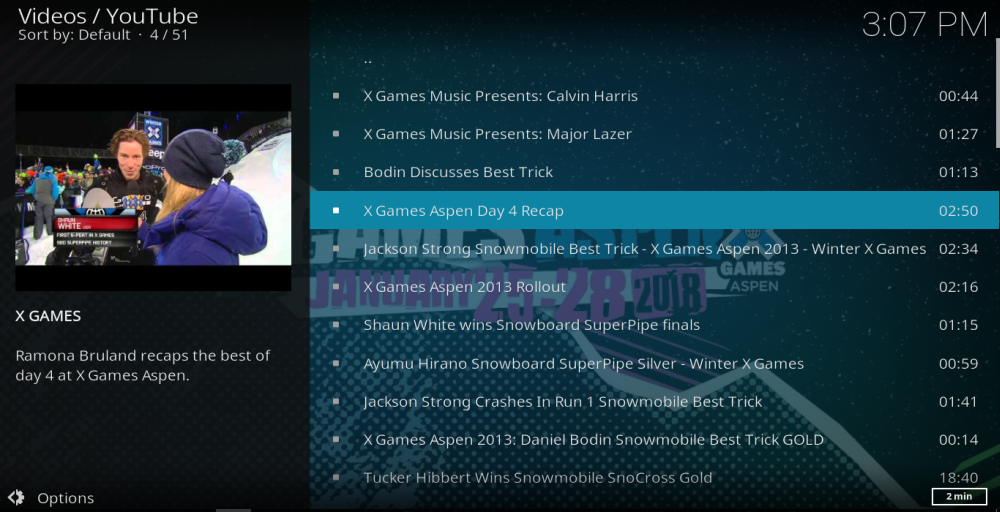 For those users not quite sure what they are looking for, the X Games addon gives you all the information you will need too. The titles of the links are all very descriptive and most include the name of the sport, the name of the competitor, and other details about what the clip is about. The information panel on the left of the screen contains further information and there is almost always a picture with each link to let you know what to expect.
X Games Kodi Addon – Pros and Cons
There are plenty of things to praise about the X Games Kodi addon. The depth of content is superb, with countless links available under all the menu headings, with the exception of the 2018 events which are yet to take place. The overwhelming majority of these videos are sourced from the X Games YouTube channel and are official recordings. This means that playback quality is always high and we didn't experience any issues with buffering. The app itself is neatly designed and easy to navigate with plenty of information available to help you choose what to watch.
On the downside, if there are just one or two X Games sports you are interested in, it can get a little frustrating seeking out the specific content you are interested in. There is no search facility and no option to sort content by sports, which means you will have to scroll through the various event menus to find the content you want. We are not extreme sports followers, so we did find some of the titles a little bit misleading at times. While we suspect a greater knowledge of the content would make this easier, for those with just a general interest, this too could become frustrating after a while. There are also some links which require you to be a subscriber to the X Games YouTube channel too.
Conclusion
Overall, our gripes about the X Games Kodi addon are minor ones. In general, it does exactly what most users will expect of it. It provides a huge selection of links to video clips and content about the extreme sports that feature in the X Games. The quality of the videos is high, the range of content is huge, and the app is easy to navigate. While the addition of a search facility would be a welcome addition, in general, there are few big complaints about this addon and for extreme sports fans, there is no doubt it is an essential addition to your Kodi library.
Did you enjoy the X Games Kodi addon? How did you enjoy its range of content? Did you find the playback quality to be as good as we did? Why not share all your thoughts and experiences with us and the rest of the Kodi community in our comment section below?