ColorSmart For Android – Eye Dropper Tool For BEHR Paint Colors & More
ColorSmart by BEHR Mobile is the official mobile client for Behr (interior paint and wood stain supplier) and a handy tool for customers looking to preview the new paint they plan to apply to their home or office interior. Find perfect color combinations and paint patterns for your interior designing projects right on your device by browsing through Behr's Premium Plus Ultra and Premium Plus color range. Just pick a color of your choice from a captured snap or built-in color templates and find the perfect paint color for your home décor. Locate Behr stores worldwide and share your favorite color schemes with your friends. And hat's not all. ColorSmart has integrated support for precise calculation of required quantity of paint for various room sizes and much more.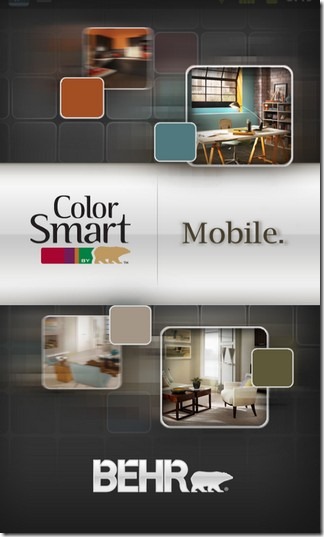 The client has been launched for enthusiastic Android users just recently. The interface of the app itself replicates the iOS variant that has been around in the iTunes App Store for quite some time now. The task bar contains dedicated tabs such as Explore Colors, Photo Match, Preview Color, Favorites, Paint Calculator, Store Locator and Share/Save. The app has been designed to work in portrait orientation only.
Each option sports multiple sub-options that are tailor-made to find and apply precise color combinations on your interior decoration projects. Users can apply preferred color combinations on a built-in set of photos of various interiors to find the perfect color match. Just tap the curved arrow on the picture anytime to revert it back to its original. Make your own little color compendium within the app by saving your favorite colors, palettes, rooms, paint calculations and stores. Feed in your exact room dimension and other parameters and let ColorSmart calculate the exact amount of paint that would be required to paint the entire room with colors of your choice.
Here is the best part of the entire deal though. Just like the famous 'color picker' option in most paint applications, Photo Match feature of ColorSmart allows you to take a snap from your camera, tap anywhere on the captured image to display detailed information for the Behr color that you have selected on the image. Once the color is recognized, the app can coordinate the selected color with its integrated color database to find the matching color pattern and saves it as a palette for further use. Integrated share support for Twitter, Facebook and Behr Workbook allows users to share their best color combinations and renovated images with their online friends. Store Locator service of the client is available for selected regions only and uses GPS to locate/display registered Behr Stores on the map.
ColorSmart requires quite a few MBs of data (12.75MB to be precise)  to be installed. But the app is surely worth trying. So its time to fill colors in your life with ColorSmart.
Download ColorSmart by BEHR™ Mobile for Android