Digital Document Signature Service SignNow Releases Android & iOS App
Electronic/ digital signature services have made life relatively easier for users by providing them with simpler and instant means to sign, stamp and share their documents; all digitally. No paperwork involved, no need to wait for days (or even weeks) for your documents to reach the recipient, and most importantly, no need to fear the loss of vital documents as a result of some personal/procedural failure. Adding to the list of reliable and efficient digital document signature services is SignNow, which lets you define custom signatures (or choose one from its templates), upload them to the cloud, use them on your digital documents, and share the signed documents with your colleagues via mail. To cater to the needs of mobile users, the service now also has a dedicated client for Android and iOS-powered devices. With the mobile app, users can instantly capture photos of required documents, or import them from their email/Dropbox account, add their custom digital signatures and texts to it, and mail them right from their devices.
Using the SignNow app is quite simple. All you need to is launch the app, tap the big note icon in the middle, and decide whether you wish to import a document from mail, your Dropbox cloud, or want to capture a fresh image of a physical document. As of now, the app supports working with PDF, DOC, DOCX, ODT, RTF, XLS, XLSX, ODS, PPT, PPTX, ODP, PNG, JPG, GIF and BMP files. To practice your signatures, and understand the app's working, you may also import a sample document.
The screen that follows displays your document and a couple of buttons at the bottom. While the Signature button can be used to create and add digital signatures to the documents, the Text button lets you add custom text. Once the required text/signature has been added, you can reposition and rescale it on the document as per requirement.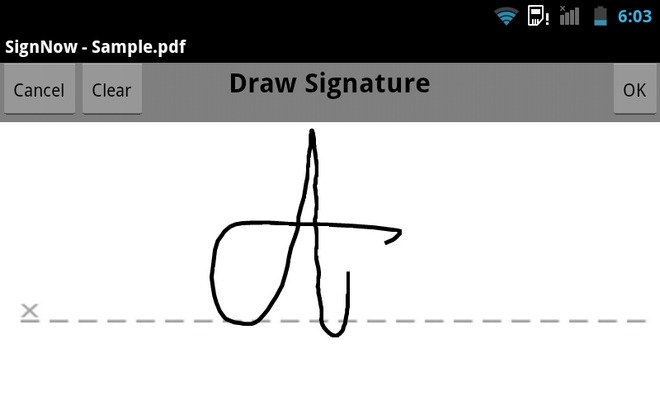 After finalizing the document, you can mail it to your contacts, or save it to local storage/SD card. Document files created via SignNow are stored in PDF format in the mnt/sdcard/signnow folder on your device.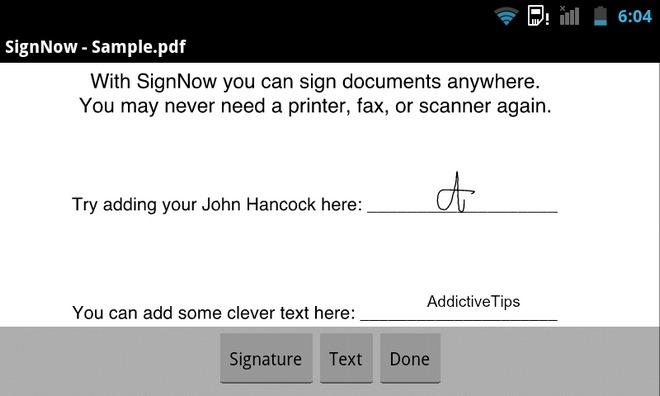 Oddly enough, unlike its iOS counterpart, the Android variant of the app currently does not support uploading or downloading document files to and from the SignNow cloud. Though, it seems said feature will be added to the app soon.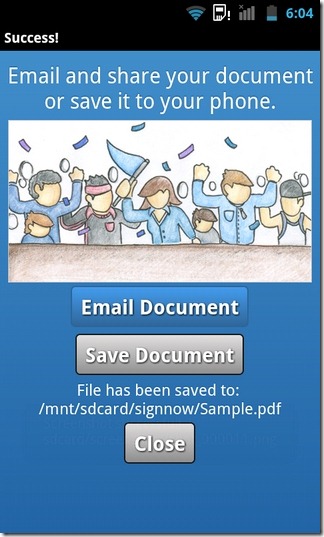 Download SignNow For iPhone, iPad & iPod touch