Extensive Notes – Most Feature-Rich Note-Taking App Around? [Android]
Say hello to one of the most comprehensive and option-rich Android apps known to date. Apparently just another note-taking app, Extensive Notes carries numerous other useful features that cannot be availed otherwise unless you install as many different apps on your device. The app uses almost all the frequently used hardware/software resources of your device including camera, voice recorder, browser, video player, stock calendar, TTS and device directories to create, store, modify and view notes. The app comes from XDA Developers member plbelanger who has left no stone unturned in incorporating as many features in a single app as imaginable.
Extensive Notes literally stretches note-taking to its limits and allows you to take notes of virtually anything.
To name a few, Extensive Notes allows you to take routine text notes, audio notes, video notes, private notes, barcode notes, image and drawing notes and to-do notes. Moreover, you can backup and restore saved notes to/from the SD card, check local and international weather forecasts, translate text with Google Translate, convert among various units and take notes of the calculated values, set/generate random passwords for the app itself, launch in-app calculator and stopwatch, calculate days left to a specified date, manage shopping lists, search for song lyrics, local events, discographies, artist information, movie information and lots more.
What's best is that any chunk of text generated from all the aforementioned tasks can be saved in the form of a separate note for user convenience and that too at tap of a finger. Plus, you can set a custom notification icon for each note and read any desired note through the built-in TTS (Text To Speech) feature.
You can create dedicated folders for each of the supported categories for note-taking convenience. For instance, the app allows you to create folders for your audio, video, to-do, private, user-specified and for specific account-related notes. The app also allows you to send home screen shortcuts to any folder that you create for quick and easy access.
For optimum protection of your personal notes, you can set passwords for different accounts. Advanced notes assortment features let you set priorities for your notes, check pending reminders for your notes, check modified notes in ascending/descending order, alphabetical order or according to the order in which notes were created.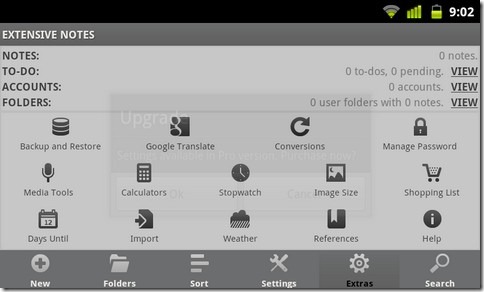 On the downside though, free version of Extensive Notes supports just 3 media slots for audio/video recordings. Also, the Settings tab is locked in free version of the app, which means that the app can be configured only when you upgrade to its Pro version. Extensive Notes Pro version can be purchased from the Android Market for a price of $1.99 only.
Download Extensive Notes – Notepad for Android (Free)
Download Extensive Notes – Notepad Pro for Android (Paid)