SanDisk Memory Zone: Phone, SD Card & Cloud Storage Management App For Android
SanDisk Memory Zone is a powerful and effective file manager for Android. Along with providing comprehensive file management features for data stored in your device (phone memory and SD card), the app extends its support to data that is stored on various cloud services. The app lets you back up data of your phone memory to the SD card or to a preferred cloud storage. In addition, you can protect your most important files using a password, sort files in multiple ways, move files from the SD card to cloud or vice versa, select files in batches and perform various actions on them.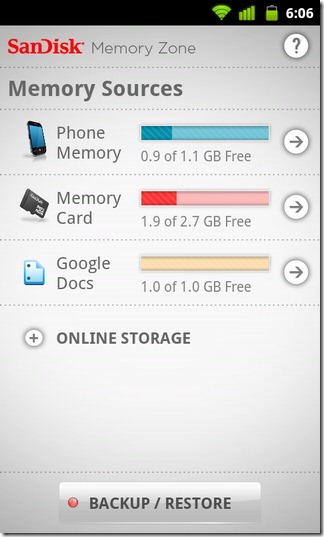 SanDisk has been taking care of the data storage needs of users through their extremely reliable series of storage cards and now the company has decided to provide its users with an equally efficient app that ensures that you access your all your data in an uncluttered and convenient way. The app (as of now) supports transferring data to/from some of the most popular cloud storage services including Dropbox, Picasa, Google Docs and Box.net.
Before proceeding to the app's features, it's the user-friendly and good-looking interface of the app that's worth admiring. On the app's homescreen, you have all your memory sources including phone memory, SD card, cloud storage along with a Backup/Restore button. To add a  supported cloud storage service, just tap on the plus (+) button, select a preferred service and access its data by providing your username and password.
All your music, pictures, videos, documents and applications, whether stored on the cloud or on your phone are displayed separately under relevant tabs. Once you select a storage, you're taken to a screen that contains all these tabs and the files lying within. You can view the name, type and size (in kb) of each file and sort them according to various filters. As per user convenience, all the content can be sorted by name, file size or type (public/private). Swiping across the screen helps you switch between screens/categories. To view all actions supported on a selected screen, tap on the question mark icon at the top-right of the screen.
Tapping on an installed app launches it directly while tapping on an APK file takes you to the installation screen. Long pressing on an item stored in the SD card lets you move it to the phone memory, to an online storage, make it private (using a password) and delete it from the memory. To select multiple files at once, tap Menu > Enable Multi-Select Mode.
To see how the app works, check out the official video of SanDisk Memory Zone (provided below).
Download SanDisk Memory Zone for Android