Stay Apprised Of The Latest News With Pulse Reader For Windows Phone 7
Even with a young and developing app collection of 30,000, Windows Phone 7's Marketplace has got most essentials covered. However, a lot of major multiplatform mobile apps are still to hop onto the WP7 bandwagon. Though that seems to be changing quickly with the advent of Mango. The much-awaited WhatsApp for Windows Phone came out last week, and now Pulse newsreader joins the list of apps that WP7 users have long been clamouring for. We have to admit that Pulse is nothing like the popular Flipboard app for iOS and Android, but still, for Mango users it has the potential to become their favorite news reader app, specially given the fact that Windows Phone does not have any official newsreader client of its own. Although no one can be certain what makes an app popular with users, whatever the reason may be, Pulse is pretty popular. The app does have an innovative interface, and some real customizable feeds to go with it.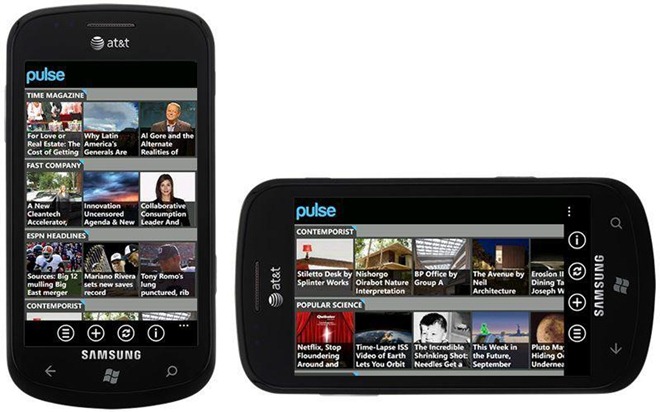 There are 6 feeds in Pulse by default. The app starts up with a short set of instructions telling you how to get started and navigate through the feeds. This is necessary because Pulse's interface is like nothing we have ever seen before in a WP7 app. Instead of scrolling through a long list of news you can slide within each category and see the individual news items in there. Even when you tap a news item, it opens in a very Mango-fied way. Instead of making the story appear in a completely new screen, it will seem to appear in the same page with the remaining feed minimizing to the bottom of the screen.
But that's not all there is to this app. You get a whole new world of options where adding a new feed to Pulse is concerned. The app suggests which feeds you should add based on previous additions. To see the Pulse interface at its best, try the landscape mode offered by the app. In landscape mode it certainly becomes easier to tap a thumbnail or news headline, making it one of our favourite features of Pulse news reader. Apart from that, Featured feeds are staff-picked to let you get the most out of Pulse. So no matter if you are a sports fan or a geek, Pulse is a must-have. Not to discredit the rest of the app' features, but just the fantastic UI warrants a download. You can grab a copy for free from the download link given below.
Download Pulse for Windows Phone