We are reader supported and may earn a commission when you buy through links on our site.
Learn more
The Best Remote Monitoring and Management (RMM) Tools
Our research will guide you through the best Remote Monitoring and Management (RMM) tools and the handful of factors to consider when choosing one. We'll give you a brief review of each tool and tell you about its main features.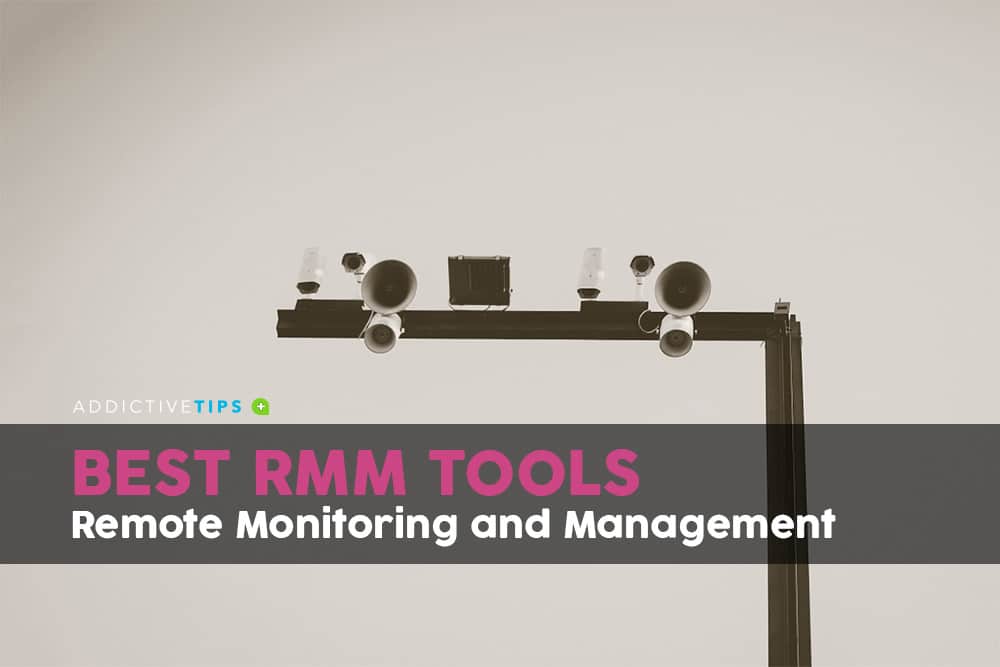 Managed service providers (MSP) are organizations that are contracted to remotely manage other organizations IT environments, typically on a proactive basis and under a subscription model. To accomplish this task, most of them use what we call Remote Monitoring and Management (RMM) tools. As the name implies, an RMM tool's primary purpose is to allow the remote monitoring and management of an MSP client's infrastructure. The monitoring part is not much different from any other type of device and system monitoring but the management part is where RMM tools differ the most. It can range from simple remote control to a broad platform that handles most management tasks. Today, we're having a look at some of the best Remote Monitoring and Management (RMM) tools.
Before we get to the interesting part of this post, we'll spend a little bit of time first explaining in deeper details what remote monitoring and management is. We'll also give you an overview of some of the characteristics of RMM tools. That will give you a better idea of what to look for when comparing and selecting the best tool for your specific needs. Our hope is to help you with the process of selecting your best RMM tool.
Remote Monitoring And Management In A Nutshell
The basic definition of Remote Monitoring and Management is rather simple. It is defined as the process of supervising and controlling IT systems (such as network devices, desktops computers, servers and mobile devices) by means of locally installed agents that can be accessed by a Managed Service Provider. Remote Monitoring and Management gives Managed Service Providers the ability to install new or updated software remotely (including patches, updates and configuration changes), to detect new devices and automatically install the appropriate agent and configure them, to observe the behavior of the managed devices and software for performance and diagnostic tasks, and to perform alerting and provide reports and dashboards.
It is a highly specialized type of software created to address a highly specific need. But while RMM tools are almost always created with Managed Service Providers in mind, some large organizations use them as well. It makes sense as there are not many functional differences between a Managed Service Provider offering services to several small and medium businesses and a large corporation offering service to several small- or medium-sized branches or units. We'll try to keep this dual clientele in mind as we review the different tools. For now, let's concentrate on the important characteristics of RMM tools.
What To Look For In RMM Tools
Remote Monitoring and Management tool vary greatly in their feature set. There are, however, some characteristics are present in each one of them. They are the must-haves and they are, therefore, the features you should be looking for—and comparing—when selecting a tool. In the next paragraphs, we'll introduce these characteristics, tell you why they are important, and explain, when needed, how they can be compared.
Ease of Deployment
Although your chosen Remote Monitoring and Management solution will most likely become your eyes and hands in the environment of your clients, before that happens, you'll need to deploy the solution. Most RMM solutions nowadays—and all of those on our list—are cloud-based so you don't have any software to install. Or do you? In fact, they often require that you install client apps—called agents—pm the computers and servers that you want to monitor and manage. These agents handle most of the job and take care of tracking, monitoring and allowing you to perform the needed management tasks.
Auto-discovery combined with "push-installation" features should be preferred. With these two, you can simply select a newly discovered system in the management console and begin the remote installation of its RMM agent. Otherwise, you will have to deploy a client installation file using some third-party tool such as Windows Active Directory GPO, scripts, PSA tools, etc. Big MSPs can manage thousands of devices so not having to manually install an agent on each one is more than welcome.
Built-in Remote Desktop Application
When you manage computers located miles away from you and there are issues with them, accessing them in person is rarely an option. This is why one of the most important modules of each and every RMM solution is some sort of remote desktop application. And even if the defective device is located nearby, it could be in some sort of hostile location—such as a very cold server room—where it is preferable to use remote access.
Remote desktop applications let you easily connect to a remote system and perform any necessary action as though you were accessing its console. This is far better than giving instructions to someone over the phone, never certain that they are carried out correctly and that you're getting proper feedback as to what appears on the screen.
Remote desktop systems typically use lightweight technologies to carry only the bare minimum amount of data over the network. They typically only send keystrokes from the local keyboard to the remote system and screen updates the other way around. Sending only screen updates rather the whole screen at every frame (30 times per second) greatly reduces the amount of transmitted data.
Dashboard Functionality
It seems like everyone in the network monitoring field is designing their products with "single pane of glass" dashboards. More than just a fad, it is a way of putting as much relevant information on the screen as possible. Rather than manually checking the status of multiple remote systems, you can take a glance at your dashboard and typically see the status of new systems, systems that require actions, the lists of last issues found, etc.
One needs, however, to remain careful when reviewing the actual function of the dashboard of a potential RMM solution. Sometimes, too much information is not better than not enough. You and your team will spend a lot of time working with the dashboard. You'll need it to suit your needs and your environment perfectly. The best tools come with highly customizable dashboards. Some will even let you built different dashboards for different team members.
Integration with PSA
If your organization is using a Professional Services Automation (PSA) tool, you might want to select an RMM tool which can integrate with your PSA. In fact, the deeper this integration the better. For example, wouldn't it be nice if your chosen RMM tool automatically created trouble tickets in the PSA tool whenever an issue is discovered? It could also create PSA tasks when it finds that some maintenance activity is required.
The level of automation provided by this type of integration can save you and your team a lot of time. Furthermore, it lets you proactively solve issues prior to the customer's report and it helps to meet your SLA for common issues. You might need to spend some time configuring the RMM-PSA integration but doing it will most certainly pay off rather quickly.
In the world of today, it is simply not efficient enough to spend time and money on the outdated systems, that should be controlled by a human being. The time that you spend on implementing the top-notch automated RMM-PSA system will be paid off in the first weeks if not days of your work.
Alerting And Reporting
No matter how good and uncluttered a dashboard your tool may provide, you possibly have better things to do than sit in front of it and watch it. This is why alerting is often an important component of RMM tools. It is also an area where there are many differences between various products. The simplest ones will simply send out an email whenever something odd is detected. Better systems will have automatic escalation features or even the ability to automatically run remediation scripts.
In a Managed Service Provider context, generating periodic reports is a must. Using your RMM reports, clients can check their system's health and whether the service level you provide meets the contracted SLAs. But different clients will often have different reporting requirements. This is why customizable reports are important. You need to be able to build reports containing the information your clients need. As a bonus, some RMM tools will let you brand the reports with your corporate identity.
The Best Remote Monitoring And Management Tools
We've scoured the market looking for the best Remote Monitoring and Management tools we could find. There are a lot of products available we've shortlisted the best ones and here's a brief review of each one.
SolarWinds is a well-known name with network and system administrators. The company has been making great tools for them for about twenty years. Its flagship product, the SolarWinds Network Performance Monitor, is recognized as one of the best network bandwidth monitoring tools. The SolarWinds MSP division—created by merging activities from SolarWinds, N-able, and LOGICnow—specializes in building tools for Managed Service Providers. One of its product is a very complete Remote Monitoring and Management tool aptly named SolarWinds Remote Monitoring and Management.
The primary purpose of SolarWinds Remote Monitoring and Management is to let you manage the assets of clients on remote sites, either via direct contact or through automated procedures. Patch management and antivirus update coordination are two strong features of this tool. Furthermore, the Risk Intelligence module greatly improves the security features of the tool, which include malware protection as well as website protection. The system also protects against the possibility of infected websites being used as an entry point to the network.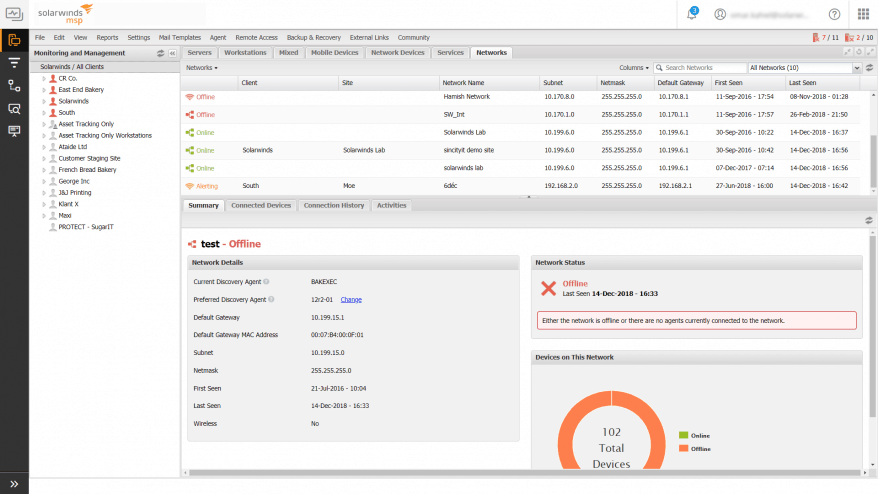 SolarWinds RMM is also an excellent monitoring tool which covers a wide range of devices, both physical and virtual. The tool enables administrators to keep track of system status on client sites from one console. Several built-in reports help you monitor the performance of your staff as well as the condition client's sites. One of this product's greatest assets is the simplicity of its interface as it enables support staff to get to the most frequently-used tools quickly.
This product is so rich with features that describing them all would require a whole post. To give you an idea of all that's available, here's a list many of the product's features:
Remote Monitoring
Network Device Monitoring
Remote Access
Active Network Discovery
Automation And Scripting
Patch Management
Reports
Mobile Applications
Backup And Recovery
Managed Antivirus
Web Protection
Service Desk
Risk Intelligence
Mobile Device Management
Pricing for SolarWinds Remote Monitoring and Management is not readily available but can be obtained by requesting a quote SolarWinds MSP. The good thing about this is that you'll get a price that exactly matches your specific needs. If you want to give the tool a test run and see for yourself what it can do for you, a free 30-day trial is available.
2-
Datto RMM
Datto RMM, formerly known as Autotask Endpoint Management is a well-integrated RMM platform. It claims to be "The easiest, cloud-based Remote Monitoring and Management platform for MSPs who are looking to scale and improve service delivery operations". The tool features comprehensive auditing to get complete visibility of every device and pinpoint areas for action. It also features patch management to automatically maintain every device with flexible, native OS and application patch update policies.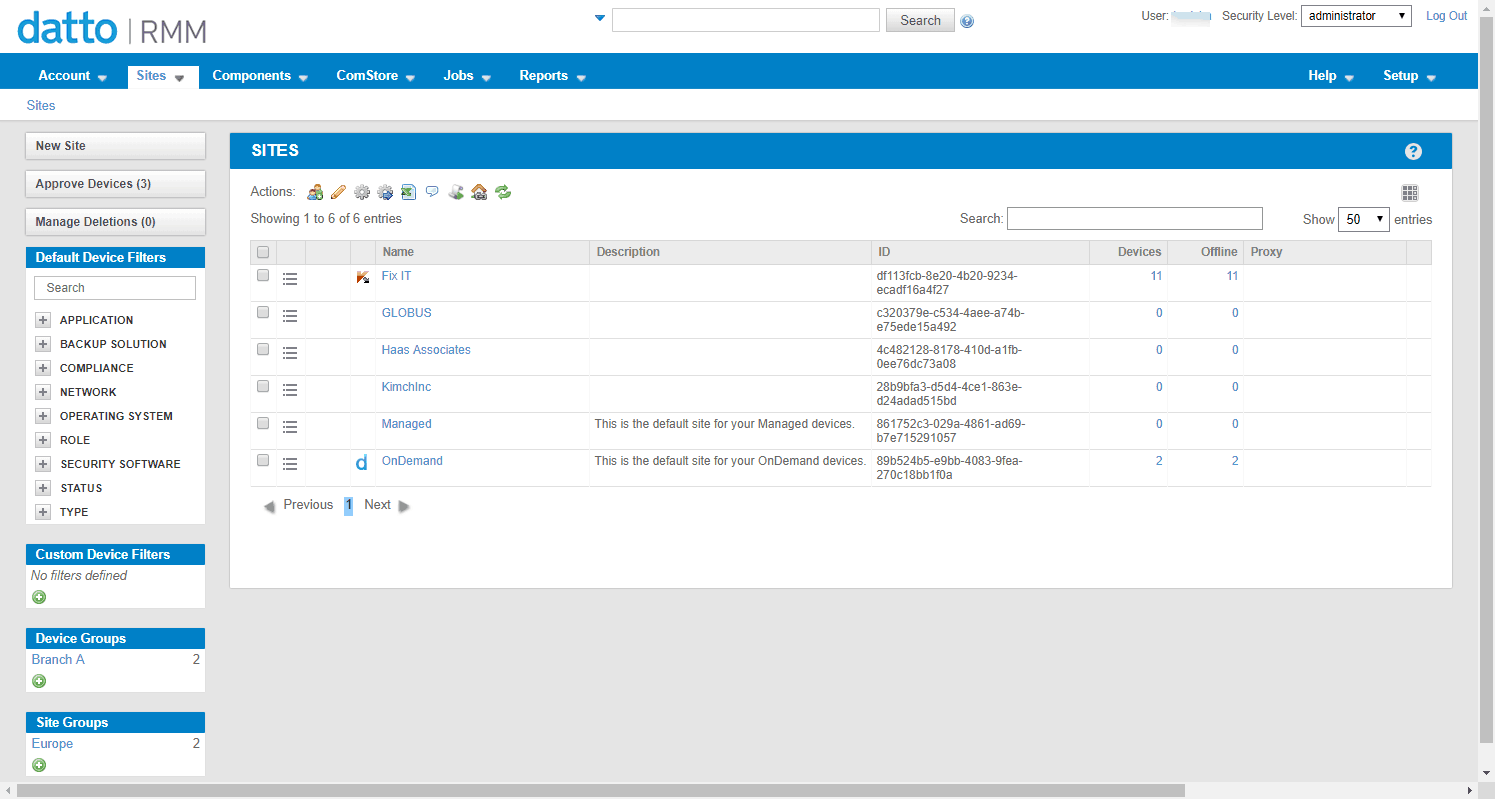 Real-time monitoring is another important feature of Datto RMM. The feature allows you to implement system-wide monitoring with intelligent alerting, auto-response, and auto-resolution. An RMM tool wouldn't be complete without remote control and this product can provide instant support with one-click access to any of your managed devices. And last but not least, the tool's flexible reporting features can help you prove the value of your service as well as help your customers make informed decisions with a wide array of fully configurable reports.
Pricing information is not directly available from Datto's website. A free trial is mentioned but clicking the link takes you instead to a page where you can register for a demo.
3-
Comodo One
Comodo One is a mostly free RMM platform with paid security modules. The system can monitor LANs, Cloud-based services, and hybrid systems. It is also particularly strong at protecting web applications. The key element of Comodo One is the Comodo Remote Monitoring and Management (CRMM). This module offers endpoint access, remote desktop sharing, and professional services automation (PSA) which includes ticketing, task allocation, policy enforcement, and logging. As such, it can be viewed as a combined RMM and PSA platform.
The tool's central console communicates with an agent module which needs to be installed on each remote endpoint. The agent software can be installed remotely. Once a monitored site is connected through its gateway, the network monitor built into the package automatically seeks out and logs all of the assets on that network. The Comodo One system monitors networks, servers, and application performance as well as risks to the network, with 18 different tests to detect security flaws. Once the RMM connection is established, you have the option of adding other Comodo services, such as edge security for web servers. The console also gives access to a task manager for support staff and a patch manager for the systems administrator.
The Comodo One RMM service is cloud-based, but it can monitor on-premises assets that run on Windows, Linux, and Mac OS. The service can also include mobile device management and software distribution. If a free RMM from a reputable source like Comodo seems too good to be true, just remember that you will have to pay for some modules in order to assemble a complete MSP system.
4.
Pulseway
Pulseway is a cloud-based network management system with a feature set that can certainly appeal to Managed Service Providers, giving it a lot of RMM functionality. The tool's scalability and its pricing model makes it very easy to expand the service as you acquire new clients.
The online Pulseway dashboard lets you perform remote desktop control, patch management, software deployment, update management, and application monitoring. In addition, some of the tools built into the dashboard provide advanced automation, operative monitoring, customer SLA reporting, and custom management information reporting.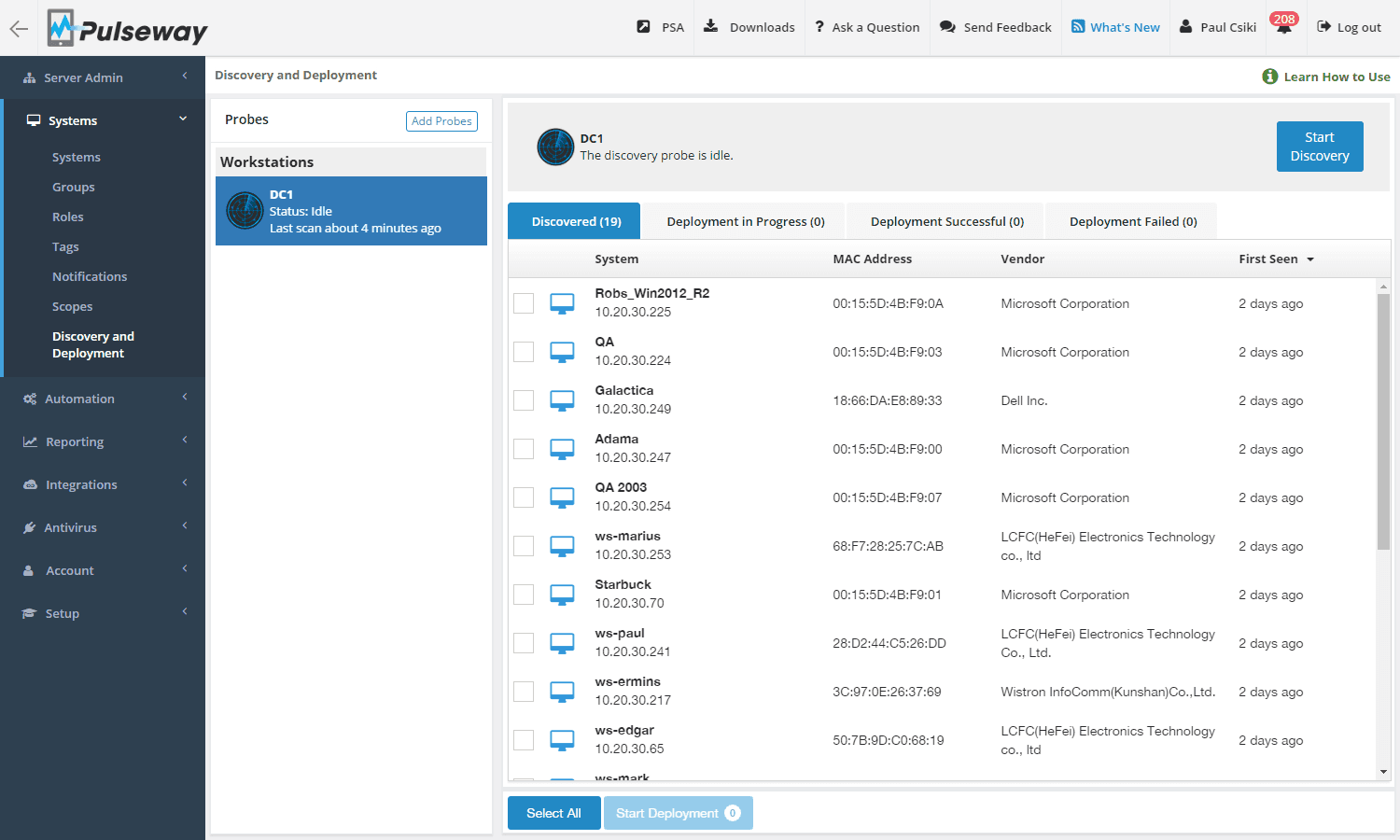 The system allows for multiple logins and group account which let you adapt the dashboard to each employee's role. You can also customize the system monitoring alert settings and direct service alerts to different team members by email. You can also create automated workflows that get triggered by specific events.
Pulseway offers a base subscription package to Managed Service Providers that includes all of the RMM functions that they will need to support their clients. In addition to the standard RMM, there is also an extensive array of add-ons available to enhance the system, covering many of your client interactions. Additional modules include web server protection, virus protection, cloud data backup service, and a PSA module.
Pulseway is available in a free version for very small businesses. It only allows one user account and gives you the ability to manage just two endpoints. For the full package, prices are $3.95/month per server and $1.85/month per workstation with a minimum charge of $47/month. The full version is also available as on-premises software. A free trial of the product is also available.
5.
Kaseya VSA
Our last entry is an MSP support platform that excels at task automation called Kaseya VSA. It also incorporates a remote control module, called Live Connect, allowing you to implement bulk updates as well as remotely connect to and administer any end device. The tool also provides automated network monitoring with built-in alerts, patch management, and service auditing, making it a very complete RMM solution.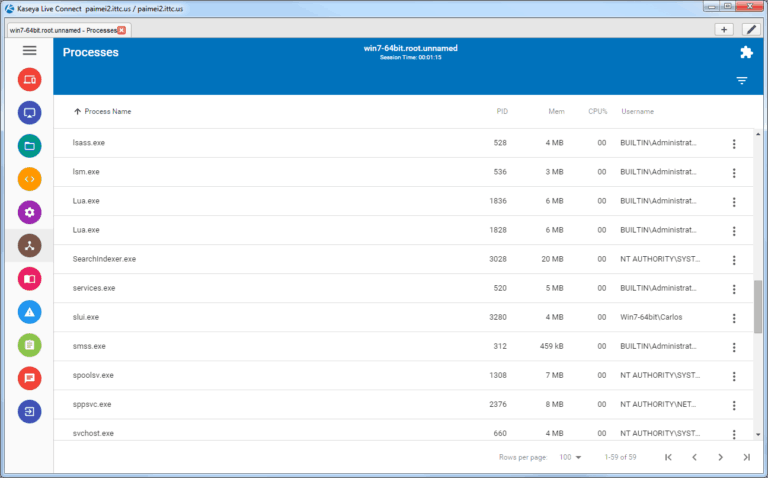 Feature-wise, Kaseya VSA has everything you'd expect from any RMM tool. It has remote control, patch and vulnerability monitoring, audit and inventory, network monitoring, virus protection, unified backups and compliance management. The built-in AssetIQ is a contextual documentation management system made to ease the task of Managed Service Providers. It can, for example, be structured as a script for Help Desk agents to work through an incident and eventually direct problems to back office staff.
Kaseya VSA will cover most, if not all, of your Remote Monitoring and Management requirements. Pricing for the product can be obtained directly from Kaseya. Both a demo and a 14-day free trial are available so you can see for yourself what this great product has to offer.