We are reader supported and may earn a commission when you buy through links on our site.
Learn more
Top Data Breach Detection Tools and Systems for 2021
In today's world when we hear about cyberattacks on a regular basis, data breach detection is more important than ever. Today, we're going to be reviewing the top data breach detection systems.
In a few quick words, a data breach is any event where someone manages to gain access to some data that he should not have access to. This is a rather vague definition and, as you'll soon see, the concept of data breach is multi-faceted and it encompasses several types of attacks. We'll do our best to cover all the bases.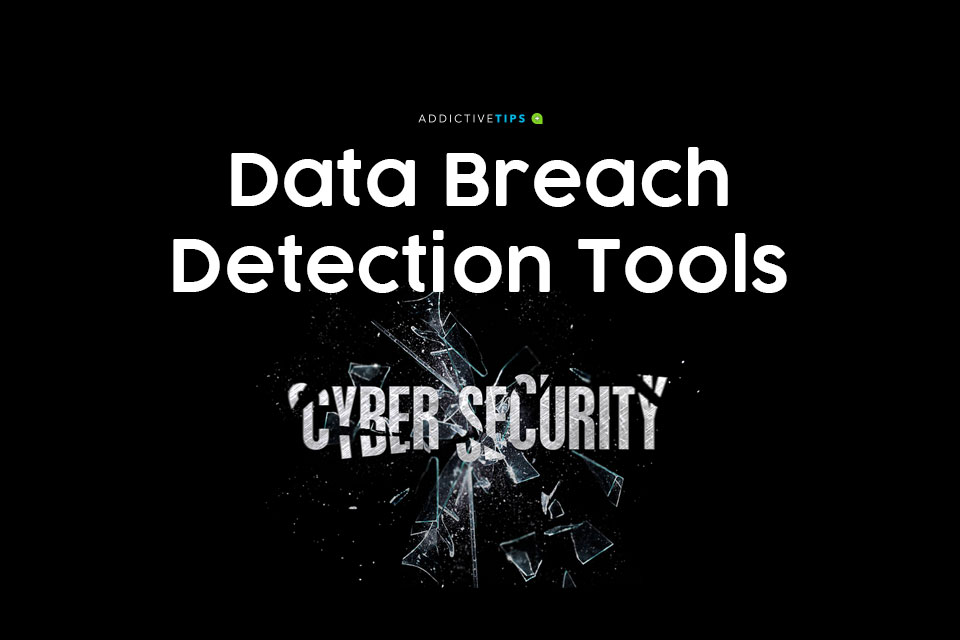 We'll start off by going into greater detail on what data breaching really means. After all, it can only help to start on the right foot. Next, we'll explore the various steps involved in data breaching. Although every attempt is different, most follow a similar pattern that we'll outline. Knowing these steps will help you better understand how different solutions operate. We'll also have a look at the various causes of data breaches. As you'll see, they're not always the act of organized criminals. Our next order of business will be the actual protection against breaches, and we'll explore the different phases of the breach detection and prevention process. A short pause will let us explore the use of Security Information and Event Management tools as a mean of detecting data breaches. And finally, we'll review a few of the best products you can use to detect and prevent data breaches.
Data Breaching In A Nutshell
Although the concept of data breaching varies depending on your industry, the size of your organization, and network architecture, all data breaches share some common traits. A data breach is primarily defined as the unauthorized access to some otherwise private data. The reasons why hackers steal data and what they do with also varies a lot but again, the key here is that the information those hackers access does not belong to them. It is also important to realize that data breaches can include either what is referred to as the exfiltration of information by malicious users or data that was accessed regularly but disseminated without authorization. Obviously, that second type of breach can be much harder to detect as it stems from regular activity.
Although there are different types of data breaches—as we'll see shortly—they will often follow a set pattern. Knowing the various steps that malicious users take to pull off their data breaches is important as it can only help better analyze your own vulnerabilities and prepare and set up better defenses that can make it much more difficult for cybercriminals to penetrate. It is often said that knowledge is power and it is particularly true in this situation. The more you know about data breaches, the better you can fight them.
Using SIEM Tools as Breach Detection Tools
Security Information and Event Management (SIEM) systems can turn out to be very good at detecting data breaches. While they do not provide any protection, their strength is in detecting suspicious activities. This is why they are very good at detecting data breaches. Each data breach attempt will leave some traces on your network. And the traces that are left behind are precisely what SIEM tools are the best at identifying.
Here's a quick look at how SIEM tools work. They first collect information from various systems. Concretely, it often takes the form of collecting log data from your networking devices, security equipment—such as firewalls, and file servers. The more data sources there are, the better your chances of detecting breaches. Next, the tool will normalize the collected data, ensuring that it follows a standard format and that discrepancies—such as data from a different time zone—are compensated for. The normalized data is then typically compared against an established baseline and any deviation triggers some response. The best SIEM tools will also use some sort of behavioural analysis to improve their detection rate and reduce false positives.
The Top Data Breach Detection Tools
There are different types of tools for detecting data breaches. As we've just discussed, SIEM tools can help you with that while providing many more security-oriented features. You won't be surprised to find a few SIEM tools on our list. We also have some dedicated data breach detection tools that can handle most of the steps of the detection cycle described above. Let's review the features of a few of the best tools.
When it comes to Security Information and Event Management, SolarWinds proposes its Security Event Manager. Formerly called the SolarWinds Log & Event Manager, the tool is best described as an entry-level SIEM tool. It is, however, one of the best entry-level systems on the market. The tool has almost everything you can expect from a SIEM system. This includes excellent log management and correlation features as well as an impressive reporting engine.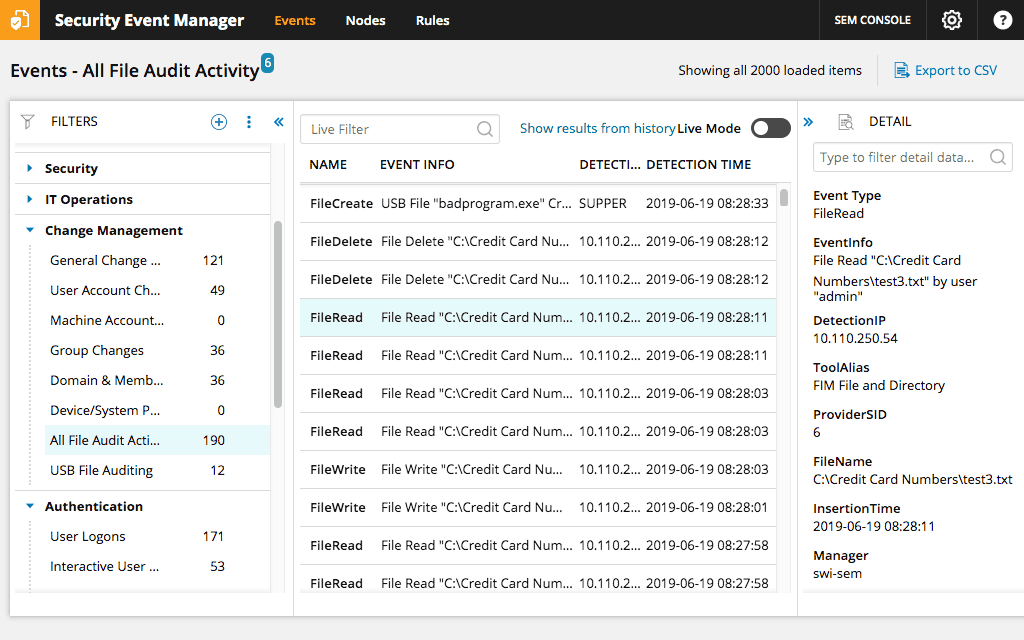 The tool also boasts excellent event response features which leave nothing to be desired. For instance, the detailed real-time response system will actively react to every threat. And since it's based on behaviour rather than signature, you're protected against unknown or future threats and zero-day attacks.
In addition to its impressive feature set, the SolarWinds Security Event Manager's dashboard is possibly its best asset. With its simple design, you'll have no trouble finding your way around the tool and quickly identifying anomalies. Starting at around $4 500, the tool is more than affordable. And if you want to try it and see how it works in your environment, a free fully functional 30-day trial version is available for download.
2.
Splunk Enterprise Security
Splunk Enterprise Security—often just called Splunk ES—is possibly one of the most popular SIEM tools. It is particularly famous for its analytics capabilities and, when it comes to detecting data breaches, this is what counts. Splunk ES monitors your system's data in real-time, looking for vulnerabilities and signs of abnormal and/or malicious activity.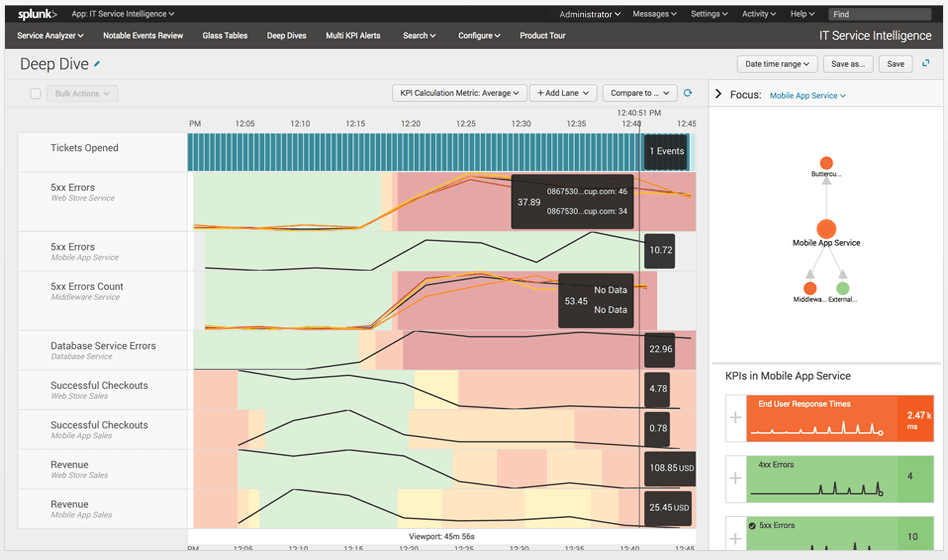 In addition to great monitoring, security response is another of Splunk ES's best features. The system uses a concept called the Adaptive Response Framework (ARF) that integrates with equipment from more than 55 security vendors. The ARF performs automated response, speeding up manual tasks. This will let you quickly gain the upper hand. Add to that a simple and uncluttered user interface and you have a winning solution. Other interesting features include the Notables function which shows user-customizable alerts and the Asset Investigator for flagging malicious activities and preventing further problems.
Since Splunk ES is truly an enterprise-grade product, you can expect it to come with an enterprise-sized price tag. Pricing information is unfortunately not readily available from Splunk's website so you will need to contact the company's sales department to get a quote. Contacting Splunk will also allow you to take advantage of a free trial, should you want to try the product.
3.
SpyCloud
SpyCloud is a unique tool from an Austin-based security company that offers organizations accurate, operationalized data they can use to protect their users and their company from data breaches. This includes normalizing, de-duplicating, validating, and enriching all the data it collects. This package is typically used to identify exposed credentials from employees or customers alike before thieves have a chance to use them to steal their identity or sell them to some third party on the black market.
One of the main differentiating factors of SpyCloud is its assets database, one of the largest of its king at over 60 billion objects as of this writing. These objects include email addresses, usernames, and passwords. Although the system makes use of scanners and other automated collection tools, most of the tool's useful data—or should I say the tool's most useful data—comes from its human intelligence gathering and advanced proprietary trade craft.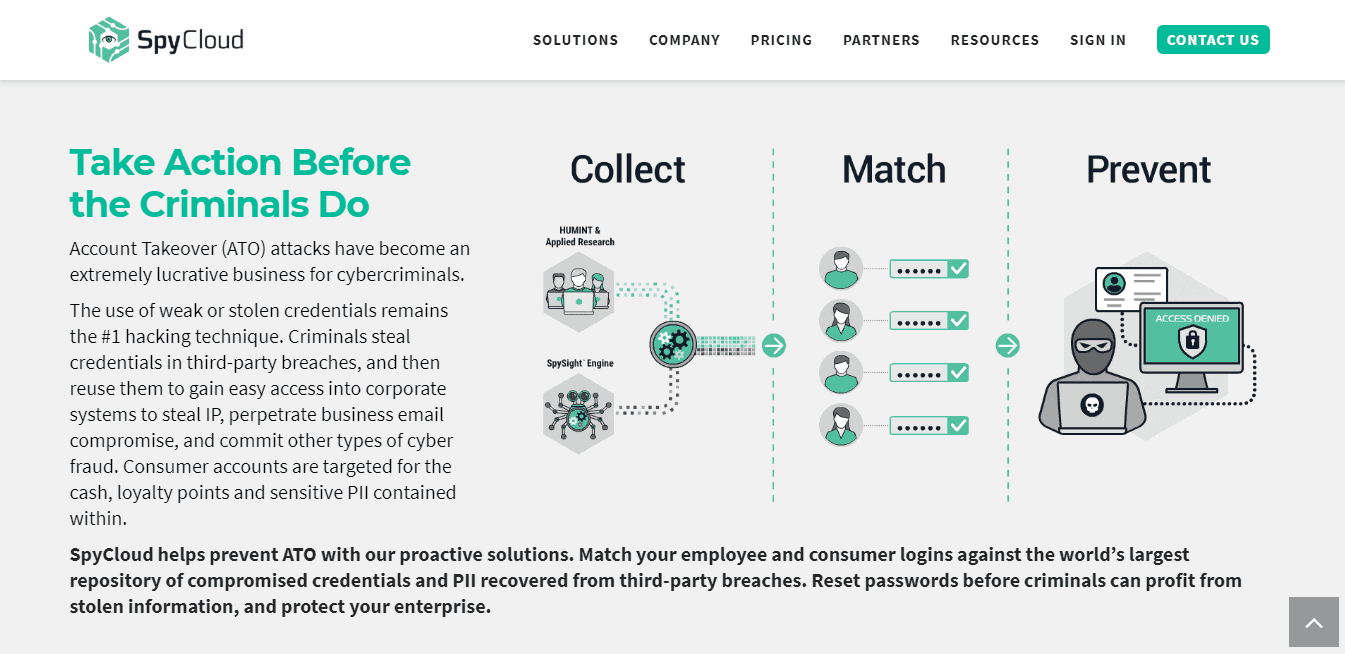 The SpyCloud platform offers a winning combination of unparalleled quality, clever automation and a super easy to use API to run automated and consistent checks of your organization's user accounts against the SpyCloud database of credentials. Whatever match it finds quickly triggers an alert. As a result, a notification is sent out and , optionally, a remediation can be accomplished by forcing a password reset of the compromised account.
Malicious users seeking to take over personal and corporate accounts will definitely meet their match with this product. Several similar solutions on the market will find exposed accounts way too late in the process to let you do more than merely managing the consequences of a data breach. This is not the case with this products and it is obvious that its developers understand the importance of early detection.
This product is ideal for organizations of any type and size and from virtually every industry such as retail, education, technology, financial services, hospitality, and healthcare. Cisco, WP Engine, MailChimp, and Avast are examples of some of the prestigious clients that use SpyCloud to protect their accounts.
Pricing information is not readily available from SpyCloud and you'll need to contact the company to get a quote. The company's website states that a free trial is available yet clicking the link takes you to a page where you can register for a demo.
4.
Kount
Kount is a Software as a service (SaaS) data breach detection platform. Based in Boise, ID and founded some twelve years ago, the company offers data security in addition to breach detection services to organizations throughout the world. Its patented machine learning technology operates by examining transactions at a microscopic level to detect stop malicious activities. While the service seems to be particularly well suited for online businesses, merchants, acquiring banks, and payment service providers, it can serve other types of businesses as well. It prevents account takeover, fraudulent account creation, brute force attacks while also detecting multiple accounts and account sharing.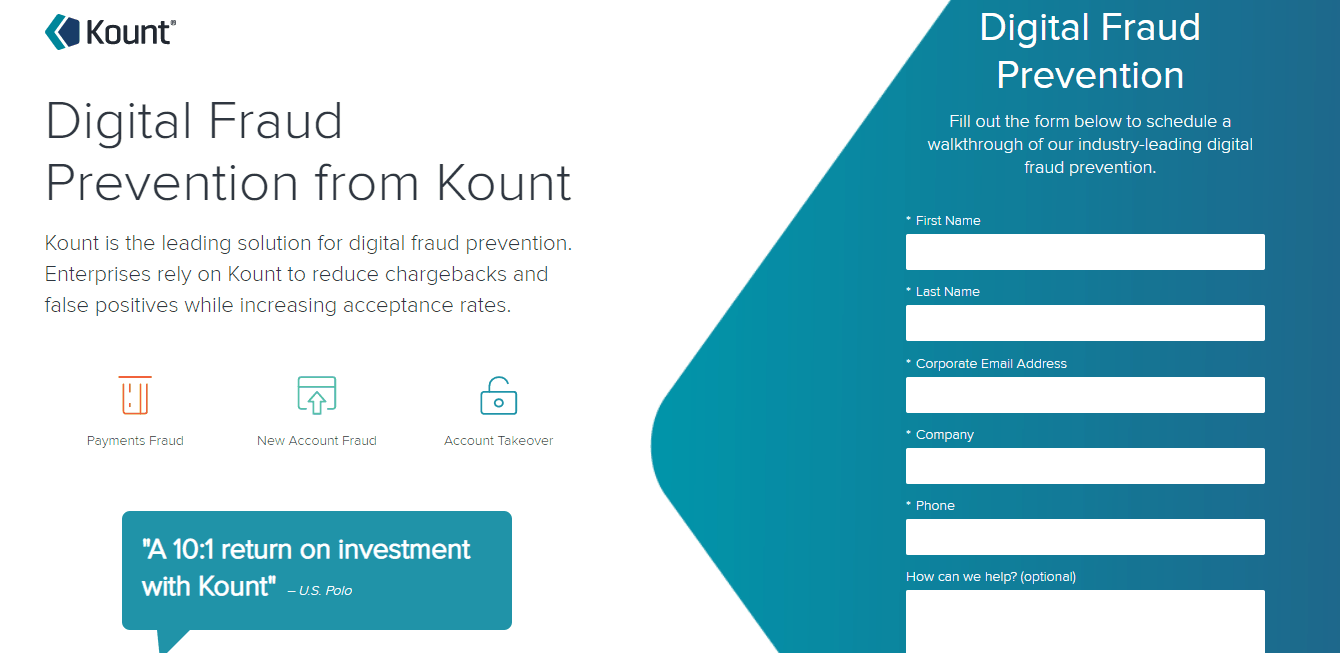 Kount can provide your organization with enough data and toolsets to counter most online threats and protect the data of your customers, employees, and users from all kinds of cyberattack. The service has a huge customer base of more than 6 500 companies including some top-notch brands that rely on the service to guard against data breaches.
What we have here is an easy-to-implement, efficient solution that can be tailored to address the security concerns of various organizations operating in different segments. It makes the entire task of fraud detection much simpler. As a result, it empowers organizations to handle a greater transaction volume, thereby leading to better profits and overall growth.
Kount is available in three versions. First there's Kount Complete. As its name implies, this is the complete solution for any business that interacts with its customers digitally. There's also Kount Central, a service specifically tailored for payment solutions providers. And then there is Kount Central for digital account protection. The various solutions start at $1 000 per month, with prices varying depending on the number of transactions you plan to run through the service. You can get a detailed quote or arrange for a demo by contacting the company.
The Breaching Process Step-By-Step
Let's have a look at what the typical steps of a data breach attempt are. While the activities outlined below are not necessarily the rule, they give you a valid overview of how your average data hacker works. Knowing about those will allow you to better prepare to fight attacks.
Probing
This first step in most attacks is a probing phase. Malicious users will often start by attempting to learn more about your network and overall digital environment. They could, for instance, probe your cybersecurity defences. They could also test passwords or evaluate how to launch an eventual phishing attack. Others will look for out-of-date software without the latest security patches, a sign that exploitable vulnerabilities could be present.
Initial Attack
Now that hackers have probed your environment, they will have a better idea of how to carry their attack. They will typically launch a first wave of attack. This could take many forms such as sending a phishing email to employees to trick them into clicking a link that will take them to a malicious website. Another common type of initial attack is executed by corrupting some essential applications, often disrupting workflow.
Expanded Attack
After a successful initial attack, cybercriminals will often quickly switch to high gear and evaluate their next steps. This will often mean leveraging whatever grip they got from their initial efforts to launch a broader attack that can target the whole environment to locate as much valuable data as they possibly can.
Data Theft
Although we're listing it last, the actual theft of your data is not necessarily the last step of a typical attack. Hackers are often very opportunistic and will grab whatever interesting information they can get their hands on as soon as they find it. Others, on the other hand, may choose to lay dormant for a while in an effort to avoid detection but also to better understand what data is available and how it can best be stolen.
What exact information cybercriminals will take from any organization varies greatly. But since "money makes the work go 'round", it is estimated that at least three-quarters of all the data breaches are financially motivated. The stolen data may often involve trade secrets, proprietary information, and sensitive government records. It could also very well be centred on your customer's personal data that could be used for the hackers' own gain. Several hugely publicized data breaches have been reported in the past few years involving giants such as Facebook, Yahoo, Uber, or Capital One. Even the healthcare sector can be the target of attacks, potentially putting the public's health at risk.
Causes Of Breaches
Data breaches can have multiple causes, some of which you may not even suspect. Of course, there's the obvious cyberattack but those only account for a relatively small fraction of all data breaches. It is important to know about these various causes as this is how you'll be able to better detect and stop them from happening. Let's have a quick look at a few of the main causes.
Cyberattacks
The cyberattack—in which your organization is the direct target of hackers—is, as you would imagine one of the primary causes of data breaches. The annual cost of cybercrime is estimated to exceed $600 billion throughout the world so it's no wonder that organizations are so concerned about it. Cybercriminals use a broad arsenal of methods to infiltrate your networks and exfiltrate your data. Those methods can include phishing to gain access through unwary users or ransomware to extort organizations after taking their data hostage. Exploiting various software or operating system vulnerabilities is another common way to rob organizations of their precious data.
Internal Breaches
Internal breaches can be more insidious than cyberattacks. Their goals are the same but they are carried out from within the network. This makes their detection much more complicated. They are often the fact of disgruntled employees or employees suspecting they are about to be terminated. Some hackers will even approach employees and offer them money in exchange for information. Another common cause of internal breach comes from employees that have been dismissed but whose access credentials have not yet been revoked. Out of spite, they could turn against their former organization and steal its data.
Device Loss
Although not as common a cause of data breach as the previous ones, device lost still plays a non-neglectable role in data breaches. Some users are simply careless and will leave various devices such as smartphones, laptops, tablets or thumb drives in insecure locations. These devices could potentially store proprietary data to provide easy and unfettered access to your network. A related cause of data breach is device theft where ill-intentioned individuals will steal user's devices to either gain access to the data they contain or to use them as a gateway to your corporate data. And don't think that the fact that all these devices are secured makes them any less of a risk. Once malicious users get their hands on your devices, cracking the security should be a piece of cake.
Human Error
The main difference between human error as a cause of data breaches and internal breaches is that the former is accidental. It can take many forms, though. For instance, some IT team may have accidentally exposed customer data to unauthorized employees as a result of misconfiguring access rights on a server. Another cause of breach related to human error has to do with employees falling victim to phishing or social engineering endeavours. Those are the kind of attacks where hackers trick your staff into clicking malicious links or downloading infected files. And you should not take human error lightly as research has shown that it accounts for more than half of the data breaches.
Protecting Against Breaches
Now that we know what data breaches are, what they look like and what their causes are, it's time we have a closer look at protecting against them. With the various types and causes of data breaches, defending your organizations against them can be a daunting prospect. To assist you, we've assembled a list of the phases of protecting against data breaches. Together, they form the building blocks of any serious defense strategy. It is important to realize that this is an ongoing process and you should view the stages as part of a circle rather than a once-over linear approach.
Discovery
The discovery phase is where security professionals work through sensitive information in order to identify any unprotected or otherwise vulnerable or exposed data. This is important as that kind of information can be an easy target for malicious individuals. It is, therefore, very important to take the necessary steps to secure it. One way to do that is by reviewing who has access to that data and changing authorizations to ensure that only those who need to work with it can access it.
Detection
The next phase is the detection phase. This is where you should be monitoring for security threats that can provide cybercriminals with easy entry points into your network. This is a critical phase as it can be extremely easy for hackers to access your data if you don't actively work on detecting and patching whatever vulnerabilities exist. For example, any application that hasn't been updated with the latest security patches ca become an easy target for attackers who are free to exploit whatever vulnerabilities there are. This phase, more than all others, has to be an ongoing or recurring process.
Prioritization
Once you've gone through the previous phases and have pinpointed your risks, the last step before you can actually start fixing things is the prioritization phase. The idea here is to triage what assets are at risk in order to quickly secure the most exposed or those that would have the worst consequences should they be breached. This is where you'd typically use the combine intelligence of security information and data operations to pinpoint where you are at the greatest risk of being attacked. This phase is often conducted through audits that can help understand what needs to be prioritized.
Remediation
The remediation phase is where you resolve the threats that you've identified and prioritized during the previous phases. The exact remediation process varies according to the type of threat that has been identified.
Process Management
This whole process needs to be managed strategically and effectively. If you want the data breach prevention cycle to work for your organization, you'll need to take control and use the proper tools. These are tools that can leverage data from your network and turn in into actionable insights. As we said before, this is more of an ongoing process than a one-time thing. And don't expect this to be a set-and-forget kind of thing. Staying abreast of data breaches will require constant efforts. This is why investing in tools that can make all this easier is well worth it.
In Conclusion
Data Breach prevention is just about as important as it is a complex topic. I hope we've managed to shed to useful light on the subject. The key point to remember from all this is that the risk is real and doing nothing about it is not an option. Now, whether you choose to go with a SIEM tool or a dedicated breach detection and/or prevention solution is up to you and it largely depends on the specific needs of your organization. Look at what's available, compare the specifications and features and, before you make your final decision, try a few tools.