We are reader supported and may earn a commission when you buy through links on our site.
Learn more
7 Best HP Device Monitoring Tools and Software
HP is by far one of the biggest names in enterprise computing. Since its modest beginnings as a maker of test instruments, the company has built a solid reputation for delivering top quality products at competitive prices. HP manufactures everything from computers to printers, network switches and routers, and servers. And just like any equipment from any other manufacturer, HP equipment should be monitored. This is why we're reviewing the top HP monitoring tools.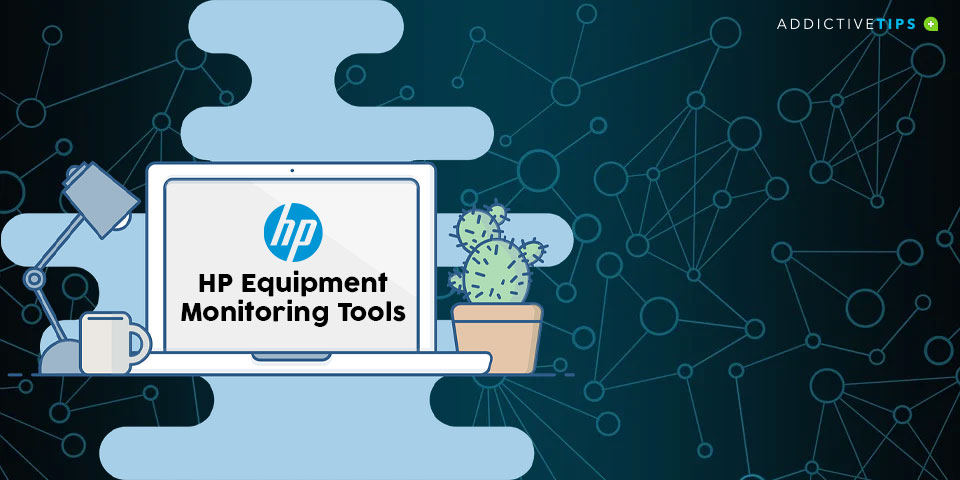 We'll start off by exploring the monitoring of HP equipment in general and discuss the various type of monitoring that are typically available. And since network monitoring is one of the most popular types of monitoring, we'll elaborate on the subject. We'll then be ready to tackle the core of this post and review seven of the best tools we've found for monitoring HP equipment and networks.
Monitoring HP Equipment
Given the typical size of today's IT environments, manually monitoring each and every HP equipment to ensure that all is running smoothly would require an army or administrators. When I first started as a network administrator, the company where I worked had about half a dozen servers and they were all located right next to me, in the same room where my desk was. It was easy for me and my two colleagues to constantly keep a watchful eye on everything. Whenever something went wrong, it wasn't long before one of us noticed it. Fast forward some twenty-something years and things are very different. Many organizations have dozens if not hundreds of servers.
But HP does not only make servers. Between their servers, networking equipment, and other devices, keeping an eye on all of these means that administrators tend to have their hands full. This is where monitoring tools can come in handy. They sit in the background and become your eyes on every HP device on your network. And whenever something goes wrong or is out of its normal range of operation, alerting kicks in and sends some type of notification. This allows administrators to concentrate on more useful tasks while ensuring that they'll be able to quickly react in case of trouble.
How About Network Monitoring?
Network traffic is very similar to road traffic. Just like network circuits can be thought of as highways, data transported on networks are like vehicles travelling on that highway. But as opposed to vehicular traffic where you just have to look to see if and what is wrong, keeping track of what's happening on a network can be tricky. For starters, everything is happening very fast and data transported on a network is invisible to the naked eye.
Network monitoring tools let you "see" exactly what is happening on your network. With them, you'll be able to measure each circuit's utilization, analyze who and what is consuming bandwidth and drill down deep into network "conversations" to verify that everything is operating normally.
SNMP Explained
Most network monitoring tools rely on the Simple Network Management Protocol, or SNMP, to poll devices and get the amount of traffic on all–or some–of their interfaces. Every HP networking device does support SNMP. In fact, SNMP is so entrenched within HP devices that the company used to make a very popular SNMP management tool called HP OpenView. Despite its name, it's not exactly simple, though, and implementing it can prove to be a daunting task. SNMP-enabled devices make a certain number of parameters–called OIDs–available. Some are modifiable configuration parameters, allowing one to change them while others are read-only counters.
When it comes to bandwidth monitoring, we're specifically interested in two OIDs. They are called bytes in and bytes out. By reading these values at precisely timed intervals, The number of bytes per unit of time–which is exactly what bandwidth is–can be computed. Most networking devices, like switches and routers, have one such set of OIDs for each of their interfaces.
Typically, a network bandwidth utilization monitoring system will poll each device at 5 minutes intervals. It will then subtract the previous value of the counter from the current one to get the number of bytes transferred in five minutes. It will multiply that number by 8 to get the number of bits. And finally, it will divide it by 300 to get the bandwidth in bits per second.
In addition to the bits in and bits out counters, some bandwidth monitoring system will allow one to monitor other parameters. For instance, there are interface input errors and interface output errors OIDs that can be polled to compute the error rate.
Different Tools Are Available
When monitoring your HP equipment, there are different types of tools that network and system administrators can use. First, they need to monitor that the HP systems and/or devices they manage are up and running but also that they are performing within their normal acceptable range. This is what server monitoring tools are all about. At its most basic level, a good server monitoring tool will verify that your HP servers are up and running and that whatever ports which are supposed to be open actually are. For instance, a web server should be responding to requests on port 80. In addition to testing ports, monitoring systems use the Simple Network Management Protocol, or SNMP to read operational parameters from devices. The CPU load or percentage of available memory could be monitored just as CPU core temperature could. Different devices have different operational parameters available via SNMP. The best tools will let administrators which parameter of each device to monitor.
Another type of tool is the network monitoring tool. This type of tool uses SNMP to connect to HP networking equipment and read their bytes in and out counters to then calculate the average bandwidth utilization and typically plot it on a graph depicting its evolution in time. The technique is used to monitor bandwidth utilization of various parts of a network and is particularly useful for watching low-bandwidth circuits.
About Integrated Monitoring Tools
In order to make administrators' lives easier, a few vendors offer integrated monitoring tools. These are tools that combine several types of monitoring tools. For instance, it is not rare to see tools that can monitor servers and the applications running on them. Some integrated tools will also monitor network traffic in addition to servers and their applications.
There are several advantages to these integrated tools, the main one being having all your monitoring data at the same place. Other advantages include an easier installation and not having to learn to install, configure, and use multiple tools. There's also a definite cost advantage as integrated tools are often less expensive than purchasing individual tools.
But as nice as integrated tools are, they do have a few drawbacks too. Generally speaking, integrated tools tend to be poorer in terms of available feature. They can often do everything OK but not necessarily amazingly. They typically don't go as deep in their monitoring. They can also tend to be somewhat counterproductive in larger organizations where different teams manage different types of equipment and each team would benefit from having its own dashboard.
The Top Tools For Monitoring HP Equipment And Networks
Now that you know all there is to know about monitoring HP equipment. The time has come to have a look at the top tools for that purpose. Our list includes a mix of server monitoring tools, network monitoring tools and integrated tools. While most tools are universal and will monitor equipment from any vendor, some include HP-specific monitoring features.
The SolarWinds Server and Application Monitor is a great example of a rather complete server monitoring tool. The platform provides in-depth monitoring of your HP servers. It will monitor the server's hardware, the operating system running on it as well as its applications. It's an all-inclusive server monitoring platform.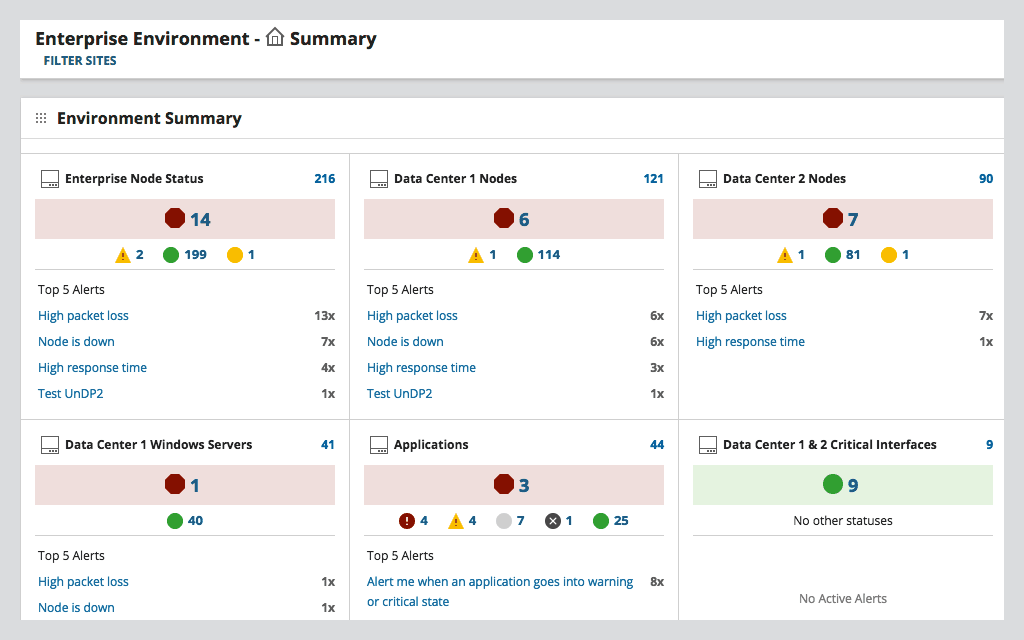 This tool was designed to help administrators monitor servers, their operational parameters, their processes, and the applications which are running on them. It can easily scale from very small networks to large ones with hundreds of servers—both physical and virtual—spread over multiple sites. The tool can also monitor cloud-hosted services like those from Amazon Web Services and Microsoft Azure.
The SolarWinds Server and Application Monitor is very easy to set up and its initial configuration is just as easily done with the help of its auto-discovery process. It is a two-pass process. The first pass will discover servers, and the second one will find applications. This can take time but can be sped up by supplying the tool with a list of specific applications to look for. Once the tool is up and running, the user-friendly GUI makes using it a breeze. You can choose to display information in either a table or a graphic format.
Prices for the SolarWinds Server and Application Monitor start at $2 995 and vary based on the number of components, nodes, and volumes monitored. A free 30-day trial version is available for download, should you want to try the product before purchasing it.
Our next entry is another tool from SolarWinds, the Network Performance Monitor. This is probably SolarWinds' best-known product. This one specializes in network monitoring. It will connect to your HP networking devices using SNMP and pull their metrics as well as usage data from their interfaces. The product shares the same Orion platform as the Server and Application Monitor we just reviewed, and they integrate seamlessly to provide a single solution for all your monitoring needs.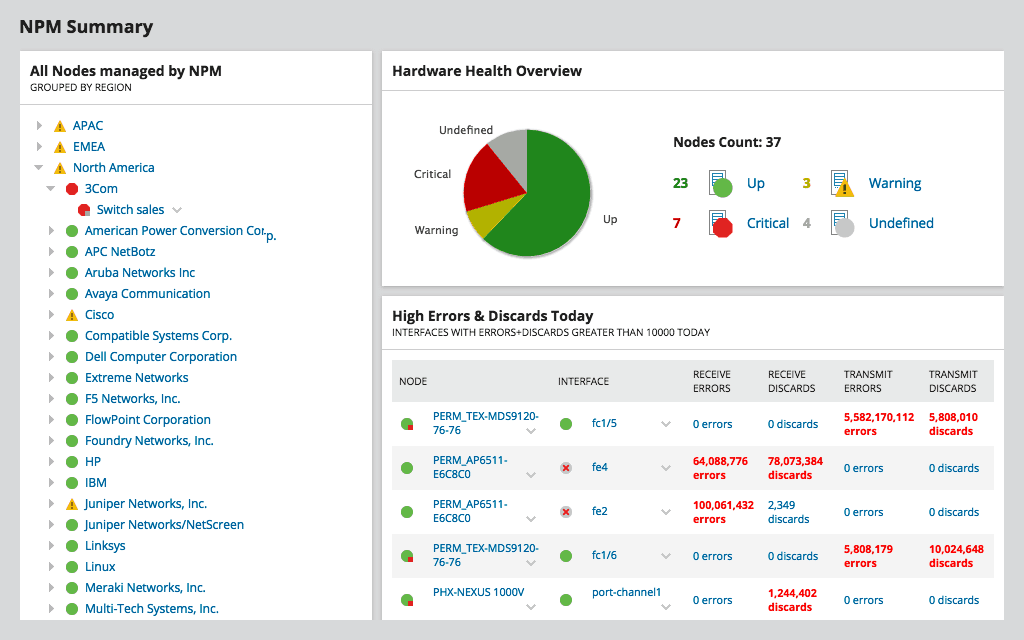 The SolarWinds Network Performance Monitor is a feature-rich professional SNMP monitoring system. It boasts an easy to use web-based dashboard, it is easy to set up and configure and, more importantly, it does a great job. The tool has customizable alerting features that can notify you whenever specific metrics exceed a predefined value.
An interesting advanced feature of this tool is how it can build intelligent maps of your network. It will also show you the critical path between any two points, allowing you to quickly troubleshoot issues. There's also wireless network monitoring and management built right into the software. This software truly has too many features to be able to mention them all here. You might want to take advantage of the 30-day free trial and see for yourself what this great tool can do for you.
Prices for the It is not an integrated monitoring tool, though. starts at $2 955 and varies according to the number of monitored devices. It is highly scalable and upgrading its capacity in order to add more monitored devices is a simple matter of upgrading the license.
For smaller organizations that might have a hard time justifying the investment into two different platforms such as those we've just reviewed, SolarWinds offers a smaller integrated monitoring solution that goes by the name of ipMonitor. It is a relatively simple integrated tool that offers basic up/down and performance monitoring of HP networks, HP servers, and their applications. It is, of course, not limited to monitoring HP equipment and it uses industry-standard protocols and technologies, making it compatible with most devices.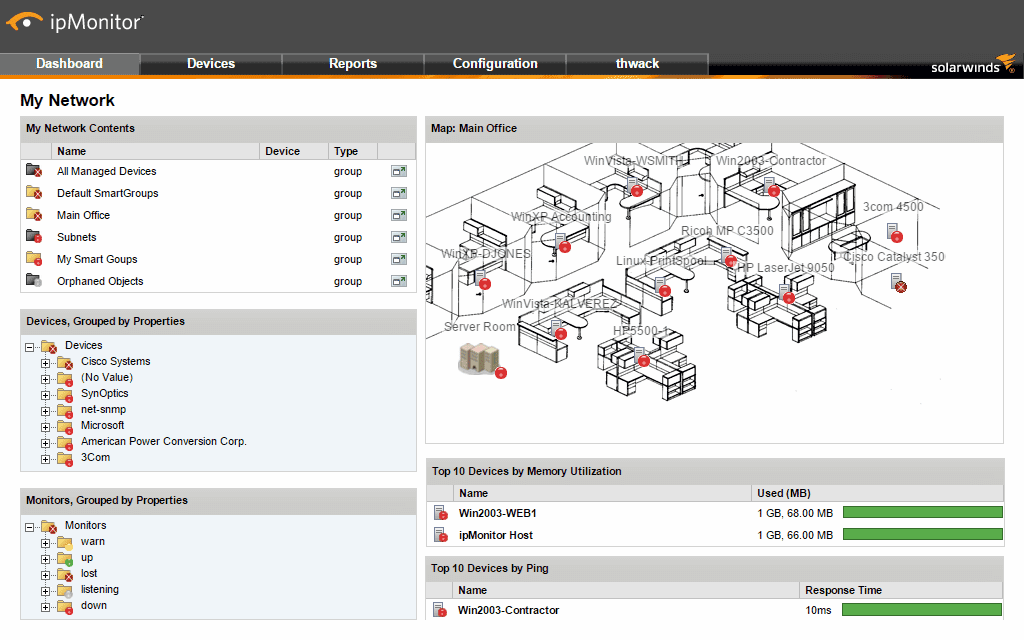 The SolarWinds ipMonitor will quickly discover infrastructure and will recommend SmartMonitor settings which are designed to make setup simpler and faster. It also provides an easy-to-use web interface and network maps for clear, at-a-glance views of your environment. The tool can send customizable alerts and reports to help ensure you are the first to know about issues or application failures. In addition to alerts, it also has automated remediation capabilities to minimize downtime.
On the application monitoring front, the system can simulate the end-user experience for web and other applications and it uses standard protocols such as SNMP and WMI for agentless, monitoring of applications and systems. The system includes its own embedded web server and database and it is designed for a simple, integrated installation experience without the need for installing separate components.
The SolarWinds ipMonitor's web-based interface offers centralized and customizable summary views. It helps provide visibility into the health of your IT infrastructure. The tool supports drag and drop, and is designed to make it easy to add and remove elements from the view and help ensure you have the reports, statistics, and gauges you need—right at your fingertips. Furthermore, its dashboards make it easy to identify problem areas at a glance, letting you resolve issues quickly.
Prices for the SolarWinds ipMonitor start at $1 495 for up to 500 monitors. This one-time cost includes the first year of maintenance. For those who'd prefer to try the tool before purchasing it, a free 14-day trial is available.
4. Zenoss Core
Zenoss Core might not be as well-known as some other monitoring tools on this list but it truly deserves its spot mainly because of its dedicated HP monitoring features. The tool can monitor many things such as bandwidth utilization, traffic flows, or services like HTTP and FTP. It has a clean and simple user interface and its alerting system is excellent. One thing we particularly loved about it its rather unique multiple alerting systems. It allows a second person to be alerted if the first one does not respond within a predefined delay.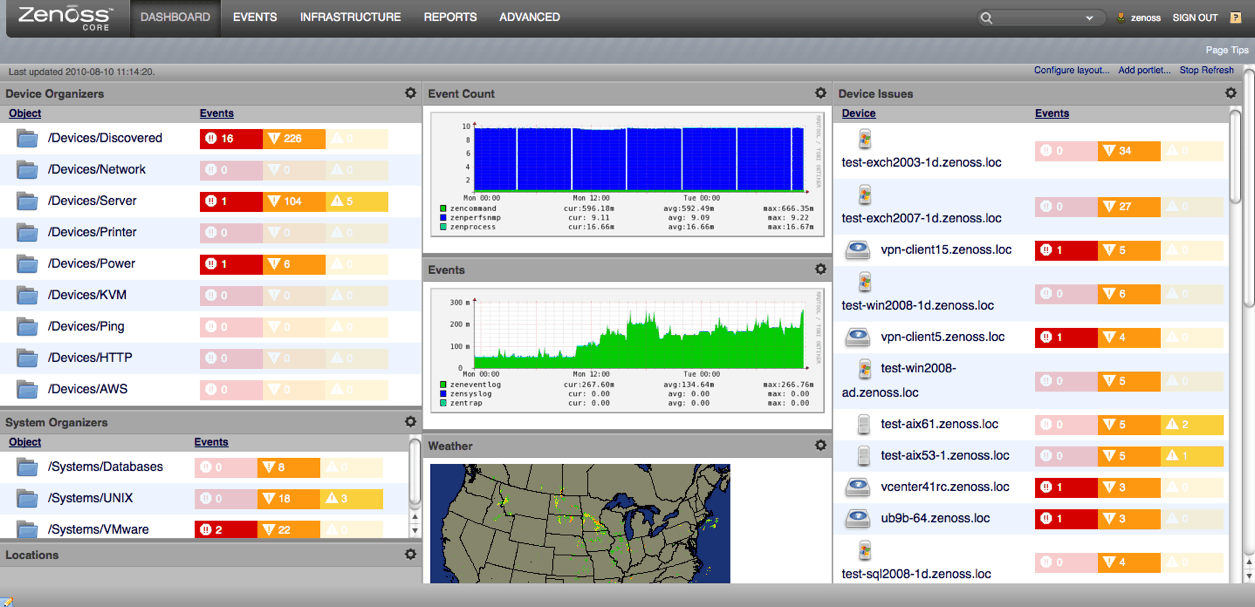 When it comes to monitoring HP equipment, Zenoss Core has several plugins dedicated to monitoring HP devices. There is, for instance, the HP Monitor ZenPack. which collects SNMP data from HP devices. The data it fetches from your HP equipment includes hardware model, hardware serial number, operating system, and CPU information. Also available is the HP Proliant ZenPack. This one is specifically designed for monitoring HP Proliant servers. And there are also other ZenPacks designed for HP devices including the HP-UX Monitoring ZenPack, the HP Temperature Sensors Monitoring ZenPack, the HP Printer Trap Transforms ZenPack and more. Virtually every element of HP infrastructure you can think of is supported by Zenoss Core.
Not all is perfect though. Zenoss Core is one of the most complicated monitoring systems to install and set up. Installation is an entirely command-line driven process. Today's network administrators are used to GUI installers, configuration wizards and auto-discovery engines. This could make the product's installation seem a bit archaic. However, there is ample documentation available and the end result makes it worth the installation efforts.
5. PRTG Network Monitor
The PRTG Network Monitor, from Germany-based Paessler AG, is a Windows tool that is ideal for monitoring HP equipment. It is one of the easiest and fastest tools to set up and Paessler claims you could be up and running within minutes. It is true that setting up the product is impressively fast, thanks in part to its auto-discovery feature which scans your network and automatically adds the components it finds.
The user interface (or rather interfaces) is another one of the software's strong suits. You can choose between a native Windows console, an Ajax-based web interface, or mobile apps for Android, iOS, and Windows Phone. One of the unique mobile apps features will let you scan a QR code label affixed to your equipment to quickly view its status.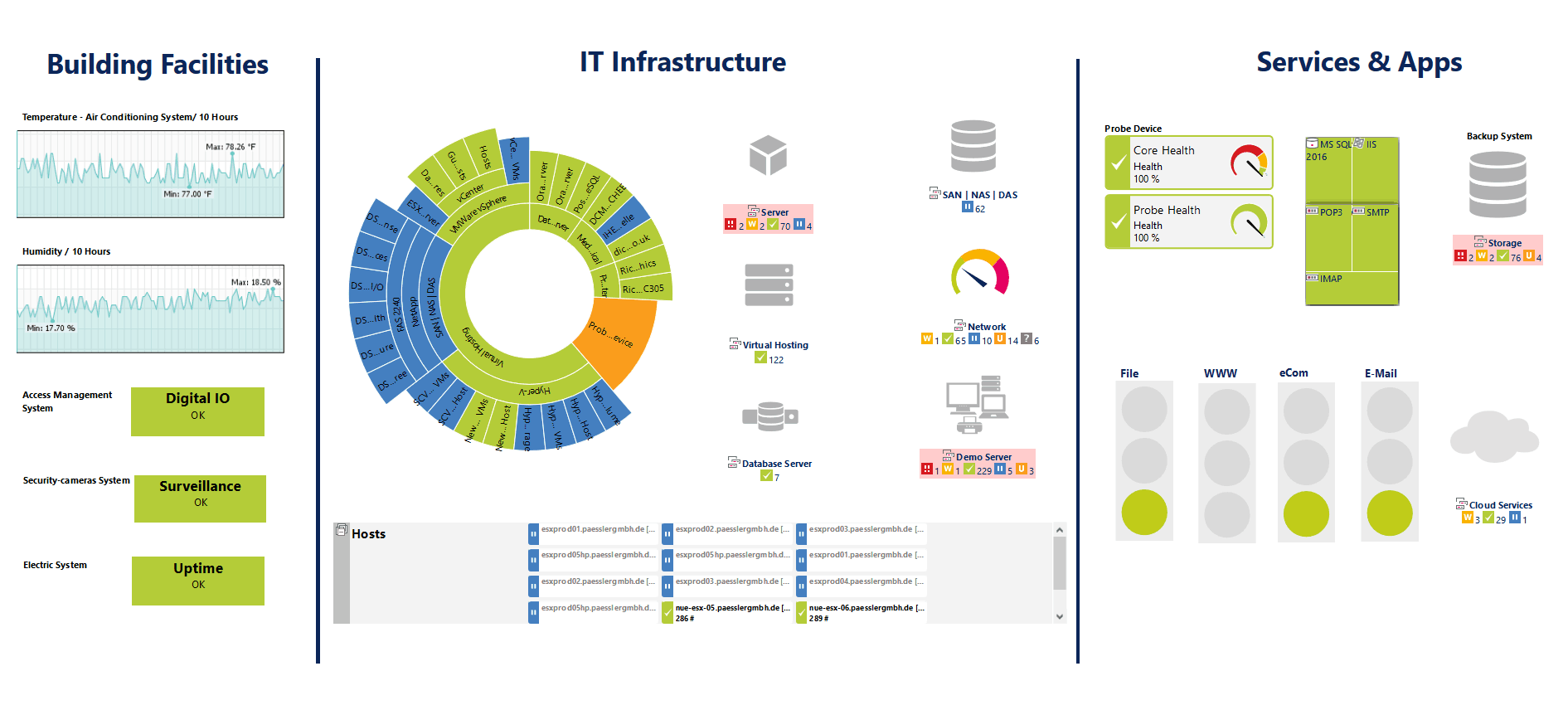 PRTG can monitor almost anything—not just HP equipment— thanks to its innovative sensor architecture. You can think of sensors are add-ons to the product. However, the sensors are already built into the product. Customized sensors can be used to monitor the critical metrics of your HP servers. Additional sensors are available to monitor the services that are running on the servers. Monitoring data is sent via a secure connection to prevent sensitive information from being compromised during the sending of monitoring data.
The PRTG Network Monitor's pricing is based on the number of sensors you're using where a sensor is any parameter or metric you need to monitor. For instance, each HP device interface monitored via SNMP uses up one sensor. Similarly, each HP server uses a sensor. The product is available in a full-featured free version which is limited to monitoring 100 sensors. For more sensors, paid licenses are required. Their price varies according to sensor capacity starting at $1 600 for 500 sensors. A free, sensor-unlimited 30-day trial is available for download.
6. ManageEngine OpManager
The ManageEngine OpManager is another all-in-one package that will monitor your HP servers' (physical and virtual) vital signs as well as those of your HP networking equipment and alerts you as soon as something is out of its normal operating range. But since this tool is using industry-standard protocols, it will monitor equipment from other vendors just as well. It benefits from an intuitive user interface that will let you easily find the information you need. There is also an excellent reporting engine that comes loaded with pre-built reports while still supporting custom ones. The product's alerting features are also very complete.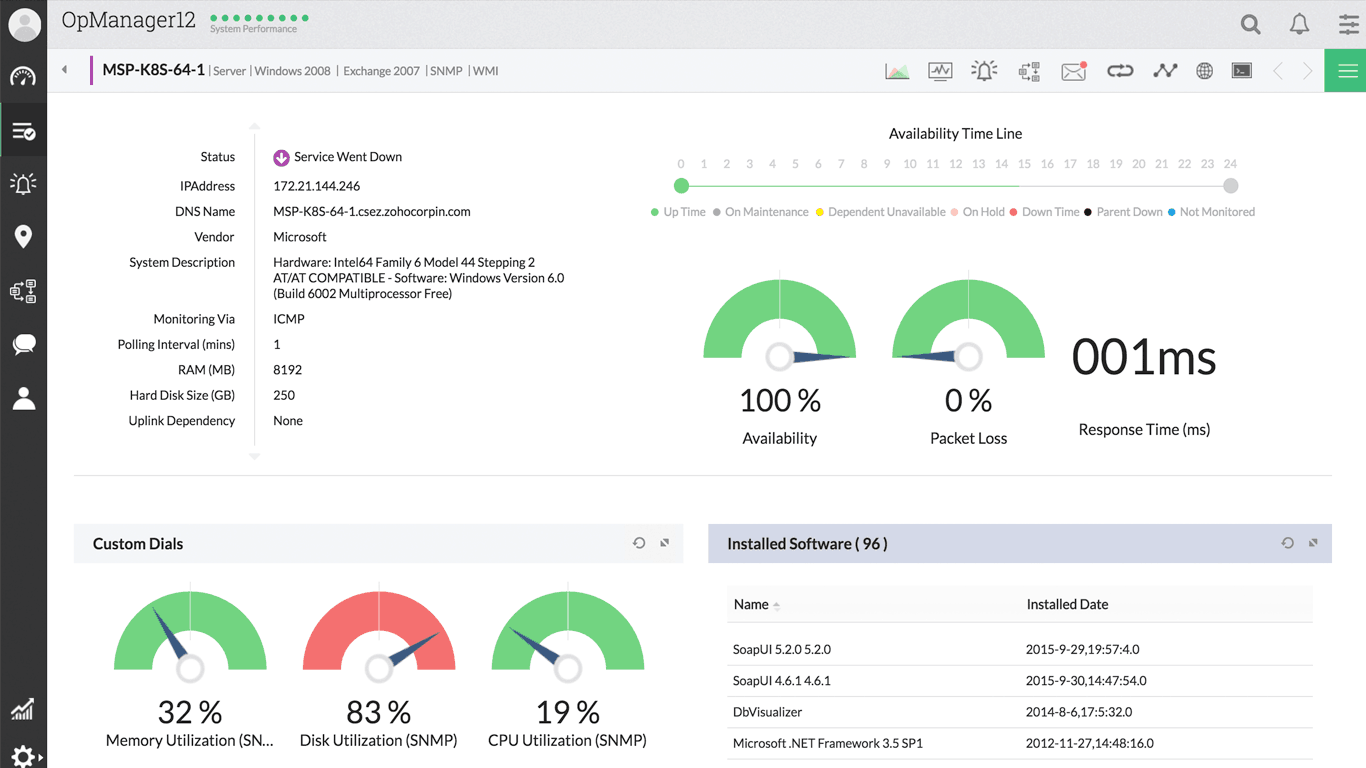 The tool runs on either Windows or Linux and is loaded with great features. One worth mentioning is its auto-discovery feature that can map your network, giving you a uniquely customized dashboard. The ManageEngine OpManager dashboard is super easy to use and navigate, thanks to its drill-down functionality. For those of you who are into mobile apps, client apps for tablets and smartphones are available, allowing you to access the tool from anywhere.
The ManageEngine OpManager is available in two versions. The Essential edition is intended for small and medium organizations with up to a thousand devices with prices starting at around $700 for 25 devices. For larger organizations, the Enterprise edition can scale up to ten thousand devices. Its price starts at under $20 000 for 500 devices. If you are interested in giving the tool a try, a free 30-day trial is also available.
7. Zabbix
Zabbix is known as one of the best free and open-source system monitoring platforms. This enterprise-grade system can scale from small to very big networks. It can monitor networks based on HP and other equipment as well as HP servers and the services running on them. That makes it a true integrated monitoring platform. Don't let the fact that it's free and open-source put you off, though. It would be a mistake as this tool has a lot to offer.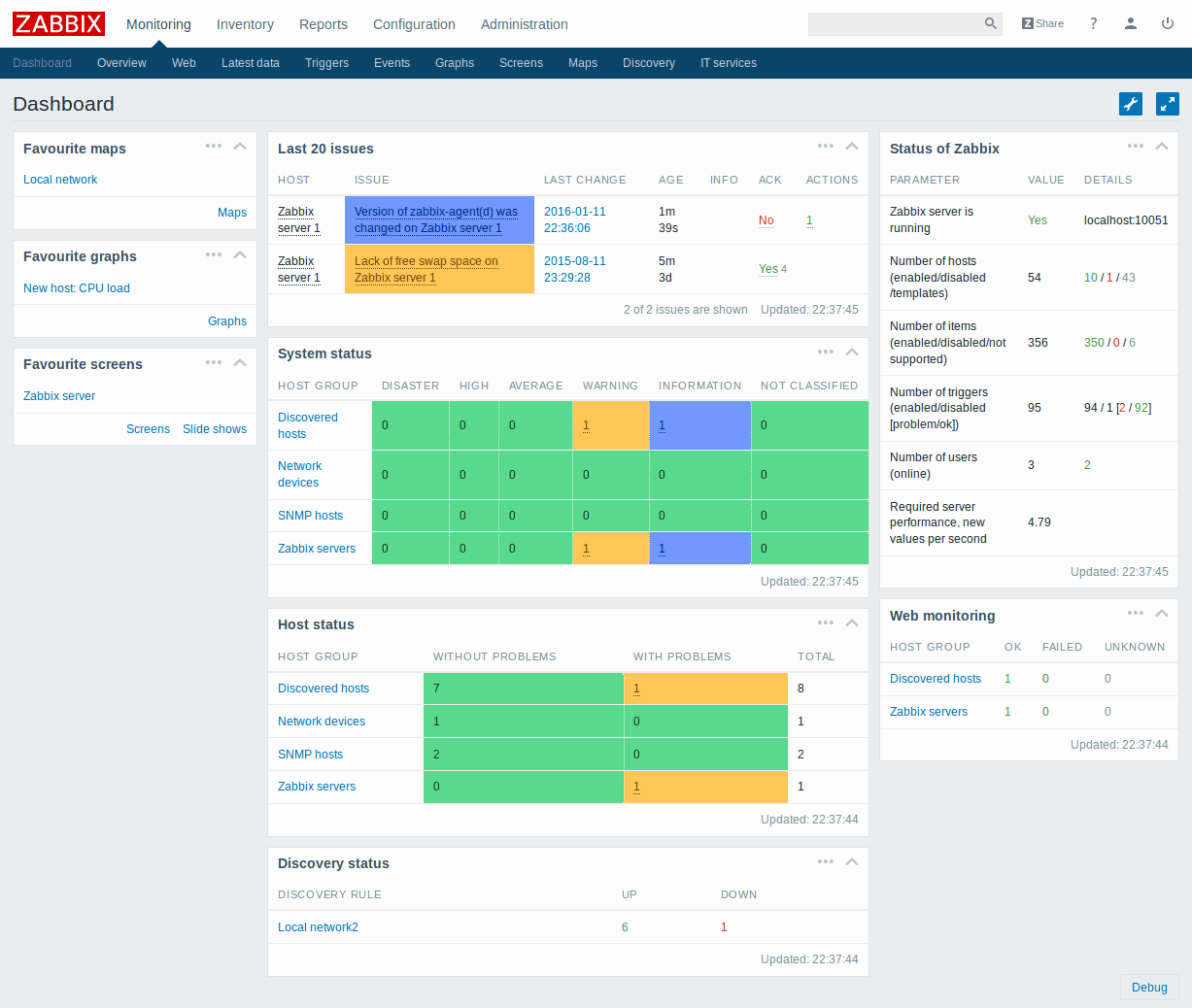 Zabbix uses SNMP as well as the Intelligent Platform Monitoring Interface (IMPI) for monitoring devices. You can use the software to monitor bandwidth, device CPU and memory utilization, general device health as well as configuration changes. The product also features an impressive and completely customizable alerting system. It will not only send email or SMS alerts but also run local scripts which could be used to fix some issues automatically.
Although Zabbix is free, extra services can be purchased. For instance, you can purchase support services. Five levels of technical support are available. There is also a complete certification training program that can be purchased. This is totally optional, though, as community support is available for free and it is very good. Finally, Zabbix's alerting features are up to par with other products on our list and so is its reporting engine.
Zabbix has all you can expect in an enterprise-grade integrated monitoring tool except the high price tag. And the only thing you'll need to spend to put it through a test run is your time.
Wrapping Up
Monitoring HP equipment and networks is no different from monitoring stuff from any vendor. As such, any monitoring tool will monitor HP devices. However, some tools do provide dedicated HP monitoring extensions. Whether these extensions bring any additional value is up for debate and I'll let you be the judge. Just remember that, in essence, HP devices are just devices and any of the tools we've just reviewed—specialized or no—will fit the bill. Picking one will be, more than anything, a matter of personal preference and will largely depend on your specific monitoring needs.