We are reader supported and may earn a commission when you buy through links on our site.
Learn more
The Best Network Performance Metrics Monitoring Tools
Network Performance, as simple as it may seem, car be a complex topic. Most administrators define it as "the thing users always complain about" and while this is probably true, it is more complicated than that. Today, we're having a look at network performance metrics. They are the factors that combine to affect how your users perceive the performance of the network. The great thing about those metrics is that, as opposed to user perception—which can be difficult to evaluate, they can be objectively measured, This is why they're called metrics in the first place.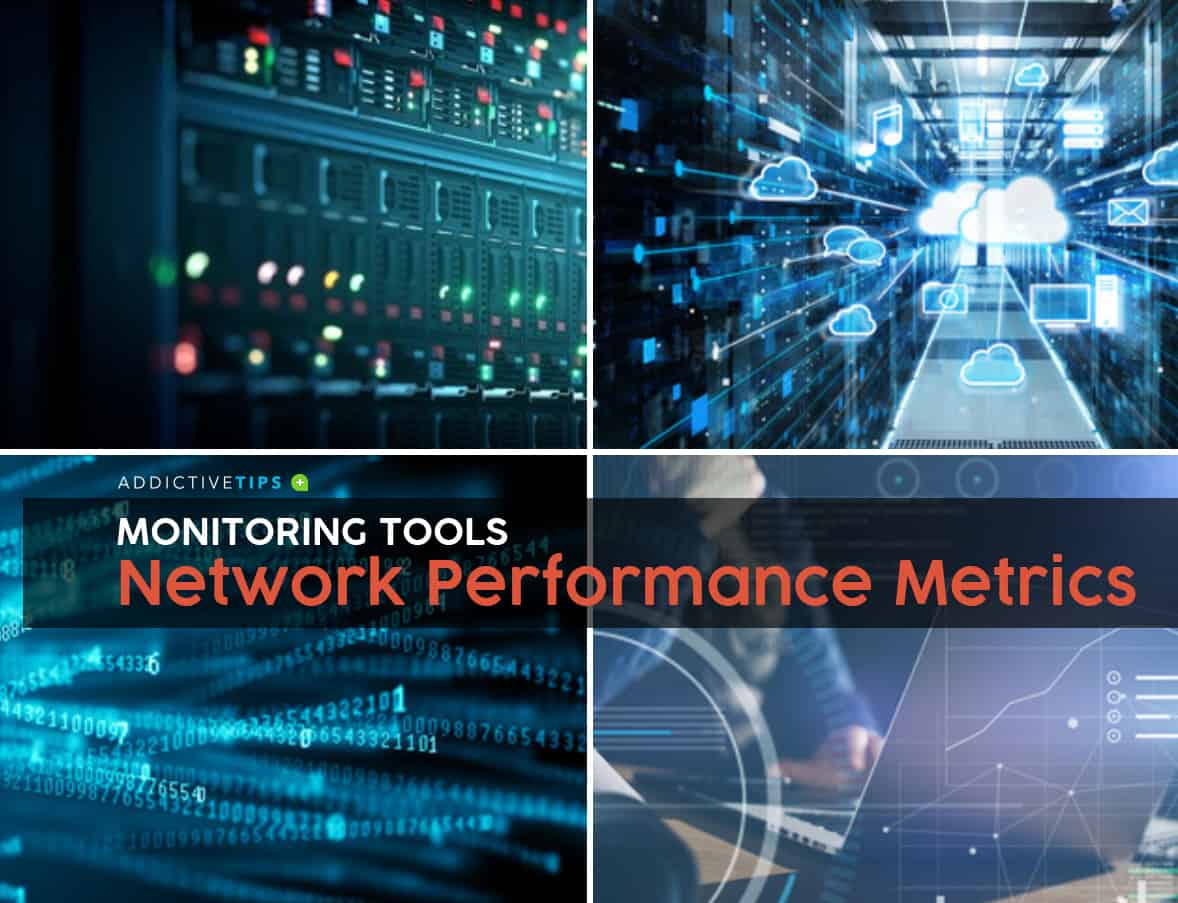 Since we want to make sure that everyone is on the same page for the bulk of our discussion, we'll start off by describing network performance. We will then carry on and discuss the different measurable factors and parameters that can affect the performance of a network. These are we normally refer to as network performance metrics. And once we're done with the theory, we'll have a look at some of the best network performance metrics monitoring tools.
About Network Performance
There are several ways one can define performance. In a nutshell, network performance is the subjective perception that the network is performing as expected. In other words, a network's performance is a measure of its ability to meet its users' expectations. What makes the matter more complex is that, although performance is highly subjective, measuring it requires a knowledge of the various metrics that do combine to affect perceived network performance. In additions, some usages of the network have very high-performance requirements (VoIP, for instance) while others will be fine on low-performance networks.
ALSO READ: 15 Best Network Monitoring Tools
Network Performance Metrics
Many factors can have an effect on network performance. And fortunately, some of them can be monitored or measured relatively easily. Let's have a look at what factors and parameters are interacting to give users the perception of good—or no so good—performance. Some of these factors are physical characteristics of networks over which we don't have much control while others are elements that can often be improved, thereby giving users the perception of better performance.
Bandwidth and Throughput
Speed, bandwidth and throughput are different concepts despite a lot of confusion between them. Let's try to sort it out, starting with bandwidth. Bandwidth refers to the maximum amount of data that can be transferred per unit of time. It is, in other words, the data-carrying capacity of a network and although circuits can be upgraded, this is a complex endeavour and as such, bandwidth is not considered to be something we can easily control "on the fly". It is also not something we need to measure as it doesn't change over time or with increased usage. It's always the same.
As for throughput, it refers to the actual amount of data carried on a network. Measured throughput is typically not equal to bandwidth, unless in situations of network congestion. It is important to monitor throughput as when it gets too close to the available bandwidth (typically over 70%), network performance starts being impacted.
Much of the confusion between bandwidth and throughput stems from the fact that most "bandwidth monitoring tools" are actually monitoring throughput. They don't measure bandwidth but rather bandwidth USAGE. The key here is that throughput or bandwidth usage is one of the most important metrics to keep an eye on.
Delay and Latency
Delay and latency are two of the main factors affecting perceived network performance. Much like bandwidth and throughput, there is some confusion between them to the point that the two concepts are often used interchangeably. This is understandable as both have to do with the time it takes for data to travel from its source to its destination. Latency is often described as the time elapsed from the moment the source sends a packet to the moment it arrives at its destination. It can also refer to the round-trip delay time which comprised the one-way latency from source to destination plus the one-way latency from the destination back to the source. In fact, round-trip latency is a more common metric as it can be measured from a single point.
FURTHER READING: Best Network Diagram Mapping and Topology Software
Like Bandwidth, latency is a physical characteristic of networks. It is a factor of the distance between the source and the destination and the speed at which data travels over the media. Like bandwidth, latency is a fixed parameter. The only way to reduce it is to move the source closer to the destination. Reducing the distance by 100 km (about 60 miles) will remove about 1 millisecond of latency.
Several factors can add delay to network transmissions. For instance, queuing delay occurs when a gateway receives multiple packets from different sources heading towards the same destination. Since only one packet can be transmitted at a time, some of them must be queued for transmission, incurring an additional delay. Likewise, processing delays are incurred while a gateway—such as a router—determines how to handle a newly received packet. Buffering can also cause increased delays of an order of magnitude or more. The combination of propagation, queuing, and processing delays often result in a complex and variable network latency profile.
Jitter
Jitter is the biggest enemy of network transmission. Understanding how and why it can have such an adverse effect on data transmissions can be somewhat complicated. Let's try to explain. Simply put, jitter is a variation in delay. There are several factors that can cause jitter. In fact, many of the same delay-causing factors also increase jitter. For example, queuing delays are directly related to queue length. And since a typical queue constantly varies in length, so does delay, hence jitter.
But jitter does not affect all network traffic in the same way. The risk that is posed by jitter is that, if delays vary considerably between the multiple packets that compose a message, they could arrive at their destination out of sequence. Let's take, for example, a transmission comprised of four packets that are transmitted at 10 ms intervals. The first one encounters 20 ms of latency, the second one 60 ms, the third one 40 ms and the last one 20 ms. I'll spare you the boring math but, in this specific case, the first packet will arrive first, followed by the fourth, then the third and finally the second. In many situations, this isn't a problem. For example, if we're dealing with a file transfer, the packets are sequentially numbered and can easily be reassembled in the proper order at the receiving end. On the other hand, if what we have is real-time traffic such as a VoIP conversation, packets cannot be correctly reassembled in real-time, resulting in garbled audio. From a user's standpoint, we're having a performance issue.
Packet Loss
Packet loss is another major factor affecting perceived network performance. Networks are not perfect and, from time to time, data packets don't make it to their destination for various reasons. When this happens to TCP traffic, it is not much of an issue as the receiving end can request a retransmission of the missing data. It will, however, cause some delay and increase the data volume potentially affecting performance, especially if it happens a lot. This is much worse with UDP traffic. A lost packet will be lost forever. In a VoIP conversation, that would result in audio dropouts which, if too severe, can render speech unintelligible. In both cases, it is very clear that packet loss will have an impact on network performance.
RELATED READING: Best IP Scanners for Mac (Our own review)
What are the best network performance metrics monitoring tools?
So, to keep a watchful eye on network performance, what you need is some type of monitoring tool that can read all the important metrics and display them in an understandable and "easy-to-digest" way. This is what we've looked for, and we've come up with a handful of monitoring tools which are among the best ones you can find. Some of these tools might need some efforts beyond the standard setup to get them to monitor all the required metrics but rest assured that these efforts will be worth their while.
SolarWinds is one of the very best makers of network administration tools. The company is famous for its excellent network administration tools and for its numerous free tools. Its flagship product is called the Network Performance Monitor, or NPM. It is a very complete network monitoring solution. It features a user-friendly graphical user interface that administrators can use to monitor devices and to configure the tool.
Adding a new device to the Network Performance Monitor is as simple as specifying its IP address or hostname and SNMP connection parameters. The system then queries the device and lists all the available metrics. All you have to do is pick those you want to monitor. And talking about adding devices, this tool's scalability is another one of its best features. It will suit the smallest of networks and scale up to large networks with thousands of devices spread over multiple sites.
The SolarWinds alerting system is another place where the product shines. It is highly customizable when needed but it can also be used out-of-the-box with minimal configurations. The alerting engine is smart enough not to send notifications for "unimportant" events in the middle of the night or to send hundreds of notifications for as many unresponsive servers when the main issue is a down router or network switch.
Pricing for the SolarWinds Network Performance Monitor starts at just under $3 000 and goes up according to the number of devices to monitor and the selected optional components. The pricing structure is quite complex and you should contact the SolarWinds sales team for a detailed quote. If you prefer to try the product before purchasing it, a free 30-day trial version is available for download from the SolarWinds website.
2.
PRTG Network Monitor
The PRTG Network Monitor, which is often simply called PRTG, is another great monitoring system. Its publisher claims that this tool can monitor all systems, devices, traffic, and applications of your IT infrastructure. It is an all-inclusive package that does not rely on external modules or add-ons that need to be downloaded and installed. Because of its integrated nature, it is quicker and easier to install than most other network monitoring tools. You can choose between a few different user interfaces such as a Windows enterprise console, an Ajax-based web interface, and mobile apps for Android and iOS.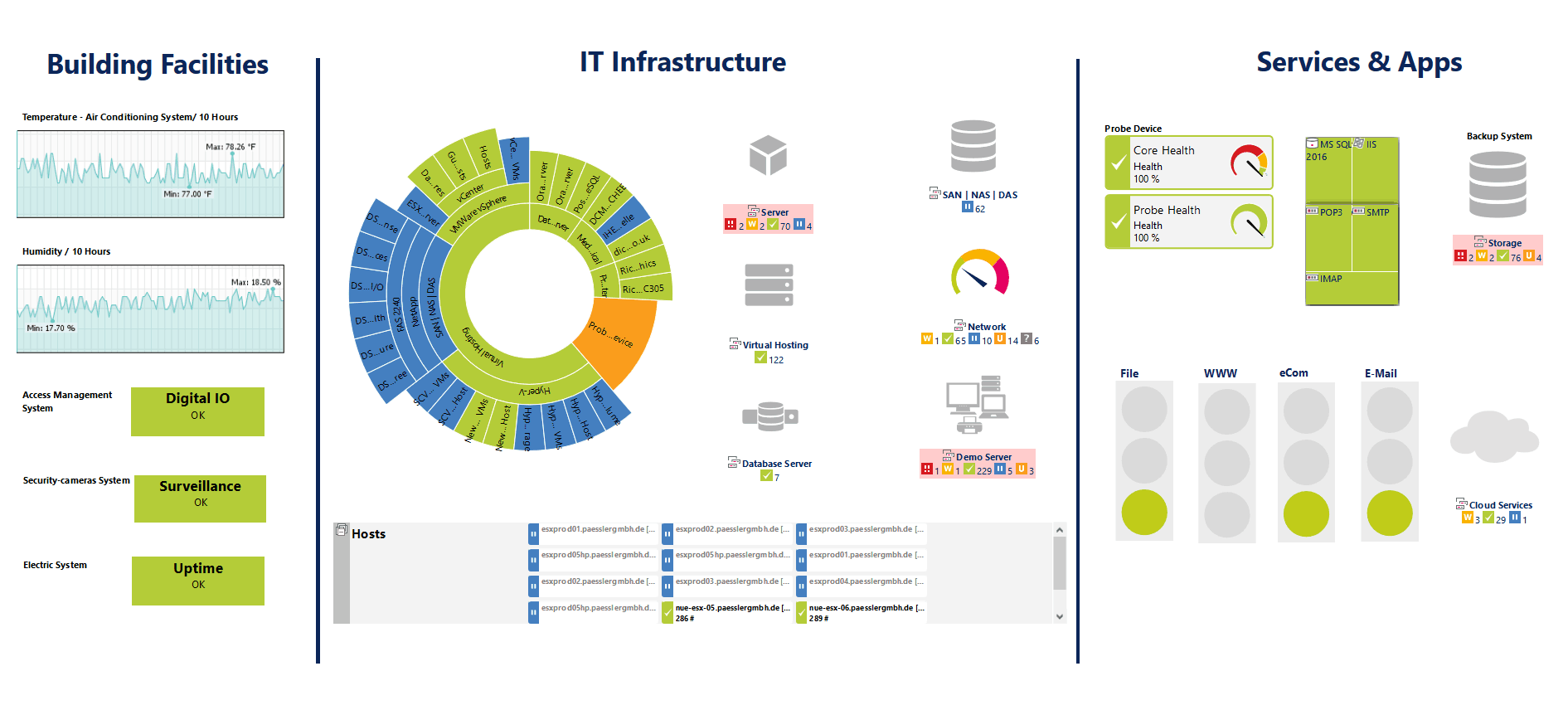 The PRTG Network Monitor is different from most other monitoring tools in that it is sensor-based. Various monitoring features can be added to the tool simply by configuring extra sensors. They are like plugins except that they are not external modules but are, instead, included with the product. PRTG includes over 200 such sensors that cover different monitoring needs. For network performance metrics, the QoS sensor and the Advanced PING Sensor allow you to monitor latency and jitter while the standard SNMP sensor will let you monitor throughput.
The PRTG pricing structure is pretty simple. There's a free version which is full-featured but will limit your monitoring ability to 100 sensors. There's also a 30-day trial version which is unlimited but will revert back to the free version once the trial period is over. If you want to keep monitoring more than 100 sensors beyond the trial period, you'll need to purchase a license. Their price varies according to the number of sensors from $1 600 for 500 sensors to $14 500 for unlimited sensors. Each monitored parameter counts as one sensor. For example, monitoring bandwidth on each port of a 48-port switch will count as 48 sensors.
3.
ManageEngine OpManager
ManageEngine is another well-known publisher of network management tools. The OpManager is a complete management solution that will handle pretty much any monitoring task you can throw at it. The tool runs on either Windows or Linux and is loaded with great features. Among others, there is an auto-discovery feature that can map your network, giving you a uniquely customized dashboard.
The ManageEngine OpManager's dashboard is super easy to use and navigate, thanks to its drill-down functionality. And if you are into mobile apps, there are apps for tablets and smartphones allowing you to access the tool from anywhere. This is an overall very polished and professional product.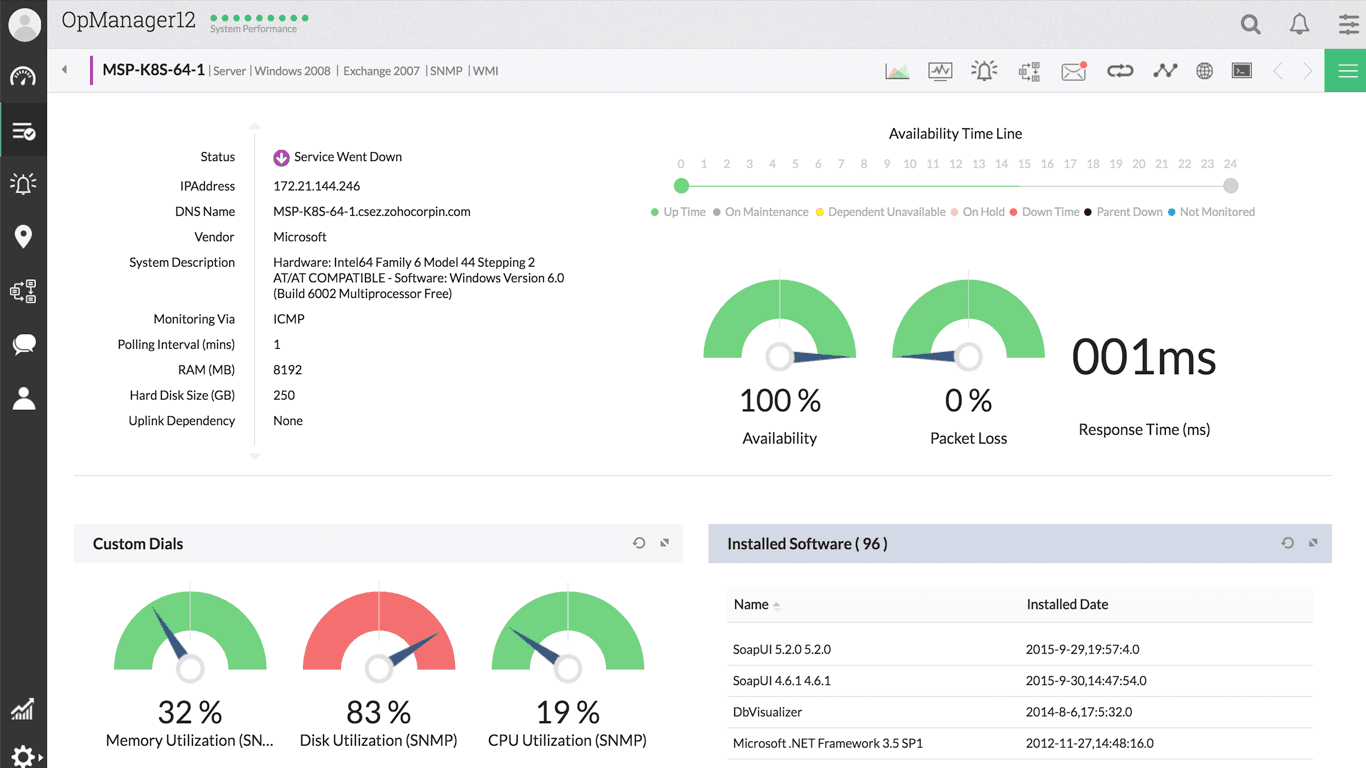 Alerting is just as good in OpManager as are all its other components. There is a full complement of threshold-based alerts that will help detect, identify, and troubleshoot network issues. Multiple thresholds with different notifications can be set for all network performance metrics.
If you want to try the product before buying, a free version is available. Although it is a truly free version rather than a time-limited trial, it has some limitations such as letting you monitor no more than ten devices. This is insufficient for all but the smallest of networks. For larger networks, you can choose between the Essential or the Enterprise plans. The first will let you monitor up to 1,000 nodes while the other goes up to 10,000. Pricing information is available by contacting ManageEngine's sales.
4.
WhatsUp Gold
WhatsUp Gold from Ipswitch is another well-known name in the field of monitoring tools. Once an up-or-down type of monitoring, it has since evolved into a full management toolkit with proactive monitoring for network, applications, virtual environments, and device configurations. Today, WhatsUp Gold has everything we've come to expect from an enterprise-grade monitoring tool, all available through an intuitive GUI.
WhatsUp Gold features an auto-discovery engine that will find your devices and add them to the monitoring console. It will not only find your networking equipment but also physical servers, virtual servers, cloud servers, and applications. There's also a map view that's clickable for more information on each device.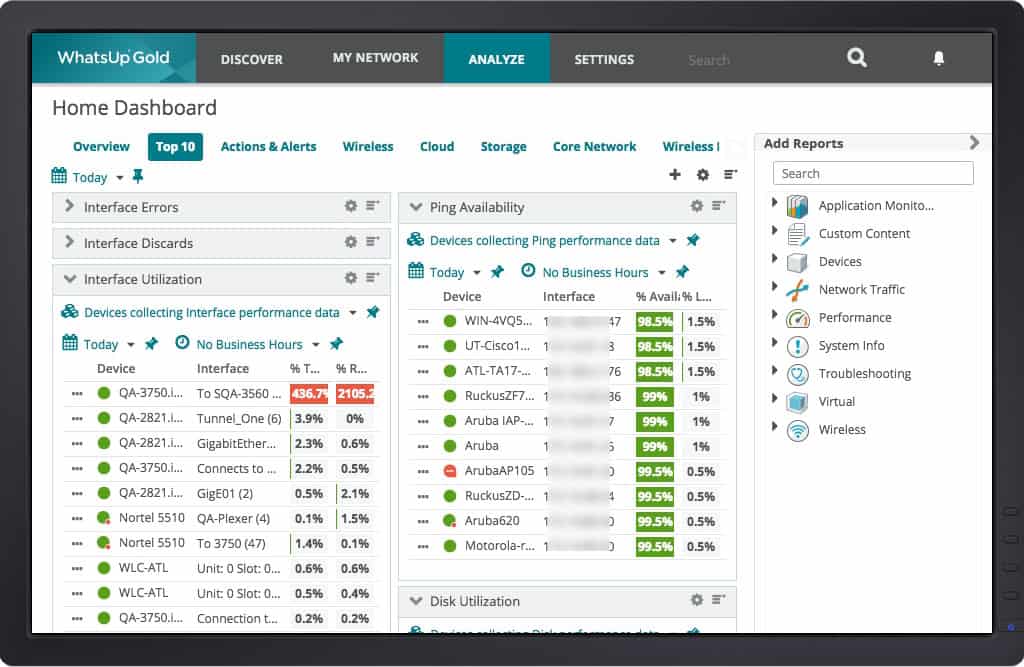 WhatsUp Gold also has an excellent alerting system to let you know about problems before users call. Through the tool's Alert Center, you can opt to use out-of-the-box thresholds or adjust them to your specific needs. The system allows you to create action policies to define what happens when a state change occurs. Alerts can be transmitted by email, SMS, Slack, or IFTTT posts. The system can also restart services and trigger web alarms.
There's also an easy-to-use plug-in that collects data and reports on the quality of service (QoS) levels of your network. It uses data generated by Cisco IP SLA-enabled devices to monitor network performance metrics such as jitter, latency, and packet loss,
A free edition of WhatsUp Gold is available–as it always was–although it is now limited to monitoring a maximum of five devices. For more devices than that, paid licenses are available in three levels of increasing functionality with a pricing structure based on the number of devices to be monitored. There's also a free, full-featured trial version that you can use for a limited time.
5.
Zabbix
Zabbix is a free and open-source product which has a highly professional look and feel, much like you'd expect in a commercial product. But the good looks of its user interface is not its only asset. The product also boasts an impressive feature set. Zabbix will monitor most network-attached devices in addition to networking equipment. It would be a good option if you want to monitor servers in addition to your WAN circuit's bandwidth.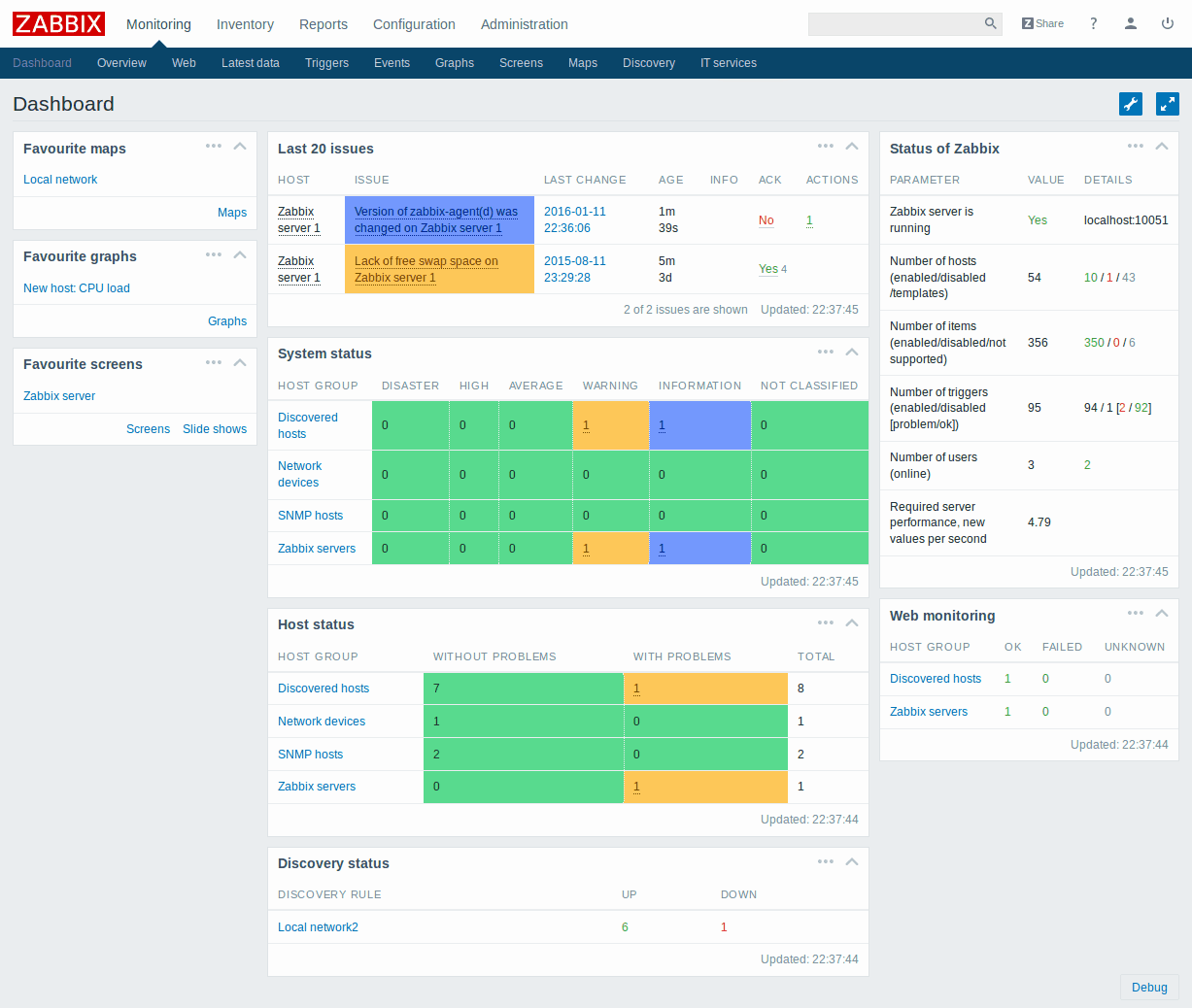 Zabbix uses SNMP as well as the Intelligent Platform Monitoring Interface (IMPI) for monitoring devices. You can use the software to monitor bandwidth, device CPU and memory utilization, general device health as well as configuration changes. The tool is also easily customizable through the use of scripts that will let you configure advanced monitoring. Such scripts exist to monitor most network performance metrics. It also features an impressive and completely customizable alerting system. It will not only send email or SMS alerts but also run local scripts which could be used to fix some issues automatically.