We are reader supported and may earn a commission when you buy through links on our site.
Learn more
Optimize Application Performance: Best APM Monitoring Tools
Don't we all wish our applications performed flawlessly? Unfortunately, applications have become so complex that ensuring they are running smoothly is more complicated than ever. Modern applications have several tiers. There's the front-end which takes care of user interactions. There's also a back-end which does most of the heavy processing. And finally, there's often a database to keep the application's data. All these components, which could be running on different machines—and often are, must talk to each other. Not only that, but they also need to respond to each other's requests promptly. But since the back-end often serves multiple front-ends and the database often serves multiple back-ends, things can get complicated. This is when application performance often starts to degrade. And when that happens, you need to use the proper tool to monitor the situation and optimize the performance. This is the subject of our article and we're about to review the best tools to optimize application performance.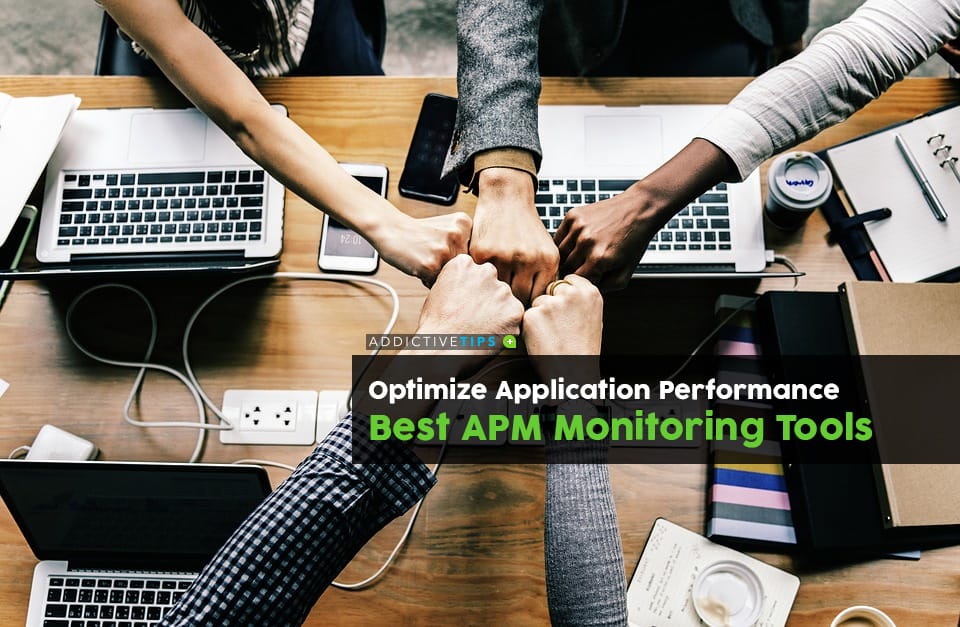 Before we get to actually review some of the best products, we'll first talk about application performance. We'll have a look at what it is and why it is so important. Then, we'll discuss the optimization of application performance, what it is and what it entails. We'll also talk about establishing a benchmark as this what will let you measure the degradation—or improvement—of application performance. After that, we'll explore the tools themselves, what they are and what they do before we finally review some of the best tools to optimize application performance.
The Importance Of Application Performance
Before we begin, it's important that we're all on the same page as to what we're referring to when talking about application performance. It's not only a matter of how well Microsoft Word or the Chrome or Firefox browsers are running. Yes, those are applications and they too can suffer from performance issues but what we have in mind is the performance of in-house or custom applications. So, what is the importance of application performance? While different people would come up with different answers, generally speaking, it has to do with productivity. These in-house or custom applications serve a purpose and, when their performance is not there, productivity suffers. Plain and simple.
It is likely even more important if you're in the Software as a Service (SaaS) business as those in-house and custom applications are used to provide services to clients. Then, a performance hit could lead clients to consider using competing services.
There are mainly two places where application performance can be degraded. The first one is the communications between the components. With the various tiers typically running on different computers, the communication is often done through a network and networks, as you are most likely aware, can suffer from all sorts of performance degradation.
The other place where application performance can often be degraded is on the servers themselves. If, for instance, a back-end server is overloaded, it could delay the response to requests from the front-ends, causing a performance issue. The same is true of requests from the back-end server to the databases.
Optimizing Application Performance
Optimizing application performance is not unlike troubleshooting problems. The first step is to pinpoint where the performance hit comes from. Once you know where the problem is coming from, solving it is just a matter of correcting its root cause. This makes finding the root cause the second step of optimizing application performance.
Once the root cause of your application's performance degradation is known, then all that's left is fixing it. For instance, if the back-end server is overloaded, perhaps it is time to add a second server or to beef up that one by adding processor cores or memory. Similarly, if the cause of the degradation is the fact that the network between two components is congested, causing delays, it might be time to upgrade the network. This typically happens with WAN connections where an upgrade is often just a phone call to the supplier away.
Establishing A Benchmark For Future Comparison
Most applications start off with acceptable performance. However, things often degrade over time as more and more people use the application or as the amount of data it handles gets larger. Sooner or later—often sooner—one of two things is bound to happen. Users are going to start complaining that the application is not as fast as it once was or the application actually is going to slow down.
Users are not liars, they just tend to have a skewed perception and honestly think the application is slower when it's actually working fine. This is where benchmarking can be useful. You need to measure beforehand the performance of your application. Then, when users complain, you can simply compare the current measurement with the original one—the benchmark—and see if it has indeed slowed down and by how much or demonstrate that it's still performing well. Having a benchmark and comparing it to the current performance on a regular basis can also help you discover performance degradations before the users notice it.
About The Tools
There are all sorts of tools that one can use to optimize application performance and they all have one thing in common, they need to somehow measure or monitor it. Most application performance optimization tools are actually application performance monitoring or analysis tools since these are what you'll use to find performance issues and to measure the results of your optimizations efforts.
Unfortunately, most such tools won't take care of the actual optimization. They will help you see if and where a performance issue exists. Some will even suggest ways to optimize it but they won't do the job for you. This makes sense, there are way too many variables and applications are too different from one another to create a universal tool that could fix application issues. Would you want an automated tool to modify your code anyways?
The Best Tool To Optimize Application Performance
Our list contains a variety of tools. Some are application performance monitoring tools. Others will monitor database performance. We even have a bundle which combines these two tools. Contrary to other types of tools—such as bandwidth monitoring tools, for example, which all work pretty much the same way—application performance optimization tools vary greatly in what they do and how to operate. We've tried to include a good mix of what available out there.
Our first entry is not a tool but rather a bundle of tools from SolarWinds, a company which has been making some of the best network administration tools for about 20 years. It is highly regarded by many and its flagship product, the SolarWinds Network Performance Monitor, consistently receives top reviews as one of the best network bandwidth monitoring tool. As if this wasn't enough, SolarWinds is also famous for its free tools, smaller products each addressing a specific need of network administrators. The SolarWinds Advanced Subnet Calculator and the Kiwi Syslog Server are two good examples of these free tools.
Back to application performance optimization, SolarWinds' offering is called the Application Performance Optimization Pack. This is a bundle that is comprised of two excellent tools, the Server and Application Monitor and the Database Performance Analyzer. In one sentence, the bundle provides a full-stack application, database, virtualization, and server performance optimization solution.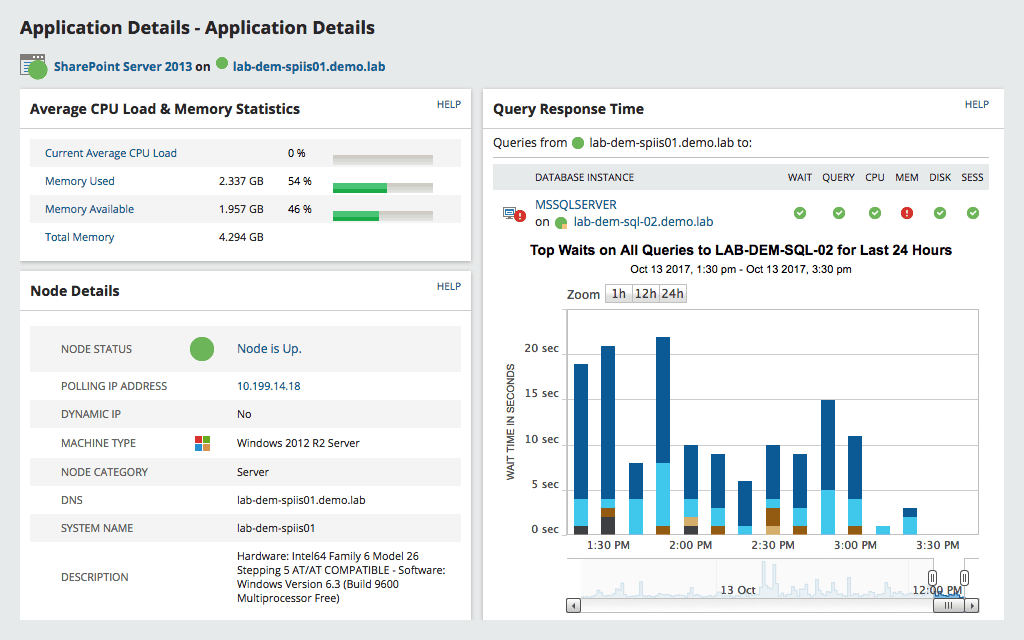 Combined together, the two tools offer an unmatched array of useful features. For instance, response time analysis will let you see into the root cause of application response issues. Furthermore, historic analysis and dynamic baselines help you spot tuning problems. The SolarWinds Server and Application Monitor is based on an agentless architecture to let you keep an eye on hundreds of production instances with minimal load. This is not only for in-house or custom applications. The tool includes over two hundred application templates to help you monitor application performance out-of-the-box. Of course, you also have the ability to create templates for in-house developments. With CPU, memory, and disk capacity planning the bundle lets you troubleshoot efficiently to quickly resolve problems.
You can make use of the fully functional 30-day trial with this link.
Meanwhile, let's have a deeper look at each of the tools included in the SolarWinds Application Performance Optimization Pack.
The SolarWinds Server And Application Monitor is described by its publisher as "Server monitoring software built to find and resolve application problems". Concretely, this tool will let you monitor any application, any server, anywhere. You can use it to proactively monitor the performance, capacity, and health of Linux and Windows apps across data centers, remote offices, and in the cloud.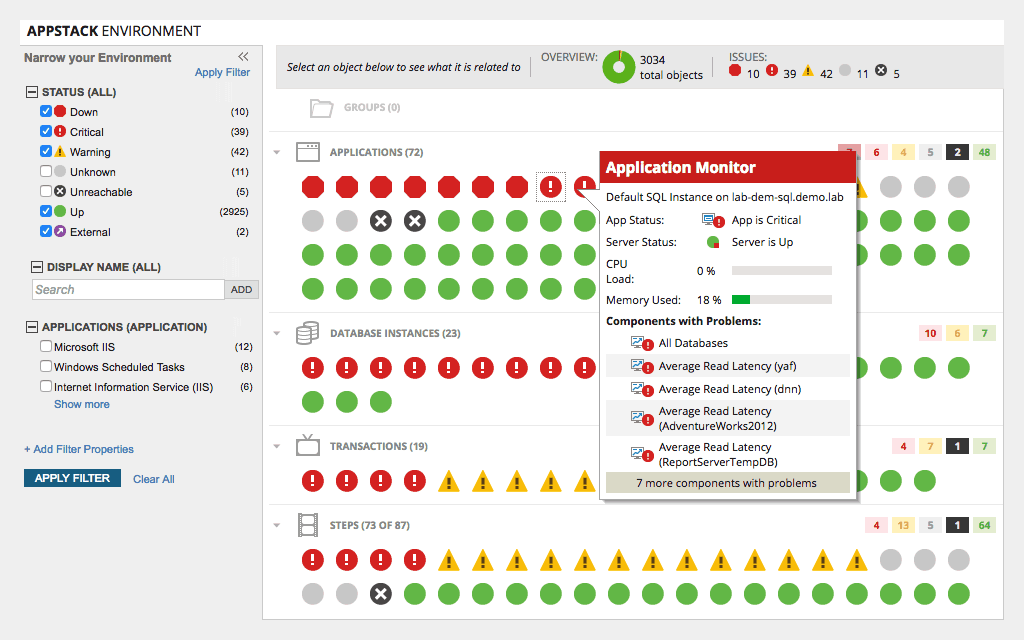 This is a comprehensive server monitoring platform for Microsoft applications, systems, hypervisor, and SaaS products. It is also a great product for monitoring cloud-based infrastructures. You can use it to monitor and alert on Azure and AWS infrastructure metrics. All this is done within the same dashboard as your on-premises applications and systems. Talking about the product's dashboard, it will let you monitor over 1200 vendor applications, servers, databases, and storage, all from a single, easy-to-use, customizable web interface. The SolarWinds Server and Application Monitor server monitoring tool provides automated discovery and mapping of applications and infrastructure. It also has customizable monitoring templates, and pre-built alerts and reports.
Prices for the SolarWinds Server and Application Monitor are based on the number of components, nodes, and volumes monitored, starting at $2 995 for 150 monitors. Like most other SolarWinds products, a free 30-day trial version is available for download, should you want to try the product before purchasing it.
The SolarWinds Database Performance Analyzer monitors and analyzes your SQL database instances to help resolve issues and optimize performance. Using a Response Time Analysis method it focuses on the time between a query request and the corresponding response from the database and it analyzes wait types and events, helping to pinpoint bottlenecks in databases.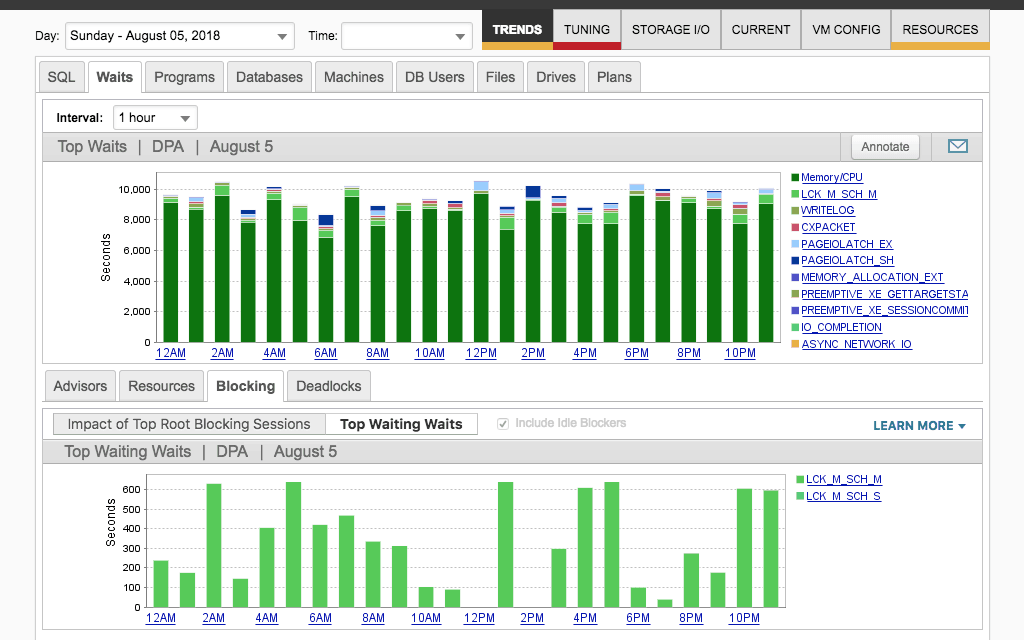 This product features an easy to use interface which can assist administrators in finding issues quickly and easily. Its main screen will let you view database instances, wait times, query advice, processor load, memory, disk and sessions. You can display the trend dashboard of a specific database instance which will show you the total wait times for the users over the course of a month in a graphical format. It can also plot your choice of either average or typical day wait times. In this view, each graph colour represents an individual SQL statement. What you get is a visual depiction of which statement takes the longest to run.
Prices for the SolarWinds Database Performance Analyzer start at $1 995 and vary according to the number and type of database instances to monitor. Again, a fully functional trial version is available although this one only lasts 14 days. However, when downloading the trial as part of the SolarWinds Application Performance Optimization Pack, you'll get a full 30-day trial.
2.
ManageEngine Applications Manager
While it may not be as well-known as SolarWinds, ManageEngine is still another name that enjoys an excellent reputation among network administrators. As you'd guess from its name, the ManageEngine Application Manager deals with application management. However, this is a somewhat misleading name as it is as much a monitoring platform as it is a management tool.
This tool offers integrated application performance monitoring for all your server and application monitoring needs. It can also do that for the underlying infrastructure components such as application servers, databases, middleware and messaging components, web servers, web services, ERP packages, virtual systems and cloud resources. In a few words, this is an all-encompassing platform.
There's a lot that can be done with this tool. For instance, you can track application response times with code-level information about your application performance monitoring environment. Its transaction tracing feature will let you detect slow transactions. It will monitor database query executions and track background transactions.
The ManageEngine Application Manager is available in several editions. There's a feature-limited Free edition as well as a Professional and an Enterprise paid versions. Pricing starts at $945 and details can be obtained by contacting ManageEngine. A free 30-day trial version is also available.
3.
AppDynamics APM
Appdynamics, which is now a part of Cisco has a great Application Performance Management tool available which is simply called Appdnamics APM. This excellent tool will automatically discover, map, and visualize your critical customer journeys through each application service and infrastructure component. It provides management teams with a single source of information to focus on end-to-end performance in the context of the customer experience, instead of monitoring individual services.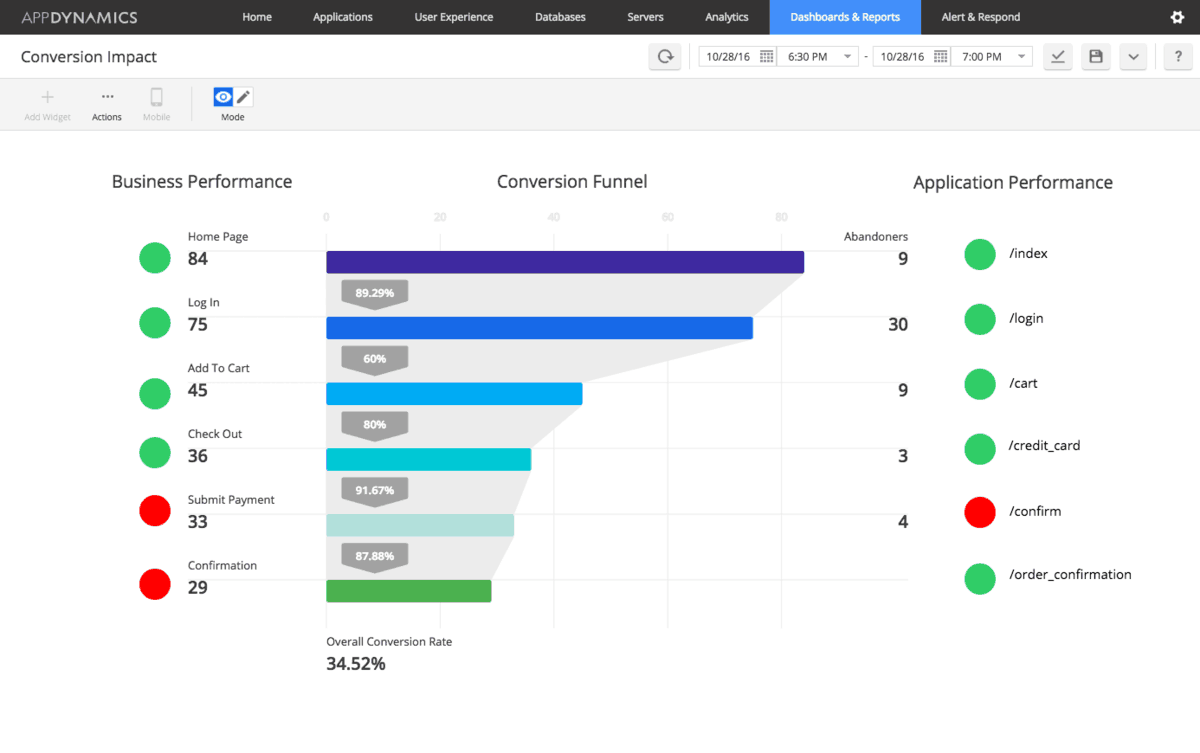 This tool uses machine learning to learn what normal performance is, effectively building its own baseline of application performance. It allows the tool to alert you whenever performance is not normal. There is direct integration with ServiceNow, PagerDuty, and Jira so that you can be immediately alerted and fix problems before customers notice them.
Another great feature is the tool's immediate, automated, code-level diagnostics. Its deep diagnostic capabilities enable you to identify root-cause down to the individual line of code. Your team won't have to go sifting through log files, saving valuable developer time.
Appdynamics APM is available in several versions. The most basic is called APM Pro. APM Advanced adds server visibility and network visibility features. The top level is called APM Peak and it includes all the features from APM Advanced plus business performance monitoring, transaction analytics, and business journeys. Pricing can be obtained by contacting Appdynamics and a 30-day trial version is available.
4.
Dynatrace
Dynatrace is a cloud-based Software as a Service (SaaS) which can detect, solve and optimize applications automatically. Discovering and mapping a complex application ecosystem is simply a matter of installing the Dynatrace OneAgent. The tool will give you a high-fidelity view of your entire application stack, from the performance of applications, cloud infrastructure, and user experience. It will help you effortlessly detect problems along with their business impacts and root cause.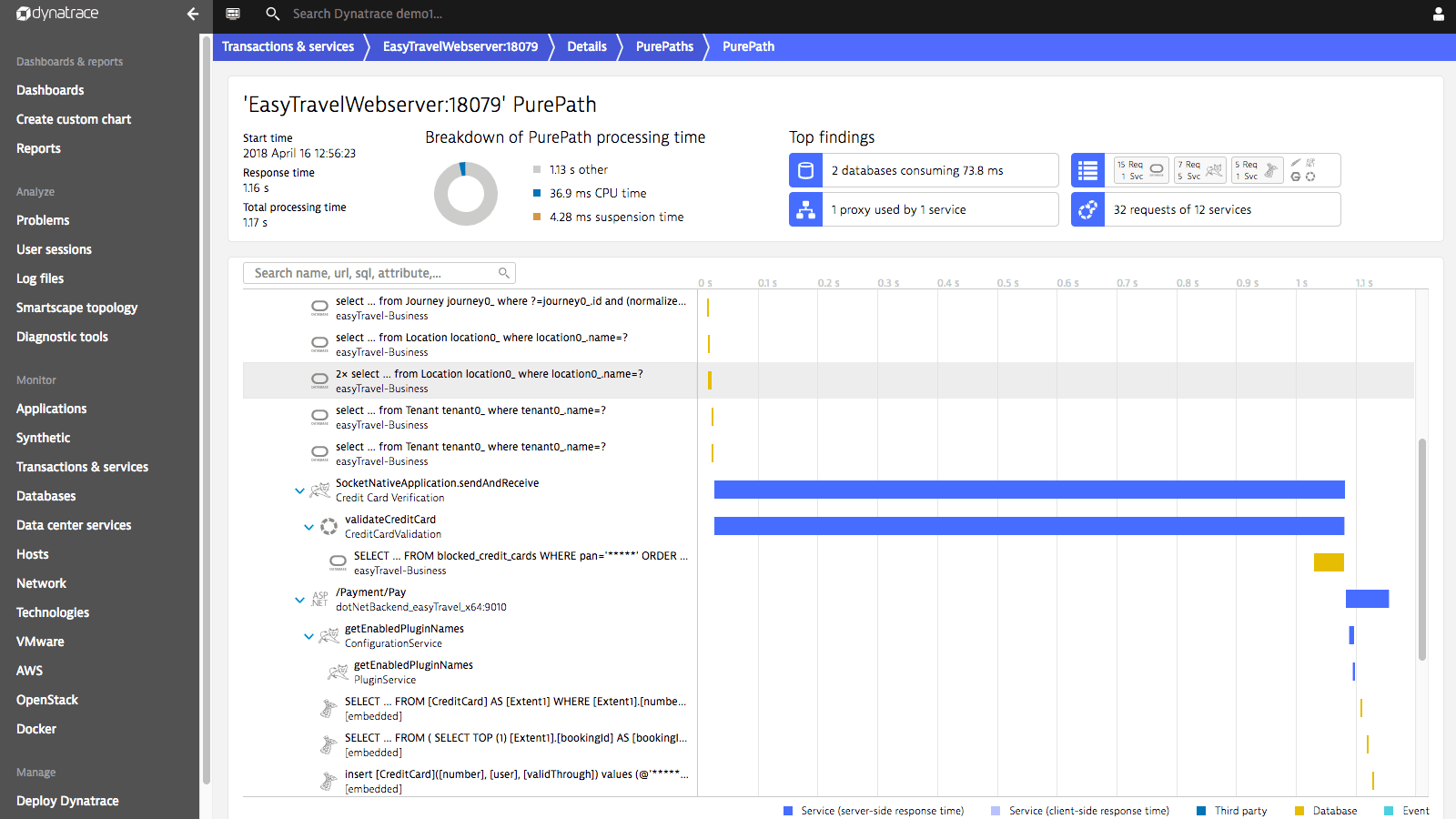 Dynatrace claims to have the broadest coverage of any monitoring solution in terms of languages supported, application architectures, cloud, on-premise or hybrid, enterprise apps, SaaS monitoring, and more. The tool automatically discovers and monitors dynamic microservices running inside containers. It shows you how they're performing, how they communicate with each other and it helps you quickly detect poorly performing microservices.
Pricing for Dynatrace is not readily available and can apparently only be obtained by first signing up for the free 15-day trial. Then, its only a matter of installing the agent on your servers and you could be monitoring within 5 minutes.
5.
New Relic APM
Last on our list, New Relic APM is a cloud-based SaaS Software Analytics Platform which offers application performance management and real user monitoring. It works with both cloud and data center-deployed web applications implemented in Ruby, Java, .NET, Python, PHP, and Node.js. The product also offers mobile monitoring solutions for iOS and Android applications.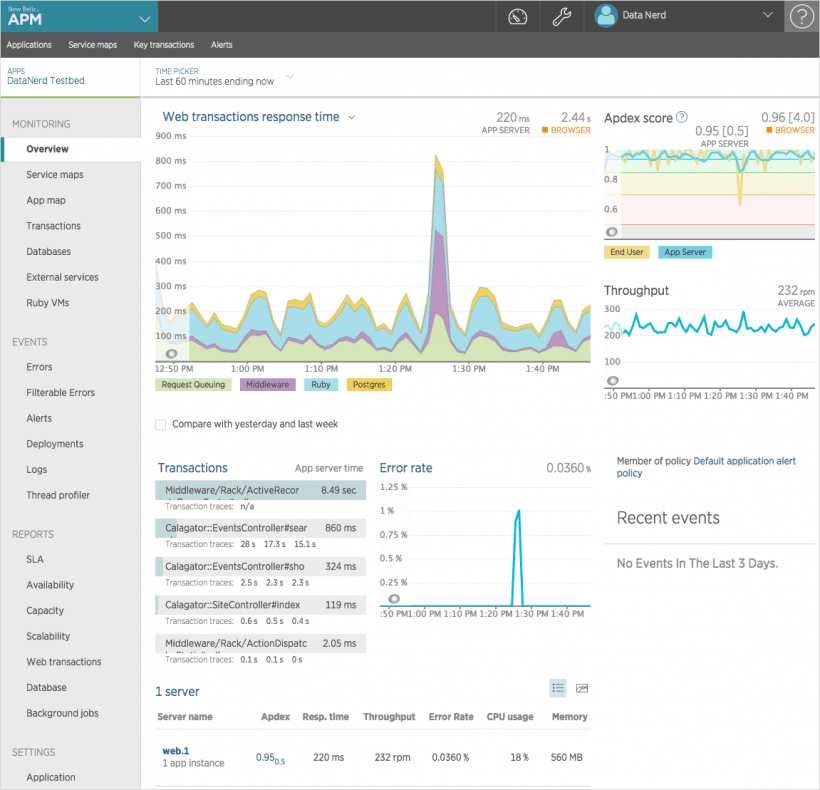 New Relic APM monitors from the front-end to the infrastructure layer. It supports on-premises, cloud, and hybrid setups. The tool will track every change across all your apps and services with pinpoint clarity and full context. Featuring a curated user interface which gives you a single, comprehensive view of your entire application stack, you won't have to jump between tools and custom views. Everything is easily found in a single pane.
New Relic APM is available in two versions, Essentials starting at $75/month and Pro starting at $149/month with the latter offering extended features such as longer retention times, service maps, deployment tracking, and SLA reports. A free 14-day trial of either version is available.