We are reader supported and may earn a commission when you buy through links on our site.
Learn more
SolarWinds Remote Monitoring and Management – REVIEW 2021
We're having a look at a great integrated tool from SolarWinds MSP, a division of SolarWinds that specializes in making tools for Managed Service Providers (MSP).
Those are service businesses that offer various managed services to other businesses. We can't really give you a better explanation as what service each MSP offers is entirely up to them. Our goal today is not to evaluate the tool—or should we say toolset—or to provide our opinion about the product but rather to have an objective look at the tool's best features. And as you're about to see, this is one of the most feature-rich products SolarWinds has ever built.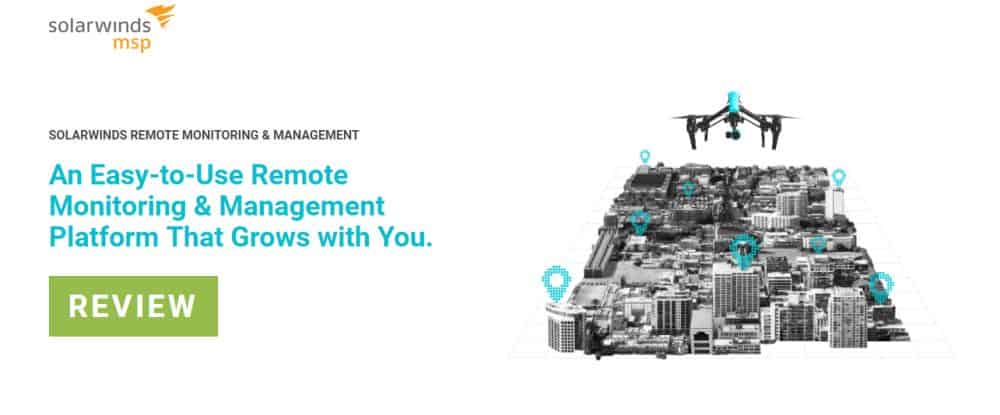 Before we start, we'll briefly sidetrack to introduce SolarWinds MSP, a company that specializes in making tools for Managed Service Providers. We'll then jump right in and introduce the SolarWinds Remote Monitoring and Management. Once we're done with the introduction, we'll do our best to describe all the features of this impressive tool. Each feature will only be briefly discussed. There are so many of them—close to 20—that it would be impossible to describe them all in details. Our goal is, therefore, to give you enough information to figure of the tool could be a good match to your needs.
About SolarWinds MSP
SolarWinds MSP was born by bringing together SolarWinds, SolarWinds N-able, and LOGICnow, three major players in the MSP tools market.
Before the creation of SolarWinds MSP, LOGICnow, and SolarWinds N-able provided outstanding software such as Remote Monitoring and Management, Backup and Disaster Recovery, Remote Control, Help Desk, Mail, and Risk Intelligence, all aimed at helping Managed Service Providers make the most of their business potential. The two companies served their clients in complementary ways. One served small and mid-sized MSPs beautifully, while the other was perfect for mid-sized and large MSPs.
Noticing how well the two companies fit together, the smart people at SolarWinds, a leading provider of products designed to make network and system administrators' lives easier, brought the two together to form SolarWinds MSP.
The result is a scalable, end-to-end IT service management platform built for MSPs of all sizes—from the one-person shops all the way to 100+ employee powerhouses.
Introducing SolarWinds Remote Monitoring And Management (RMM)
SolarWinds Remote Monitoring and Management's primary purpose is to let you manage the assets of clients on remote sites, either via direct contact or through automated procedures. Patch management and antivirus update coordination are two strong features of this tool. Furthermore, the Risk Intelligence module greatly improves the security features of the tool, which include malware protection as well as website protection. The system also protects against the possibility of infected websites being used as an entry point to the network.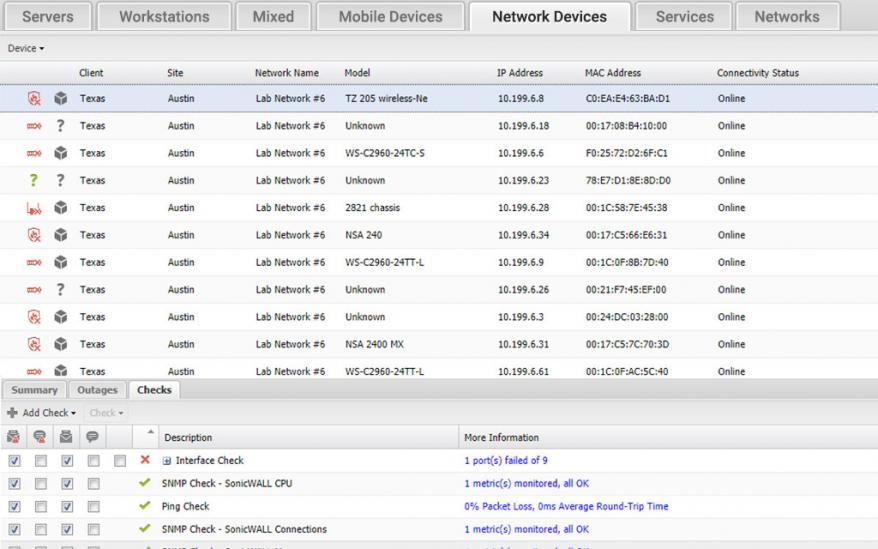 SolarWinds RMM is also an excellent monitoring tool which covers a wide range of devices, both physical and virtual. The tool enables administrators to keep track of system status on client sites from one console. Several built-in reports help you monitor the performance of your staff as well as the condition client's sites. One of this product's greatest assets is the simplicity of its interface as it enables support staff to get to the most frequently-used tools quickly.
Features of SolarWinds RMM
As we indicated in our introduction, we'll only briefly describe each feature of SolarWinds Remote Monitoring And Management. We felt it was better to provide less information on all the features than to do an in-depth review of only some of the best one.
1-
Remote Monitoring
Unlike other remote monitoring software that focuses on a single platform, SolarWinds Remote Monitoring and Management enables you to keep track of workstations and servers across platforms and operating systems including Windows, OS X, and multiple distributions of Linux. The tool's network performance monitoring feature will let you discover, import, and monitor critical network devices such as firewalls, routers, printers, and switches using SNMP. For your mobile device, the tool lets you keep track of smartphones and tablets with mobile device checks and monitoring. As for virtual machine monitoring, you can run checks on all virtual sessions and virtual machines under your control.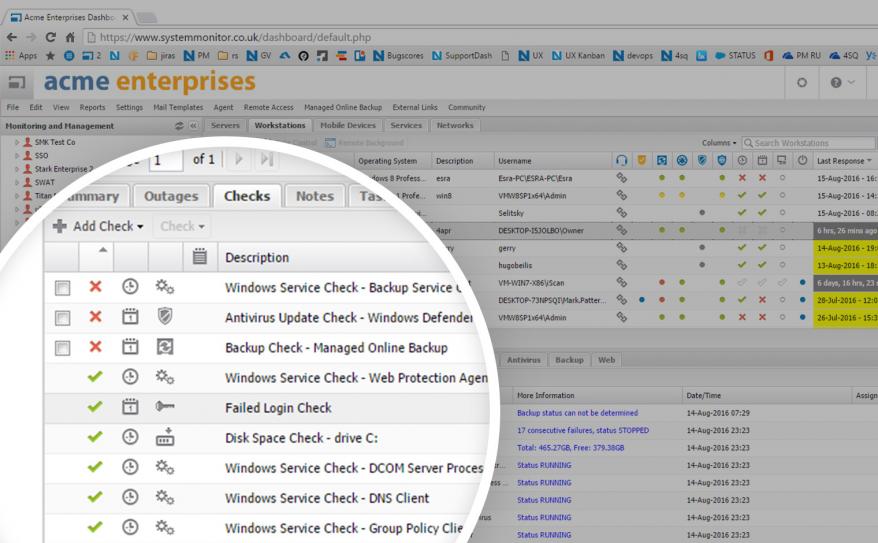 2-
Network Device Monitoring
The network device monitoring feature in SolarWinds RMM is designed to provide visibility into the devices on your managed networks. This feature was built to allow you to quickly detect and monitor all connected devices, as it can potentially help limit unexpected expenses and troubleshooting time from unforeseen issues while giving you greater control of the networks you manage.
The network device monitoring feature is designed to provide monitoring for a wide range of devices such as printers, firewalls, routers, switches, uninterruptable power supplies (UPS), and more. The tool will monitor any device on your networks and search for new devices under any subnet. It will collect asset information such as MAC address, IP address, operating system, firmware version, and hostname. It will then run SNMP checks to monitor hardware health, performance, and utilization.
The network device monitoring feature is built to provide details about:
CPU
Temperature
Fan status
Memory
Power supply
Drive status
RAID status
Disk status
Page count for printers
Toner/ink level for printers
Printer jams
VPN status
Battery levels
3-
Remote Access
The remote control features in SolarWinds Remote Monitoring and Management give you one-click access to any endpoint under your management in as few as five seconds. And with the ability for technicians to chat on the back end or pass sessions between team members, this tool makes it easy for IT teams to collaborate to solve even the hardest technical challenges.
4-
Active Network Discovery
SolarWinds RMM can discover and manage devices as they are added to your managed networks. New devices are continually being added to networks—and they need to be monitored to detect potential security threats and to protect them from compromise. In fact, many users may not even be aware their personal devices are on the network. Active discovery helps ensure new devices on a network can be found and properly managed before a security issue arises.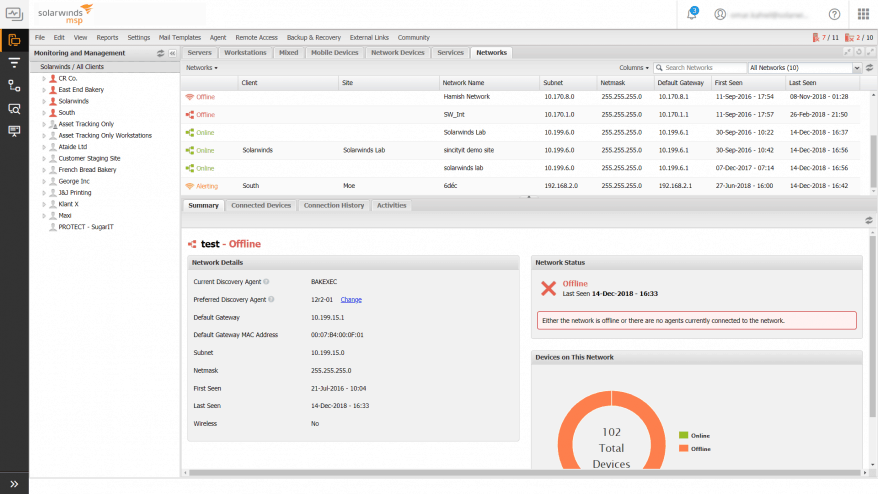 5-
NetPath
The SolarWinds Remote Monitoring and Management allows you to better understand your network's performance and infrastructure past your firewall, from source to destination and everything in between. At its most basic level, networking is about delivering services to users consistently and reliably. Whether your applications are hosted internally or in the cloud, understanding the critical network paths that deliver these services is paramount to ensuring your users will have the services they need. The NetPath feature uses advanced probing to detect the network path from a source server to a destination service, even when traceroute can't. This provides the deep visibility into critical network paths regardless of location—on- or off- premises, or in a hybrid IT environment. With NetPath, you can quickly troubleshoot hotspots across the entire service delivery chain.
6-
Automation And Scripting
With SolarWinds Remote Monitoring and Management, you get more done either with drag-and-drop automation or by uploading your own scripts. Since your time is most likely at a premium, it can greatly benefit you and your users to be able to automate routine tasks. However, many IT service management software platforms offer only the bare minimum when it comes to automation.
This tool gives you incredible flexibility to automate even complex tasks with ease. First, there is the drag-and-drop automation feature which allows you to create sophisticated automation tasks without having to learn a new, complex scripting language. On the other hand, if you prefer to write your own scripts, you can upload them as well. The tool even provides a library of over 100 tasks already scripted that you can just use at will.
7-
Patch Management
Keeping businesses safe requires constant vigilance. You need to keep all systems up to date and with the latest patches or you may run serious security risks. When you manage multiple workstations and servers, keeping software up to date can quickly become complex without patch management software to take care of it all. SolarWinds Remote Monitoring and Management streamlines patch management by giving you granular control over your patch management policies. Using the tool"s patch management solution, you can reduce the risk of cyber attacks and optimize system performance. And whether you want to automate the entire process or you prefer to manually approve or deny patches, SolarWinds RMM has you covered.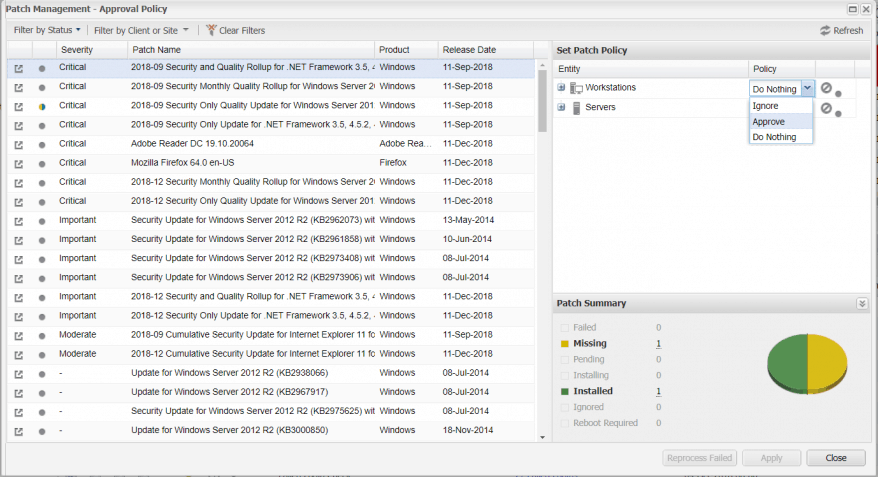 8-
Reports
SolarWinds RMM's reporting feature will give you reports on anything you need. Transparency is of the utmost importance when managing IT environments. You must be able to know at all times what is happening and why as well as identify trends. At the end of the day, you need detailed reports which are easy to understand to help you communicate the actual added value of your IT services.
The reporting features of the SolarWinds Remote Monitoring and Management give you all this and more. From identifying trends at the system performance level all the way to monitoring bandwidth, this tool gives you all the required visibility to keep informed and maintain users productivity.
9-
LOGICcards Analytics Engine
What would happen if the decisions you made for your IT environment were based on the real-time analysis of over 5 000,000 endpoints across 400 000 networks? What if you received advice based on this intelligence and also received updates on emerging issues and threats? LOGICcards, the tools analytics engine can help you with all that and more. Using the power of collective intelligence and machine learning, LOGICcards gives you actionable, data-driven insights to help you prevent issues and improve your IT environment. It's like having a data science team on staff, working around the clock to help you make smarter decisions.
Three Layers of Analytics
Descriptive analytics: LOGICcards will alert you to key issues in your current setup—from incomplete software installs to systems missing antivirus protection.
Predictive analytics: LOGICcards will send you information to help you forecast potential problems. For example, you can receive warnings about patch updates that have caused failures for other IT professionals, so you can wait to push the patch.
Prescriptive analytics: LOGICcards will also give you data-driven advice on how to prevent issues well before they occur. For example, we'll point out features that help you conserve bandwidth.
10-
Mobile Applications
Convenience isn't just a luxury anymore, it's a competitive advantage. Being able to quickly troubleshoot and solve users' problems from anywhere helps boost the efficiency of your IT operation, allowing you to save money and accomplish much more. SolarWinds Remote Monitoring and Management provides mobile apps for both Android and iOS devices that will make your job much simpler.
With mobile applications, you can quickly and easily view the overall health of your managed networks, including any alerts or failed checks. You can also search for any device and view full asset details as well as any relevant notes. Furthermore, you can use the mobile application to quickly diagnose issues by viewing software installations, hardware configurations, and more. And finally, the mobile applications workforce management features let you create tickets, view appointments, and review customer information.
11-
Backup And Recovery
Data loss can be the source of serious financial difficulties for any organization. In addition, system downtime can cripple productivity, preventing a business from providing good service to customers. This s why it is critical to be prepared with the right technology.
SolarWinds Remote Monitoring and Management provides a hybrid cloud backup and disaster recovery feature, allowing you to help quickly restore business continuity after a disaster. SolarWinds' True Delta technology helps reduce backup times by storing only changes instead of full files. This allows you to back up files quickly and frequently, helping you to prevent losing data due to a disaster or any other reason. The backup and recovery feature also uses strong encryption both in transit and at rest, so you can breathe more easily knowing that data is kept safe. The tool's hybrid cloud backup feature offers fast backup and fast recovery as well as several enterprise-grade features such as virtualization support and 256- or 448-bit encryption.
12-
Managed Antivirus
SolarWinds Remote Monitoring and Management managed antivirus helps to keep both known and emerging malware off workstations and servers. The tool's antivirus feature not only stays up to date with the latest threats using traditional signature-based protection, but it also protects against new viruses using sophisticated heuristic checks and behavioural scanning. With new threats created each day, businesses can protect themselves by using these proactive methods to help ensure rock solid malware protection. The system will shut down even the most sophisticated malware via continuous real-time monitoring that detects programs performing actions commonly associated with malware exploits.
13-
Web Protection
We'll probably all agree that threats from the Internet have increased over the last few years. From phishing sites to drive-by downloads, the dangers posed by the web have never been greater. To stay safe, you need to make sure you have advanced malware protection in place along with bandwidth monitoring, content filtering, and more. SolarWinds Remote Monitoring and Management includes built-in web protection that keeps your workforce secure and productive. The tool's web protection goes well-beyond enterprise antivirus software and firewalls by letting you set your own content-filtering policies, website blacklists, time- and content-based browsing policies, and much more. And you can manage everything from a single, easy-to-use, web-based console. This feature would be great as a standalone product but coupled with all the other features of this platform, it is nothing short of amazing.
14-
Service Desk
While we're amazed, let's have a look at another major feature of the SolarWinds Remote Monitoring and Management: the Service Desk feature. Your IT service desk software should smooth out your workflow—not add more wrinkles. Streamlined for IT professionals, this tool's service desk module gives you the tools you need to run your IT business or department without bogging you down in small details. From quick ticketing to the mobile application for easy scheduling and billing, you'll find everything you need to reduce the paperwork and focus on providing outstanding service to your users.
The Service Desk module also features dashboards to let you assess the health of your IT operation. They let you view employee statistics as well as revenue information if you're running an IT service business. The scheduling features let you quickly add appointments for any technician in your workforce, and have the system synchronize with other calendars. User management is also available and you can store and view all user information from one place, including passwords, procedures, asset information, contact information, and site locations.
15-
Risk Intelligence
SolarWinds RMM'S Risk Intelligence module lets you evaluate your new client's security level and let you instantly demonstrate your added value. Within minutes of installing the Risk Intelligence module, you'll be able to asses the IT security of your clients, to identify potentially exposed data and to generate detailed reports.
You can differentiate and improve your managed services offer by complementing it with a multi-layer security service which includes the detection and the assessment of potential risks with your client's data. The Risk Intelligence module can be deployed straight from your SolarWinds RMM console and you'll start seeing results immediately after the first analysis finishes running.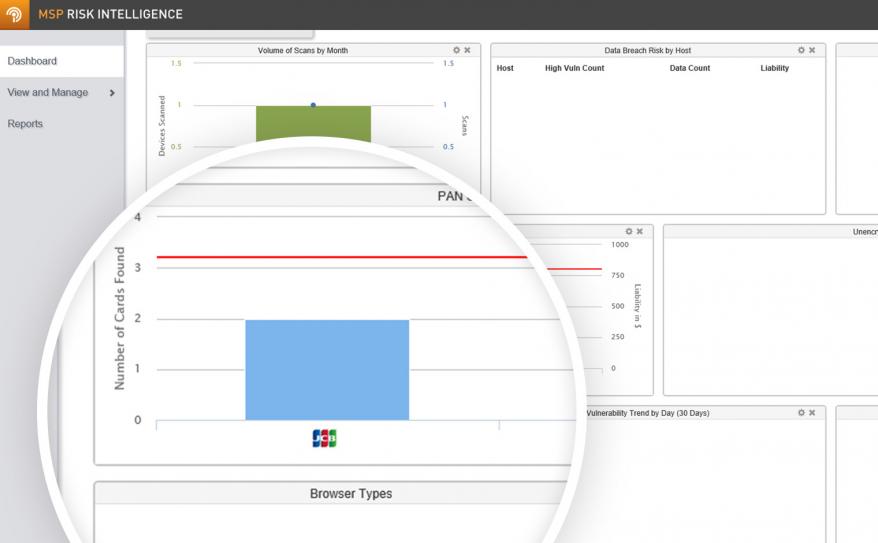 16-
Mobile Device Management
The last feature we want to present to you is Mobile Device Management. Today, IT service management solutions need to account for mobile devices and on-the-go employees. This means you need solid mobile device management software that lets them be more productive by using their preferred devices—while still keeping the network safe and secure.
SolarWinds Remote Monitoring and Management allows you to easily manage and secure mobile devices. The tool's mobile device management feature is scalable, easy to configure, and easy to manage. It makes device management more efficient and helps you reduce risks with fast, automated setup and maintenance of your mobile fleet. And by combining mobile device management with the other features the product, you can conveniently oversee multiple types of devices from a single web-based console.
Pricing And Licensing
Pricing for SolarWinds Remote Monitoring and Management is not readily available and can only be obtained by requesting a quote SolarWinds MSP. The good thing about this is that you'll get a price that exactly matches your specific needs. If you want to give the tool a test run and see for yourself what it can do for you, a free 30-day trial is available.