We are reader supported and may earn a commission when you buy through links on our site.
Learn more
SolarWinds Virtualization Manager – REVIEW 2021
Virtualization has been taking an ever-growing place in many organizations. And with that have the needs for management tools grow too. Although all major virtualization suppliers including VMware and Microsoft offer management tools, many users prefer to turn to third-party applications for their management needs. This is particularly common in businesses that are using multiple virtualization technologies from different vendors.
SolarWinds, one of the best-known makers of network and system administration tools has a great offering for those looking for a vendor-agnostic virtualization management tool in their Virtualization Manager or VMAN. Today, we're having an in-depth look at this excellent tool.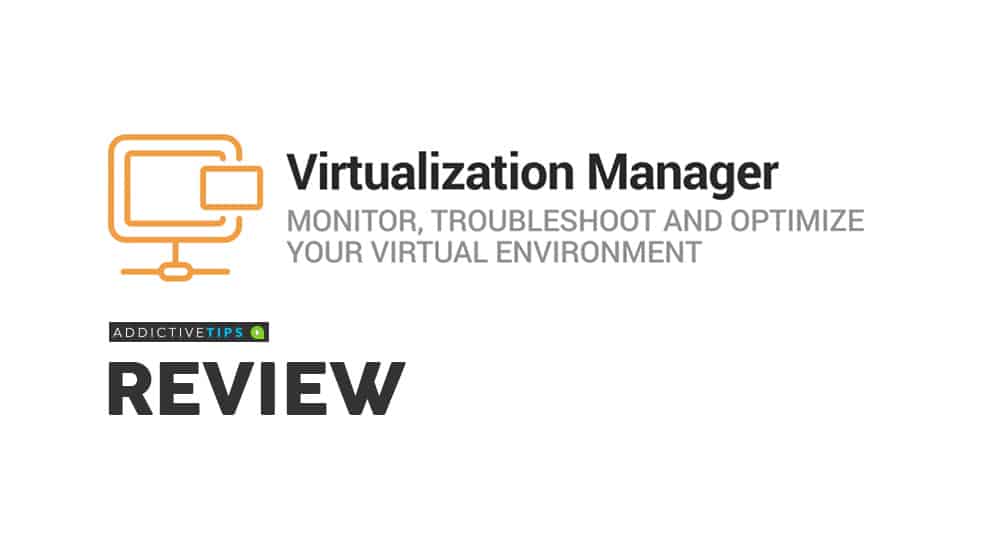 Before we get to examine what the SolarWinds Virtualization Manager has under the hood, we'll first discuss virtualization management and try to define what it is, exactly. Then, we'll talk about virtualization management tools and their main features. After that, we'll introduce the VMAN and talk about what it can be used for and what makes it unique. We'll also briefly introduce SolarWinds, in case you're not already familiar with the company, We'll then have a tour of the product's main features—and there are lots of them. The Orion Platform will be our next order of business as this is the underlying platform of the SolarWinds Virtualization Manager. And we'll finish by discussing the product's hardware requirements and its pricing structure.
Virtualization Management In A Nutshell
Virtualization vendors such as VMware have traditionally focused their development efforts on their core products. While this was likely a sensible decision, it left the door open for third-parties to develop virtualization management tools that addressed some of the shortcomings in management and usability that existed in the virtualization vendors' offering.
Today, there are many third-party vendors delivering feature-rich virtualization management tools and software that pick up where the main vendor's tool stop. They go well beyond the basic tools supplied by the virtualization vendors and include security, monitoring, reporting, backups, and automation. The primary goal of most virtualization management tools is to help make virtualization management easier.
About Virtualization Management Tools
Defining virtualization management tools is difficult because there are about as many definitions as there are vendors. And there are a lot of vendors. Generally speaking, some of the most essential tasks these tools perform are to ensure that all virtual machine software and hypervisor versions are up to date. Most will also establish and maintain connectivity across the environment and monitor the state and performance of each virtual machine. Some of the best tools will even ensure that everything runs smoothly by adjusting memory or processor allocation on the fly so that each machine get optimal performance.
Virtualization management tools and software can also often be used to help identify the root cause of issues. This task can be accomplished by analyzing the application, server, virtual, and storage layers to troubleshoot issues. One of the latest trends on the market is to let virtualization management tools handle more strategic management tasks. For instance, they can be used to identify usage patterns and help predict future virtualization infrastructure bottlenecks and resource limits. This makes them excellent as capacity planning tools.
Main Features Of Virtualization Management Tools
While each virtualization management tool is different, some features are found across a number of them, including, of course, the SolarWinds Virtualization Manager. The important features include virtual machine administrator alerts. Another common feature is the automatic allocation of processor and memory resources to virtual machines with some tools even do it on the fly, effectively offering dynamic resource allocation. Another important offered in pretty much every product is performance monitoring, although this can have a different meaning depending on the vendor. Monitoring is, for many administrators, the main reason why they use virtualization management tools. Available APIs which allow the control of the management tools from your in-house products is also a popular feature, as is the prediction of future resource requirements and, consequently, capacity planning.
The SolarWinds Virtualization Manager (VMAN) provides multi-hypervisor alerting and remediation in a single pane of glass. It features built-in management actions which allow you to instantly remediate virtualization issues from within the product. Using the tool's AppStack dashboard, you can automatically map relationships between applications, servers, hosts, and data stores, and isolate real hot spots.
The SolarWinds Virtualization Manager also provides tools for troubleshooting virtual environment issues faster with its intuitive dashboards for performance, capacity, storage, and configuration. It will allow you to save virtual resources and cut down hardware costs with virtual machine sprawl and virtual machine rightsizing. VMAN also provides configuration management and alert remediation. All these features are combined into one product that is easy to download, deploy, and use.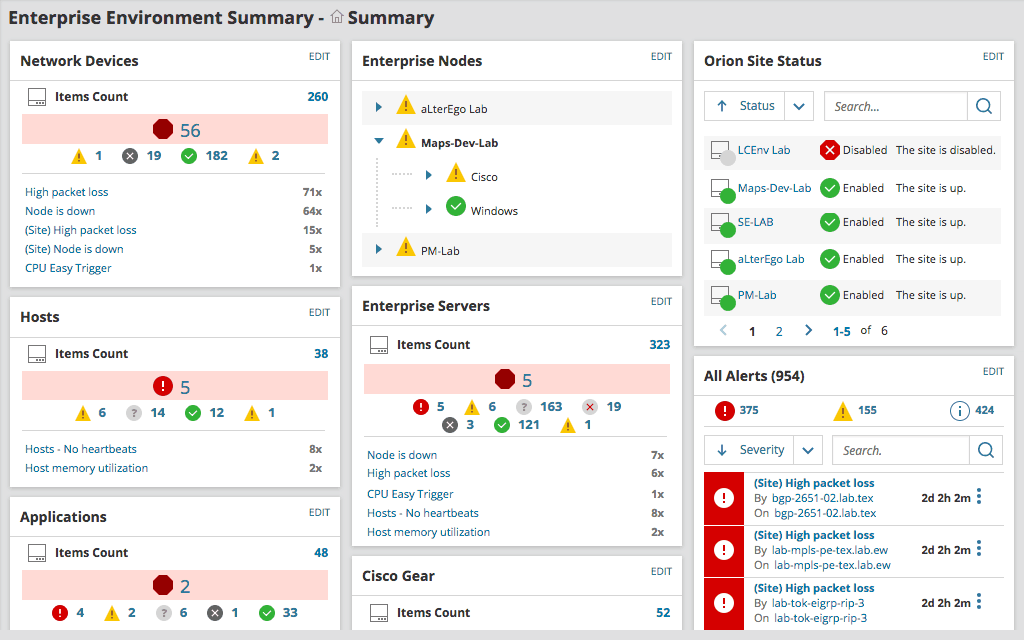 About SolarWinds
SolarWinds has been around for some twenty years. The company provides powerful and affordable network and systems management software to customers worldwide. Its customer base includes all sizes of organizations from large Fortune 500 companies to small businesses, managed service providers, government agencies, and educational institutions. SolarWinds is famous in part for having made some of the best network and system administration tools. SolarWinds delivers products that are easy to use, maintain but also to find and buy and that can easily scale as your needs grow. Most of its products will cover any of your IT assets, regardless of where they or their users and managers sit. Both on-premise and could-based environments are supported by most products. SolarWinds is also known for making a few excellent free tools, each addressing a very specific need of network administrators such as the Advanced Subnet Calculator or the Kiwi Syslog Server.
One of SolarWinds' strength is how it targets exclusively Information Technology, Managed Service Providers, and DevOps professionals, and it strives to eliminate the complexity that we as customers have been forced to accept from many traditional enterprise software vendors. This focus, as well as the company's commitment to excellence in end-to-end hybrid IT performance management, has established SolarWinds as one of the worldwide leaders in both network management software and MSP solutions. SolarWinds' THWACK online community is used by users to solve problems, share technology and best practices, and directly participate in the company's development process.
Some Issues VMAN Can Help You Solve
It would likely be an exaggeration to say that this tool can help you solve any issue but it is almost true. And to prove our point, here are some of the main pain points and issues that the SolarWinds Virtualization Manager can help you with:
Do you need to have complete visibility over your virtual environment (both VMware and Hyper-V) to troubleshoot issues faster?
When troubleshooting virtual applications, do you wish you could exactly pinpoint where the issue stems from—application, virtual server, host, or data store?
Do you suspect that many—if not most—of your Virtual Machine resources are under-utilized or over-utilized, and want to be able to verify if they are?
Do you want to remediate VMware or Hyper-V issues right from your monitoring tool without actually logging into vCenter?
Do you wish you could receive timely alerts that can help you prevent performance issues or address them before they impact applications?
What Makes The SolarWinds VMAN Unique
Although the SolarWinds Virtualization Manager offers the same basic features as some competing products, none offers the same unique combination of features and capabilities. It does, for instance, offer multi-hypervisor monitoring, letting you monitor and remediate both VMware and Microsoft Hyper-V environments from a single pane of glass. The tool also has predictive and active analytics-based recommendations with built-in remediation actions and steps to quickly fix active issues and prevent new ones. This is also a tool that will facilitate resource savings through VM sprawl and rightsizing. This product offers hundreds of out-of-the-box reports helping make informed decisions and eliminate assumption-driven ones. Finally, the SolarWinds Virtualization Manager seamlessly integrates with other SolarWinds products to provide a comprehensive picture of overall IT health. The Application Stack dashboard, a feature of the underlying Orion Platform, gives instant visibility across the infrastructure, from application to storage.
A Tour Of The Virtualization Manager's Best Features
Let's have a closer look at some of the SolarWinds Virtualization Manager's important features. As extensive as this list can be, it's only an overview of the tool's best and most significant features. It will give you a pretty good idea of what the tool is capable of.
Unified Summary Dashboard
Managing different monitoring tools for your virtual environment can be very tedious. SolarWinds Virtualization Manager provides a single view to monitor both VMware and Hyper-V environments. The summary dashboard enables you to get a quick view of all key virtualization metrics in your environment. The hypervisor and virtual issues are neatly categorized into "All Active Alerts" and "Potential Issues" so you can act faster.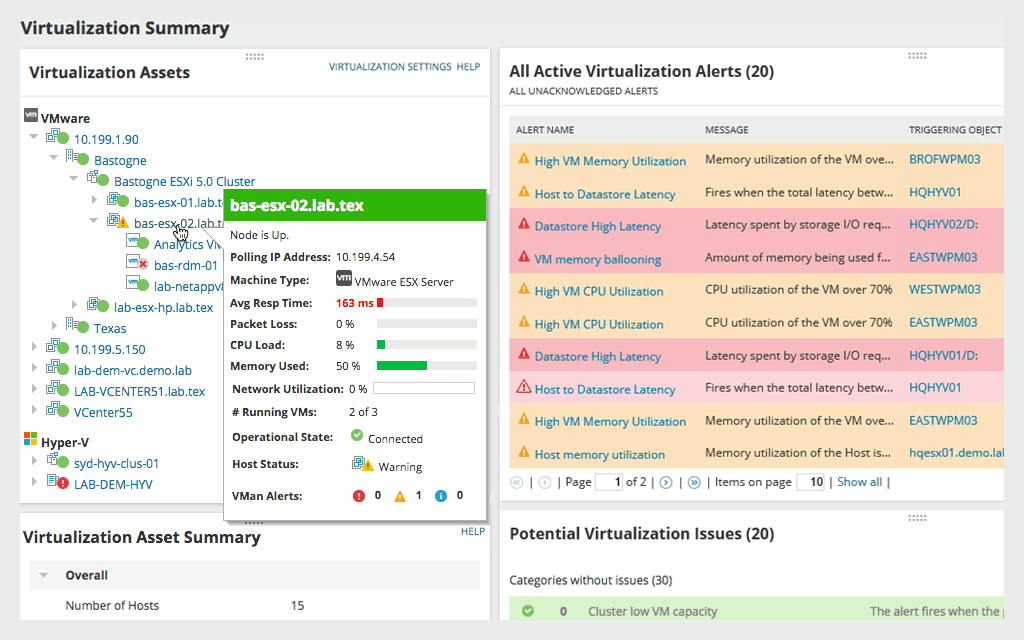 Recommendations
Predicted and active recommendations are calculated to optimize virtual machine performance and placement. The SolarWinds Virtualization Manager's analytics engine uses four strategies—storage capacity, host performance, workload balancing, and virtual machine sizing—to evaluate the situation and make recommendations. These recommendations can then be sorted by their type or severity to allow for the quick resolution of active problems and to proactively prevent new ones.
The Recommendation Detail view shows you the steps to perform, and the statistics of the virtual machine or host with the issue and its related infrastructure. Recommendations and remediation steps can either be performed now or scheduled for a later date and time.
Hyper-V and VMware Dashboards
As nice as it is to have a unified dashboard, there are situations where it can be desirable to have different dashboards for different technologies. This is the case, for instance, when different teams are managing different technologies. For that reason, The SolarWinds Virtualization Manager also offers separate dashboards for Hyper-V and VMware.
Cloud Summary Dashboard
Virtual environments are not always on-premise. In fact, it is more and more common for organizations to revert to using cloud-based virtual infrastructures. If it is your case, the SolarWinds Virtualization manager has gotten you covered. It will monitor and manage your Amazon AWS (EC2 and EBS) and Microsoft Azure cloud instances from the same console as your on-premises virtualization environment.
Storage Summary Dashboard
All virtual environment issues are not related to the actual virtual machines of their hosts. In fact, quite a few bottlenecks in virtual environments stem from the underlying storage layer. As such, it is essential to keep a close eye on storage as much as virtual metrics. The Storage Summary Dashboard of the SolarWinds Virtualization Manager provides key storage metrics across the entire virtual infrastructure. The dashboard displays datastore and CSV performance metrics as well as information on dependent virtual machines. Using the capacity dashboard, you can track resource consumption in real-time and more accurately predict when additional resources will be needed.
Furthermore, from the Storage Summary Dashboard, you can drill down into the Datastore Details view to get all the relevant contextual information that will help you diagnose and troubleshoot storage performance and capacity issues.
PerfStack Dashboard
Using the PerfStack dashboard, you can cross-reference performance data and metrics across your virtualization, storage, applications, systems, and networks systems, allowing for quicker problem identification. This feature is particularly useful when using several Orion-based tools as it will integrate data from all the tools.
Capacity Planning Dashboard
The SolarWinds Virtualization Manager Capacity Planning feature helps you predict CPU, memory, network, and storage needs for both Microsoft Hyper-V and VMware vSphere environments. The product features a built-in what-if analysis model that provides upfront answers to key questions, such as "What if I add more virtual machines, hosts, or storage?" In addition, you will be able to analyze virtual machine placement within or across clusters to optimize which cluster would deploy virtual machines most efficiently.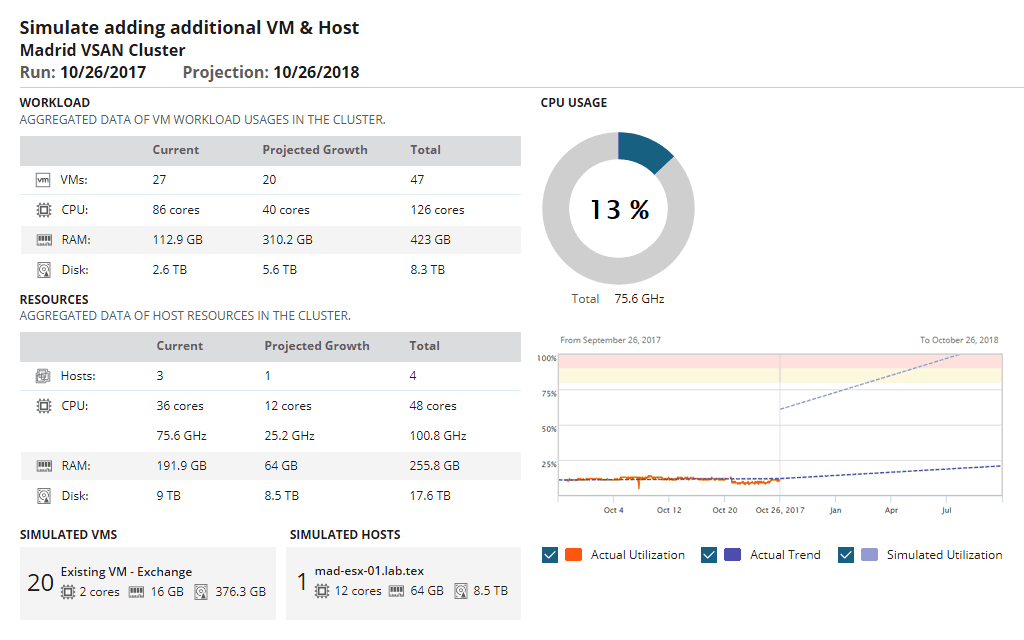 VM Sprawl Dashboard
Virtualization sprawl is a phenomenon that occurs when the number of virtual machines on a network reaches a point where the administrator can no longer manage them effectively. It is the most common problem in any virtual environment. Using the VM Sprawl dashboard, you can view oversubscribed and undersubscribed resources, idle and powered-off virtual machines, and orphaned VMDK files. Having this knowledge will allow you to take steps to free up virtual machine resources, allowing you to proactively avoid virtual bottlenecks in your infrastructure.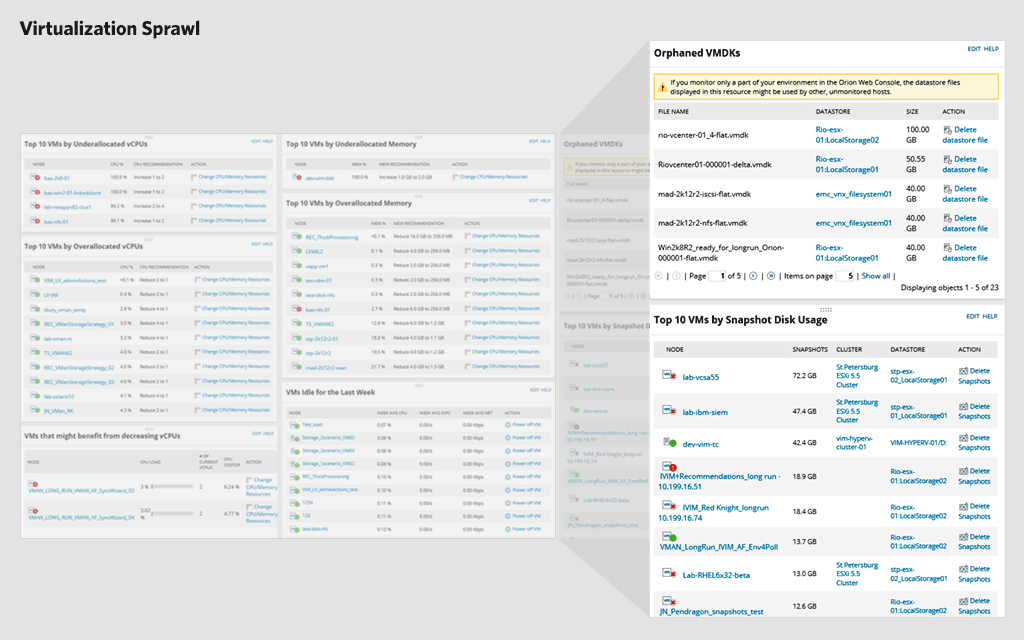 Alerting
The tool's All Alerts view will list down all possible alerts that need your attention in your entire virtual environment. Based on these alerts, you can investigate virtual issues and take the necessary actions instantly. In addition, the Alert Detail view gives you comprehensive information about the alert such as its history, definition, etc. This view also provides some recommended actions.
Reporting
Reporting is always an important yet often overlooked aspect of virtualization management tools. The SolarWinds Virtualization Manager provides numerous out-of-the-box reports. Contrary to generating a report from the VMware or Hyper-V consoles which is not only time consuming, but cumbersome, doing it from within VMAN eliminates this longwinded process with quick report generation. The tool's reporting engine also lets you go back in time, collect past data, and generate reports for root cause analysis.
About The Orion Platform
The Orion Platform is a proprietary platform on which many SolarWinds network and systems management software products are built. The platform provides a unified base that allows seamless integration between different products. The main objective of this platform is to facilitate end-to-end IT monitoring with absolute ease. The SolarWinds Virtualization Manager is built on the SolarWinds Orion Platform. As such, you will be able to easily integrate VMAN with other IT management tools from SolarWinds such as the Network Performance Monitor, the Storage Resource Monitor, the Server & Application Monitor, the Web Performance Monitor, and more.
Benefits Of The Orion Platform
Here are some of the main benefits of using the Orion Platform as the foundation for the SolarWinds Virtualization Manager.
End-to-end monitoring of IT infrastructure
Single, unified platform supporting the varied needs of multiple IT teams (network, systems, virtualization, etc.)
Centralized management and administration
Consolidated monitoring data and context across various IT layers
Drag-and-discover network performance charts
Orion's AppStack Dashboard
The AppStack Dashboard which is a component of the Orion Platform can give you complete visibility of storage across all layers, as well as extended visibility into virtualization and application layers. With AppStack in place, you will be able to drill down deeper across layers and instantly identify the problem root cause and take remedial actions.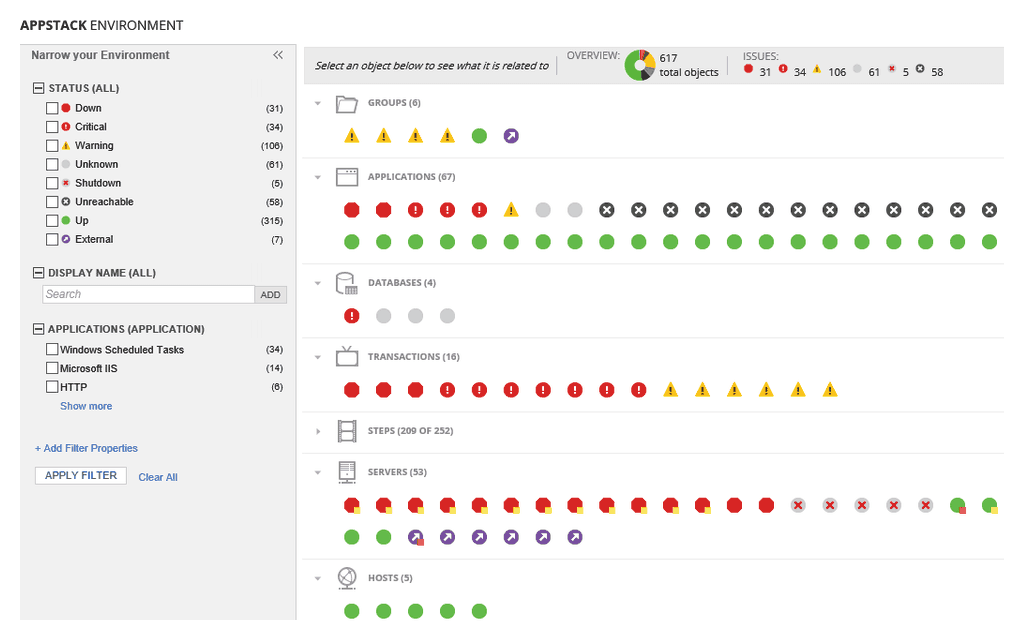 System Requirements
Like most products based on the Orion Platform, the SolarWinds Virtualization Manager requires two servers. One hosts the application while the other hosts the SQL database. Although both servers could be virtual and run on a single physical host, the SQL server's database must reside on a separate, physical drive.
Hardware requirements for the application server are as follows. You need at least a dual-core processor running at 3 GHz. It must at least 8 GB of RAM and between 20 and 40 GB of hard disk space, depending on the number of virtual machines monitored. As for the server's operating system, SolarWinds recommends Windows Server 2016 as the discontinuation of Windows Server 2012 has been announced.
For the database server, it needs to be running one of these versions of Microsoft SQL Server:
SQL Server 2017
SQL Server 2016
SQL Server 2014 SP1
SQL Server 2014
Pricing And Acquisition
Pricing for the SolarWinds Virtualization Manager is based on the number of processor sockets on your physical hardware. The product is available in nine licensing tiers that support between 8 and 640 processor sockets. Prices start at $2 995 for up to 8 sockets. If you need to manage very large environments with more than 640 processor sockets, custom licenses can be arranged by contacting SolarWinds. You also have the possibility of taking the product for a test run before purchasing it as a free fully-functional and node-unlimited 30-day trial is available.