We are reader supported and may earn a commission when you buy through links on our site.
Learn more
Best VM Monitoring Tools to Keep a Watchful Eye On Your Virtual Machines
Virtualization is getting more and more common. Once reserved for experimentation and development, virtual machines have found their way to the server room where they can optimize resource usage. Nowadays, some organizations have completely virtualized their server farm. Both VMware and Microsoft HyperV are at the forefront of the technology with a handful of other players. And while monitoring the virtual servers themselves is no different from monitoring physical servers, the physical machines where they run need to be monitored as well. And the type of monitoring they need could be very different from physical servers. This is why we are presenting you our top ten list of the best VM monitoring tools.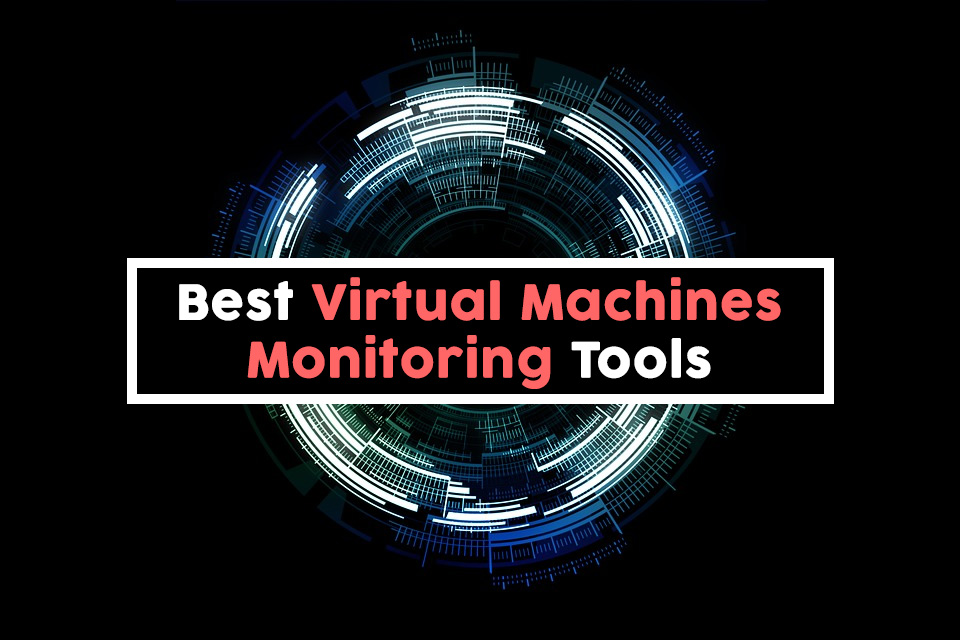 Some of the parameters that we need to monitor on virtual hosts are the same as what we'd monitor on physical servers and likewise, many server monitoring platforms will also work with Virtual Environments. But for the best VM monitoring, you need a specialized product. One that can monitor all the uniquely important parameters of VM hosts.
Before We Begin
There's a reason why virtualization is so popular. It offers organizations a way to get the most out of their resources. A computer operates so fast that it spends most of its time doing nothing and just waiting for something to happen. This is why multi-user computers–that we now call servers–were introduced. They allowed several users to share a computer's resources. Virtualization works in a similar way but instead of offering separate operating context to each user, virtual hosts allow multiple operating systems to share the host's resource pool. They will allocate disk storage, memory, and processing time to each virtual instance. And while they do that, they also need to ensure that no virtual device can access the resources of another. Each virtual computer running on a VM host must think that it is the only thing running on that computer.
In order to allow virtualization, a host must have lots of resources to share between virtual machines. With the multi-core architectures od today where it's not at all uncommon to see servers with dozens of computing cores, it's even easier to figure out why virtualization is so common considering the available power. VM monitoring tools provide some invaluable assistance to administrators. They not only monitor resource usage, some can also verify that resources are shared equitably, often rearranging their allocation on the fly to adapt to the changing need of each virtual machine.
Our Top 10 Best VM Monitoring Tools
On our quest to find the best VM monitoring tools, we've found a multitude of products. There are a few generic monitoring platforms that support VM specific parameters but many are dedicated VM monitoring systems. Some of our top products are free and/or open-source while others are commercial software, most with a free trial.
SolarWinds is a well-known name in the network management arena. The company makes some of the best tools. It offers several free tools that serve specific purposes. The SolarWinds VM Monitor is on such tool. It can be downloaded for free from the SolarWinds website.
This free tool from SolarWinds is somewhat limited yet it will continuously monitor a VMware vSphere or Microsoft Hyper-V host and associated virtual machines in real-time. The tool can only monitor one host so it might not be suitable in your environment. However, many small businesses don't have more than one host server in which case, the tools would be perfectly adapted to their needs.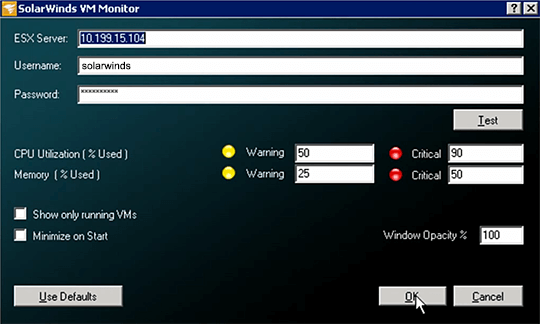 The SolarWinds VM Monitor focuses mainly on two parameters: memory and CPU utilization. It makes sense as those are the most important parameter to watch. It will also let you set warning and critical thresholds for each parameter so you can be alerted whenever they reach them. The tool will also report on network usage, the number of virtual machines (VM) configured on the host and the number of running virtual machines. For each running VM, details including VM name, guest OS, and VM state are displayed. VM Monitor runs on Windows servers as an application and can be minimized to the system tray once it's started.
Official download link: https://www.solarwinds.com/free-tools/vm-monitor
If your environment has more than one host, the SolarWinds Virtualization Manager might be just what you need. It takes the monitoring of your virtualization infrastructure to the next level. First, the tool will let you monitor more than one host and it will monitor many more parameters than SolarWinds' free offering. Also, it is not limited to physical hosts, It will also monitor cloud-based hosts such as those from Amazon or Microsoft Azure.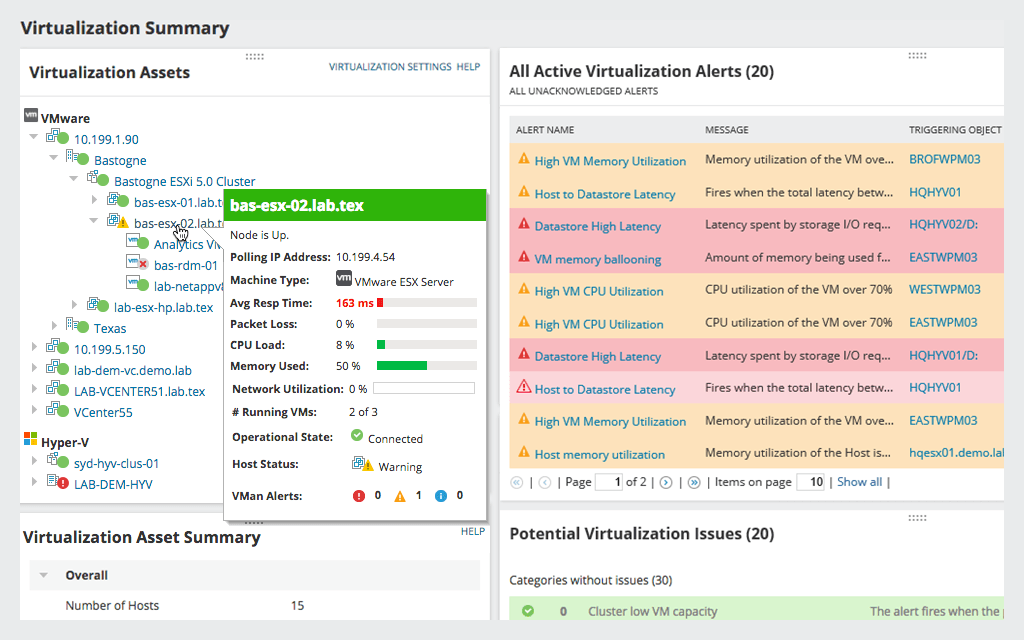 A great feature of this tool is its simulation module. You can use it to test the effects of adding more users or applications to the hosting environment. CPU and memory usage, storage requirements and network load will be evaluated for any given scenario. Another nice feature is called the sprawl monitor. It will show which VMs are using up unnecessary resources, letting you limit resource allocation to those. It is a good starting point when investigating problems.
Of course, the Virtualization Manager has a much more polished and intuitive interface than the VM monitor has. You interact with the system through its dashboard which gives you an instant view of the status of your virtualization environment. Pricing for the SolarWinds Virtualization Manager starts at $2995. A free 30-day trial can be downloaded from SolarWinds' website. For more details, the Evaluation Guide will give you detailed information about the product and its suitability for your needs.
Official download link (30-day FREE trial): https://www.solarwinds.com/virtualization-manager
3. LogicMonitor
LogicMonitor is a complete monitoring system. It will not only handle virtual hosts and machines. It is a system-wide solution that is built to be your universal solution. The system will cover pretty much any type of virtual environment from VMware or Microsoft but also most cloud-based virtual environments such as those offered by Amazon Web Service or Microsoft Azure.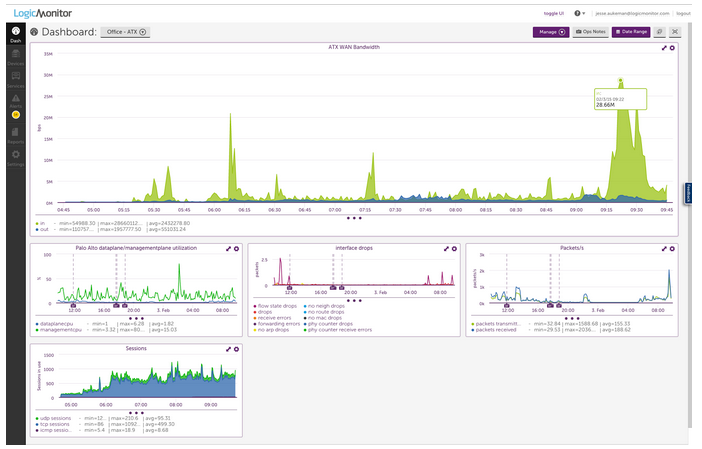 LogicMonitor itself is a cloud-based solution although its implementation requires some on-site components. It is actually a two-component system with the main infrastructure residing in the cloud and communicating with collectors installed on the monitored hosts. This is an interesting approach which kind of gives you the best of both worlds. And since the communication between the cloud and the collectors is encrypted, none of your operational data is at risk.
LogicMonitor will monitor virtual hosts but also the virtual servers running on them. It comes with an autodiscovery feature that makes setting it up an easier task. The system also features configurable alerts so you can be notified when something abnormal happens without always having to keep an eye on the system's dashboard
4. Veeam ONE
Veeam has been around since 2006. The company does just one thing: VM management tools. And Veeam ONE is its flagship product. In one sentence, Veeam ONE gives you total visibility into your IT environment, including virtual, physical and cloud-based systems. It supports the management of VMware vSphere and Microsoft Hyper-V environments and offers proactive monitoring and alerting. Veeam ONE will warn you of potential problems with VMs, physical servers, PCs and cloud-based resources before they impact your operations. Veeam ONE will also allow you to optimize your hosts for better performance.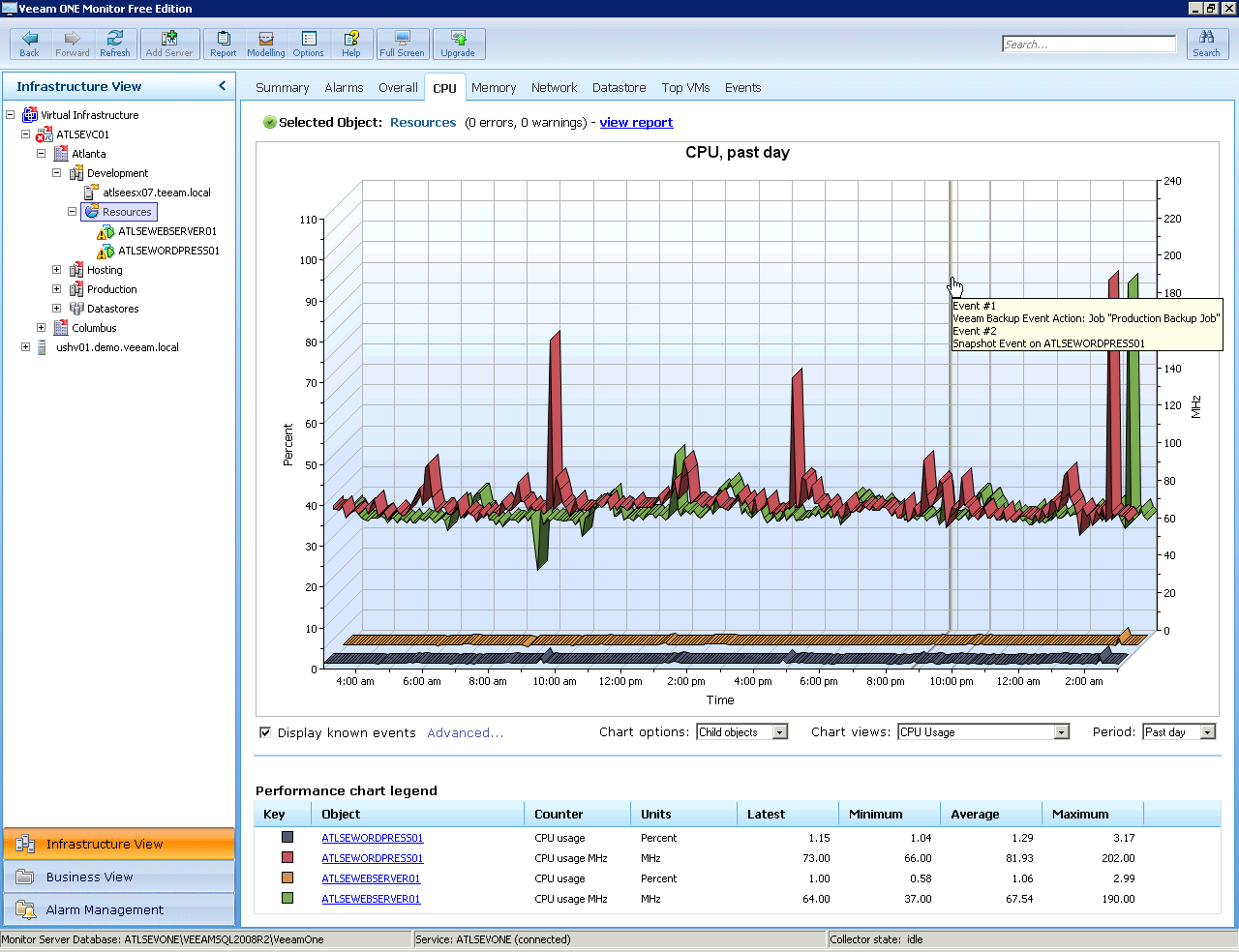 Veeam ONE current version–9.5–is available in a regular and a free edition. While the free edition is not as feature rich, it is still a very interesting product. The main limitation of the free version is that it will only support VMware vSphere and Microsoft Hyper-V implementations. It also lacks some of the most advanced features but it is still an excellent option if you only have these types of hosts to manage.
5. Foglight
Foglight from Quest advertises itself as a direct competitor to SolarWinds Virtualization Manager. Let's begin by clarifying something. Foglight is not one product but rather a suite of product. The one that's interesting in the context of monitoring Virtualized environments is called Foglight for Virtualization.
Foglight for Virtualization handles more than just the monitoring of VMware and Hyper-V. It also delivers controlled optimization and promotes capacity planning. Foglight will expose the impact of planned, VMware-initiated and user-invoked changes. And Foglight, which runs on Windows, Linux or Solaris won't just monitor VMware or Microsoft Environments. It can also handle OpenStack, KVM, Citrix XenApp, and Citrix NetScaler.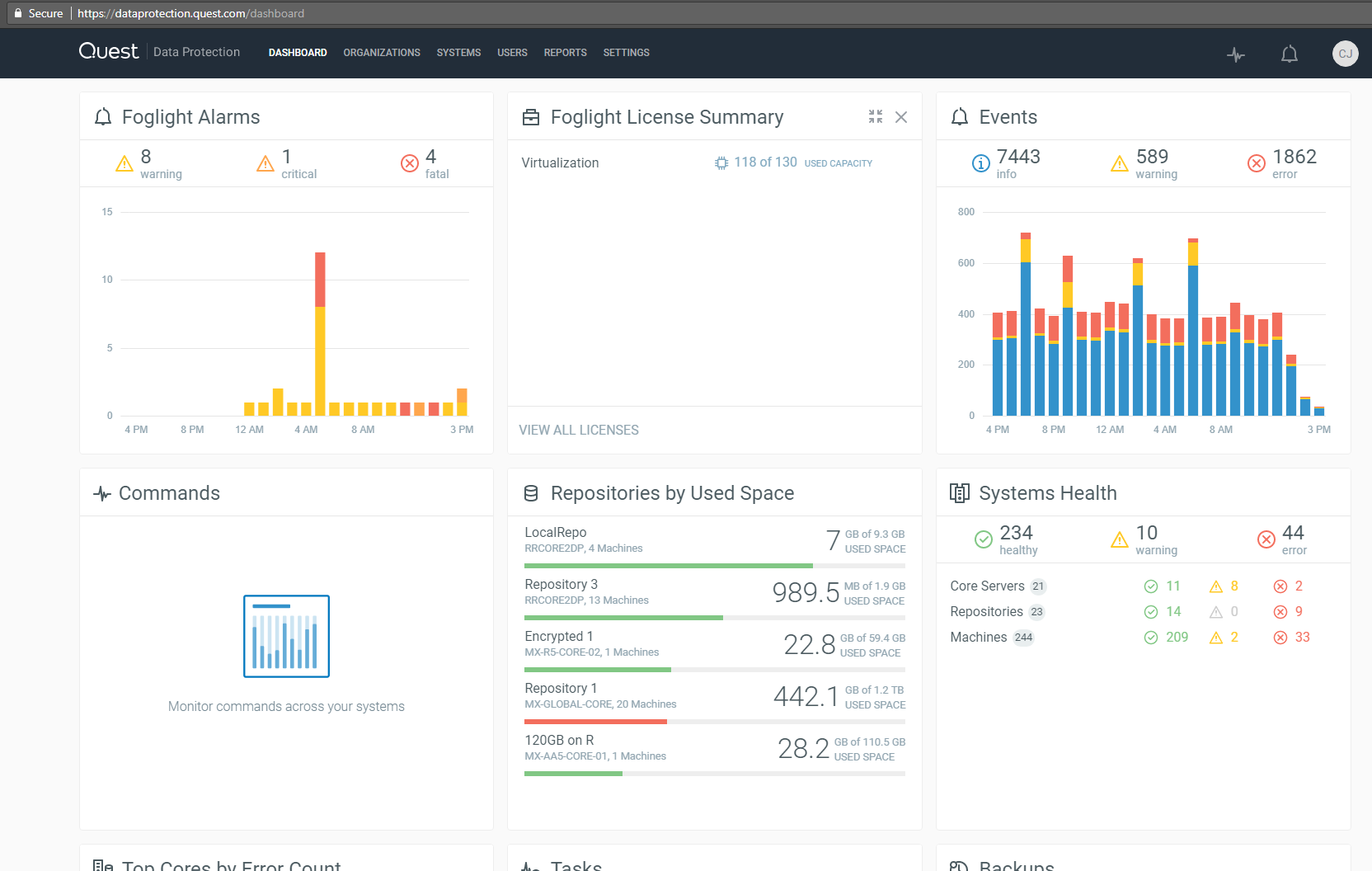 The product integrates all the managed environments into a single, integrated dashboard, making it easy to keep an eye on everything. Furthermore, it will integrate with Active Directory and Exchange for performance monitoring and it also integrates flawlessly with other products in the Foglight family such as Foglight APM, Foglight for database performance, and Foglight for Storage Management.
Foglight is paid software and pricing can be obtained by contacting the sales team. However, a free 30-day trial version can be downloaded from Quest's website.
6. eG Enterprise
Eg Innovations, the maker of EG Enterprise might not be the best-known company but eG Enterprise offers network administrators a complete virtualization monitoring solution. And it claims to go deeper than other competing products and to not just look at the hypervisors and VMs resource usage. It provides a 360° view of virtualized server and their VMs and analyzes virtualization performance within the context of the business services it supports. Administrators will be able to proactively discover, diagnose, and fix issues quickly.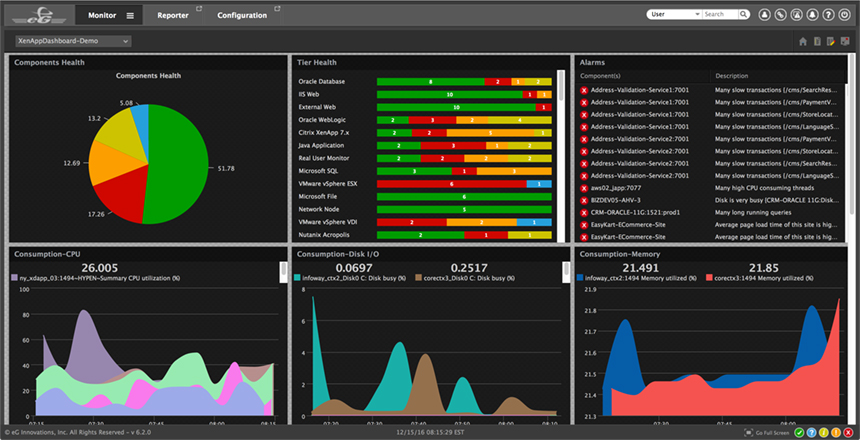 eG Enterprise features the only automatic root-cause diagnosis solution for virtualized infrastructures. Its patented correlation engine analyzes and correlates performance across every component of the infrastructure, helping administrators identify the exact cause of performance issue. Administrators can get to the exact root-cause of an application performance problem with just one click. eG Enterprise can handle almost every imaginable virtualized environment from most vendors.
eG Innovations offers both a free trial and a live demo of its software. There's no pricing information on the company's website so you'll have to contact them to get a customized quote.
7. Paessler PRTG
Many network administrators know PRTG as a traffic monitoring solution. What they might not know–unless they are PRGT users–is that it is much more than that. PGRT includes several advanced functionalities such as the ability to act as a flow collector and analyzer. But of particular interest in the context of this article is PRTG's ability to monitor several important parameters of virtual environments.
The VM performance monitoring capabilities of PRTG cover a handful of popular virtual infrastructures such as Citrix Xen, Microsoft Hyper-V, VMWare, Parallels Virtuozzo Containers, and Amazon EC2. When monitoring servers, PRTG focuses on CPU load, disk usage, and network usage. As for virtual hosting machines, PRTG monitors temperature, current power consumption, battery voltage, and fan speed.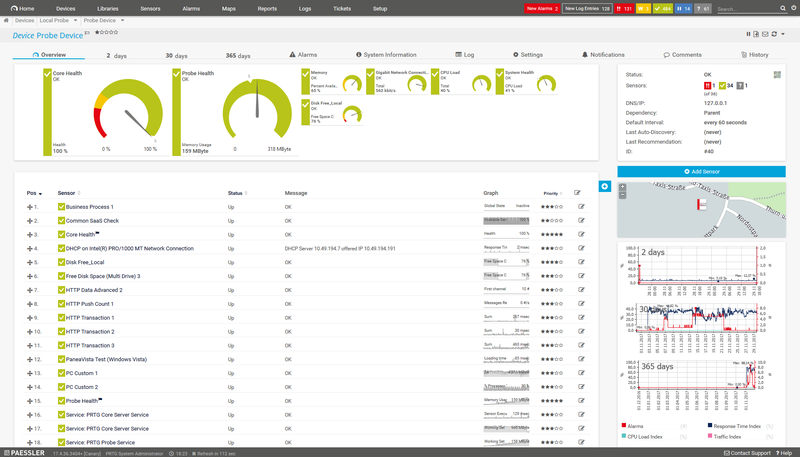 PRTG's monitoring will warn you of overloaded servers, allowing administrators to redistribute VMs across servers to equalize the load and get better performance. The alerting thresholds are adjustable to your exact need and alerts can be transmitted by SMS or email in addition to showing up on the dashboard.
PRTG is available in a free version which is limited to 100 sensors or a commercial version for which a 30-day free trial is available. Each monitored parameter counts as a sensor so the 100 limit of the free version can quickly be reached.
8. Aptare Virtualization Manager
Aptare's primary mission is "helping customers adapt their data centers for future technologies and keep pace with ever-changing IT trends". One of this changing trend is virtualization and the company's Virtualization Manager is a very interesting product. The tool's primary focus is storage which makes sense as this is one of the most important aspects of virtualization.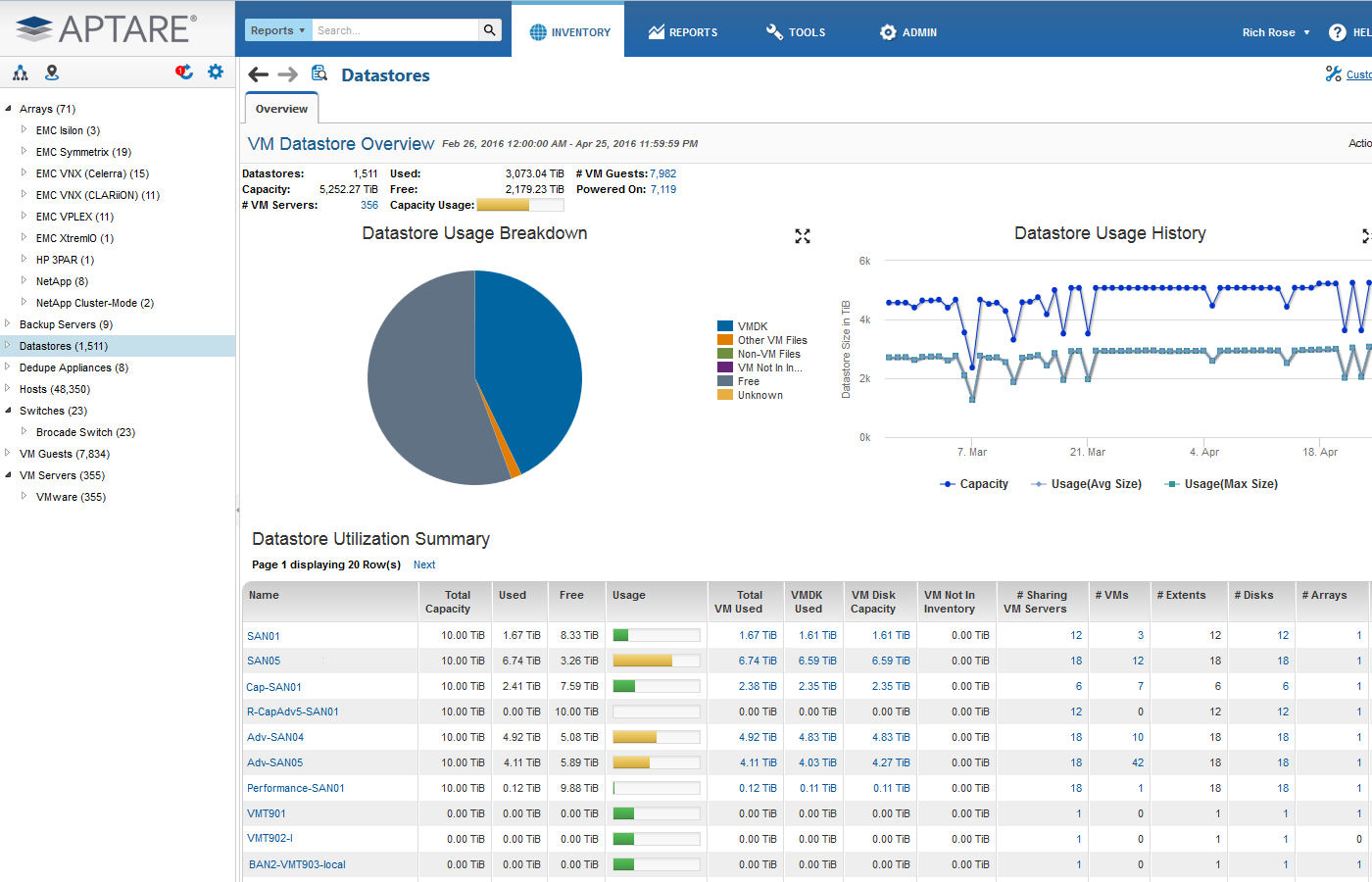 The Aptare Virtualization Manager and help you with determining the usage of physical resources in virtual environments by mapping usage to the storage array. It will let you see which virtual machines are over or underutilizing their allocated storage. Furthermore, you can use the tool's predictive analysis engine to forecast storage capacity needs based on current usage and expected growth. The tool will provide a better understanding of how storage changes at a virtual machine level. It is also an excellent tool to optimize performance and proactively manage resource consumption in real time.
The product supports most VMware products and while a free trial is not advertised, a custom live demo can be scheduled by contacting Aptare.
9. Turbonimic
Turbonimic's primary focus is cloud environments. Considering the important shift towards cloud-based solutions, this is no big surprise. Organizations rely more and more on cloud environments for their virtual infrastructure. But Turbonimic will also monitor your on-premises systems. The system continuously analyzes the real-time workload demand, matching it to compute, storage and network resources.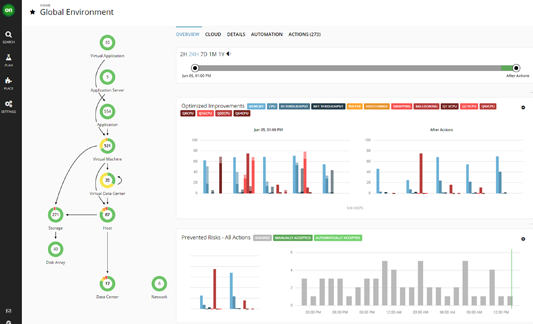 Turbonimic comes in three versions: Essentials, Advanced, and Premier with each successive version having some additional features or automating manual features of the previous version. For instance, the Advanced version features manual compute fabric and storage sizing action while the Premier version automates those two functions.
Turbonomic covers your whole environment. It works with multiple hypervisors, applications, cloud orchestration, public cloud providers and change management systems and also with storage, compute fabric, converged and hyper-converged infrastructures. It does all its magic through APIs so no agents are required. One excellent feature of this tool is its ability to map relationships and resource usage from application to virtual machines, compute, storage, storage controller, network, fabric interconnects and more.
10. 5Nine Manager
The 5Nine Manager is also more than just a VM monitoring tool. As its name implies, it's a whole management solution. It only works with Microsoft hosts so if you're in a VMware environment, this is not for you. But the tool does an excellent job of integrating Azure cloud-based infrastructures into its management system.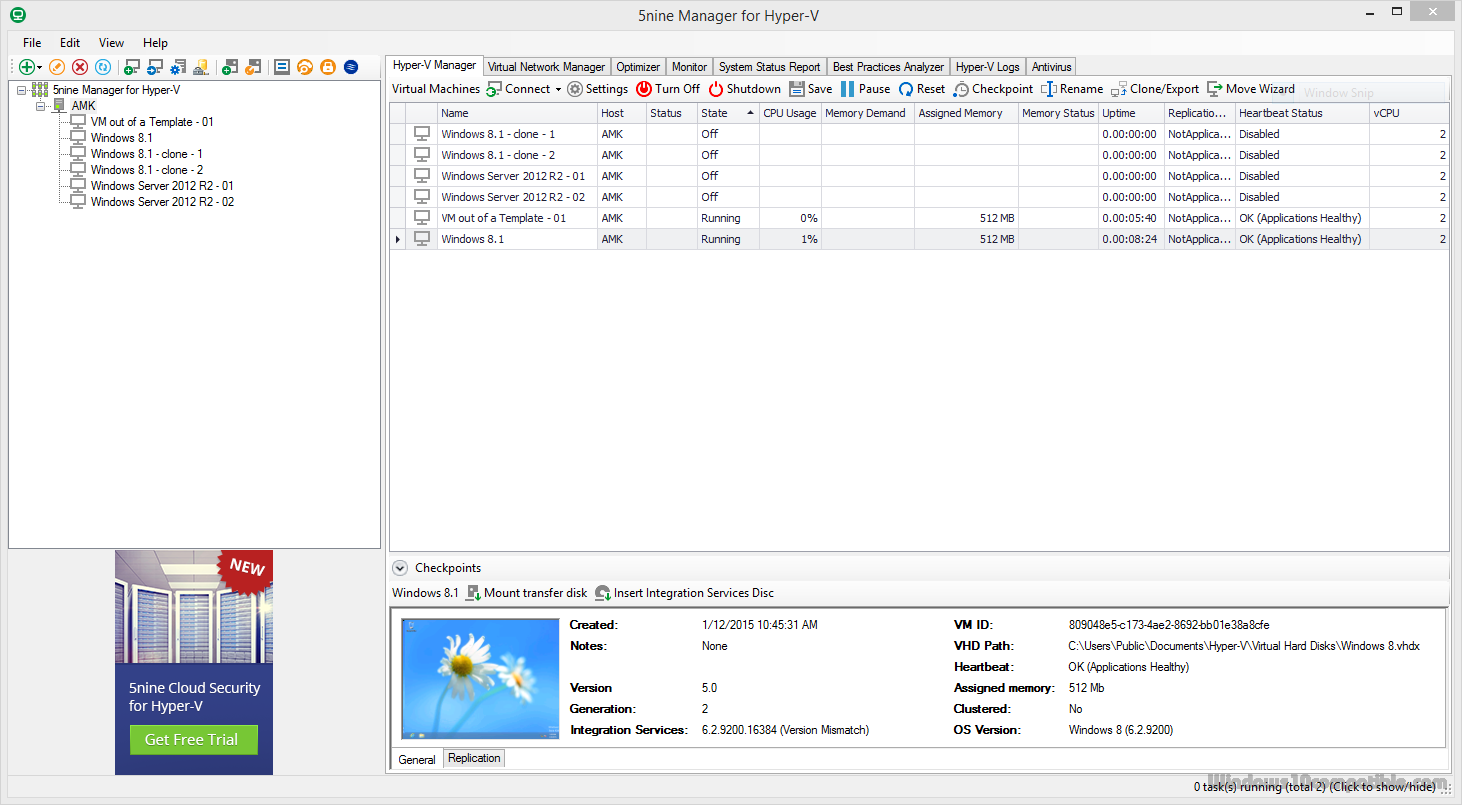 Of of the product's best features is its highly customizable dashboard. There are also user accounts that can be created at will with different access rights. If you're reselling services–like, for instance, hosting client's websites–this feature will let you give a limited dashboard to customers and enable them to manage their own VMs. Different access level can be awarded to different users according to their needs. You can also give some read-only access. This is a useful feature when you want executives to be able to see reports and dashboard but not to modify the setup. And talking about reports, the product's customizable reports are another of its strengths.
Conclusion
Choosing the right VM monitoring solution is not an easy task. And it mostly depends on your precise needs. Don't forget to factor in evolution, though. Especially if you're just starting in the world of virtualization, chances are you'll use it more and more. You will need a tool that can grow with you. Fortunately, most of those packages we've just reviewed will require that you contact the vendor's sales department before you make a purchase. This is a good thing and it will ensure that the solution you acquire will be adequately sized for your current and future needs.