4 Best Alternatives To Libre Office On Linux
Libre Office is the main reason open source projects have made a real dent in the office suite market share. For many people,  Microsoft Office is the go-to  productivity suite for creating documents, spreadsheets, and presentations but Because Libre Office is freely available via the Document Foundation, there's an alternative for those that need one. With all that said, Libre Office isn't the only choice that users who don't want to use MS Office have. For all the good that it does, Libre Office also has some major drawbacks. That's why in this list, we've decided to go over some of the best alternatives to Libre Office.
1. Calligra Suite
The Calligra Suite is a complete Office Suite from the KDE Project. It comes with many different office applications that can satisfy basic office editing needs for most Linux users. Applications include Words (document creation and editiong), Tables (spreadsheets), Stage (presentations), as well as Kexi (database  mangament) and others.
There are many different tools in Calligra, that offer a ton of compelling features. As far as office suites for Linux go, this one is the most comparable to Libre Office. Calligra not only includes a solid Word/Excel/PowerPoint alternative, but it includes replacements for some of the lesser-known MS Office tools (Kexi, Karbon, Flow, and Calligra Art).
Like Libre Office, each program has a ton of features to offer to the user and covering each and every one would take a long time. Instead, let's talk about the most notable features that this suite has to offer:
Words can read MS Office formats, Google Docs, and many others
Stage offers decent transitions and supports MS PowerPoint files
Kexi is a competitive alternative to MS Access, with a vast amount of complex database manipulation features
Karbon offers a highly customizable and competitive vector drawing application with support for multiple file formats
Calligra Suite, like Libre Office, is completely free and open source software
If you're not happy with the office suite included on your Linux operating system and are looking for a complete replacement of it, this should be your first choice.
2. 

WPS

 Office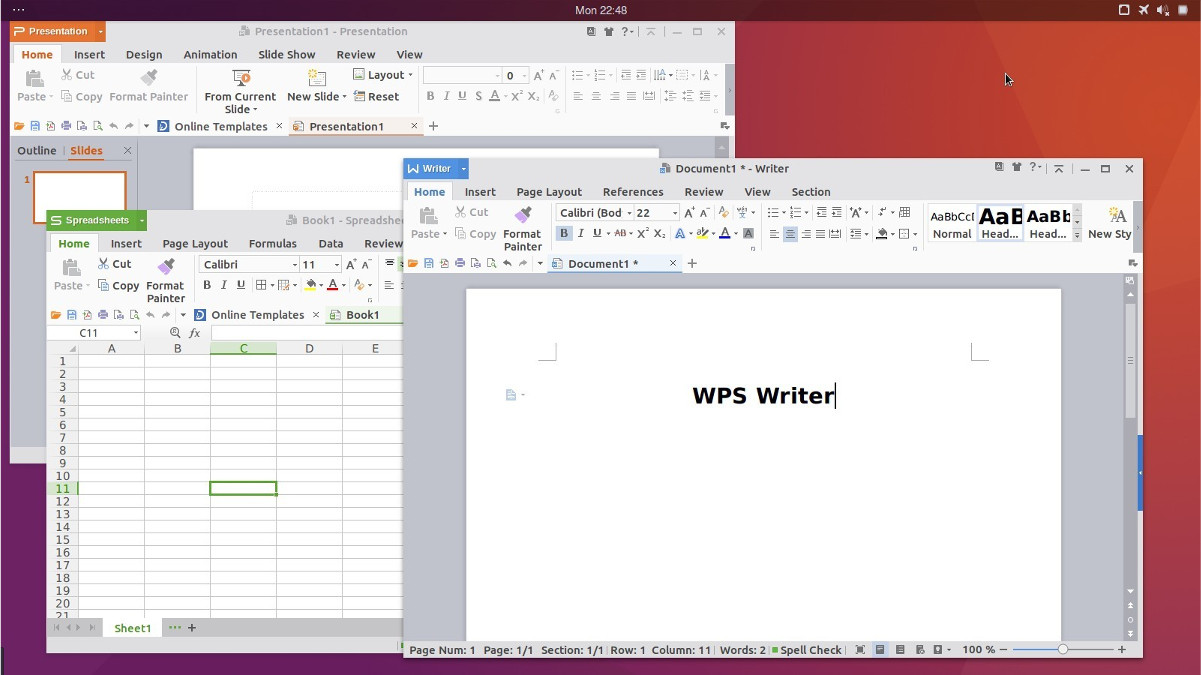 WPS Office is a freemium, cross-platform office suite that promises to be 100% feature-compatible with the latest version of Microsoft Office. WPS Office includes the WPS Writer (document editor), WPS Spreadsheets (spreadsheet), and WPS Presentation (presentation). 
Each of the applications tries their best to have "feature-compatibility" with their Microsoft counterparts. For example, the WPS Spreadsheets application includes a lot of common formulas users use in Excel to make the transition easier. In addition to MS compatibility, WPS Office has a lot to offer:
Online, downloadable templates for anyone to use
Users can download an Android/iOS app to access their documents at any time (up to 9 devices)
Offers free cloud storage of all documents for easy sharing and remote access
Can convert PDF files to MS format
Supports collaborative editing with comments, a change tracker and etc
Libre Office is nice, but if you're in need of something better for the Linux desktop, try WPS Office.
3. 

SoftMaker

 Office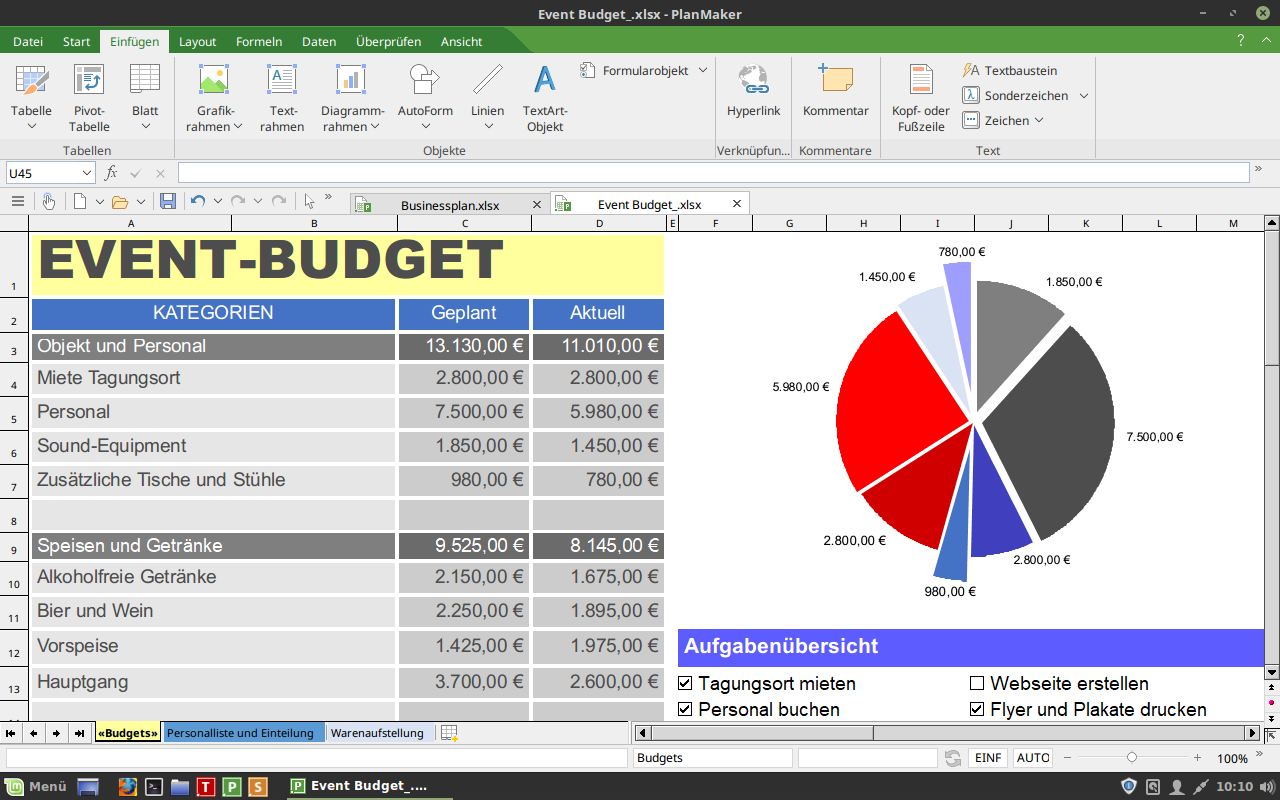 Whether open source advocates like it or not, Microsoft Office and the Docx format is what most of the world uses. On Libre Office, users can import these files. For the most part, it works fine, but due to the fact that these files are not being read and used directly in their original apps, formatting sometimes is disturbed.
SoftMaker Office takes a different approach. Instead of importing the data from files, it just reads and saves in the Microsoft Formats everyone uses by default. For Linux users who have jobs (or classes) that require saving documents in the Microsoft formats, this is a killer feature.
In addition to MS Office compatibility, SoftMaker Office has other features:
Easy 

ePub

 creation

Free technical support (something Libre Office doesn't offer)

Many Microsoft Office feature similarities/compatibilities

Mozilla Thunderbird Email extensions to integrate SoftMaker with your email client
The 2018 version of Softmaker offers an interface similar to MS Office's ribbon UI
SoftMaker Office isn't free and costs money. That said, if Libre Office, WPS or Calligra Suite don't do it for you, this suite may be worth the cost.
4. 

Abiword
Abiword is one of the best applications to install if you're a Linux user that views the entire Libre Office suite as unnecessary bloat. It is a free, open source word processing tool that is specifically for writing and editing text documents. 
Much like the Libre Office Writer tool that comes with a lot of Linux distributions, AbiWord has the ability to check spelling/grammar, has several font choices, various formatting options, table support and more. Additionally, AbiWord users can use the word processor to create PDF files, draw shapes (for diagrams and charts), and etc. 
Many people love all the office tools in the Libre Office suite. If you are not one of those people, and just need an MS Word-like drop-in replacement, do yourself a favor and check out AbiWord. It'll get the job done!