The 4 best ftp clients for Linux
The FTP protocol has long been set aside in favor of more modern file transfer solutions. However, the file transfer protocol is still useful, especially for Linux users, as a lot of projects still host files on FTP, so a good client is needed. In this list, we'll go over some of the best FTP clients for Linux. We'll also go over how to get your hands on them, and some of the best features they have to offer as well.
1. FileZilla
FileZilla is the most well-known and most popular FTP Client used today. Chances are, in 2019, if you need to transfer files over the file transfer protocol, you've used it.
When it comes to FTP clients on Linux, FileZilla is where it's at. It's got support for all of the major operating systems (MacOS, Linux, Windows, BSD,) lets users add proxy connections, built-in security features and more.h
The FTP protocol isn't exactly as popular as it used to be. Still, if you're using Linux and need a good client to use, make FileZilla your first choice!
Notable Features
"Quick-connect" feature lets users connect without fiddling with an account creation window.
Support for common FTP protocols like FTP, FTPS, SFTP.
Tabbed user interface means making multiple connections is a breeze.
Filename filters let users sort through for specific files quickly.
Support for HTTP/1.1, SOCKS5 and FTP proxy connections.
Has a network configuration wizard which is useful for new users.
With FileZilla, users can resume stopped downloads of large files (less than 4GB in size.)
Download – FileZilla
The FileZilla FTP client is the go-to app for many of those looking to connect to FTP servers. So, it's no surprise that every Linux distribution out there carries the app in their software repository.
To get FileZilla working on your Linux distribution, check Pkgs.org. It'll show you a list of package names for various operating systems. It'll also include instructions on how to get it working.
2. lftp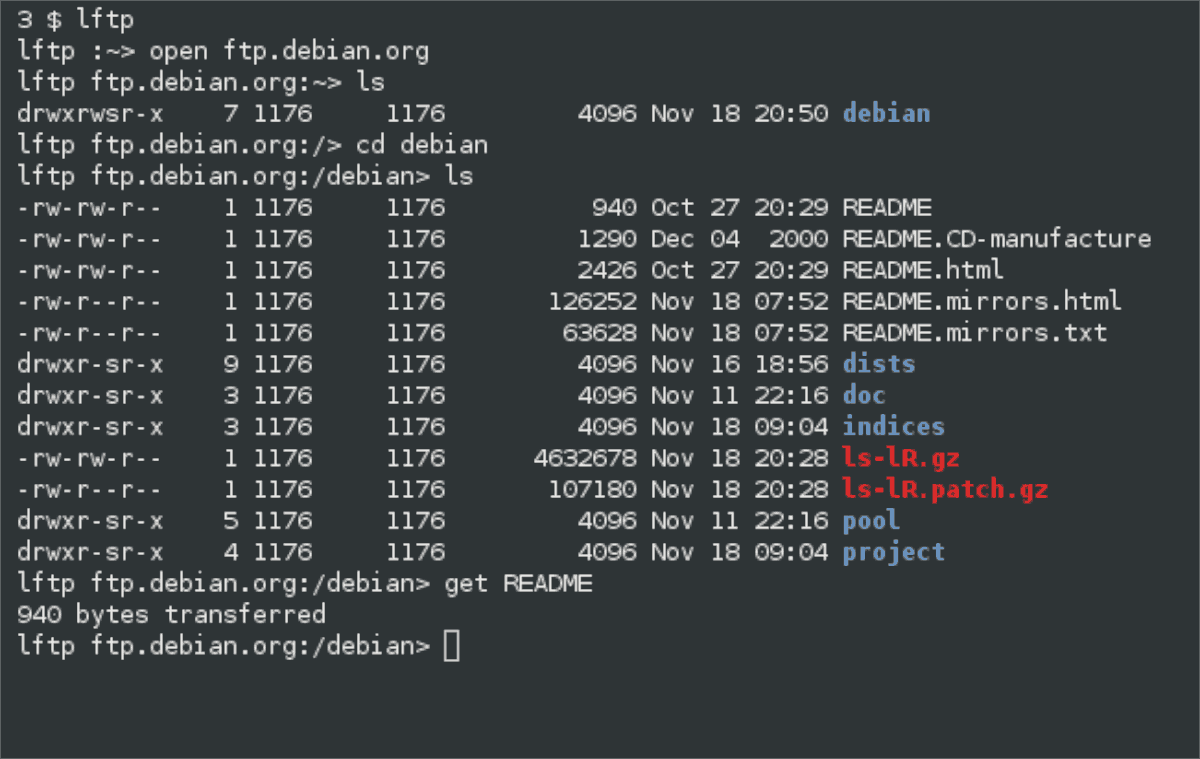 Lftp is an FTP application for Linux and Mac. It is free and open source, and runs in the command-line. It is highly versatile, is very configurable, and can transfer files from a variety of different protocols aside from FTP/SFTP, such as BitTorrent, HTTP, HTTPS, FTPS, HFTP, and fish.
A command-line FTP utility might seem a bit much for most Linux users (especially beginners,) but due to its insane ability to work with multiple file transfer protocols, it stands out from the rest!
Notable Features
Aside from transferring files over multiple FTP protocols, lftp can also be used to download BitTorrent files, HTTP/HTTPS and fish.
Partial support for WebDAV.
Lftp can automatically reconnect to lost connections to resume downloads.
SOCKS proxy and HTTP proxy support.
Bookmarking feature lets users keep track of FTP files and connections.
Lftp can connect out over IPv6 for FTP connections. It also supports IPv6 connections for HTTP as well.
Lftp is one of the most common command-line FTP tools for Linux. For this reason, it's easy to get the app up and running on nearly any  Linux operating system by just checking your package manager.
For more information on how to install Lftp, visit its page on Pkgs.org.
3. Nautilus File Manager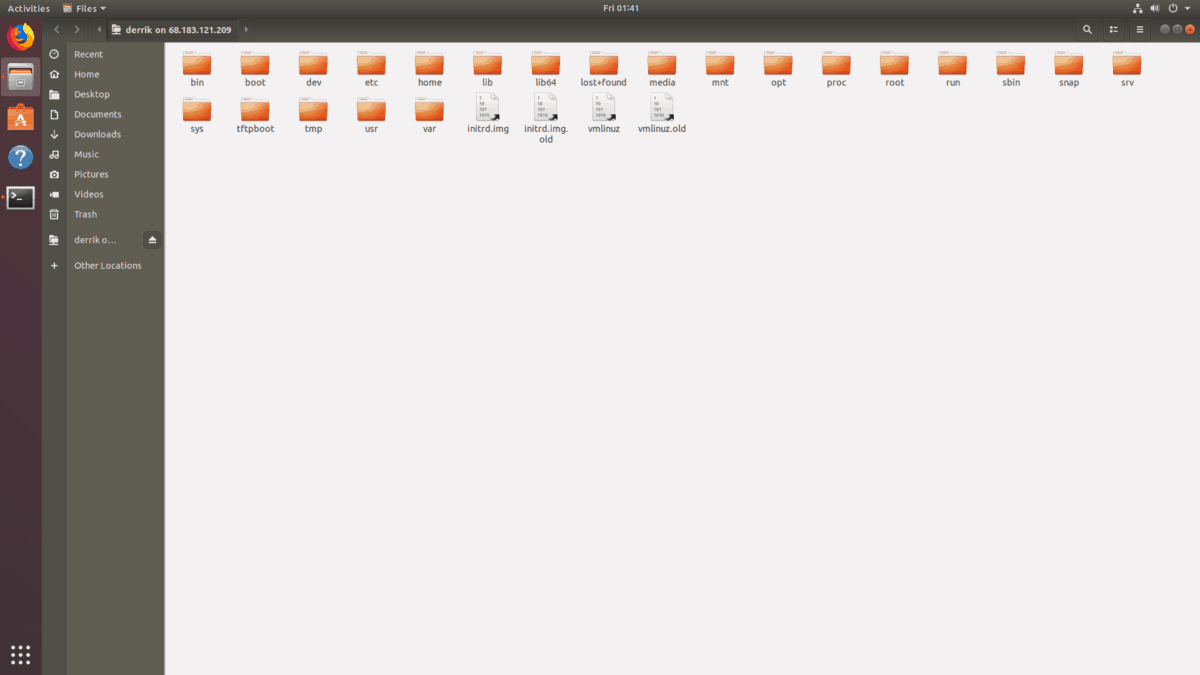 The Nautilus File Manager is the default file browser for the Gnome Shell desktop. It's slick, minimalist and modern. Though, despite the minimalist feel, the app has a ton of useful features, including the ability to connect to outside servers, like FTP, SMB, NFS, and many more.
Connecting over FTP is a rarity these days. So, if you're a Linux user and you want a good file manager that doubles as an occasional FTP client, give Nautilus a go!
Notable Features
Nautilus can connect over various FTP protocols within the file manager. It also can connect to other folders, such as Samba shares, Network File System servers, WebDAV, AppleTalk, and others.
Nautilus's bookmarking system means that users can save connections to FTP servers on the sidebar.
The "remember" feature in Nautilus lets users save FTP login credentials forever, to save time, rather than re-entering it over and over to gain access.
Download – Nautilus
There's no need to download Nautilus. Instead, just install the Gnome Shell desktop environment or one like Budgie which makes use of the file manager. Alternatively, switch to Fedora, Ubuntu or another Linux OS that uses Gnome as the default desktop.
For information on how to get your hands on Gnome Shell, check Gnome.org.
4. Dolphin File Manager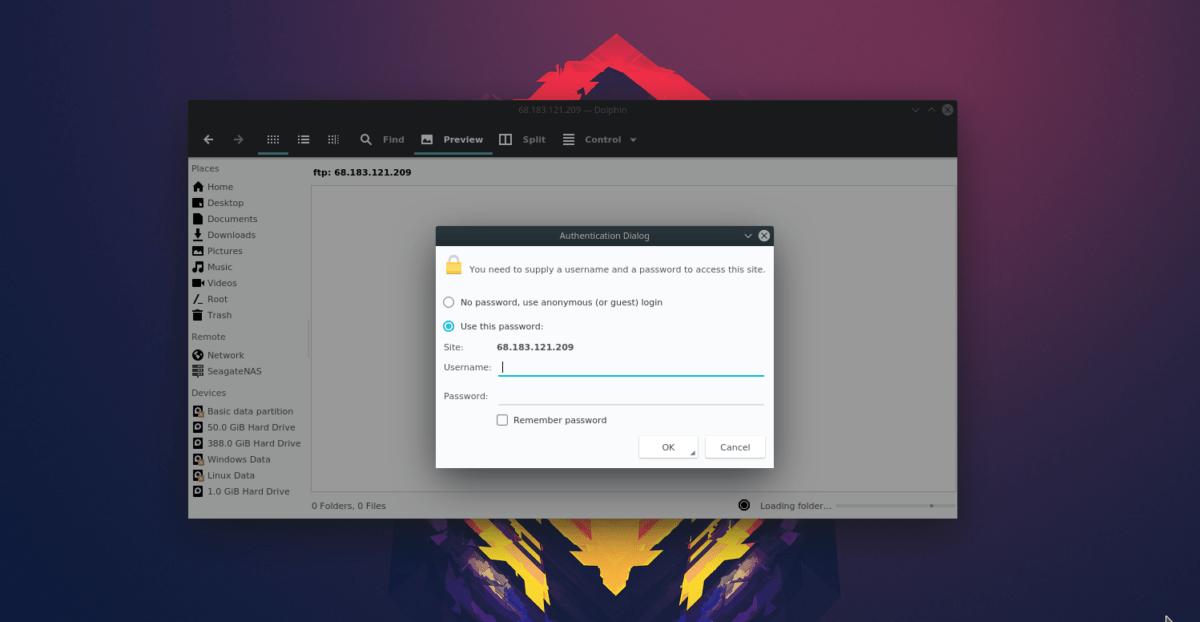 Dolphin File Manager is the default file management tool for the KDE Plasma 5 desktop environment. It's an excellent tool that is widely renowned for how advanced, and customizable it is.
Like all file managers, Dolphin can connect to outside servers, such as FTP (along with other file-transfer protocols). For this reason, it makes an excellent client for your FTP needs, especially if you're on the KDE Plasma 5 desktop.
Notable Features
Aside from support for FTP, the Dolphin file manager supports connections to other types of file servers, including Samba, Network File System servers, and many more.
Thanks to "places" in Dolphin, users can save remote FTP connections for later, rather than needing to re-enter IP addresses to connect again.
Download – Dolphin
Dolphin is the default file manager for the KDE Plasma 5 desktop, so there's no need to go to a special website to download it before you can start using it. Instead, download the KDE Plasma 5 desktop environment on your Linux PC. Or, switch to Kubuntu, KDE Neon or another Linux operating system that uses KDE Plasma 5 as the default desktop environment.
For more information on how to do this, visit KDE.org.
Conclusion
In 2019, FTP may seem dead, but it's still very much alive. It's still-used for downloading Linux OS images, program package files, and source code.
The Linux terminal can handle FTP file transfers and connections. Still, it's still a good idea to install a client like one of the tools on this list to accomplish more advanced operations.