The 8 Best Gnome Shell Themes
Aside from KDE Plasma 5, the Gnome Shell desktop environment is one of the most modern, and extensible desktop environments out there. Users can easily take the desktop, add extensions, and tweak it as much as possible. Additionally, Gnome Shell fans have the ability to theme the desktop. Unlike a lot of other desktop environments, the Gnome Shell has two themes that complement each other. As a result, a lot of Gnome theme developers work really hard to turn the shell into a complete, themed experience. Since Gnome Shell has so many themes In this list, we'll go over the 8 best Gnome Shell themes, where to get them, and how to use them!
1. Arc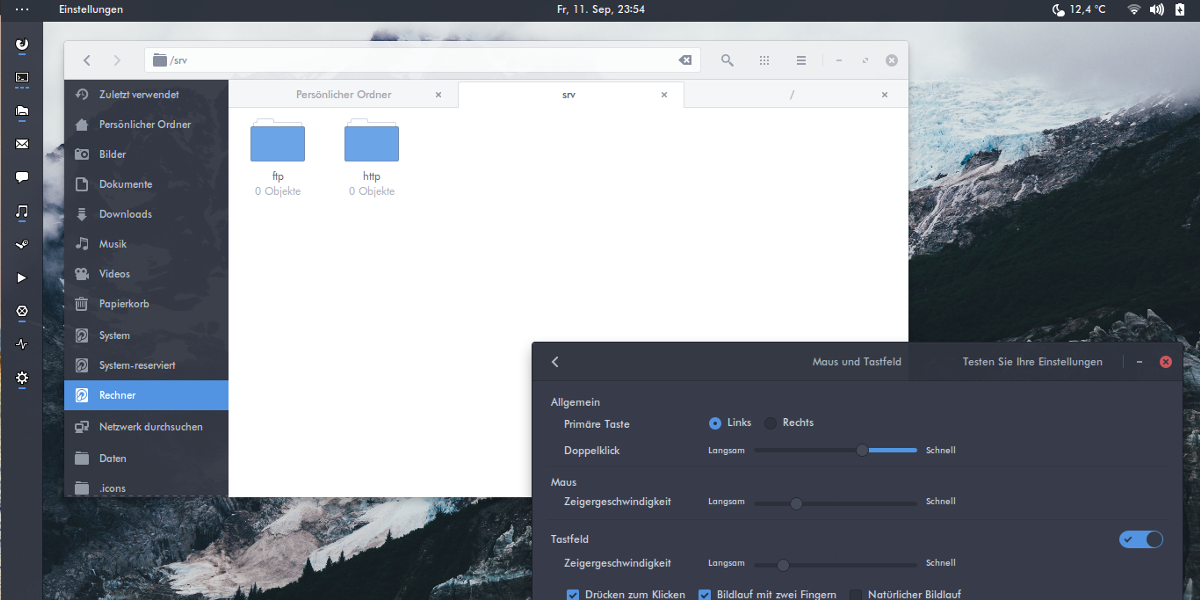 Gnome is known for its elegant, well designed GTK themes. Arc is, by far the best looking one in the bunch. From the neat circular window buttons, to the classy transparent paneling: the Arc theme has it all. Best of all, Arc is versatile. It comes with 3 distinct themes (Arc Dark, Arc Darker and Arc Darkest). Each of the themes are a subtle variation on Arc.
If you're looking to class up your Gnome or GTK3 compliant desktop environment, give this one a try.
2. Numix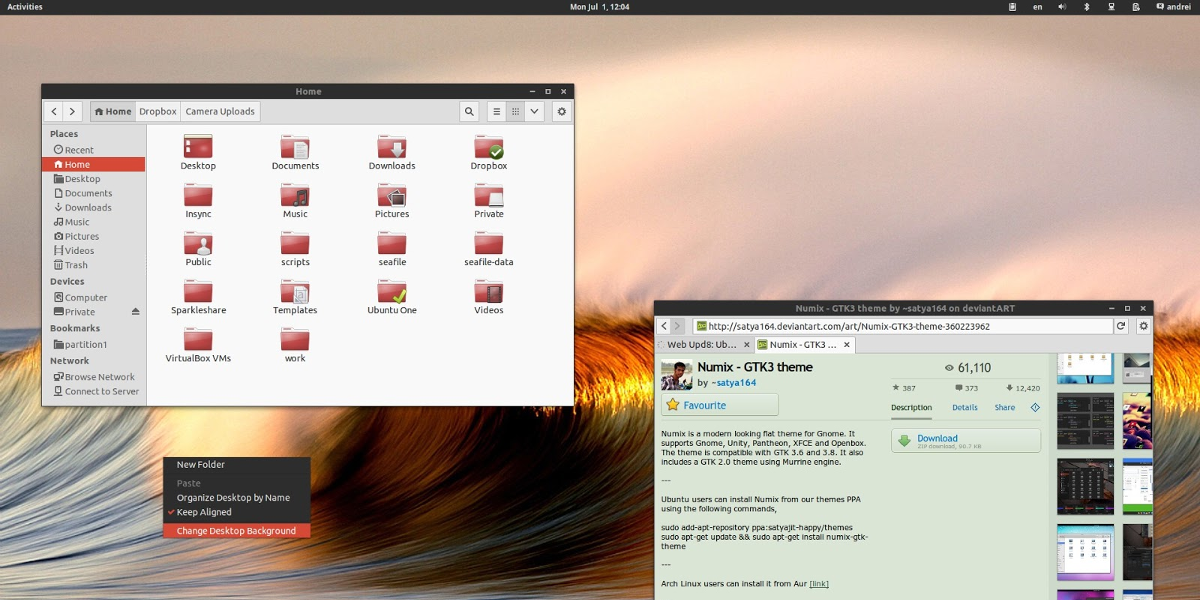 For those looking to find a decent, clean theme for Gnome Shell and GTK3, listen up. Introducing the Numix theme. It's a flat-style theme, that paired with a really clean, grey-orange color scheme makes for a really nice, modern setup.
3. Evopop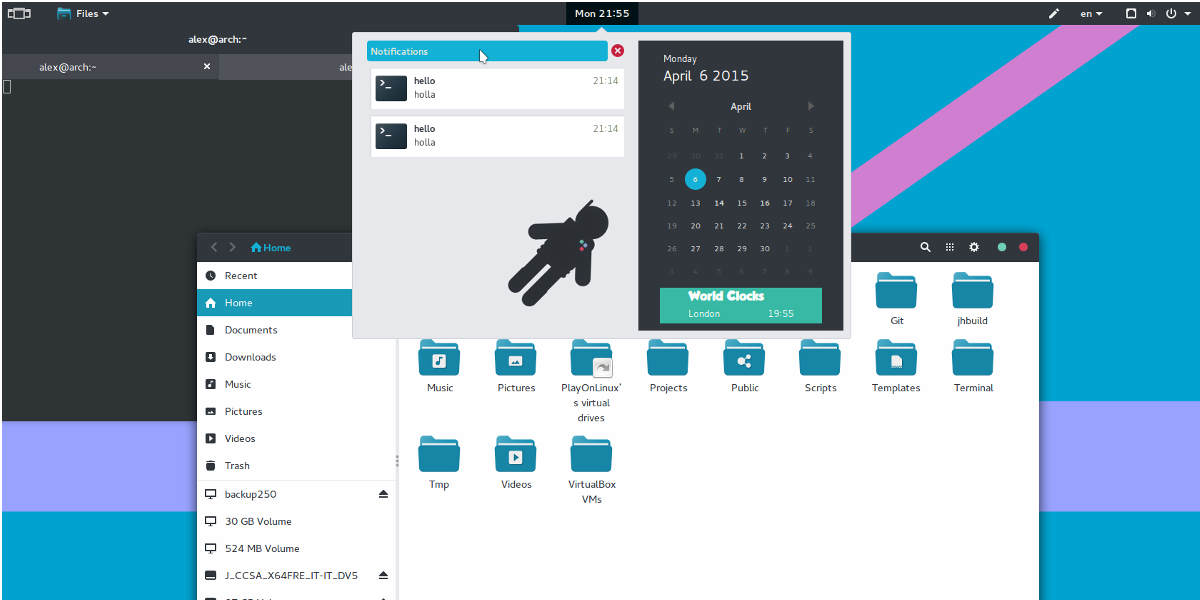 The Evopop theme was originally created for use with a small, relatively obscure Linux distribution known as Solus. As development went on, this theme was abandoned, in favor of working on another popular theme (Arc).
Despite this, Evopop still looks really great on modern GTK3 desktop environments. Overall, the design is that of a regular dark theme, with a twist.
4. Paper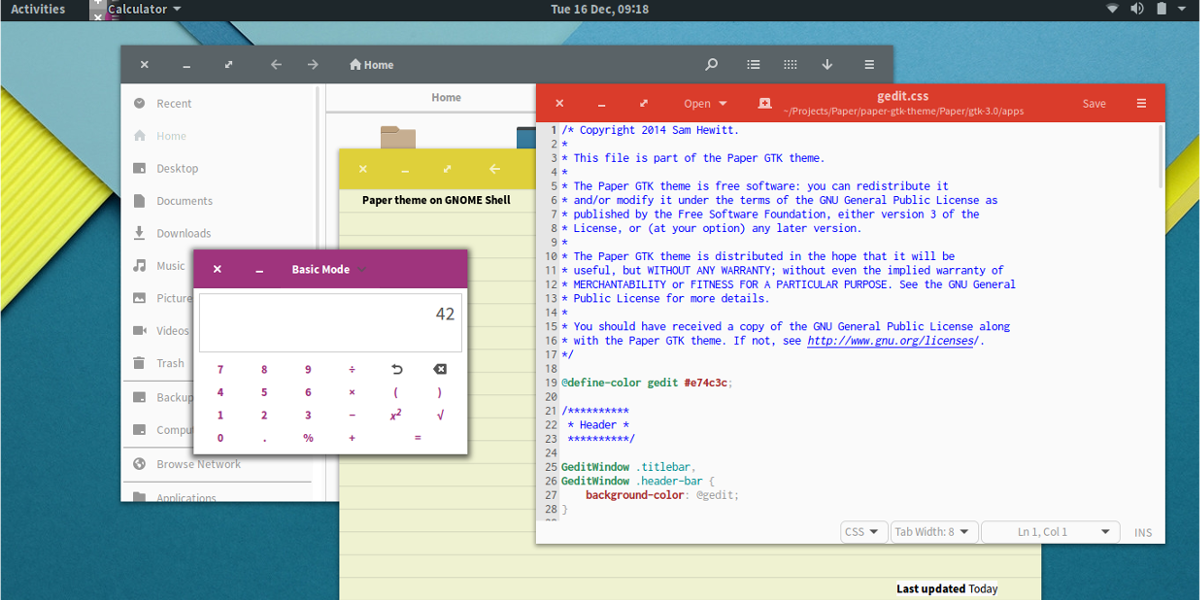 In 2014, Google revealed material design to the world and the entire design community lost their minds! As a result, everyone rushed to make cool, material design compliant thing. In everything from icons, to desktop themes, the internet exploded with UI elements that had the new material design.
In comes Paper: a comprehensive Gnome/GTK3 theme designed to follow the Google material design spec to a T. If you're looking to make your Linux desktop look like Chrome OS and Android, this is a solid theme to work with.
5. Unity 8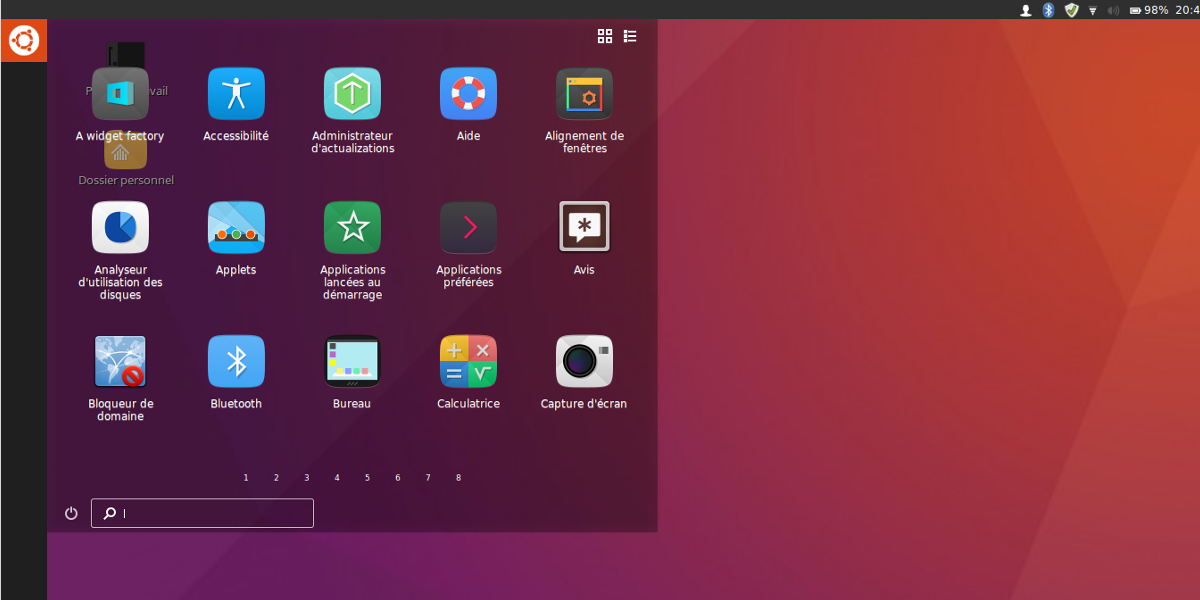 Ever since Ubuntu announced they'd dump the Unity desktop environment, users have taken it upon themselves to make the Gnome Shell desktop environment look like Canonical's Unity.
The Unity Gnome Shell theme is probably the best implementation of this. It takes the shell and adds a Unity 8 look to everything. If you're upset about the switch to Gnome Shell on Ubuntu, this theme may get you through the tough times ahead.
6. Gnome OSX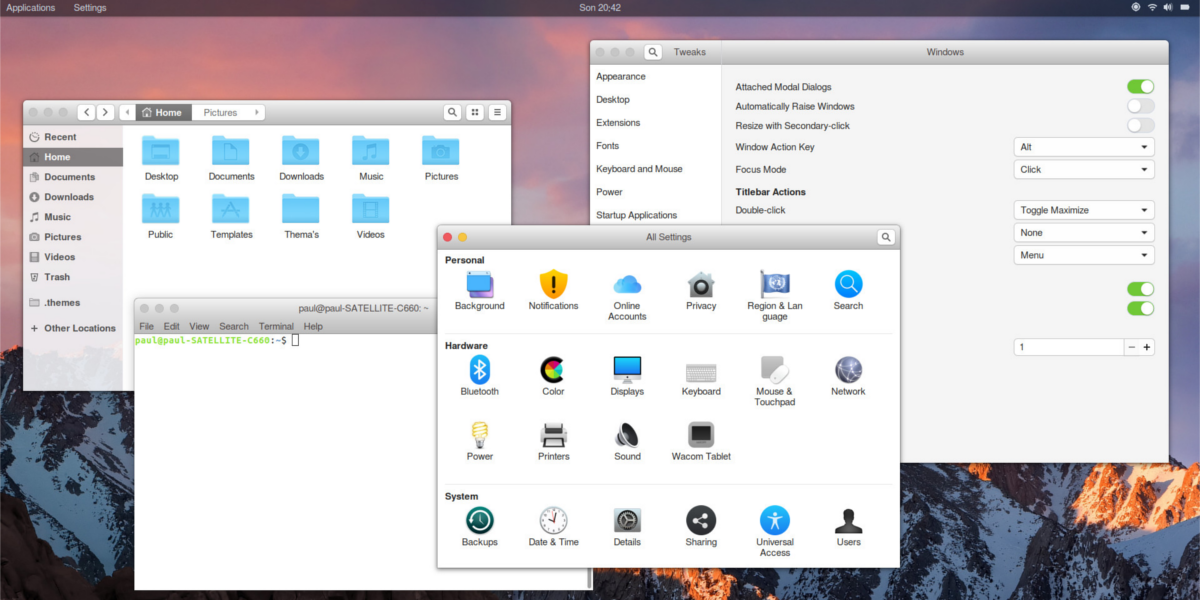 People love the look of macOS. It's understandable, as the Mac has a pretty good design standard, and often inspires the look of other operating systems.
If you've ever loved the way the Mac operating system looks, you may want to check out the Gnome OSX theme. With it, users can easily transform the stock Gnome Shell into something that looks more like macOS.
7. United GNOME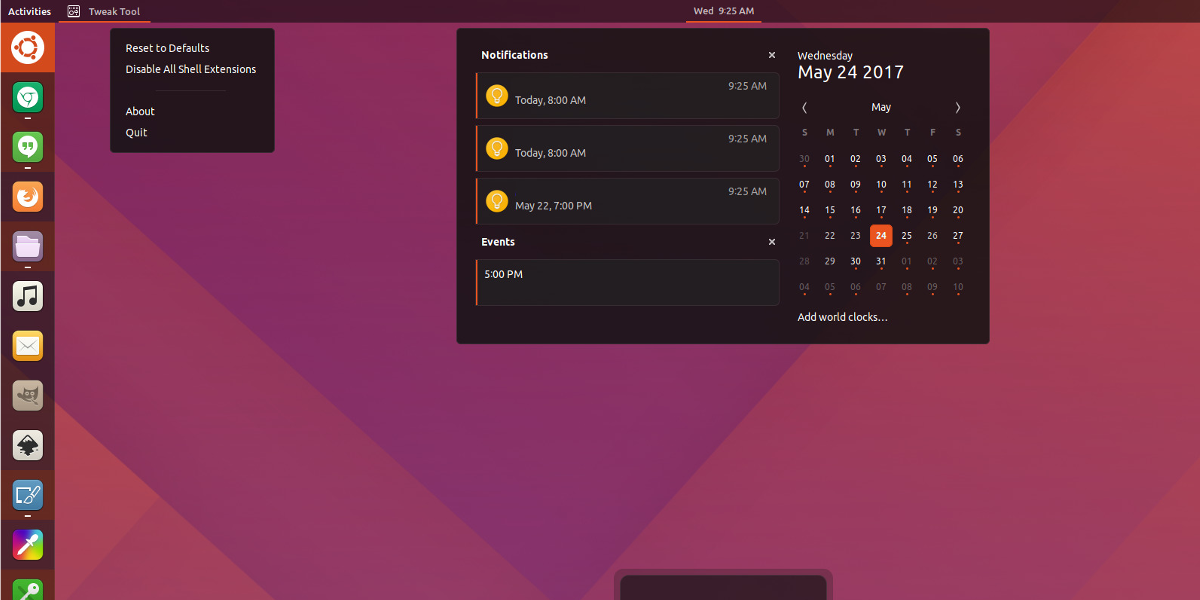 United Gnome is yet another attempt to take the Gnome Shell and make it look like the Unity desktop environment. Considering that this theme does pretty much exactly what #5 does, we won't go too far into detail.
With all that said, if you're looking for a solid Unity theme and you've tried the other one on this list and decided it's not good enough, give United Gnome a try!
8. Flatabulous Collection
A good flat theme can really set your Linux desktop free. Mostly because the designers of such themes tend to be really good at taking average desktop environments and making them look awesome!
Enter Flatabulous: it's a GTK3 theme that is designed to work with Gnome Shell, as well as Unity and all other Linux desktops that have embraced the latest version of GTK.
The Flatabulous collection offers a nice assortment of different colorful variations on the same dark theme. Colors include blue, dark blue, mint green, dark mint green, a numix spin, orange, dark orange, red dark red, as well as several "new" themes too.
If you're looking for a great theme pack with tons of different color accents to choose from, and love the flat style, the Flatabulous theme pack is worth checking out!
Confused on how to install any of the themes on this list? Be sure to read the instructions in detail on each of the download pages. The developers outline exactly how to install them.
To find more Gnome Shell and GTK3 themes, go to Gnome-look.org!
Conclusion
The Gnome Desktop is the undisputed favorite in the Linux world. Pretty much every project has embraced it. Some have even abandoned their own projects to start using the Gnome Shell. Unfortunately, even though most Linux projects make heavy use of the Gnome Shell, almost none of them make use of themes. That's why it's so great to see so many great Gnome shell themes available that fans can run on their Linux PC's. Hopefully soon these themes will be more than aftermarket themes.