The 5 Best Torrent Clients For Linux
Torrenting is a very controversial term these days. People automatically take it to mean downloading copyright protected content illegally. The reality is that the torrent protocol is an incredibly fast and easy way to transmit files from one place to another. This is why a lot of Linux projects distribute operating systems with torrents: it saves them bandwidth. IT professionals have also been known to transfer massive amounts of data across networks with torrents. All of this is made possible with a good torrent client. Trouble is, many Linux users aren't sure what torrent client to use. As a result, many end up using the default client that comes with their Linux distribution, and never get around to trying out other great clients with excellent features! That's why in this article, we're going to go over the 5 best torrent clients for Linux. We'll go over their features, what client is best for whom and everything else in between!
1. Qbittorrent
Qbittorrent is a torrent client that aims to be the "open source alternative to uTorrent". While we can't exactly say that it's a complete replacement for uTorrent, it certainly is a pretty great app, and there are a lot of features to love. Like most torrent clients out there, it has support for things like RSS (which is good for torrents that update weekly), support for adding torrents via links, a robust torrent creation tool, support for magnet links, and even a built in search engine.
The search feature is great. With it, users can find torrents from just about anywhere on the internet. Additionally, Qbittorrent has some seriously powerful security settings, such as: support for private torrents, the ability to force encryption while downloading, IP filter support, and more. By definition, all torrent clients basically do the same thing. That said, if what you want is something that looks and acts similar to uTorrent on Linux, download qBittorrent!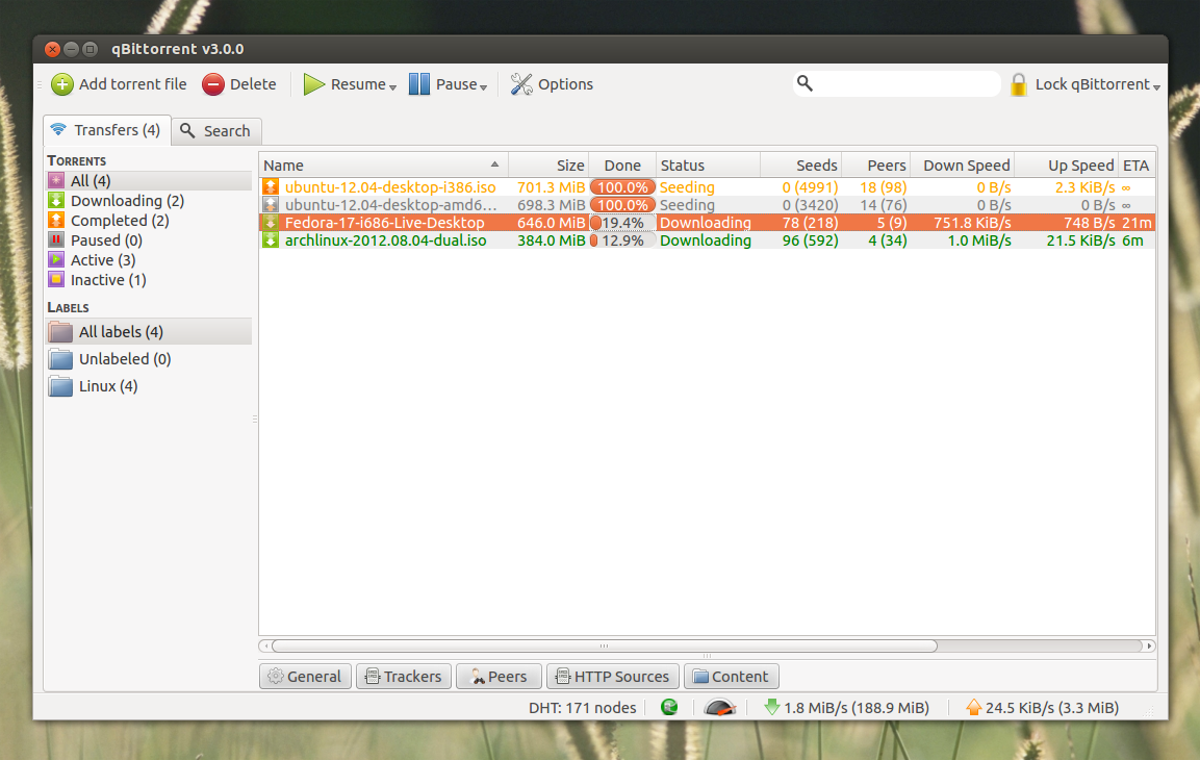 2. Transmission
Transmission is the default torrent client on most Linux distributions out there. It supports most torrent client features many would expect, but it comes in a lightweight package.
In addition to it's lightweight package, it's got a lot of neat features like a built in torrent server that allows users to run transmission remotely, over the internet, support for IP blocklists, local peer discovery, full encryption while downloading, magnet link support, as well as support for both GTK and QT.
3. Deluge
Deluge is a light, cross-platform torrent client. It is fully open source, and is licensed under the GNU GPLv3+ software license. In addition to this, the developers claim that it follows all of the freedesktop standards, to ensure that the client works well on all Linux desktop environments.
Deluge is a GTK application, which means it runs best in GTK- based desktop environments. It also has a web-browser mode that enables users to set up a remote server that can then be accessible via a web browser. Features for the Deluge torrent client include: support for web seeds, per-torrent speed settings, UPnP support, proxy support, encryption, and other features common with most desktop Linux torrent clients.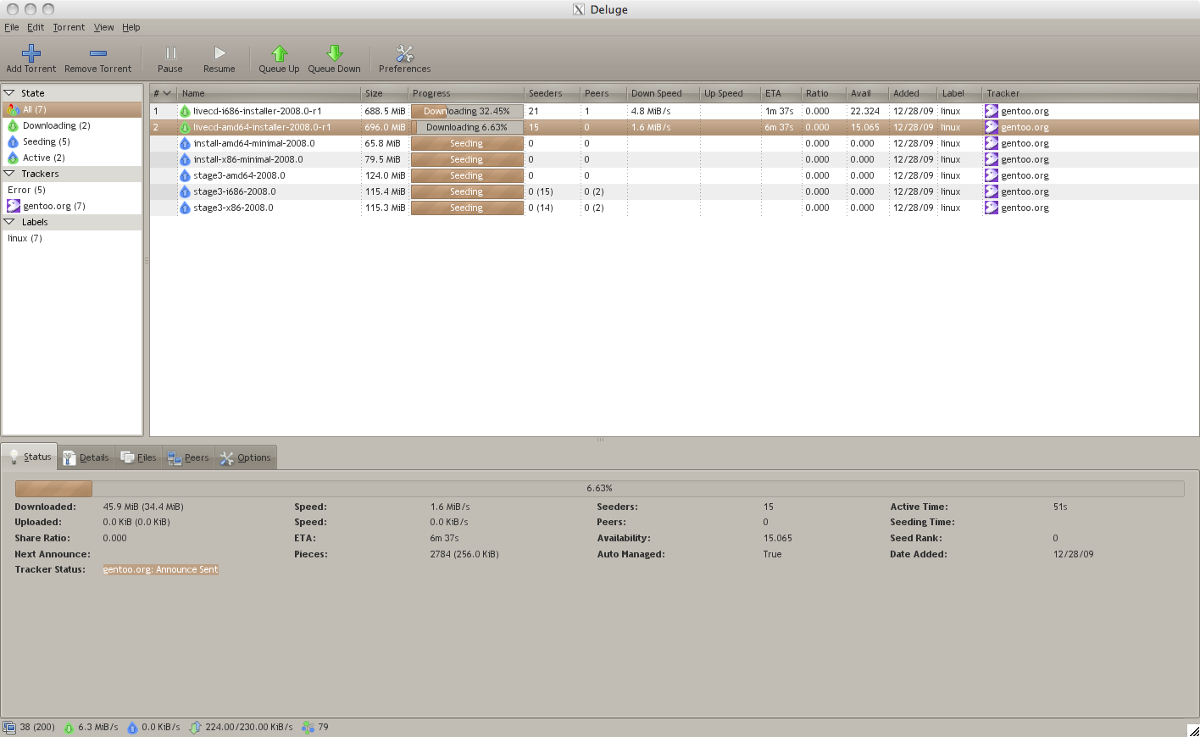 4. rTorrent
rTorrent is a command-line based torrent client for Linux. It works much like a lot of desktop torrent clients, except everything is in terminal. The client itself has support for features users come to expect, eg: encryption, UPnP, torrent creation and etc.
Much like a lot of GUI based tools, the rTorrent client has support for "background mode", which allows users to leave the client running at all times, and control it remotely. This also enables users to save individual sessions. If you're constantly in the command line on Linux, do yourself a favor and try out rTorrent. It might be just the client you need for your workflow.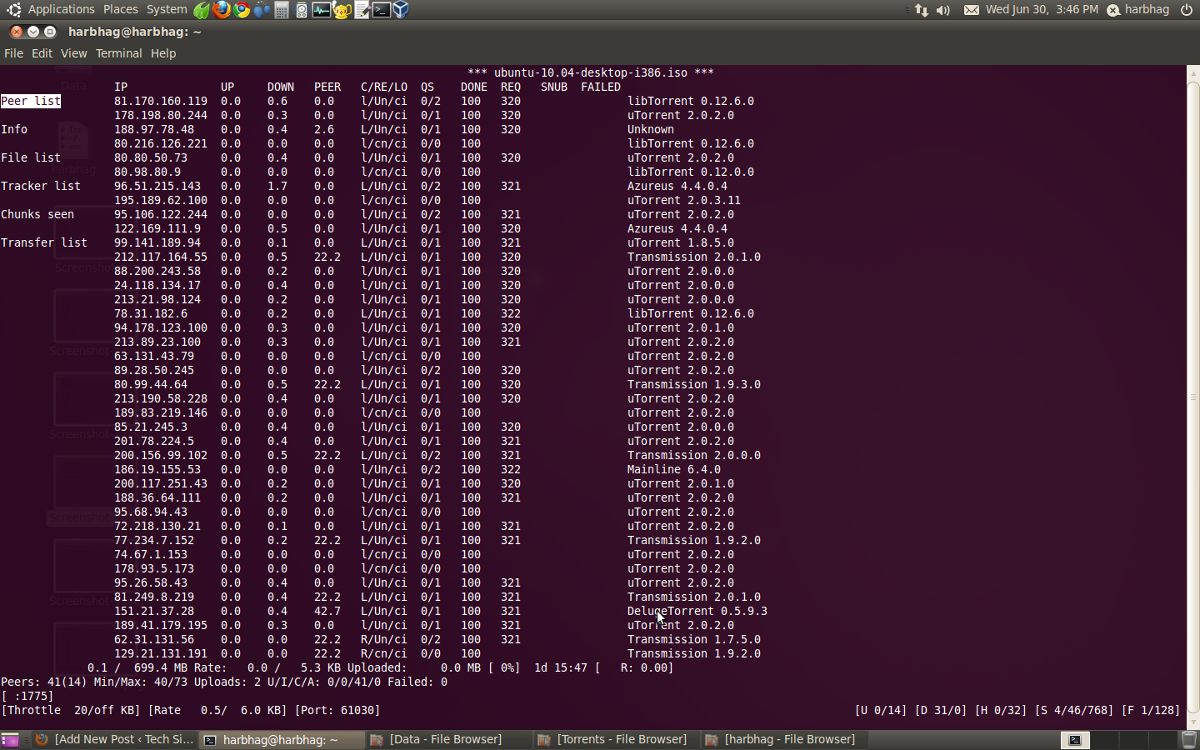 5. KTorrent
Ktorrent is the official torrent client of the KDE Plasma desktop. The look of the program itself is reminiscent of many torrent clients already on this list. KTorrent has a lot of the same features, like: global torrent/per torrent speed settings, IP filter settings, support for private trackers and torrents, uTorrent peer exchange support, UPnP support, encryption, etc.
This torrent client is nothing special in a lot of ways. It looks like all the others on the list, and acts like them too. That said, it is not a bad app by any means. If you're a KDE Plasma fan, do try out KTorrent. It'll integrate seamlessly into the Plasma workflow, and meet your torrent needs very, very well.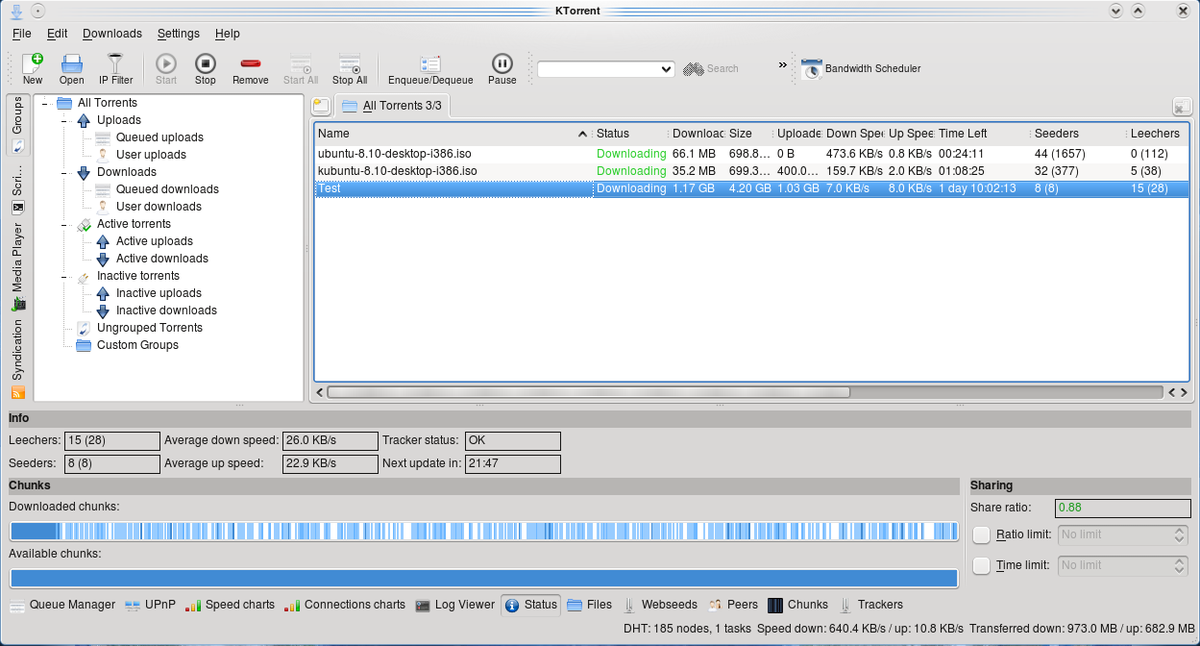 Conclusion
Suffice it to say, there are legal ways of using torrents, especially when it comes to Linux. Though, because Torrenting has a very bad reputation, not many people talk about it. This means that nobody really knows what the best torrent client is on Linux. Hopefully this list enlightens those that were unaware of other great torrent clients for Linux.