How to upgrade to Fedora 35
Fedora 35 is here! With this new exciting release, the Fedora project has included tons of new features, including the latest Gnome Shell desktop, an updated FirewallD, gcc 11, glibc 2.34, binutils 2.37, and gdb 10.2, and much more. Here's how you can upgrade to Fedora 35 on your computer.
Note: Before attempting to upgrade to Fedora 35, please make a backup of your data. While Fedora's upgrade is considered safe, a backup is always a good idea.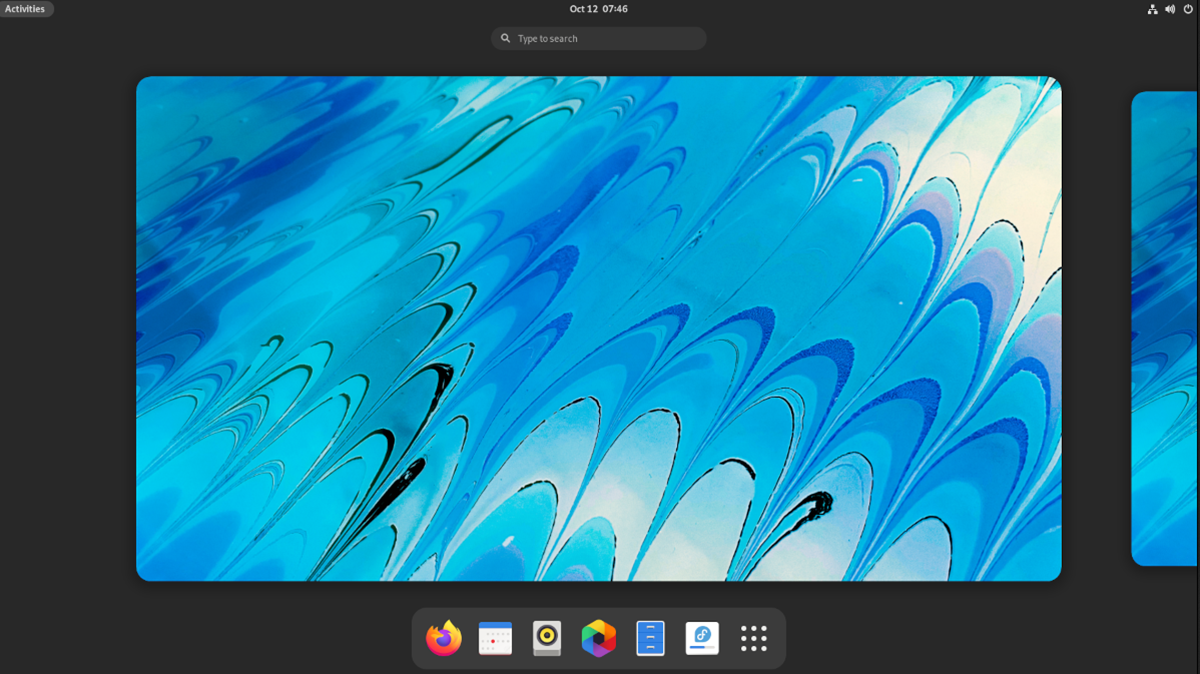 Download Fedora 35 to try it fresh
Those not interested in upgrading straight from Fedora 34 to 35 can get the latest Fedora 35 ISO to install it fresh. To get going with the latest Fedora, do the following to get your hands on a copy of the OS.
First, head over to the official Fedora website. Once on the website, scroll down to "Fedora WORKSTATION" and click on the "Download Now" button. After selecting this button, find the "x86_64" section. Then, download "Fedora 35: x86_64 DVD ISO". This ISO will work on a majority of 64-bit computers.
If you use ARM computers rather than x86_64, you'll need to choose the "aarch64" option. This ISO is compatible with ARM computers. Be sure also to download the Etcher application to flash it to a USB.
Upgrade to Fedora 35 – Gnome Software
The primary way to upgrade to Fedora 35 from Fedora 34 is via Gnome Software. This tool, included in the Gnome release of Fedora, is an app store. This app store makes it very easy to upgrade.
To start the upgrade process, launch the Gnome Software application on the desktop. When you've opened it, you will see a banner that says "Fedora 35 Now Available." Next, select the "Download" button to download the updated packages to your computer.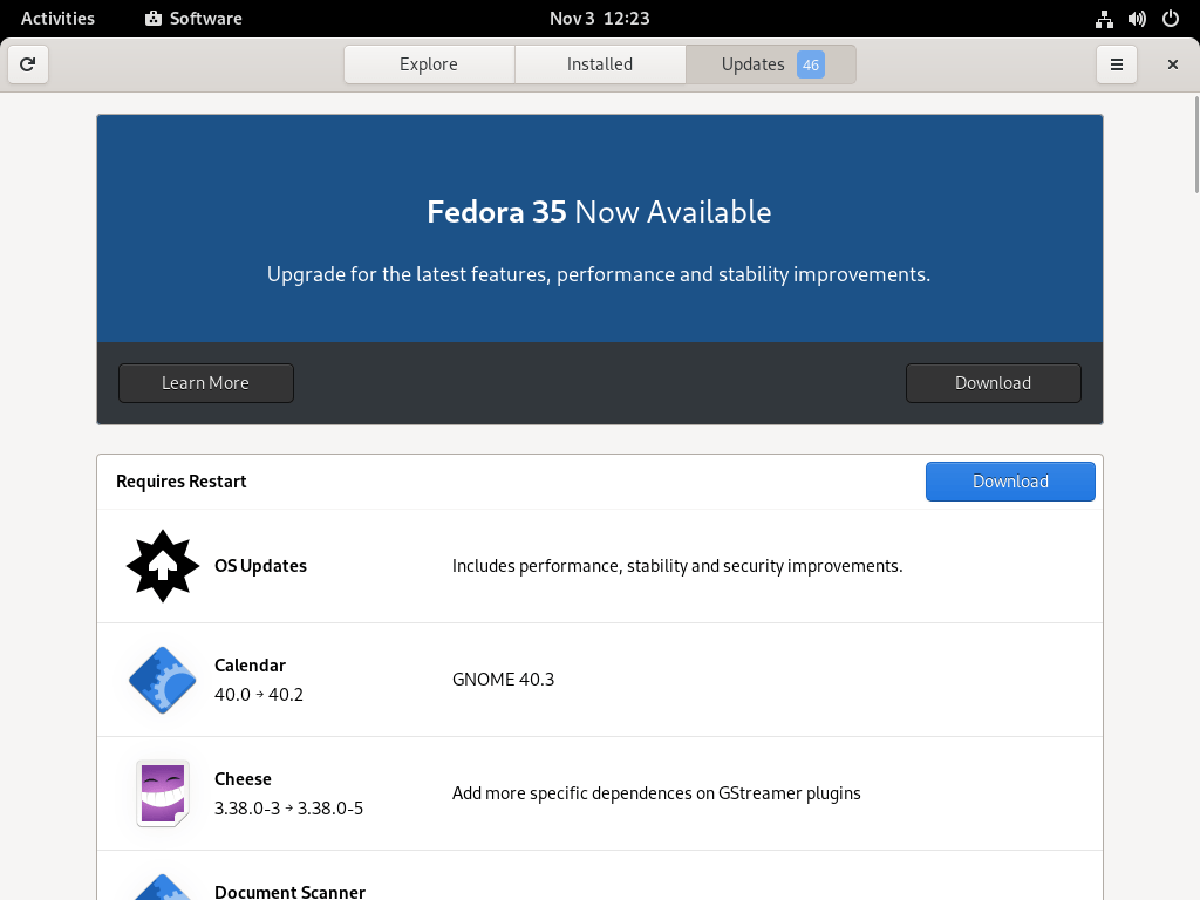 The Fedora 35 upgrade will take some time as there is a lot of packages to upgrade. So sit patiently, and allow Gnome Software to download what it needs. Don't power off your computer or stop the download.
When the download process is complete, Gnome Software will tell you, "Fedora 35 is ready to be installed." Select the "Install" button to start the upgrade process. Once you've selected this button, Gnome Software will let you know that you must reboot your computer to install the upgrades.
Allow Fedora to reboot your system. Once rebooted, you'll see a screen showing you that the upgrades are being installed. Sit patiently, and allow the upgrades to install. When it is complete, your computer will reboot a second time.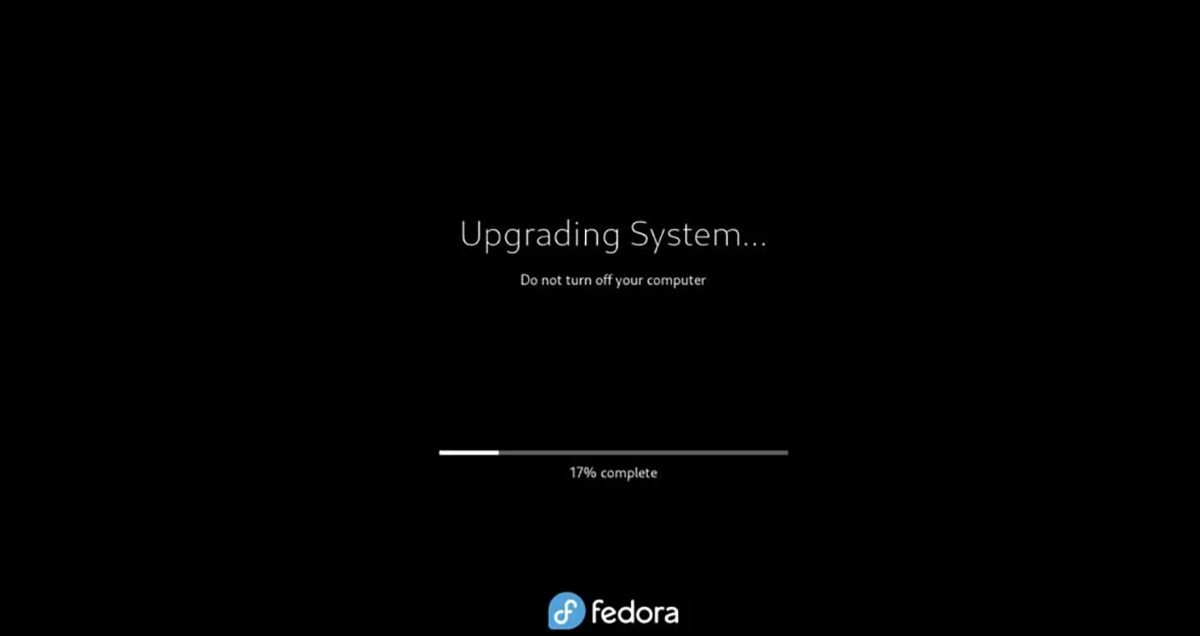 After rebooting a second time, you'll be at the login screen. From here, enter your password and log in to use Fedora 35! Enjoy!
Upgrade to Fedora 35 – Terminal
In addition to upgrading to Fedora 35 through Gnome Software, you'll also be able to do it through the command line. Upgrading through the command line is possible and easy to do.
Generally, upgrading through the command-line in Fedora should only be done if you're using an alternative flavor of Fedora that doesn't have Gnome Software. To start the process, open up a terminal window on the Linux desktop.
You can open up a terminal window in Fedora by pressing Ctrl + Alt + T on the keyboard. Or, open up the app menu and search for "Terminal," and launch it that way.
With the terminal window open, you will need to update Fedora 34's existing packages. To upgrade to the latest packages on Fedora 34, run the dnf update command.
sudo dnf update
Following updating your packages, you will need to install the "dnf-plugin-system-upgrade" tool. This program helps you upgrade Fedora 34 to Fedora 35, so it is a necessity. Install it on your computer using the dnf install command down below.
sudo dnf install dnf-plugin-system-upgrade
After installing the upgrade tool to your computer, the upgrade can begin. Use the sudo dnf system-upgrade download command to download the Fedora 35 packages to your computer. This download process will take a bit of time to complete.
sudo dnf system-upgrade download --releasever=35
With the upgrades downloaded, you will be able to start upgrading Fedora 34 to Fedora 35. Using the dnf system-upgrade reboot command, reboot your Fedora Linux system.
Upon rebooting, Fedora will begin installing all of the Fedora 35 upgrades you previously downloaded to your computer. This upgrade process will take a bit of time as there are a lot of packages to go through. So sit back and be patient to allow your system to install all the necessary packages.
When the packages are fully installed on your Fedora system, it should reboot a second time. This reboot should be fast. When the reboot is completed, you'll be presented with your login screen.
Log into your Fedora user using the login manager. When you've successfully logged in, you'll see the Gnome 41 desktop running on Fedora 35. Enjoy!