How to sync Firefox with the Gnome web browser
Gnome's browser (called Web) is an excellent little open-source browser that ships as the default browser of choice for Gnome Shell. It's very quick and slimmed down compared to a lot of other modern web browsers available in the mainstream for Linux users (like Google Chrome, Firefox, Vivaldi, etc.). Web has quite a few useful features, all of which are listed here. By far one of the best features it has is the ability for Web to access Firefox Sync data, allowing users to keep data in Web and the Firefox browser in sync.
Setting up Firefox sync in Web is a pretty straightforward process. To sync with your account, start by opening up the browser. You can launch it by pressing Win and searching for "Web."
Note: don't already have the Gnome Web browser set up on your Linux PC. Don't worry! Just head over to this page here to learn how to get Gnome Web working on your Linux system.
Access sync settings for Web
Once Gnome Web is open, you'll see a page that says "Welcome to Web." Don't worry about the start page for now. Open up the settings menu. The settings menu is located next to the minimize button in the right-hand section of the window.
Inside of the Gnome Web settings menu, you'll need to make your way to the "preferences" option, and select it to access Web's browser preferences.
In the "preferences" window that pops up, there are several different options to choose from. Look through these different choices for "Sync" and click it with the mouse to access the syncing settings for the Gnome Web browser on your Linux PC.
In the syncing settings, you'll see a page that says "Firefox Sync," Followed by "Sign in with your Firefox sync account to sync your data with Web and Firefox on other computers." Using the UI, enter both your email and password for the account that you use to sign in to the Mozilla Firefox sync system.
Note: syncing bookmarks with Firefox Sync on Gnome Web requires a Firefox account. If you do not already have a Firefox account, click here to create one.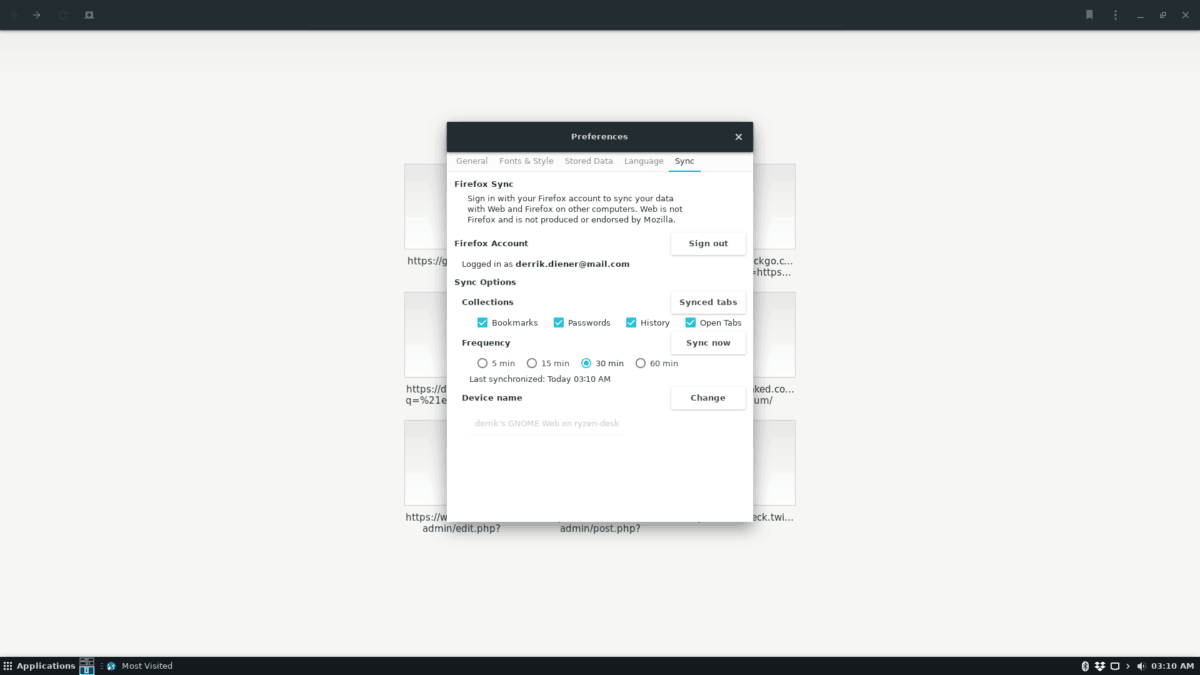 After entering your account details, click the blue "Sign in" button to log into the system. Once the button is clicked, a message on the screen that says "Confirm this sign-in" will show up. Log into your email account to confirm that Web can have access to your Firefox sync data.
Syncing options
Signing into Firefox Sync in Gnome Web will not automatically download all of your data. By default, nothing will happen. Instead, you must manually choose the options you want to sync. These options are "Bookmarks," "Passwords," "History," and "Open Tabs."
Bookmark sync
To sync your Firefox bookmarks with Gnome Web, check the "Bookmarks" box, followed by the "Sync Now" button.
Password sync
To sync your Firefox Passwords with Gnome Web, select the "Passwords" box, followed by the "Sync Now" button.
History sync
To sync browser history with Gnome Web, choose the "History" box, then select "Sync Now."
Tab sync
To sync your tabs between Firefox and Gnome Web, select the "tabs" box, and select the "Sync Now" button.
Access your Firefox data in Web
Accessing Firefox data within Gnome Web is very simple, due to Gnome Web's simple user interface. If you want to access any of the data you've synced, follow the instructions below.
Bookmarks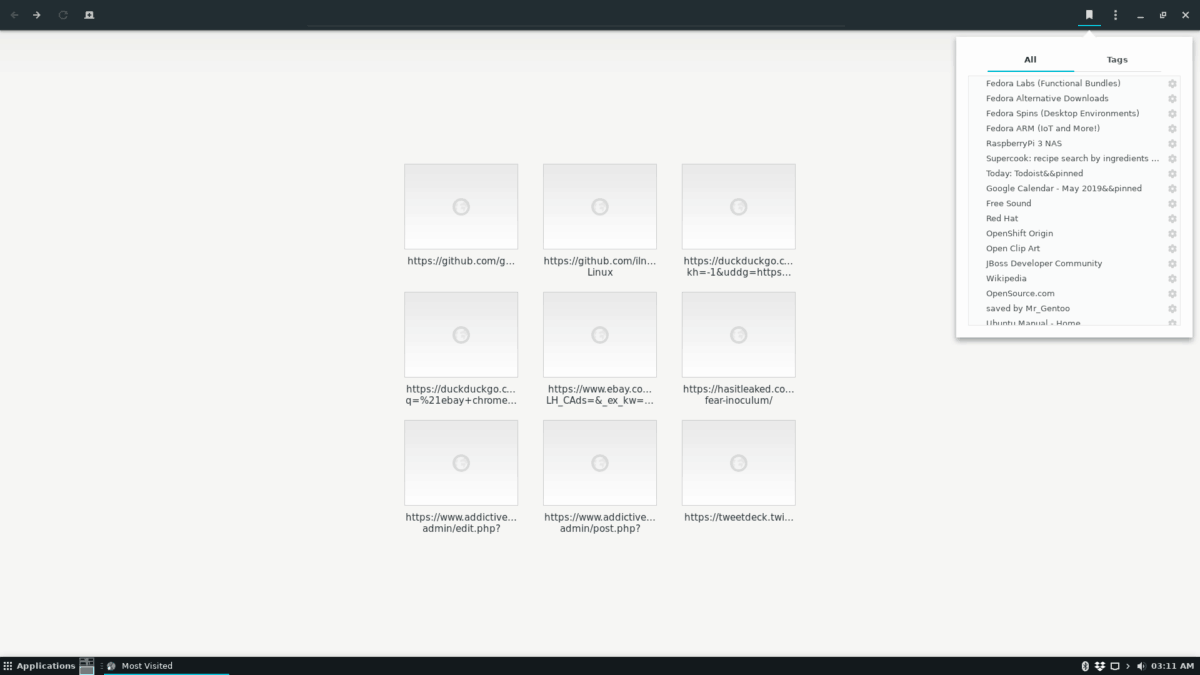 To get to the Firefox bookmarks synced to Gnome Web, look for the "Ribbon" button and select it with the mouse. After clicking the "Ribbon" button, a pop-up menu will appear, containing all of your browser bookmarks, including Firefox ones.
Passwords
Need to gain access to Firefox passwords synced with Gnome Web? Here's how to do it. First, open up the settings menu next to the minimize button. Then, click on the "Preferences" button to access Web's browser settings.
Inside of the "Preferences" area, find "Stored Data." In "Stored Data," find "Passwords" and click on "Manage Passwords" to view passwords synced by Firefox, and others.
History/Tabs
Synced Firefox browser history and tabs can be accessed in Gnome Web by pressing Ctrl + H on the keyboard. Alternatively, browser history is accessible by clicking the settings menu, followed by "History."
Import bookmarks from other browsers to Gnome Web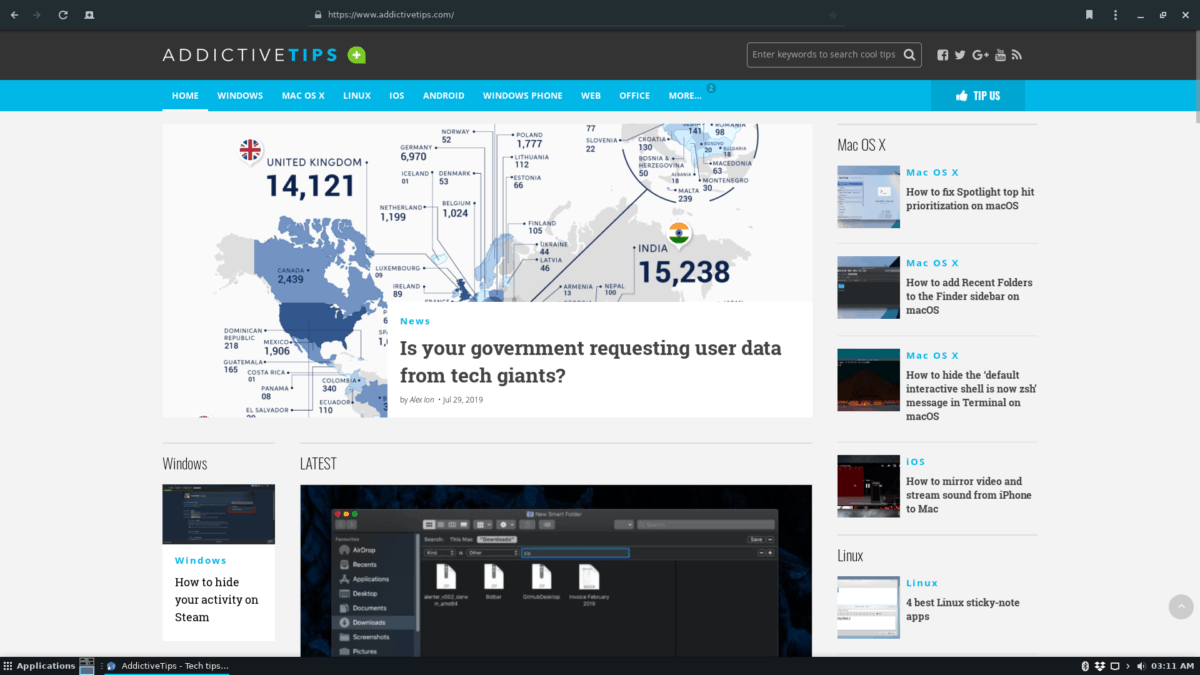 Not a Firefox user? Still, want to add import browser bookmarks into the Gnome Web browser? Here's how to do it. First, open up the "Web" settings menu. From there, find the "Import Bookmarks" button and select it to import an HTML bookmark list into Web manually.
Once the bookmarks are imported, they'll be accessible in Web's bookmarks area, which you can quickly access by clicking on the "Ribbon" button.