We are reader supported and may earn a commission when you buy through links on our site.
Learn more
Best VPN for Omegle: How to Get Omegle Unblocked
Stumped trying to unban your Omegle account? Today, we'll show you how to unblock a wrongful ban in just a few minutes. Follow our recommendations of the best VPN to unblock Omegle in the guide below, and get back to chatting today.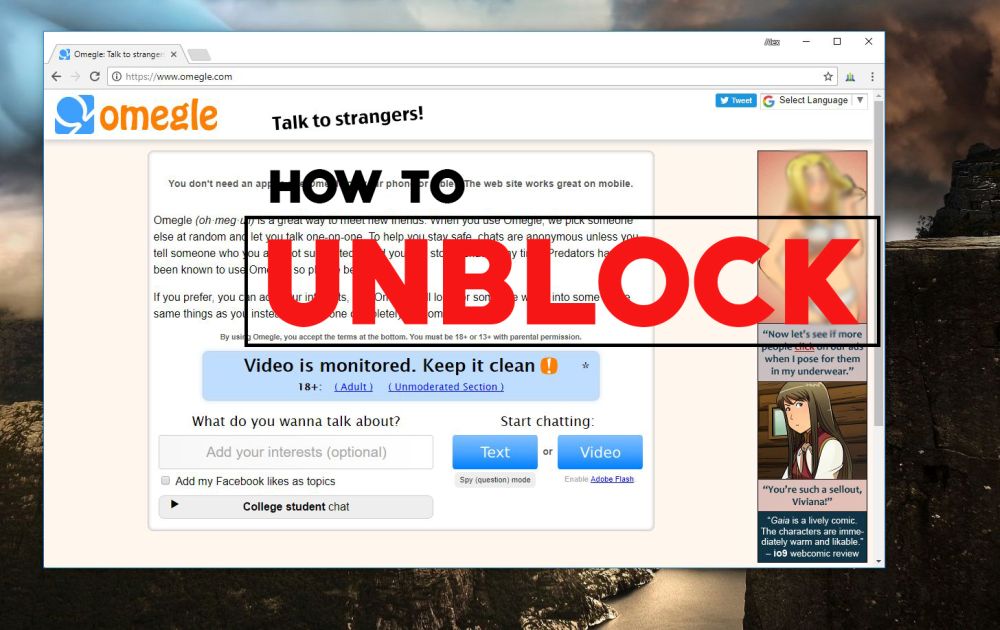 Omegle is the free online chat service that pairs random groups of strangers and encourages them to have a conversation. Users can text, voice, or video chat through their computer or mobile device, all without having to sign up or register. The concept was a massive hit when it was introduced in 2009, and since then Omegle has gained hundreds of thousands of active daily users from around the world.
Omegle bans can happen for a variety of reasons, only some of which are spelled out in the company's terms of service document. Not all bans are legitimate or fair, especially when they're a result of the service's hit-or-miss automated moderation software. Furthermore, Omegle doesn't offer a reliable channel to contest bans, which has led many users to look for ways around it. Fortunately, it's easy enough to get unbanned from Omegle and bypass the IP address block. All you have to do is use a VPN.
How to Get the Best VPN to Unblock Omegle
Omegle bans can last anywhere from a few hours to over 120 days. If you find yourself blocked from the site, don't worry, there's still hope! VPNs provide a fast and easy way to bypass Omegle blocks so you can keep chatting with strangers. It all comes down to two main features: encryption and location variability.
Most Omegle bans are based on IP addresses, a unique set of numbers you're assigned each time you connect to the internet. With a VPN in place you can change your IP address at any time, which renders the Omegle block useless. VPNs also encrypt the traffic you send, creating a private, anonymous tunnel between your computer and the internet. Not only can you instantly restore access to Omegle, but you can also use it with increased security.
VPN Specs To Take Into Consideration
Picking the best VPN for Omegle can seem like an impossible task. There are so many factors to take into consideration, including encryption strength, network distribution, privacy protocols, and so much more. We've made the process easier by collecting some of our recommended VPNs to use with Omegle. All of these were selected based on the criteria below, ensuring you'll be able to unban Omegle and use the internet with complete privacy and security.
Server network – The more servers a VPN operates, the more choices you'll have for non-local IPs. If you frequently encounter Omegle bans, go with a VPN that has the largest network of servers.
Logging policy – Your online privacy hinges on a VPN's logging practices. If the service keeps detailed records of your traffic, IP address access, or DNS requests, that data could fall into a third party's hands. To remain as anonymous as possible, make sure your VPN has a strict zero-logging policy in place.
Device compatibility – Omegle works with a wide variety of devices, including smartphones and tablets. To unban the service and chat freely you'll need to run your VPN on the same device, which means custom software for as many platforms as possible.
Speed – Video chat can eat up a lot of bandwidth, even on low-quality Omegle interactions. To ensure your conversation isn't a mess of buffering interruptions, go with a VPN that puts a high priority on speed.
Bandwidth restrictions – It's surprisingly common for VPN services to put caps on speed, enact bandwidth limits, or even block P2P networks and torrent traffic. To keep your internet access open and free, always pick a VPN that doesn't monitor or restrict traffic in any form.
Our Top VPN Picks For Omegle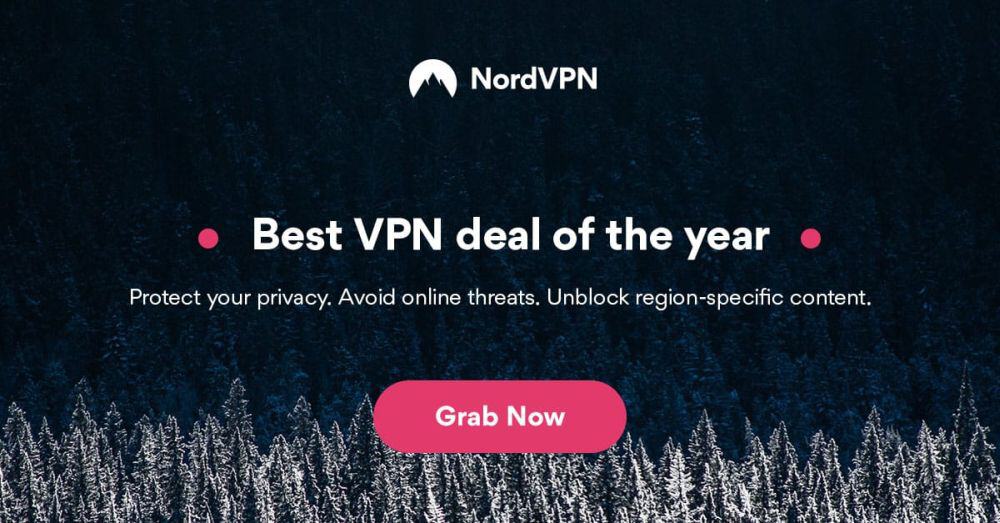 NordVPN has several features that make it the best overall VPN, but the biggest one is its large network of servers, which is extremely useful for unbanning Omegle. NordVPN has over 5000+ servers located in 60 different countries, and that list is constantly changing as new nodes are being added. This gives you an incredible amount of flexibility when it comes to choosing a new IP address in a new location. It also ensures you always have a fast connection no matter where you live, work, or travel.
NordVPN secures all traffic with 256-bit AES encryption. Select servers use an astounding 2048-bit protocol, which is so powerful not even a supercomputer could break it. Behind the scenes, NordVPN has one of the best zero-logging policies in the entire VPN industry, covering everything from traffic to time stamps, bandwidth logs, and even IP addresses. With NordVPN you always get a fast connection and amazing online privacy, no exceptions.
More of NordVPN's best features:
Specialized servers that offer unique features such as double encryption, onion routing, and DDoS protection.
Private access to the internet, even in countries like China, and Turkey.
Custom software and apps for Windows, Mac, Linux, Android, iOS, and more.
Unlimited bandwidth and no restrictions on P2P networks or torrent traffic.
Reliable streaming connections to Netflix.
Read our full NordVPN review.

Surfshark offers perhaps the best value for money overall, and is more than capable of unblocked Omegle. Whether you've been IP banned, or you live in a restrictive country with heavy Internet censorship, Surfshark has the privacy provisions you need to get back to your favorite chat platform fast.
First, consider Surfshark's server network, with over 800 nodes strewn across 50 countries worldwide. On its own, this is more than enough options to make beating an IP ban trivial. However, these connections are also protected by 256-AES-GCM encryption–the strongest commercially available and all but impossible to crack.
Moreover, you can change your tunneling protocol to get past various types of geoblocks and censorship. Surfshark makes use of the most modern protocols (including OpenVPN, IKEv2/IPSec, WireGuard, and Shadowsocks), and can even break through the Great Firewall of China.
Protect all your devices with unlimited simultaneous connections, and rest easier knowing Surfshark maintains one of the best logging policies in the VPN industry.
Read our full Surfshark review.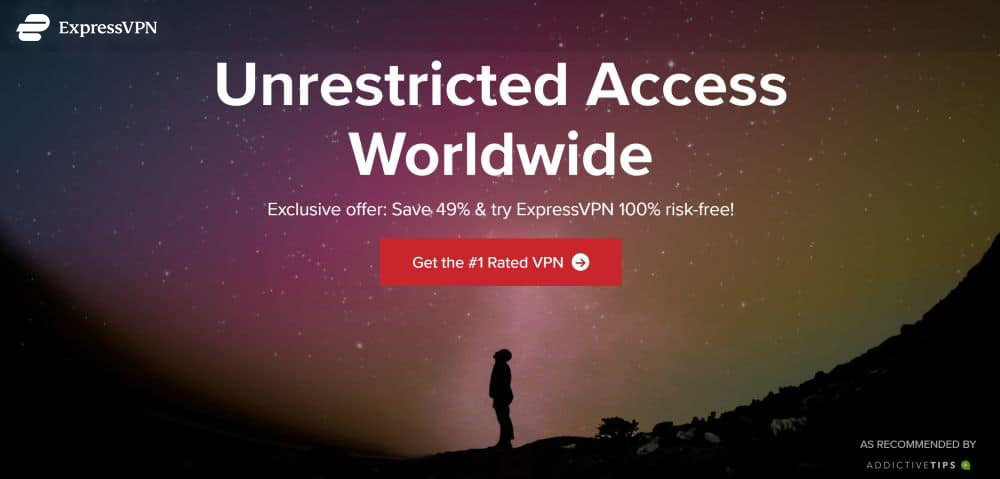 ExpressVPN has a stellar reputation in the online privacy community, and its most praised feature is incredible download speeds. The ExpressVPN network has over 3000 servers in 94 different countries, each one offering a fast connection for users around the world. Built-in speed test options in ExpressVPN's custom apps for Windows, Mac, and Android let you evaluate each server for both speed and latency, ensuring you're always using the best connection available.
Speed usually comes at the cost of privacy, but with ExpressVPN, that just isn't the case. The service secures all of your data with strong 256-bit AES encryption backed by a strict zero-logging policy on all traffic, DNS requests, and IP addresses. Whether you're chatting on Omegle, downloading movies, or just browsing the internet, all of your online activity is safe and secure. You even get the added protection of DNS leak prevention and an automatic kill switch, locking down your identity in case your connection drops.
Note: If you are having trouble unblocking Omegle with ExpressVPN please note you should try a number of different servers or you contact ExpressVPN's 24/7 live chat support to tell you which IP addresses are optimized for the service.
More features from ExpressVPN:
Unbeatable privacy and anonymity for reliable internet access in censorship-heavy areas like China and the Middle East.
Custom software for desktops, tablets, and smartphones that's both lightweight and easy to use.
No restrictions on bandwidth, speed, P2P network downloads or torrent traffic.
Consistent access to Netflix movie streams from any country.
Read our full ExpressVPN review.
PureVPN delivers impressive online privacy through a suite of services that go above and beyond standard VPN encryption. Users can take advantage of extra features such as a built-in ad-blocker, web filtering, malware protection, and even anti-virus software. When combined with the private tunnel made by the VPN software, you'll be able to go online, chat, download, and surf with complete security, all from a single well-respected provider.
PureVPN's virtual private network features are just as impressive as its extras. All data is secured with 256-bit AES encryption, your local connection is kept private with an automatic kill switch and DNS leak protection, and a strict zero-logging policy on all traffic ensures your data never falls into the wrong hands. All of that is coupled with a network of over 750 servers in 141 countries!
PureVPN's best features at a glance:
Advanced security features include anti-virus protection, ad-blocking, and anti-phishing measures.
Custom-built apps for Windows, Mac, Linux, Android, iOS, and even Chromebooks!
Self-owned network of servers keeps third parties out of the picture.
Unlimited server switching and five simultaneous connections.
Read our full PureVPN review.
VPN users look for two main features in a service: speed and security. IPVanish delivers on both fronts with an incredible server network and excellent privacy policies. It starts with the industry standard 256-bit AES encryption, protection strong enough to lock out any attempts at data snooping. It continues with DNS leak protection, an automatic kill switch, and a zero-logging policy on all traffic. Then there's the IPVanish network of 850 servers in 60 different countries combined with 40,000 shared IP addresses. If that's not enough to stay unbanned from Omegle, nothing is!
Speed is another of IPVanish's specialties, a feature that really shines when it comes to large file downloads. IPVanish is one of the best VPNs for anonymous torrents and Kodi streams. With it you can watch live sports, download movies, catch up on the latest TV shows, and so much more, all with complete security and privacy. Mix that with unlimited bandwidth and no restrictions on P2P or torrent traffic and you've got the perfect VPN for watching movies online.
IPVanish also includes the following features:
Excellent custom apps for Windows, Mac, and Linux PCs along with smartphones and tablets.
Fast and secure servers allow for HD videos and live sports streams through Kodi.
Download movies through BitTorrent with full privacy and anonymity.
Read our full IPVanish review.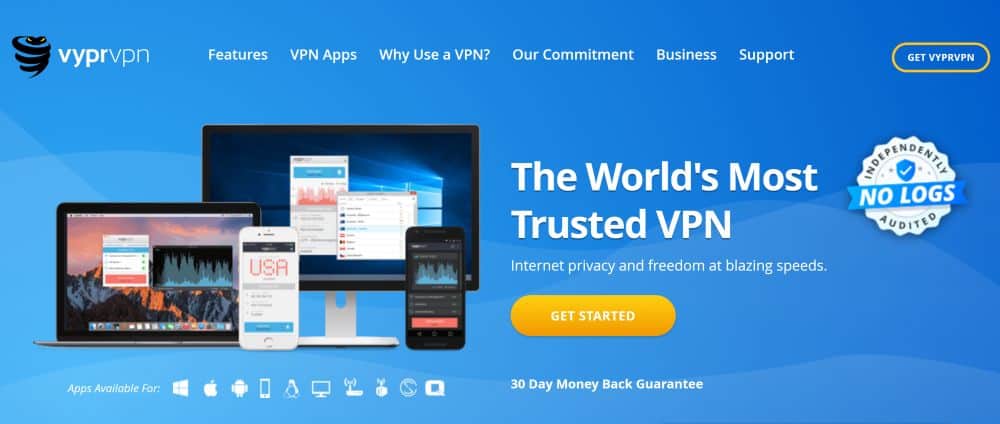 VyprVPN knows how to keep your data and your identity secure. The Chameleon protocol is by far its most impressive feature. With Chameleon, metadata associated with each packet of encrypted data gets a secondary layer of encryption applied, masking the origin and destination from prying eyes. This helps defeat deep packet inspection, which is often used by ISPs to throttle connection speeds as well as government censorship agencies in China and beyond.
With VyprVPN, your data is never touched by a third party. The company owns and operates its entire network of 700 servers in 70 different countries, giving them the ability to manage software upgrades, hardware maintenance, and everything in-between. A zero-logging policy for both DNS requests and traffic helps strengthen your online privacy, and industry standard 256-bit AES encryption locks down every piece of data that leaves your device.
VyprVPN also includes the following features:
Custom made software for a wide variety of devices, including Windows, Mac, Linux, Android, and iOS smartphones.
Powerful privacy features for the best VPN access in China and the Middle East.
Unlimited bandwidth and no restriction on P2P traffic or torrent downloads.
Read our full VyprVPN review.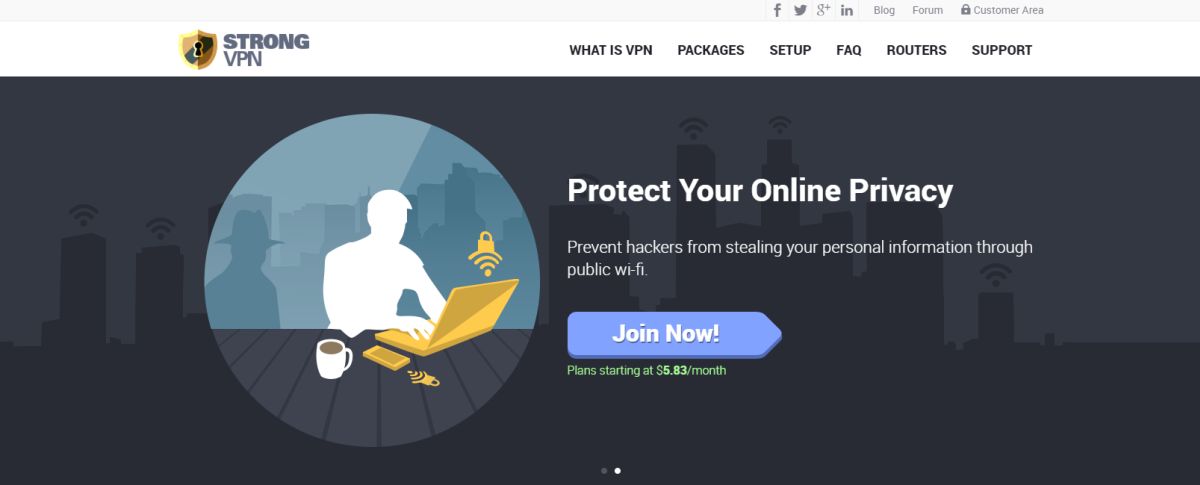 Tough encryption and excellent privacy features are StrongVPN's main selling points. The company operates a tight network of a few hundred servers in 45 different cities, enough to provide ample location variety while ensuring quality connections and reliable uptimes. These work nicely with StrongVPN's zero-traffic log policy, reliable 24/7 technical support, and 2048-bit encryption.
StrongVPN pairs its VPN encryption service with StrongDNS, offering even more options for choosing new IP addresses for unbanning Omegle. With StrongDNS you can trade a little bit of privacy for a lot of speed, jumping across censorship firewalls and slipping through site filters with ease. StrongDNS is perfect for anyone who values a fast connection, and it's included for free with every StrongVPN plan.
More StrongVPN features:
Free StrongDNS service for a wider variety of IP address to help bypass geo-restricted content and Omegle bans.
Surf, chat, download, and browse the open web with complete security and anonymity.
No bandwidth limitations, no speed caps, and no throttling.
Other Ways to Unblock Omegle
Due to the nature of Omegle's banning procedures, getting unbanned is a surprisingly easy process. Some users find limited success with things like free VPNs and web proxies, though each of those carries its own speed and security issues. If you can't use one of the fast and private VPN services listed above, try one of the following methods to get unbanned from Omegle.
Use a web proxy – Web proxies work by assigning you a different IP address before you connect to the internet. It's a simple procedure that doesn't offer any encryption or privacy, but it works in a pinch.
Free VPNs – No-cost VPN services are all over the place. They can help change your IP address to gain access to Omegle, but they often log and sell your private information to third parties, making them an unsafe choice for long or short term use.
Reset your home network – You can often change your IP address simply by unplugging your router and modem, waiting a few minutes, then plugging them back in. Some ISPs require a longer wait before assigning you a new IP, however, which can make this method lengthy and unreliable.
See also: How to get a US IP address