We are reader supported and may earn a commission when you buy through links on our site.
Learn more
How to Get Unbanned from Omegle? (2021 Review)
Getting banned from Omegle is a drag, whether you deserved it or not, but waiting for admins to lift the banhammer can take a long time up to 4 months (120 days). Today, we analyze the situation to see just how long Omegle bans actually last, plus show you how to shorten your sentence to nothing by using a VPN.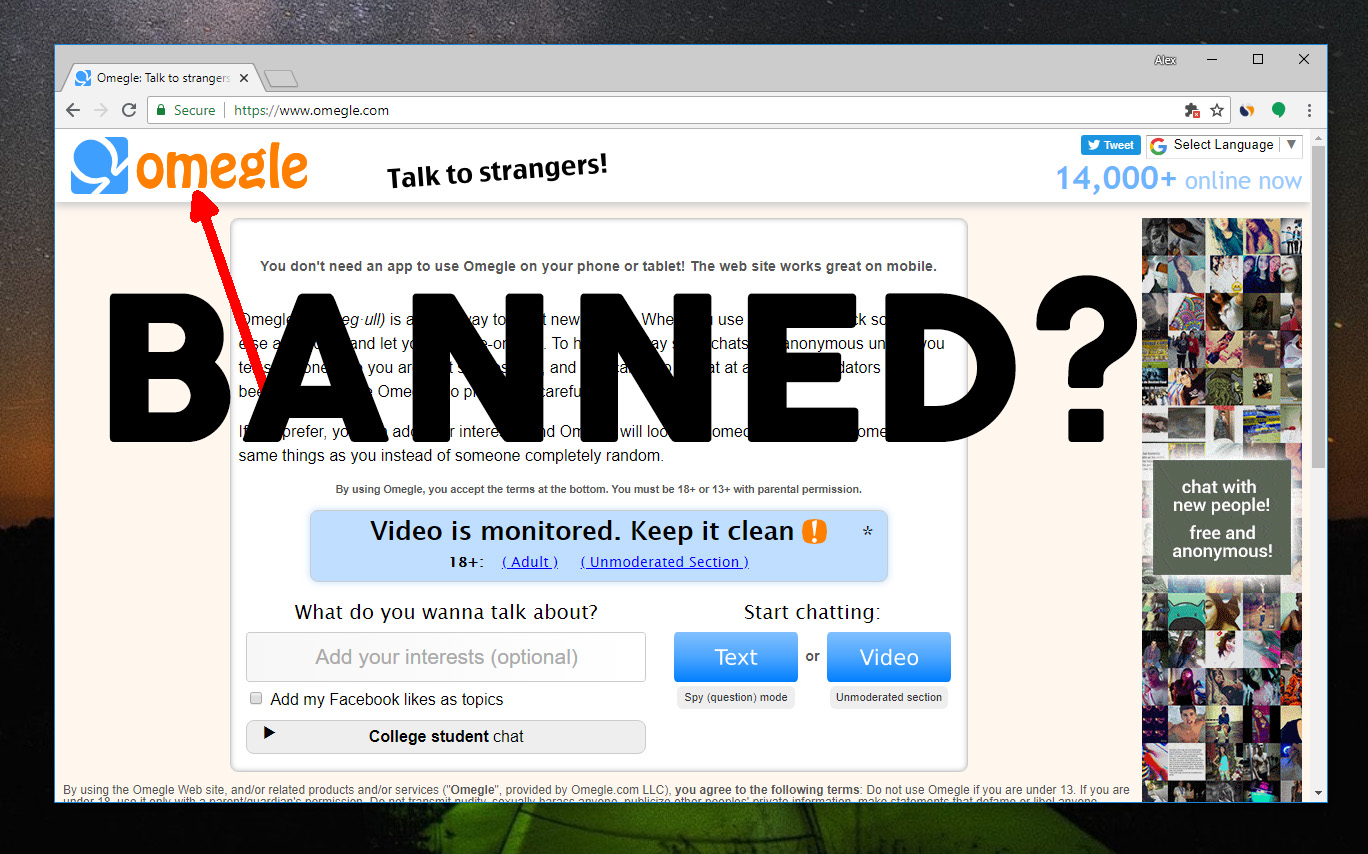 We found these to be the best VPNs for unblocking Omegle:
NordVPN – Best option for accessing Omegle from anywhere – A good all-rounder that works great with Omegle and also with streaming services, including Netflix.
Surfshark An affordable way to get past Omegle bans. Streamlined interface requires no tech expertise, as you can use any server to unblock sites and apps.
ExpressVPN Fast and reliable VPN to bypass your Omegle ban from anywhere in the world with no restrictions. Includes a 30-day money-back guarantee.
CyberGhost Works well with Omegle and unblocks most of the websites. Easy to use.
30-days money back guarantee
What Is Omegle?
To get unbanned from Omegle we'll cover the four best VPNs, in detail, but for those of you looking for a quick answer, our testing showed these to be the best options.
Omegle is a popular chat site that lets you talk with strangers on the internet. You enter information about your interests, then you are connected to a random stranger with whom you can strike up a conversation.
Omegle started off as a text based chat site, but has evolved to include other features like video calling as well. To the uninitiated, it may seem strange to actively seek out conversations with strangers, but it can prove enlightening, bizarre, hilarious or at least entertaining enough to kill some time. After all, inhibitions which might otherwise stifle a fluent back-and-forth between complete strangers are done away with thanks to Omegle's policy of granting complete anonymity to users. For privacy nuts, the guarantee of never having their data linked with their identity offers encouragement to try the service out.
That anonymity is a double-edged sword, however. Omegle doesn't want to go the way of Chatroulette, so it has some strict rules about content and behaviour that are allowed on the platform. It has even implemented an automated blocking software which blocks users who break the rules.
However, sometimes the software is too enthusiastic and blocks innocent users. In this case, users can use a VPN to get around the block. So, have you been banned from Omegle or maybe you broke the rules? Here's everything about the duration of the ban, what to do and how to get unbanned from Omegle.
30-days money back guarantee
Why Users Get Banned From Omegle
The Omegle terms of service are rather complex, and any infraction of them can result in a ban. The problem is that while some bans are legitimate, the banning happens automatically using software and so it can accidentally ban innocent Omegle users too.
Some of the reasons that users get banned from Omegle include:
You broke the terms of service. There are some things which are against the terms of service that you would expect: no sexual harassment, no nudity, no threatening messages and so on. But there are also some oddly specific rules that you might not be aware of. For example, you cannot play music tracks during video calls, as this is against copyright laws. If you had music on in the background during a call then you could get banned from Omegle.
You were reported by another user. If you had a disagreement with another Omegle user, they may have filed a complaint about your behaviour which can lead to you getting banned. The problem with this is that there is no way for you to share your side of the story if the other user is trying to get you banned

from Omegle

unfairly.
You have issues with an unstable internet connection. If you internet connection is slow or unreliable, such as a 3G data connection on your phone, then you might find that you are frequently dropped out of chats in Omegle. If this happens too much, then the Omegle system thinks that you are a spam bot or a troll and can ban you for that.
The biggest issue with Omegle bans is that there is no easy way for users to appeal bans due to software error. These users then often search for how to get unbanned from Omegle in order to keep using the service. After all, it can be addicting!
How Long Does Omegle Ban Last?
Omegle bans can last from 1 week up to 4 months. The length of time a ban lasts for depends on the severity of the reason that you were banned in the first place. Bans start at one week in length and can go up to 120 days for serious infractions. Normally, you just have to wait for your ban to be lifted, but there is a way to get around it that we'll show you in this article.
If you are a repeat offender or if you commit a very serious offence, then you can be perma-banned from Omegle. This is done by the site registering your IP address and blocking all attempted connections from that IP. If this happens, you won't be able to use the Omegle service at all any more–unless you use the instructions below, that is!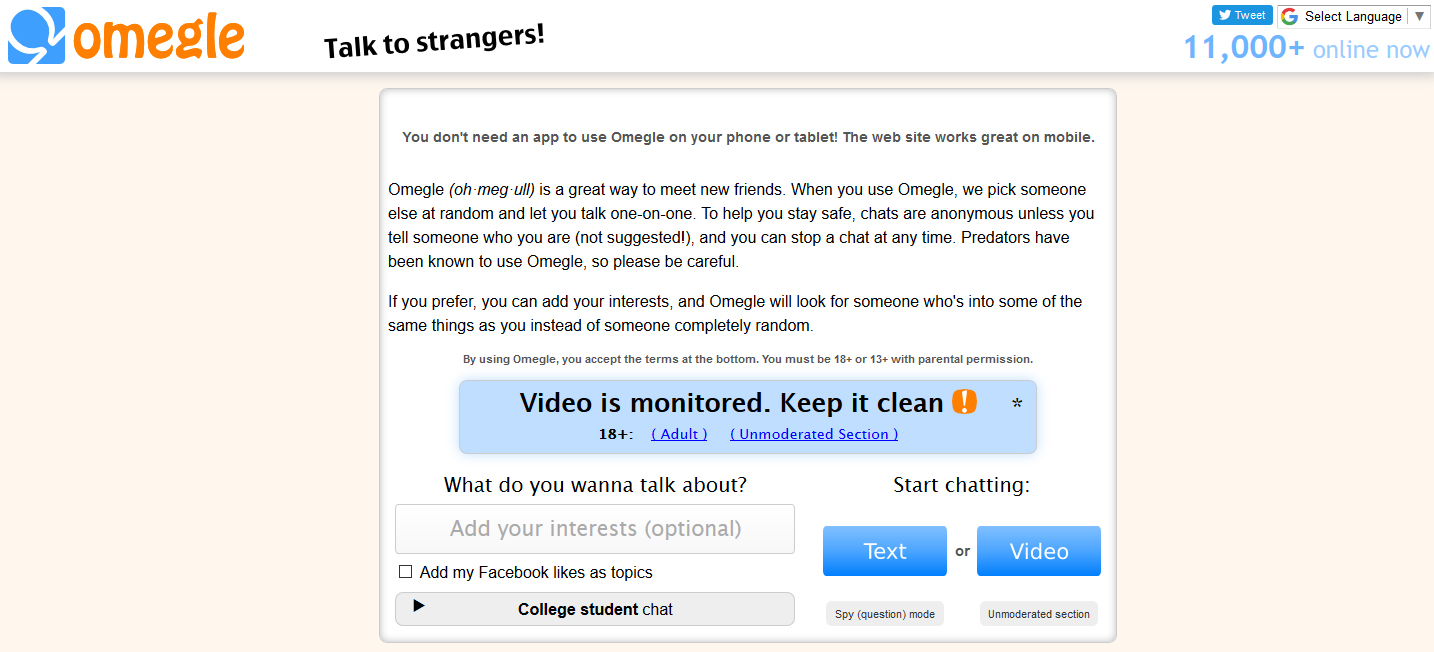 How To Get Unbanned From Omegle?
If you've been banned from Omegle but are determined to get back to using the site, there are methods that can help you do that. Because banning is based on your IP address, all you need to do is to get a new one. Once you have a different IP address, the Omegle system won't recognise you as the same user who was banned, so you can access the site and use it as normal.
IP Address Bans on Omegle
The best way to get a new IP address is to use a VPN. We'll show you full details of how to use a VPN shortly. There are other alternatives to get unbanned from Omegle, like using a web proxy to give yourself a new IP address, however, this does not always work as web proxies can be detected by some services. Another method that you can try is to reset your home network to get a new IP address by turning off your modem for several minutes before turning it back on. Whether or not this works depends on the particular setup that your ISP uses, so your mileage may vary.
In short: by far easiest and most reliable way to get a new IP address whenever you want one is to use a VPN.
How a VPN Can Help You Get Unbanned From Omegle
With a VPN it's easy to get a new IP address and to get around accessing Omegle. First, you need to sign up for a VPN service and download the software that your VPN company provides. You install this software on the device that you want to use for Omegle – either your computer or your phone. When you open up the software, you can use it to choose any of the servers around the world which are run by your VPN provider. Choose your server and then connect to it using the software.
When you are connected to a VPN server, all of the data that your device sends over the internet will be encrypted and routed via that server. This means that you are assigned an IP address at the server instead of your real IP address from your home network.
When you visit Omegle while you are connected to a VPN, you'll be able to use the Omegle service even if you have been banned as you now have a new IP address.
How to Choose the Right Provider To Get Around a Ban From Omegle
Now that you know you need a VPN to get around a ban by Omegle, you just need to select a VPN provider. However, with so many options of VPN providers to choose from, it can be tough to know which provider is best for your needs. Although you might think about using a free VPNs to save some cash, we do not recommend this as free VPNs can steal your data and make you less safe. You want a VPN that is secure and safe as well as easy to use.
Here are the criteria that we use to select a VPN for Omegle users:
Best VPN Service For Beating Omegle Bans
We looked through lots of VPNs to find the ones that met these criteria, and our recommendations are below.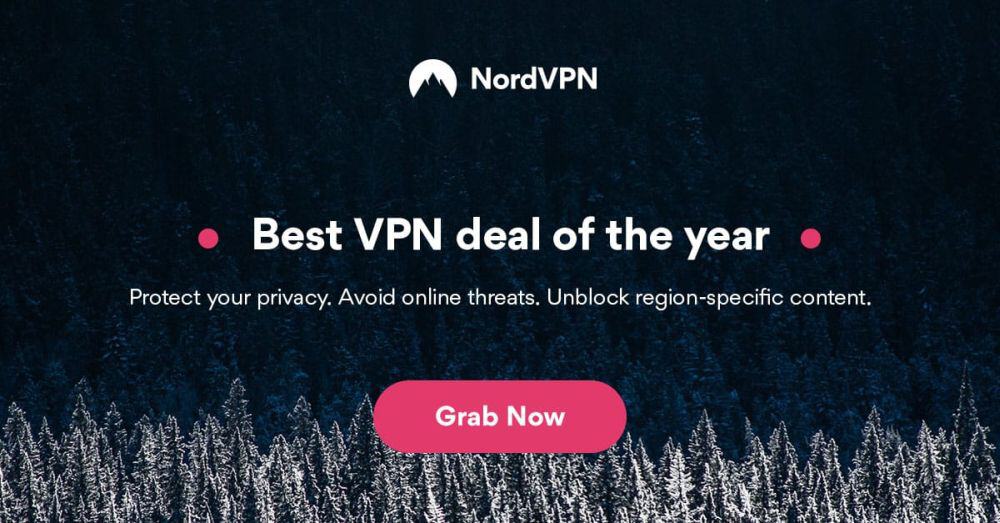 NordVPN is the ideal VPN for advanced users who want tons of options to adapt and tweak their VPN connection. With industry-standard 256-bit encryption and zero logs kept, your privacy is all but assured whenever you connect to Omegle. When bypassing bans, you can even use NordVPN's handy tutorial on their website to guide you.
NordVPN's main claim to fame is their wide variety of purpose-built servers, including for P2P downloading (great for torrents), double VPN (which adds a second layer of encryption to your VPN connection for incredible protection), anti-DDoS, and even onion over VPN.
In total, the number of servers available with this VPN is a massive 5,800 servers in 59 countries. The software can be installed on devices running Windows, Mac OS, Linux, iOS, Chrome OS, Android, or Windows Phone.
Read our full NordVPN review.
Pros
SPECIAL OFFER: 2-yr plan (68% off - link below)
Fast and stable connections
Torrenting is explicitly permitted
Based in Panama
24/7 Customer Service.
Cons
Automatic server selection can be unreliable
Apps can sometime be slow to connect.

Surfshark is a relative newcomer to the VPN scene, but they're already making a huge impact thanks to an array of features few other providers offer. First off, there's no such thing as a Surfshark "specialty server", because they're all specialty servers. No fiddling around trying to find the right connection that defeats your Omegle ban. Just connect to the nearest, fastest server, and you're back chatting to your heart's content.
This works even if you're stuck in a particularly oppressive country; just toggle on Surfshark's NoBorders functionality to blast through censorship and network blocks. And thanks to a fully secured network of RAM-only servers (numbering well over 800 nodes across 50 countries), you never have to worry about your VPN holding onto sensitive information that could be used to reveal your activity.
The best part, Surfshark never limits you on… well, anything. That means unlimited simultaneous connections, server switches, bandwidth–all completely private. With Surfshark, Omegle blocks and other barriers to the free and open Internet are a thing of the past.
Read our full Surfshark review.
Pros
Unblock VoIP in oppressive regimes like WhatsApp, Skype, Discord, and more
Unlimited server switching
VPN obfuscation on any server with special Camouflage function
Based in the British Virgin Islands, where there are no data retention laws
Get help any time of day via email, phone, or live chat.
Cons
Server network is not nearly as expansive as major competitors
Relatively young VPN still has to prove itself trustworthy over the long haul.
Read our full Surfshark review.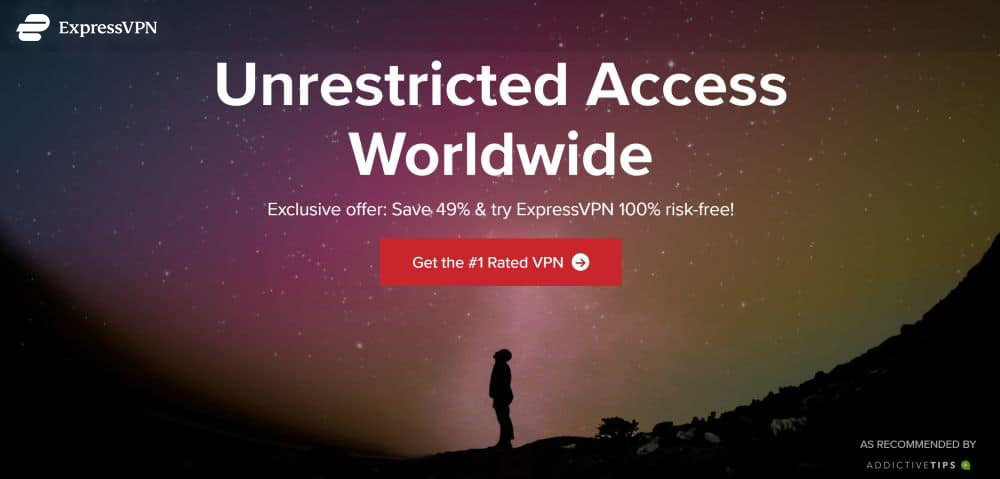 ExpressVPN is a hugely popular VPN among both new and experienced users thanks to its combination of speed, security, and ease of use. The number of servers available is very large, with 3,000+ VPN servers in 160 VPN server locations in 94 countries, so you'll have no problem finding a strong connection.
ExpressVPN uses strong 256-bit encryption to keep your data safe and has a no logging policy so you can be sure that your data will never be recorded or given to another party. There are further options for security in the software, like DNS leak protection so that no one can track you through your DNS use, a kill switch to prevent you from accidentally send data over an unsecured connection, and an IP address checker.
The connection speeds are some of the best we've seen in any VPN so you won't be slowed down when chatting over Omegle. The VPN software offers a simple interface available for Windows, Mac OS, Linux, and Android, plus some games consoles and smart TVs. There are also handy browser extensions available for the Google Chrome, Mozilla Firefox, and Apple Safari browsers.
Note: If you are having trouble unblocking Omegle with ExpressVPN please note you should try a number of different servers or you contact ExpressVPN's 24/7 live chat support to give you specialized IP addresses optimized for the service.
Read our full ExpressVPN review.
Pros
SPECIAL OFFER: 3 months free (49% off - link below)
Super fast servers
Govt-level AES-256 encryption
No logs for personal data
Customer Service (24/7 Chat).
Cons
Expensive month-to-month plan.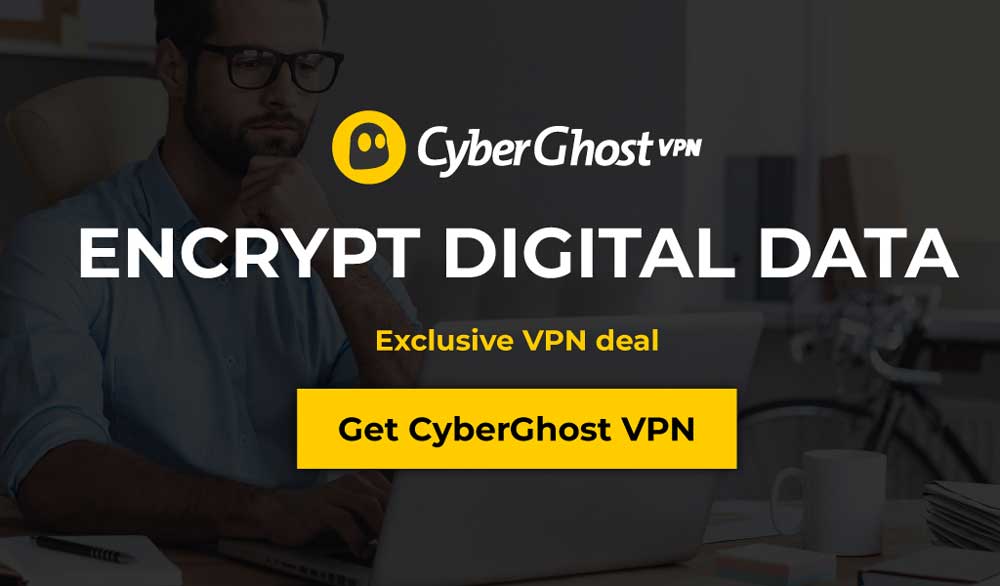 CyberGhost is the VPN that we recommend for Omegle users who want a simple interface that doesn't require extensive technical know-how to operate. Simply open up the software and click on the Surf Anonymously option, which will connect you to a server that grants you a new IP address, and which will configure all of the options and settings for you automatically. With just a single click, you're ready to get back to using Omegle. There are other options for other uses too, like torrenting anonymously, unblocking streaming websites like Netflix, and protecting your network. You can also manually connect to a server if you prefer, and you'll have a network of over 6,300 servers in 89 countries to choose from.
The speeds of CyberGhost VPN are plenty fast enough for most needs, and the security is also good thanks to the use of 256-bit encryption and a no logging policy. The software is available for iOS, Android, Windows, and Mac OS.
Read our full CyberGhost review.
Pros
Unblocks US Netflix + BBC iPlayer
Great user experience and easy installation
2,048-bit RSA keys and SHA256 authentication
Strict no-logs policy
24h support.
Cons
Can't unblock some other streaming sites.
Omegle Ban Duration FAQ
Am I banned from Omegle?
If you're getting an error when accessing the Omegle website stating something like "you have been banned from Omegle due to possible terms of service violations", it could be that you or someone else using your computer or network are banned.
How long does an Omegle ban last?
Omegle bans can be between 1 week or up to 4 months. The ban can be of one week in length and can go up to 120 days depending on the infractions committed. Serious offenders (continuing to break the same rules) can be permanently banned from Omegle.
Why did Omegle ban me?
The easy answer is because you, or someone else using your computer or network, broke the Omegle terms of service — which are rather complex.
What to do if Omegle bans you?


Omegle b

anning is based on IP addresses, so all you need to do is make sure you change the IP address you are using – a VPN is the perfect tool for that.
How to get past the Omegle ban?
By using a VPN you are getting a new IP address (anywhere in the world) and that helps you get around accessing the Omegle service.
Final Thoughts on Omegle and Using a VPN To Get Unbanned
Omegle is a fun chat service, but it has issues with its automatic blocking software, which can sometimes block users by accident even if they weren't breaking the rules. Blocks on Omegle can last from one week to 120 days, and it's hard to find a way to contest a ban. We've recommended a number of VPNs that you can use to get around Omegle blocks and continue using the service.
Have you ever been accidentally banned from Omegle? Did you use a VPN to get around the block? Tell us about it in the comments below.