How to use the Microsoft Teams whiteboard app
Microsoft Teams has all sorts of apps built-in that can be added for a team. The app is then available to all team members who can use it in their own individual capacity or within a channel with other team members.
Not all apps are meant to be used individually and not all can be used with other team members. It depends on the nature of the app.
Microsoft Teams whiteboard app
The Whiteboard app is a Microsoft app that you can download as a stand-alone app from the Microsoft Store. It is also one of the integrated apps in Microsoft Teams.
The Whiteboard app in Microsoft Teams;
Is added as a tab to channels.
Is meant to be used with team members and not individually.
Can be added to a one-on-one chat thread.
Allows users to export the whiteboard.
Supports post-it notes.
Available for both free and enterprise Microsoft Teams users.
Enable Microsoft Teams Whiteboard
To add a Whiteboard to Microsoft Teams, follow these steps.
Open Microsoft Teams.
Select a team and a channel.
Click the plus button at the top to add a new tab.
From the list of suggested apps, select Whiteboard.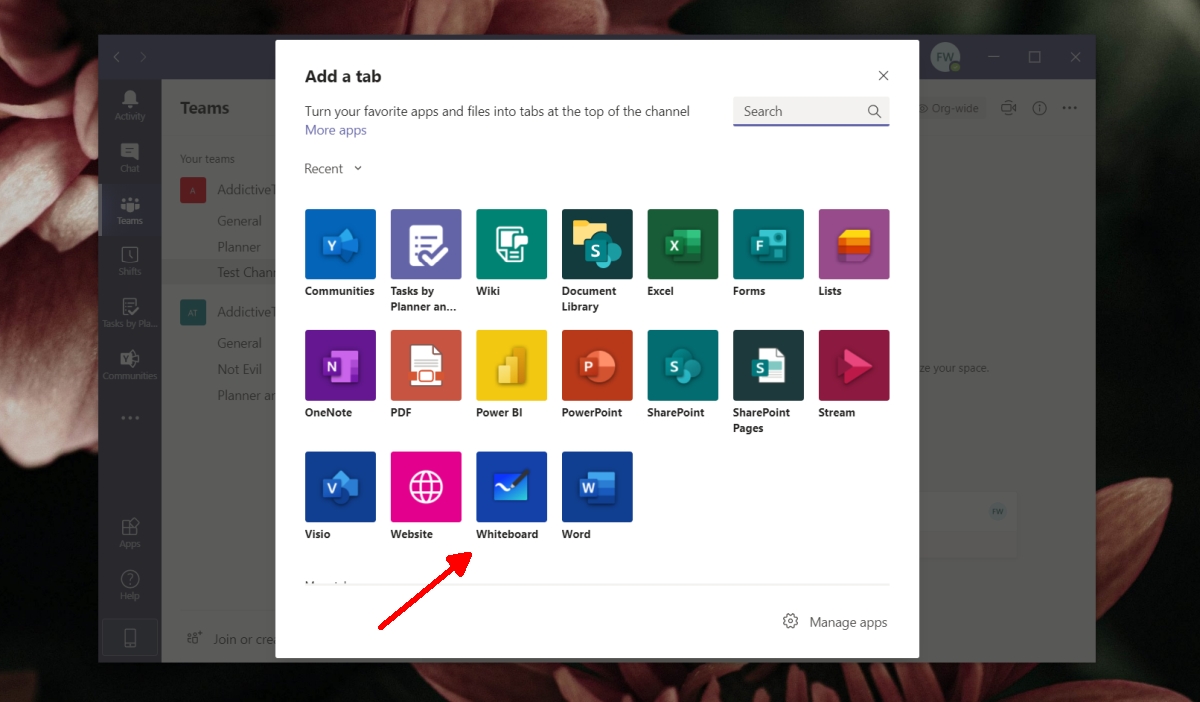 Give the tab a name and click Save.
Select the tab and allow the Whiteboard to load.
Select a pen to draw with.
Click the post-it note icon to add a post-it note to the board.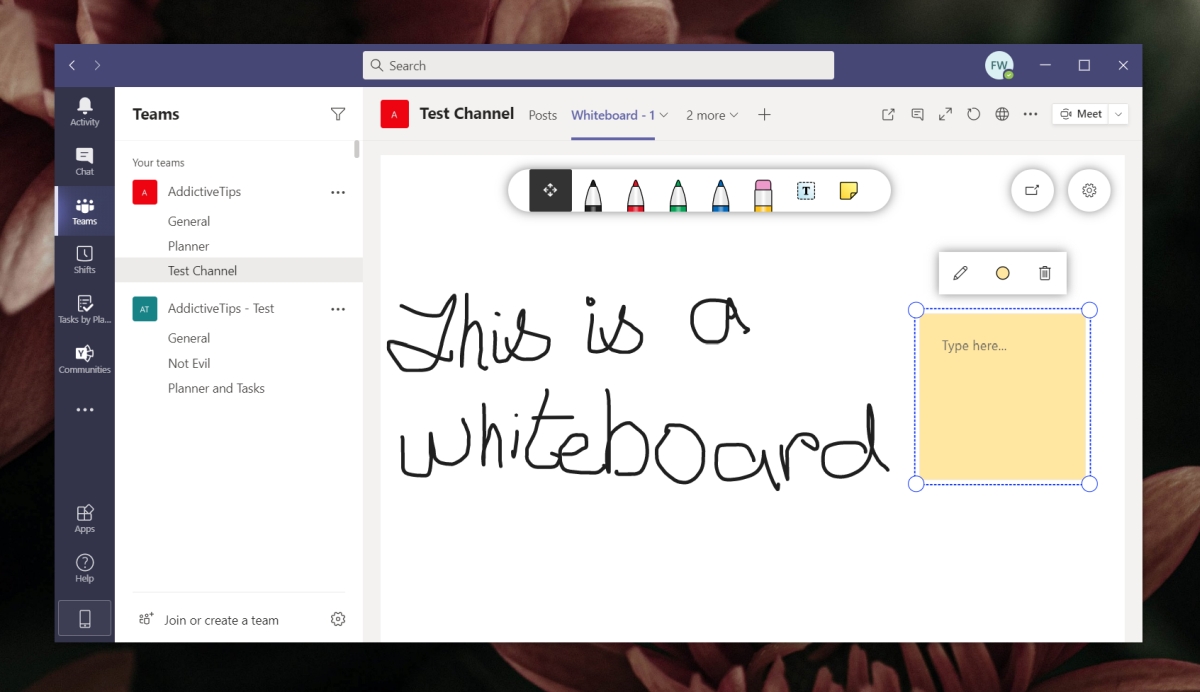 Once you're done with the whiteboard, click the cogwheel icon at the top right of the board.
Select the Export image (PNG) option to export the whiteboard as an image.
If you'd like to prevent other members from editing the board, turn the 'Other participants can edit' switch off.
Other features
The Whiteboard app in Microsoft Teams;
Has a direct link that you can use to share it with others.
Has a chat panel that can be shown next to the whiteboard to keep the conversation going.
Can be popped out to a stand-alone window.
Conclusion
The Whiteboard can be used with a mouse and/or trackpad. You don't need a touch screen and stylus to use it. It's not the greatest whiteboard e.g., you can't import anything into it e.g., another note or an image that might make the whiteboard easier to use. It's a decent enough collaboration tool but it may not be useful for everyone. Writing on it may take more time if you use the pen tool but there's also a text box tool that can be used to write more quickly.