A Look At Nokia HERE Maps & Its New Features [Review]
Recently, Nokia announced HERE, the new name for its mapping service, Nokia Maps. The new service, or rather, the new rendition of the existing Nokia Maps that combines Nokia Drive, Transit, Pulse and City Lens to give you a collective augmented experience of them. HERE has new features both for its mobile website and desktop web interface. It's added a few new features like Street Level and Map Editor, both of which exist in Google Maps under similar names, i.e., Street View and Map Creator, respectively. There is also the addition of Collections which allows you to save different maps as a single group. If you use HERE on your mobile browser you will notice a significant difference in the interface from the one you see in your desktop browser. 3D maps still aren't available on the mobile website but have been updated on the desktop version to include street view and work without needing a plugin. Users on mobile devices will be able to save a map for viewing offline. The Map Creator will allow users to edit maps and refine the map data directly whereas Community Maps allow users to benefit from maps created by other users. The new features and how they work are detailed below.

When you first visit HERE, it gives you a general map view of the world. If you have a Nokia account, you can sign in from the top right on both the desktop and mobile websites.
Collections
Collections allows you to group maps and requires you have a Nokia account in order to save them. To create a collection i.e. a single group, sign in and go to Collections from the top bar. Create a new collection here, or, alternatively, right-click a location on the map, select 'Collect Location' and create a new collection to add it to.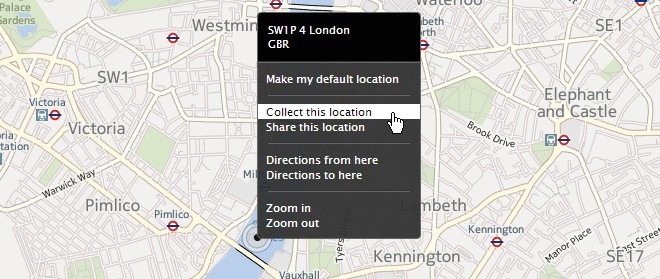 All collections that you create and the locations you add to them can be viewed from the Collections sidebar. Bear in mind that this is much like bookmarking your favorite locations and does not save maps or locations for offline viewing. The purpose of Collections is to be able to quickly find a location, get driving directions to it and share it.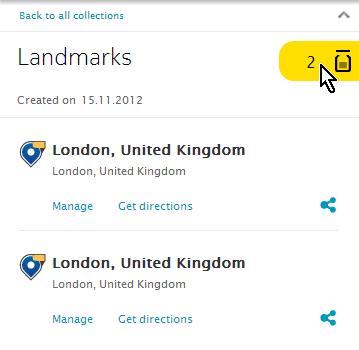 Map Editor
HERE comes with a feature rich Map Editor that allows users to edit maps pretty close to the Map Creator that Google Maps has but with fewer features. Like Google Maps, you can add a new place, roads can be changed, added and rerouted, you can add information for a particular place or remove it altogether. Depending on the type of map element you want to add, the Map Editor gives you options to choose it's nature, for example, if you add a road you can choose to add a motorway, a path, a trail, etc. As you move your mouse over different elements on the map, the editable elements are highlighted. Click them to begin editing, right-click a selected element to see sub-options for editing.

Street Level
Nokia has updated its 3D maps and added Street Level viewing. The data for HERE's street level view comes from earthmine which Nokia just acquired and is available for select areas. For a brand new feature, the Street Level view is pretty impressive and is just one of the many improvements to Nokia's 3D maps. When in street level view, a smaller map appears in the bottom right corner to make navigation easier. If you've used Street View in Google Maps, navigating Street Level view in HERE shouldn't be a problem. Nokia also plans to roll out augmented reality for mobiles, which, coupled with the Street Level view should make for a better travelling and exploring experience.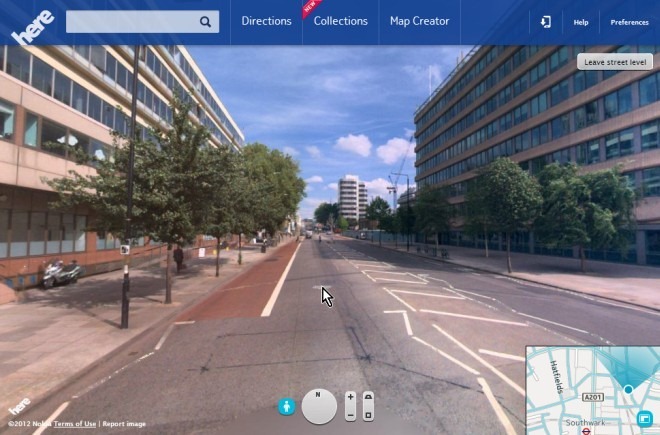 Cache Maps On Mobile Devices
Saving maps offline is a feature currently in Windows Phone 8 devices (no surprise there) and, with the revamp of HERE, is now available on supported mobile devices. You don't need a Nokia account to save a location, however, you can only save one. All locations saved subsequently, will overwrite the previous one. Click the button on the right of the HERE location search bar and click the 'Save a map area' button. Zoom out and pan around to fit the area you want to save and then tap 'Save'. Make sure you do not leave your browser and switch to another app while the map is being saved. To retrieve the map, visit HERE again, click the button next to the search bar and tap 'View your saved map'. The larger the area you save by zooming out, the lower the level of zoom will be available to you.
Community View
HERE will be relying on users submitted data to make using its apps a better experience and if you don't know what that means, open HERE on your mobile device and tap the layer like icon in the bottom right. A new set of options should slide open allowing you to manage the type of view. At the very bottom, just above the distance unit buttons, you will notice a 'Community view' switch which allows you to view maps created by other users.
iOS App And Android SDK & API
Nokia plans to launch an iOS app soon and also release an SDK and API for Android developers. Nokia Maps has already debuted in Firefox OS's early-not-ready-for-the-public versions and HERE will support the OS with its HTML 5 version. Nokia also plans to add 3D maps soon. The apps are going to be HTML 5 based, like the website itself. Nokia does not plan on developing the Android app itself but the iOS app is said to already have been submitted for approval.