How to close the Chrome Downloads bar with a hotkey
Chrome's download bar is an odd element of the browser's UI which otherwise focuses on being minimal. It appears when you download a file, and sticks around even after the download is complete. You can close it by clicking the close button but that is something that annoys users since there's no hotkey to do the trick. You can hide the Chrome Downloads bar if you want, but if you really prefer to close the Chrome Downloads bar, an extension called Close download bar will let you do it with a hotkey.
Ideally, Chrome users would prefer the Downloads bar dismiss itself when a download is complete. Unfortunately, Google is not interested in adding this feature any time soon and extensions aren't able to do the job either. This is possibly because Google blocks it which is why a hotkey to close the Chrome Downloads bar is our best option.
Close Chrome Downloads bar
Download Close download bar from the Chrome Web Store.
When the downloads bar appears, tap the Alt+W and it will close the Downloads bar. You can tap the hotkey any time you want, even if a file or multiple files are downloading since that is the default behavior of the Downloads bar.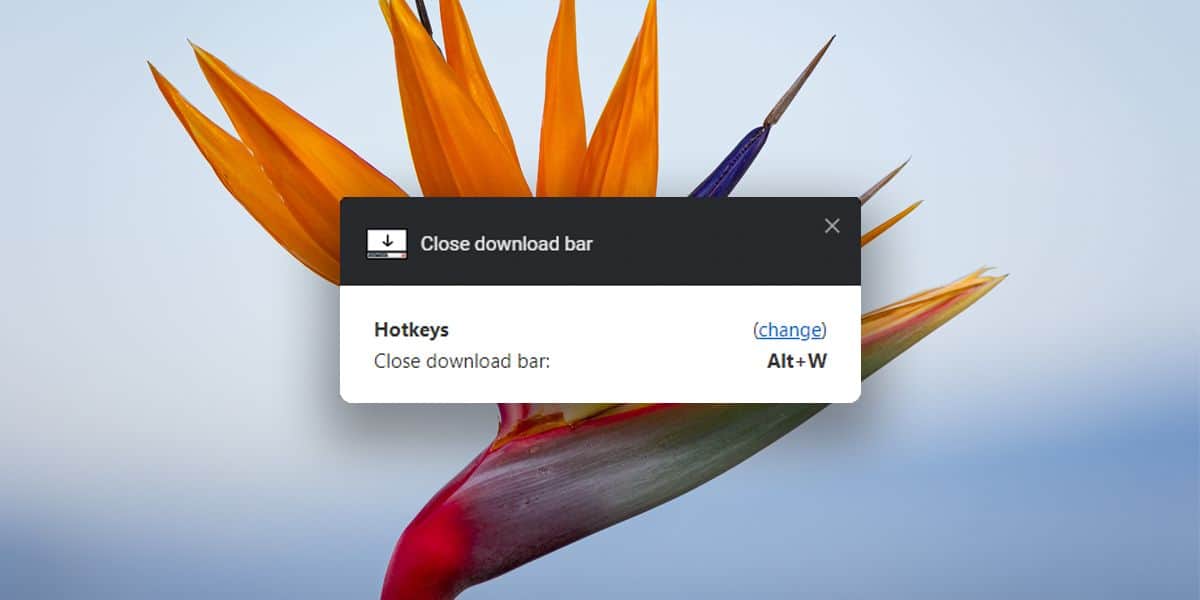 Close download bar doesn't have a lot of options however, it does let you change the hotkey that you use to close the Chrome Downloads bar. To change the hotkey, right-click the extension's icon and select Options from the context menu.
It will take you to the extension's Chrome page with the a pop up that lets you change the hotkey. Click the Change option and record the new hotkey that you want to use. Record it for the 'Close download bar' option and not for the 'Activate the extension' option.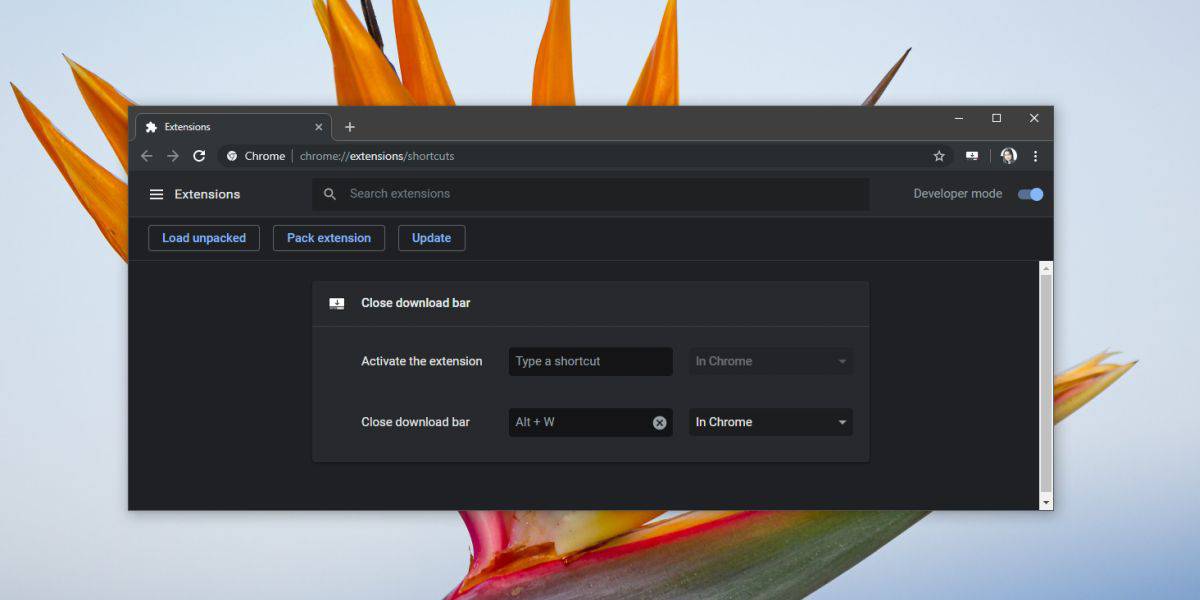 Users have wanted a way to auto-dismiss the Downloads bar for a long time. In fact, if you check Google's product forums, you find users regularly asking for ways to do this over the past few years. Google and Chrome's product team don't really offer explanations as to why this isn't something they might consider so users are stuck with what they have.
Firefox does this much better than Chrome. Instead of an entire bar at the bottom, it has a little button next to the URL bar which, when clicked, reveals the downloaded files. You can mimic this in Chrome with an extension called Download Manager which disables the Downloads bar.