Convert, Transfer & Host Documents Online With CometDocs
If you want to store a file online to be able to access it from any device, you have over a dozen web services to choose from. On Mac OS X Mountain Lion, Windows 8 and Ubuntu, you get one cloud storage service integrated into the OS itself, and then there are the already established names like Dropbox and Google Drive. For newer services trying to compete with these giants, this means beating the competition out with additional features. CometDocs is a web service that offers a myriad of features for files uploaded to it. It provides you 1 GB of storage space that you can use to upload and host files. You can also convert documents between different formats, and share them easily with others. The service offers a very clean interface and supports a reasonable number of formats that you can convert to and from.
To use CometDocs, you will need an account with the service. You can sign up for a free account to get 1GB of space, though you have the option to upgrade to a paid account for more space. Files as big as 100MB can be uploaded and 15 files can be converted every week. Simultaneous conversions are not supported on the free account, and the share link that CometDocs generates is valid for three days.
CometDocs's interface is divided into four tabs; Convert, Transfer, Store, and Host. Files are added by dragging & dropping them on to the 'Clipboard' area. Select the tab for the action you want to perform and drag the file from the 'Clipboard' area down to the it. For conversions, select a conversion format and click 'Convert' to begin. Once conversion is complete, you will receive a notification (there is a notification tab at the top), which allows you to download the converted file. To transfer a file, follow the same process; drag the file down from the 'Clipboard' area to the 'Transfer' tab, enter an email address and send the file.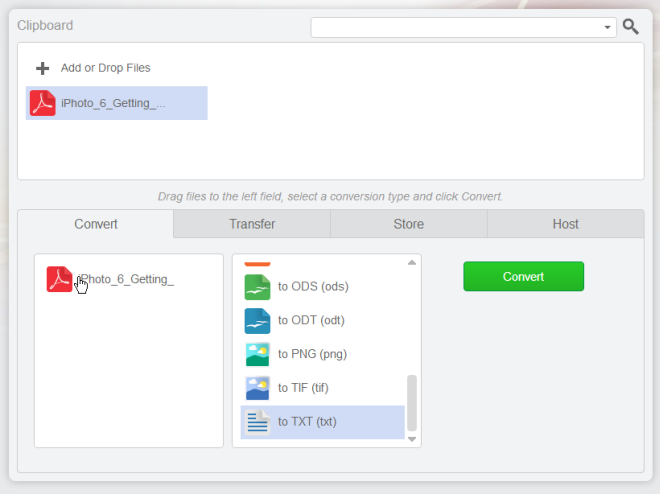 To store a file with CometDocs, drag it from the 'Clipboard' area to the 'Store tab'. You can also create folders, preview files (select formats supported), and edit a file's metadata. However, the preview feature isn't available on free accounts.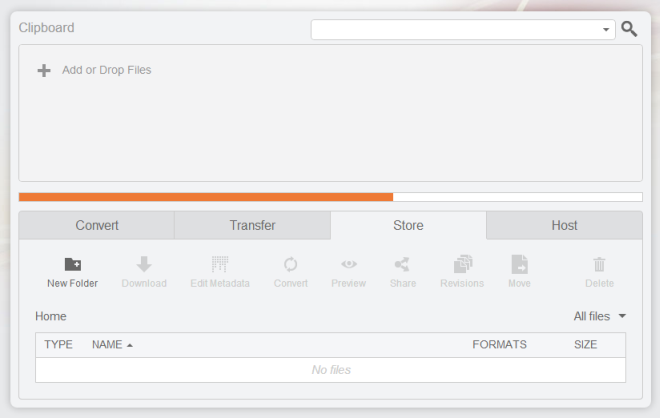 To  host a file, drop it on to the 'Host' tab and set up its visibility. Files are public by default, but clicking 'Make Private' will mark them as private. Files are sorted by categories and sub-categories. Select the file and CometDocs will generate a link for it.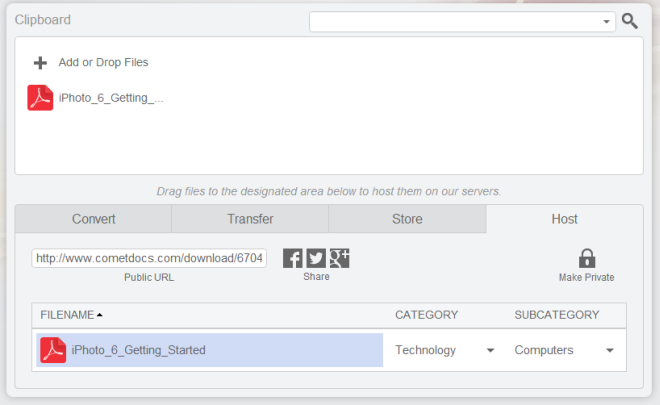 The service is not without its bugs; visiting your account settings will give you an error page nine out of ten times. Once you receive the error, the rest of the service stops working for a while. From CometDocs settings, you can manage your notifications, file sharing permissions, and account information.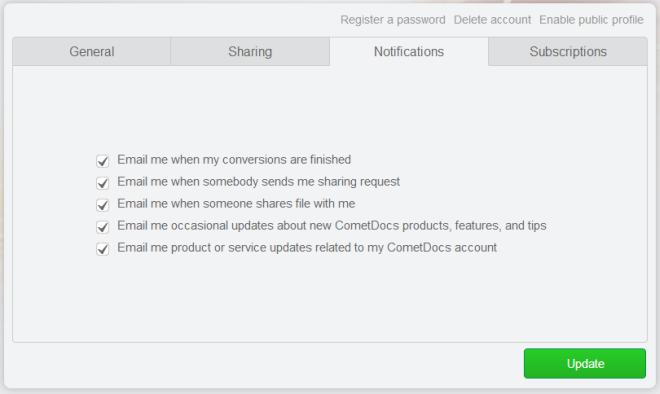 CometDocs has quite a number of useful features but the real question is whether it can compete with larger services like Dropbox and Google Drive or not? CometDocs limits the use of its services on a free account and offers little storage space compared to competitors. Perhaps it needs to be a bit more generous with the use of its features for free users in order to make an impact on the industry. Though if you just need to store or host a file for a brief time period, or simply need a quick conversion, CometDocs can be quite useful.