Disable 'Seen' & 'Typing' Indicators For Facebook Chat In Chrome
When it comes to text based communication, Facebook keeps us connected even to our faraway friends and family. Although the social network juggernaut is trying to make messaging more convenient and fast as possible, it rolled out a pesky new feature back in 2012 that could lead to some awkward situations between you and your folks. The feature in question is the 'Seen' indicator that automatically pops up when your friends have read your message, both on mobile or web.
Now just imagine the awkward situation it can lead to when you open your friend's messages and close it to reply at a later time, leading your contact into assuming you simply ignored them. Unfortunately, Facebook doesn't provide any option to disable this feature, forcing it down everyone's throat. Previously, we covered a Cydia Tweak called FBMessengerUnseen that could disable read receipts automatically on Facebook's Messenger app for iOS. If you're looking for a similar solution for your desktop, Facebook Unseen is a minuscule Chrome extension designed for the exact same purpose and in addition, it works for disabling the 'typing' indicator as well.
Available for free at Chrome Web Store, the extension prevents Facebook's Chat API to send the Seen stamp to your recipient, hence enabling you to read text messages without the sender knowing that you have seen it.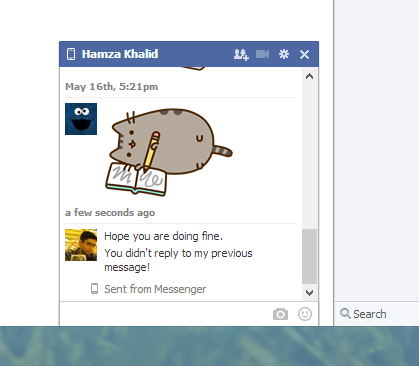 When downloaded and installed, the add on places its button near the address bar. There's no configuration that you need to do, as Facebook Unseen automatically enables the block feature for you and its icon turns to blue, indicating that it is currently enabled. Though if it's disabled, you can click this button to enable it. When Unseen mode is enabled, your friends will no longer be notified of whether or not you have read their message.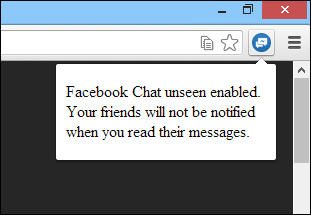 Fortunately, the extension can also be disabled with one click without requiring to remove or disable it. When enabled, you can click this button to revert back to the default state. A confirmation message also appears to verify that Facebook Chat unseen is disabled.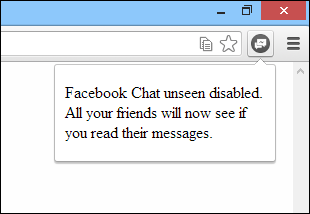 The extension also offers a few settings. To access them, just right-click the Unseen button and select Options from context menu. On the settings screen, you will find the 'Mark as read' option, which will allow you to manually mark your desired message as read, although this feature is broken as of this writing. Furthermore, you can toggle whether or not to show you if others have read your message, as well as selectively block the 'seen' and 'typing' indicator in the Facebook Chat API.

To install the extension, visit the link provided below in Google Chrome.
Install Facebook Unseen from Chrome Web Store