Edit & Save Any Web Page Directly To Box, Dropbox & Google Drive [Chrome]
Do you often feel the need to save web pages while surfing for quick access later, or to archive important information? Or maybe, you are a teacher who wishes to refer articles to students in a convenient manner? Whatever the case may be, you definitely need to install Save Content to Box, Google Drive & Dropbox, a handy extension for Google Chrome users that allows you edit and save web pages as PDF or text file to your Box, Google Docs or Dropbox account directly from Chrome. No more copy and paste needed, and unlike a bookmark, you have your own copy of the content, preserved in the form that you saw it in. It not only gives freedom to save web pages to these services, but also helps you to clean (remove unwanted content) the web page before saving. You may also utilize social media platform to share the articles on Facebook, Twitter, Google+ and LinkedIn directly from the extension, too.
The extension can be installed from Chrome Web Store. It prompts with a notification, seeking permission to access your data on all websites, tabs and browsing history. The successful installation will be indicated by appearance of a cloud icon on the Omnibar.

The usage is very simple and intuitive. Activate the extension by clicking the cloud icon, and it will load an iFrame on top of the page you're currently browsing, with options to save or print web pages.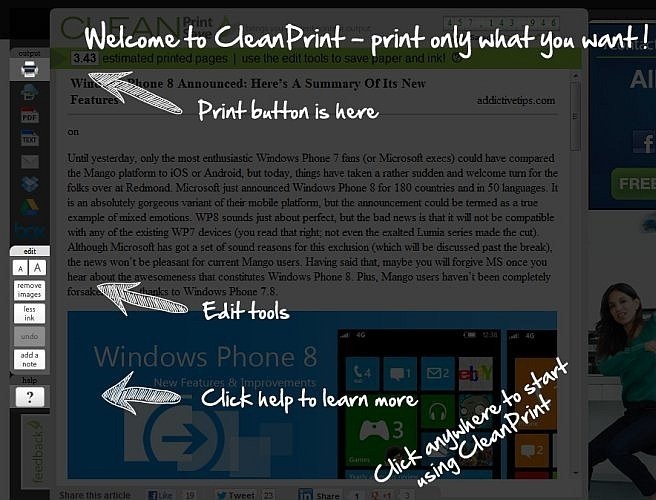 It automatically removes headers, footers and all the clutter, and leaves only text and images from any page. You can also remove images from web documents before saving to other places.
The extension comes with a range of options to optimize the content with editing tools, in order to have a desired output. The built-in editing tools let you change font size, remove unwanted images and text or add a note to your content before saving. Made any change by mistake? Don't worry, it has option to undo and re-display the content you removed.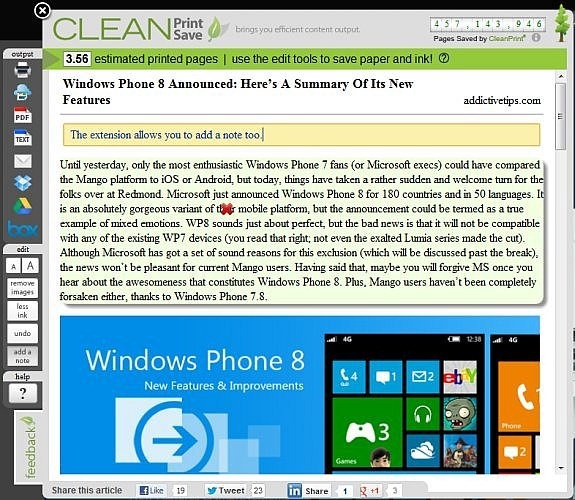 The extension gives an option to convert pages to PDFs before saving, or to save them as text files. If you wish your documents to contain images, PDF is certainly the better way to save. While you can always save pages to your computer, it will be beneficial to save them directly to cloud services like Dropbox, Box and Google Drive, in order to have access to these documents any time you want, from any device. You can also opt for printing options (Print & Google Cloud Print). You can even mail the document directly, too.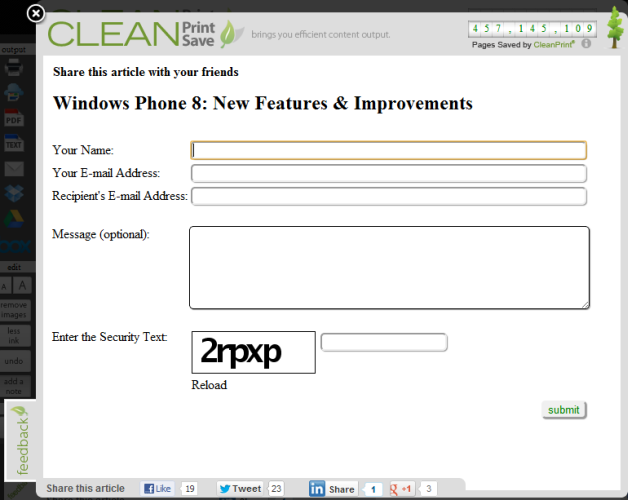 That's not all; Clean Save also comes with variety of options to allow you to share the article with your friends and colleagues. You can directly share the link on Twitter, Facebook, LinkedIn and Google+.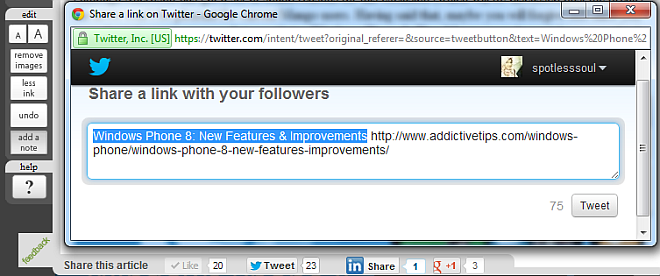 The developers of the extension call it 'Clean Save', due to its potential for 'cleaning and saving web pages'.
Overall, a really good extension for saving online content in the format of your choice, directly to cloud services. Although Chrome has inbuilt functionality to print pages as PDFs, the extensions comes with a variety of options to not only edit the page before doing so, but to also save them as both PDF and Text File (Word document) to Box, Dropbox and Google Drive. It's ideal for business professionals, students and educators, or anyone gathering information related to a project or interest. With a huge range of choices and smooth service, it certainly aims to grab attention of users.
If you don't believe us, you need to check it out yourselves.
Install Save Content to Box, Google Drive & Dropbox