How To Stream South Park Episodes On The Chromecast For Free
South Park is an exceptionally popular cartoon show known for its social satire. It's also free to watch on Comedy Central's website and on Hulu. Entire seasons are available for anyone interested in a South Park binge. Hulu has support for Chromecast but the service itself is regionally restricted leaving you with few options to stream South Park to your Chromecast. Fortunately, there is a pretty simply way around this involving Plex, the must have app for any Chromecast user, and the South Park channel for Plex. Here's how to add it and start your South Park binge.
Install Plex on your desktop and open it. In order to add a channel to Plex, you need to access it from a desktop. Go to the Channels tab and select 'Categories'. It takes a little time for the channels list to populate so wait for it. You can find the 'South Park' channel in the 'Humor' category.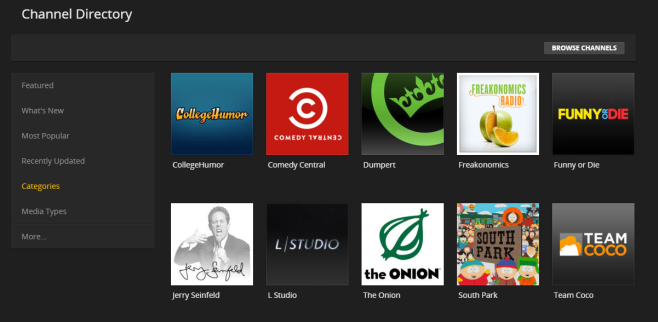 Once the channel is added, it's simply a matter of casting it to your Chromecast. To cast it from your desktop, you need to have the  Chrome browser and the Chromecast extension for Chrome installed.
On Plex, go to the Channels tab and select the South Park channel. Select an episode and play it. Click the Cast button at the top next to the Settings button, select your Chromecast and you're good to go.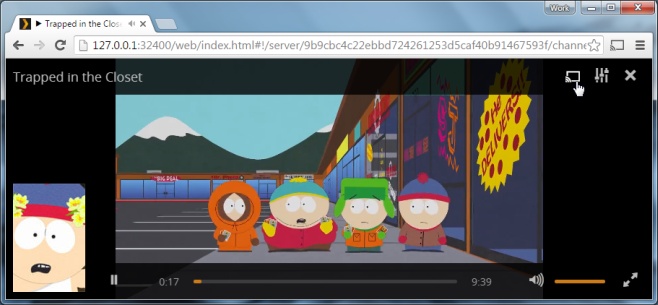 On your iOS or Android device, open the Plex app and go to Channels. Select the South Park channel, and then the episode you want to watch. Tap the Cast button and select your device.
Plex doesn't have a lot of big channels to offer but it does have some that are worth adding. You can also add Comedy Central and Funny or Die if you're looking for laughs though the channels may not make all content available for free. For anyone wondering, this is all legal. You are not pirating the show and you won't get arrested. Remember that the show is already available for free and this is just an alternative way to watch it and stream to your Chromecast.