New Features In Firefox 45 For Desktop And Android
Firefox 45 is has been released to the stable channel with functional and UI changes for end users. The Hello  feature which has yet to graduate from its Beta version now lets you share a tab to initiate a conversation. The Android version of Firefox has also received an update. Firefox for Android now has a 'tap to load' option for loading images at the user's discretion. The option makes loading a page easier on a data plan. A more important feature has been added for tablets that allows a user to restrict access to the mic and camera in a restricted Android profile. Lastly, when users select and share text from a web page, the URL is no longer included. Firefox for iOS also received an update three days ago. The new version comes with support for third-party keyboards.
Firefox – Desktop
Share Tab Using Hello
Assuming you're already signed into Hello and have the button added to the button bar, you can use it to share a tab. Click the Hello button and a 'Browse this page with a friend' button will appear. Clicking it initiates a Hello conversation and the link is shared over it.
This is how the link appears and I personally feel this is a clunky way to try and make the Hello feature more relevant. For anyone who just wants to share a tab and not initiate an entire chat conversation, this is overkill.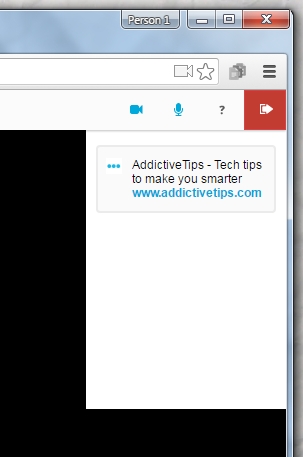 Access Synced Tabs From Button
A new button has been added for accessing tabs synced from other devices. It's hidden inside the customization menu so you will have to drag it out and add it to the buttons bar. Once added, click it to see which open tabs have been synced from other devices.

Synced Tabs In Awesome Bar
Synced tabs will also appear when you type a search query in the Awesome bar. For example if you're resuming a search you began on your phone, any tab that you had open will appear in the Awesome bar suggestions if it matches your query. The suggestion will show you what device you have the tab open on.

Firefox – Android
Tap To Load Images
This feature is meant to lighten the load of browsing on a data plan. To enable it, Go to Firefox's Settings>Advanced>Show Images and select the 'Only over WiFi' option. Whenever you open a web page on the go, the images will not load. To load an image, you will have to tap the place holder icon. This limits which images are loaded since they contribute to a large chunk of a web page's size.
Disable Camera & Mic Access
Android introduced profiles that a user could configure on a device. The profiles are synonymous with different users on a desktop OS. These profiles can be guest profiles or restricted ones for use by minors. Firefox 45 works with a restricted profile so that the main user i.e. the Admin, can disable camera and mic access in Firefox for the user in question. This feature is available only on tablets and not phones or exceptionally large phones i.e. phablets.
URL No Longer Included When Sharing Text
When you select text on a page, you can share it to any of the supported apps. In older versions, the text was accompanied by the URL of the page it was copied from. With Firefox 45 the URL will no longer be added.
Firefox – iOS
Firefox for iOS received an update a few days ago that added support for third party keyboards.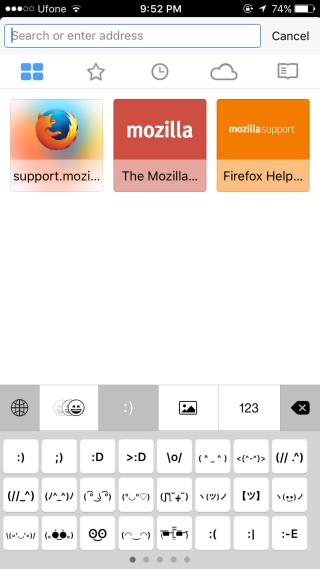 Firefox 45 for the desktop has done away with the Tab groups feature. On Android, the Settings have been reorganized. You can read the complete change log for Firefox or Desktop and Firefox for Android on Mozilla's official site. There are a few changes and some new features introduced for developers in this new version.
Install Firefox 45 For Desktop
Install Firefox From The Google Play Store
Install Firefox From The App Store