Find A Random Movie Or TV Show To Watch On Netflix, Hulu, HBO Go, Or Amazon Prime
The best movies, those that almost everyone is guaranteed to enjoy, are few. They can't be more than fifty thuogh IMDb has a list of the top 100. Once those options are exhausted, movie night can turn into a long search for something to watch. A few years ago we reviewed an app called Netflix Roulette that could find something random to watch on Netflix. The app has since been updated and it now supports Netflix, Hulu, HBO Go, Amazon Prime, Showtime, and Starz. You can find a random movie or TV show to watch on any of these services.
The service lets you limit suggestions to a particular genre, a particular IMDb rating level, and to either a movie or a TV show.
Visit Netflix Roulette and open the dropdown at the very top to select a streaming service. Next, open the dropdown next to Genre and select what you prefer to watch. If you're not particular about the genre, leave the option set to 'All Genres'.
You can search for both movies and TV shows, or either one of them. The IMDb score option lets you limit results that have an IMDb rating that is equal to or higher than 5, 6, 7, 8, or 9,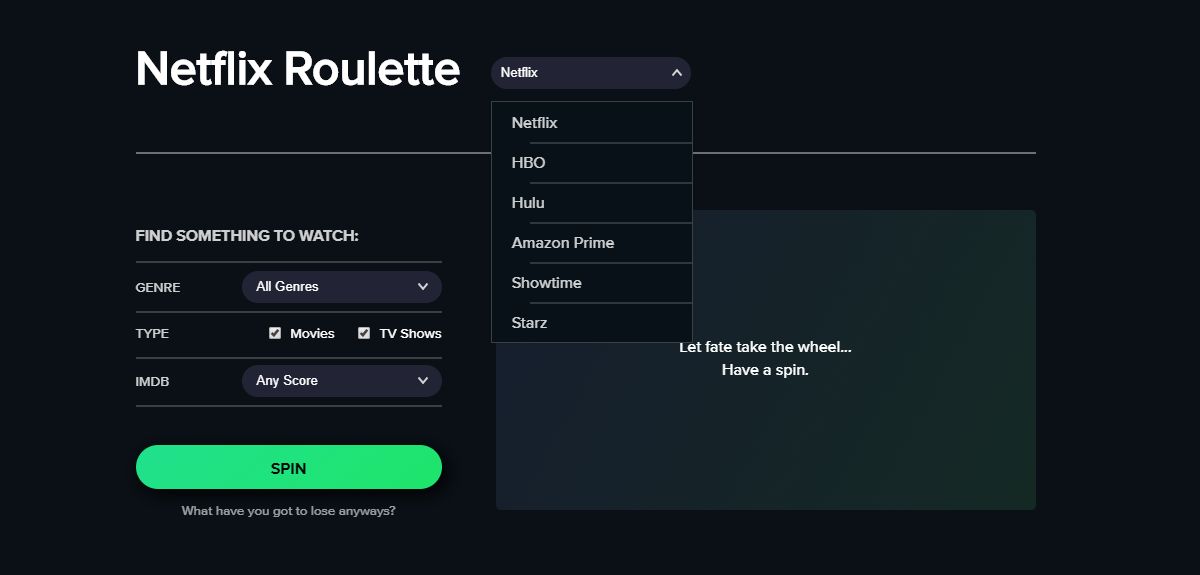 When you've made your adjustments, click the Spin button to get a suggestion. If you don't like the suggestion from the app, click Spin Again to get a new one.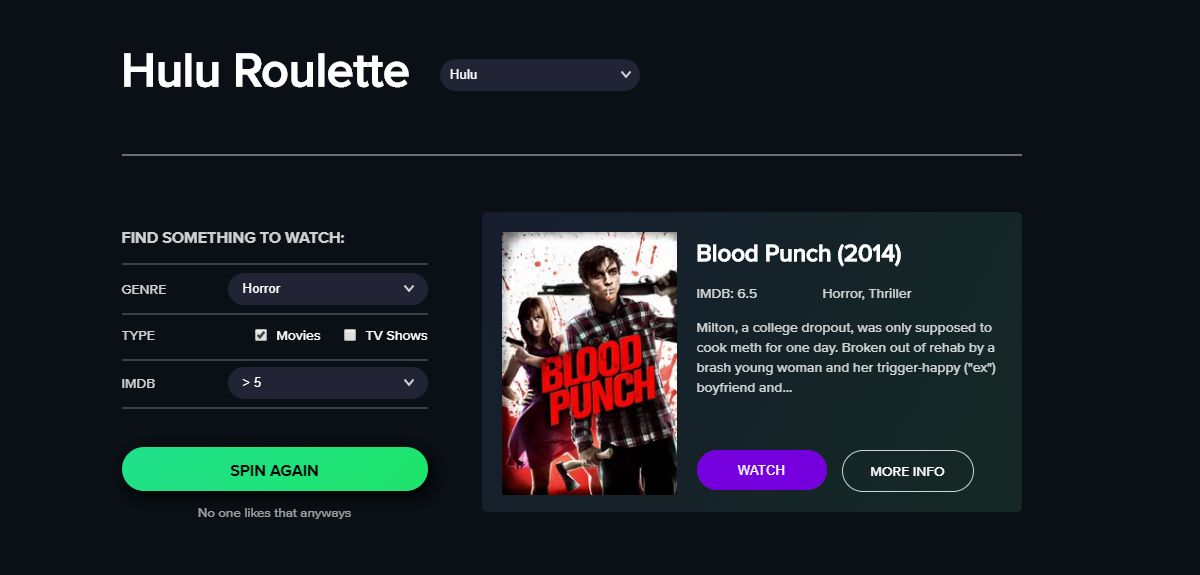 Between Netflix, Hulu, and HBO Go, there isn't much left wanting in this app. It's just not fair to call it simply Netflix Roulette anymore given how it now caters to other streaming services.
There's still no country filter in the app so while a movie or TV show might be available on the streaming service you've selected, it might not be available in your country. We're guessing here but the service probably checks the US and Canada catalog of these streaming services as that's usually the biggest. You can try using a VPN for Netflix to access US content. Hulu isn't available in as many countries as Netflix. Amazon Prime however is available in 200 countries so again, you will either need to use a VPN or go indulge in a little trial and error to find something that's both good and available in your country to watch.
Netflix Roulette still has most of its original features. The only noteworthy change is that it now supports more services but without any country filters. The IMDb rating is a good addition but the results have done away with service specific ratings left by users who had seen the movie or TV show.