Send Stickers And Gifs In Facebook Messenger With A Text Command [Chrome]
Facebook Messenger has supported GIFs and stickers for a long time now. The support spans all platforms that Messenger is available for. On both smartphones and the web app, you can search for and insert both stickers and GIFs into a conversation. Smartphones have the added advantage of being able to use third-party keyboards that are built specifically for inserting GIFs. xaoke is a Chrome extension that lets you send a GIF or a sticker via a text command inside Messenger. The GIFs are sent via Giphy.
Install xaoke and open Messenger or go to Facebook and open a chat window. To send a GIF, type /gif followed by what type of GIF you want to send. For example, if you want to send a party gif, you will type;
/gif party
If the extension is reading the command correctly, the text you type should turn pink. Type the command and hit enter. xaoke will find a random GIF that fits the type you asked for and insert it into the conversation.

For sticker, type /sticker followed by the type of sticker you want to insert. For example, if you want to send a hug you will type;
/sticker hug
Your recipient will see the commands you're sending followed by the GIF or sticker that you've sent.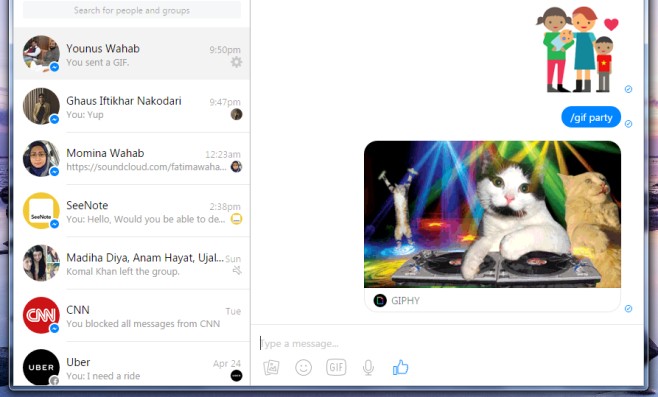 The GIF takes a little time to appear. The stickers appear almost immediately after you send the command. You can use a single word or a phrase to send a GIF or sticker i.e. both /sticker hug and /sticker baking cake will work with appropriate stickers being sent in both cases. There's no Firefox add-on for this just yet.
Install xaoke From The Chrome Web Store