Set Out Of Office Reply For Messages Sent To Your Facebook Page
Facebook introduced bots last year and a lot of pages quickly created them to always appear online. If you feel a bot doesn't do the trick for your particular type of page then you should try using automated responses instead. Facebook pages have a built-in feature for setting automatic replies. You can set one for when someone first messages your page, or for when you are away. Here's how to set up an automatic response to messages sent to your Facebook page.
Visit your Facebook page and click 'Settings' at the top left. It's next to the 'Help' drop-down.

A Facebook page has quite a few settings that you can tinker with. For our purpose, click 'Messaging' in the sidebar and then 'Response Assistant' on the right.

Change Response Time
The Response Assistant lets you change the response time. This appears on your Page when other users visit it and tells them how quickly you reply to a message. Click 'Change' and select a different response rate from the presets given.
Out Of Office Reply
To set an out-of-office reply turn on the 'Stay responsive when you can't get to your computer or phone' option. Once enabled, click the 'Change' button and add a custom message. Next, switch to the 'Schedule' tab and select what time this message should be sent to anyone messaging your page. Click 'Save' when you're done.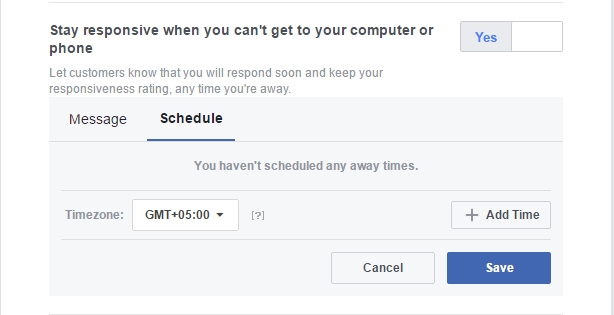 This allows you to, for example, tell customers who message you after 6pm that you will get back to them on the next working day.
Instant Reply
The 'Send Instant Replies to anyone who messages your Page' lets you send an instant reply to any and all messages sent to your Facebook page. This is when your page gets so many messages that it's hard to keep up with them all. It assures the other person that they will be contacted soon. Enable this reply and then set a custom message.
You can also set a custom message to be sent out the first time someone messages your page. You can do this by enabling 'Show a Messenger Greeting' and setting a custom message.