Use Google Hangouts As A Stand-Alone Chrome Desktop App
Google Hangouts replaced Gmail Chat and Gtalk a good while back. The Hangouts Chrome extension is what we use now in place of both though you can still chat inside Gmail even if you don't have the Hangouts extension installed. You can also find Gtalk on certain file hosting sites and use your Google account to sign in but Hangouts is now the face of Google's cat service. If you still want to use Hangouts as a desktop app complete with all its features, there's good news for Chrome users; Google has released a Chrome Desktop App for Hangouts. Our very first observation is that it is a bit Material Design-ish to look at with the floating button on the desktop but let's get a little deeper.
Once installed, you will launch the Hangouts app from Chrome's app launcher.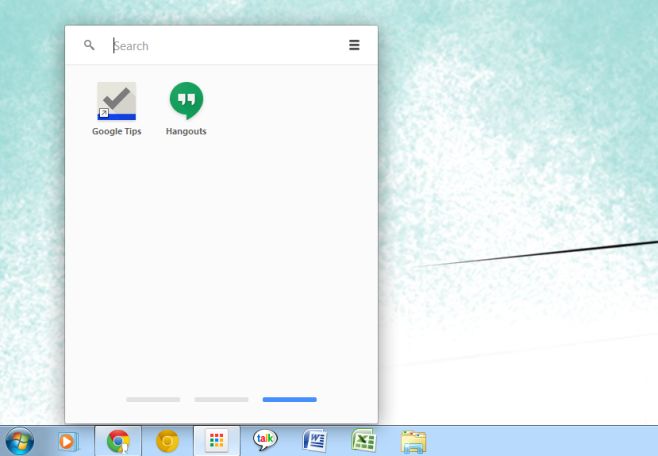 The app adds a floating Hangouts button to the desktop; you can drag it to any part of the screen and it will remain on top of all other windows. When you first launch it, it will take a few seconds to connect. You will be signed in to the account associated with Chrome.
Once signed in and running, click the floating button to open the Hangouts window. The layout is a bit different from the Hangouts extension; you have two tabs; one for ongoing conversations and one for your list of contacts. Both tabs support a search bar. The Hangouts window stays out of sight and all you really see if you aren't using it, is the floating button. The window itself can't be dragged around which is annoying because every time you want to move the chat windows, you have to click the floating button and move that around. Doing so effectively closes the other windows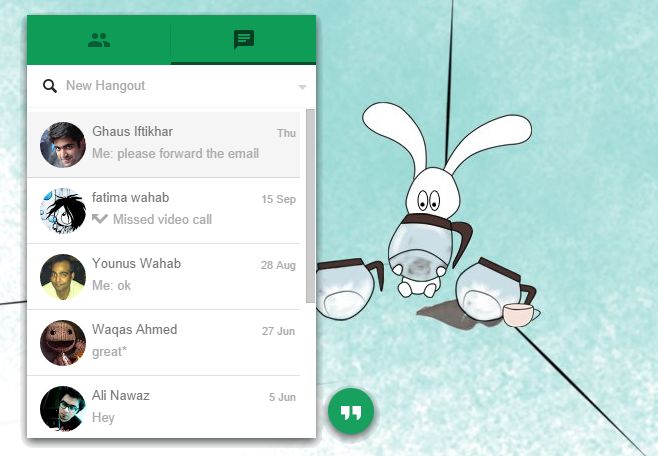 There are no extra settings for the desktop app other than what you get in the Hangouts exension. You can quit the Hangouts Chrome desktop app by clicking the cross button that appears on the floating button when your mouse cursor is over it. It will send you alerts when there is a new message but there is no way to send the floating button to the back of all current windows. You can prevent the Hangouts app from staying on top of all windows from the settings. Click the drop-down arrow next to search to view the settings panel.
Download Hangouts Chrome Desktop App