How To View Twitter Interactions With A User [Chrome]
Twitter is often a messy place.  It's hard to keep track of your interactions because people can change their name and handle at will, just about anyone can tweet at you, and there's no way to check your conversation history. A Twitter thread is one of the few forms of organized thoughts you will find on the site. The shortcomings of Twitter aren't a big deal if you don't use the social site for anything important. The only problem is, a lot of people use it network. It's the modern day 'word of mouth'. Twitter Interactions is a Chrome extension that lets you view Twitter interactions with a user that you follow, or that is public.
When you visit a Twitter profile, a complete history of all tweets you've sent to the account is listed. You can scroll through them, and click a tweet to view the entire conversation thread.
View Twitter Interactions
Install Twitter Interactions from the Chrome Web Store. Visit a Twitter profile and you will see a new section on the page that shows you all the tweets you sent to the account. When you click a tweet, it takes you directly to it. If the tweet wasn't in reply to another tweet, the extension will open it. If it's part of a thread, you will see the tweet in the proper thread format.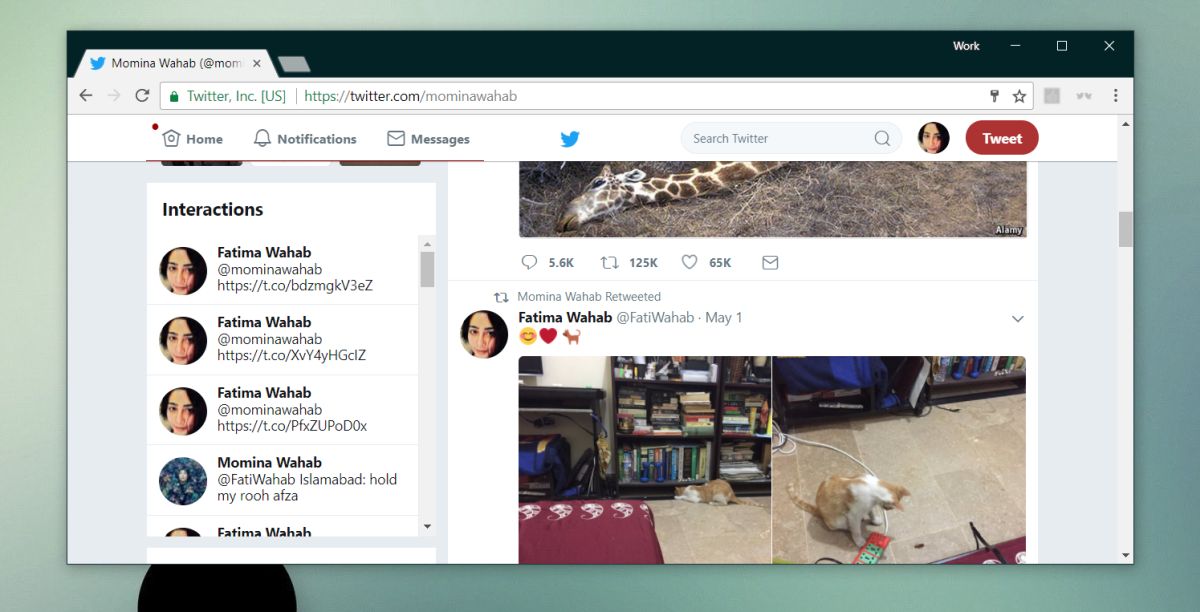 When you click a tweet, it opens in a tab. If a tweet includes multimedia i.e. a video or an image, you won't get a thumbnail for it in the panel. All you see in the panel of tweets is a link. You can view Twitter interactions with any profile that you can access. This means, if you follow a private Twitter account, you will be able to see all interactions with said account.
If a Twitter profile that you never followed was Public and later switched to a private account, you will not be able to see previous interactions. The key is to be able to access the account and if you can't do that, the extension won't work for you. Past interactions only include tweets and not DMs or likes.
Limitations
The extension doesn't really have any limitations but, we should warn that if you're using it to view tweets of a private account don't waste your time. This extension is not a tool for getting past Twitter's privacy restrictions. Likewise, if you've been blocked by an account, you will not be able to see past interactions. If a public account has blocked you, you can always view their Tweets when you aren't signed into Twitter but this extension requires that you're signed in for it find all past interactions.