View Size, Dimensions, URL & Other Details Of Web Images From Right-Click Context Menu [Chrome]
When Google revised its design for Google Images and rolled out the new results view, it also incorporated additional details about images such as the image size in the thumbnail and filters on the side for narrowing your search result. Google recognized that when looking for images, users might be looking for a particular size or type of image and that is true whether you're browsing Flickr, Picasa or any other website. Image-Details is a Chrome extension that aims to make this task easier. The extension adds an Image-Details option to the right-click context menu, which when clicked, displays a window that lists the file name, type, MIME type, size, dimensions, source URL, and the option to download the image to local storage.
Once installed, browse to any website and right-click on an image. Select the Image Details option and a separate window will open.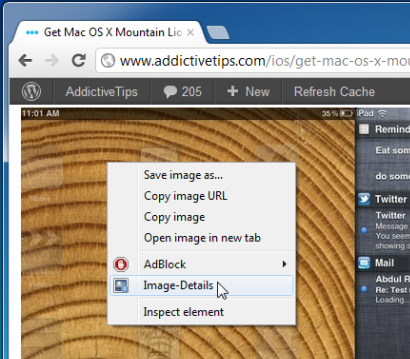 The new window previews the actual image and gives you its name size, type and dimensions. If you double click File-Name field you can edit the file name. At the very end of the file name field, there is a save button. Clicking the button downloads the file and saves it with whatever name you put in the field. The extension allows you to enter a name of your choice for saving the file. Alternatively, you can click the link or right-click the image preview and select Save Image as to download it.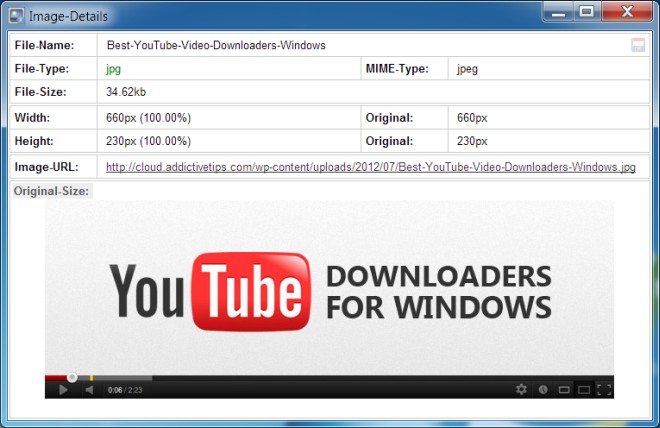 For ordinary websites, the extension might not be that useful since you can use the developer console to view some of these same details. In cases where images appear in frames or it is difficult to find the source URL, this extension is possibly one of the faster ways of doing it.
The extension does not work for images that are protected from download. As per our tests, we could not bring up the Image Details option when right-clicking on a protected photo on Flickr. Even if you do find that the extension can by-pass download restrictions on certain websites, be warned that it is both unethical and illegal to use those images. Make sure you only use images that are not protected and available for free use by anyone.
Image-Details is a simple but useful extension for all those who want find the need to check specific details of web images before downloading them. The link provided below will take you to the extension's Chrome Web Store page.
Install Image Details For Google Chrome
Liked this extension? You might also want to take a look at the other Chrome extensions we've reviewed so far.