YTVD Is Like TweetDeck For Your YouTube Channel Subscriptions
YouTube can prove to be immensely distracting; you start off by watching a new video uploaded by one of the channels you're subscribed to, or simply a video from a link someone shared with you, and then get distracted by the trending videos and the countless suggestions, some of which you just can't help but click. YouTube Video Deck is a web and Chrome app that lets you manage your YouTube subscriptions and check for new videos from the app itself, without having to visit YouTube. Sadly you still have to go to YouTube to watch the video itself. The interface is really nice but it does have ads at the bottom of the page. The app connects with your YouTube i.e. Google account and detects the channels you've subscribed to. You can add any number of them – or even all of them at once, if you like – to the app. Videos can be marked as watched as well. Its column layout makes it sort of a TweetDeck for YouTube.
Sign into your Google account, click the 'Add Subscriptions' button at the top, and all the channels you've subscribed to will be listed. You can selectively add subscriptions one by one, or import them all at once by clicking 'All Subscriptions'.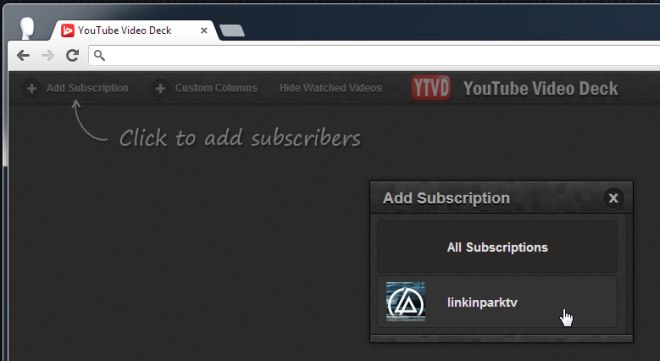 Each subscription loads in its own TweetDeck-like column and you can scroll through the videos uploaded to it. You can also add custom columns that include two or more subscriptions together. YouTube Video Deck can automatically hide videos that you've watched using the app, though it does not take your past viewing history into account. To enable the feature, click 'Hide Watched Videos' next to the add column button, and any videos you watch through the app from that moment onward will disappear from the list automatically.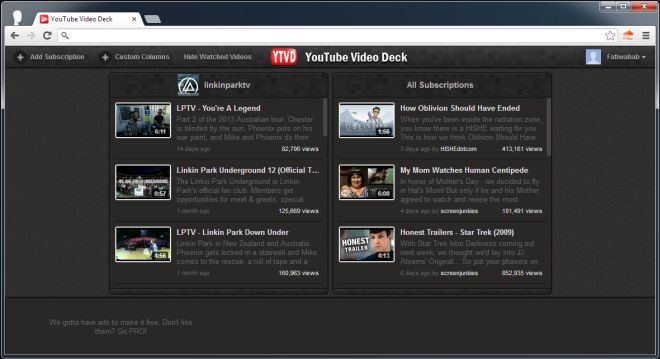 Individual columns can be repositioned and removed any time. Hold your mouse over a column's title, and buttons for moving the column to the right or left will appear. The eye button (that might seem like a preview button to some) allows you to mark all videos from that channel as 'watched'; it's the video subscription equivalent of the 'Mark all as read' option you find in RSS readers. The cross will remove the current column. Note that the column is just removed, you are not unsubscribed from anything. If you click the name of the channel, you will be redirected to its page on YouTube. Videos themselves are still played on YouTube.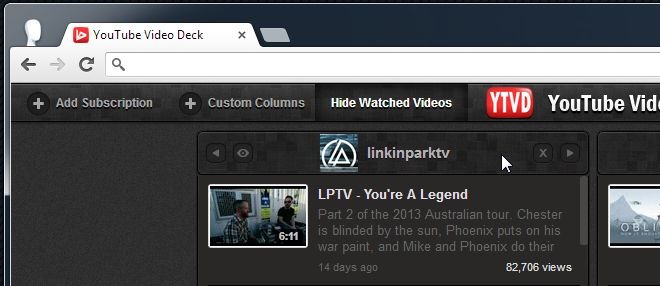 At the bottom-right of a video's thumbnail, you will see a small button. Clicking it lets you share the video on social media or to add it to your watch later list. YouTube Video Deck is pretty good at what it does, and the only improvement we'd like to see in it is for the videos to play within the app.
Install YouTube Video Deck From Chrome Web Store
[via Lifehacker]