5F5ize: Analyze The File Size Of Special System Folders In Windows
When analyzing low disk space issues, one can often overlook unwanted files in system directories. This is because many system default folders are ignored by most users to avoid facing system issues. Even system cleaners also ignore many junk files within system directories (e.g., program file directories left by uninstalled applications), to avoid destabilizing installed applications and the system on the whole. Low disk space in the primary partition can end up causing an number of system issues, including making the system inaccessible (using a normal login session). 5F5ize is a portable application that scans and displays the size of selected system folders. This makes it possible to single out and analyze the size of Windows default folders, in order to identify heavy directories, e.g., start menu, programs, startup, app data, print hood and other system folders.
Just launch 5F5ize and select the directories for which you wish to check the file size, and click Get Data. Once the heavy system directories are identified, you can remove junk files from that directory. For example, if you think that the Program Files directory is larger than it should be, you can check and remove folders containing remnants of uninstalled applications. This can help you regain a significant amount of your hard disk.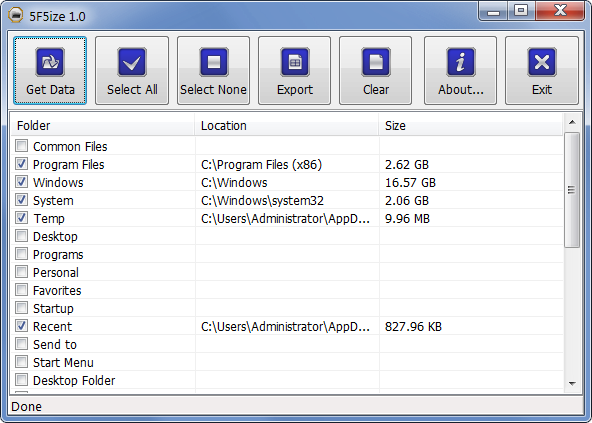 Once the data is obtained, you can export the stats to a CSV file for further investigation using the Export option. It must be noted that the application may appear hung during the analysis of selected folders; this is normal application behavior, as it does not have any progress bar. 5F5ize works on Windows XP, Windows Vista and Windows 7