6 Easy Ways To Free Your Computer's Hard Disk Space When Using Windows
Editor's Note: After lot of comments from the users, I have now changed this post's tile and made some changes in the content. And I will have to agree that saving hard disk space does not increase the computer's performance. So my readers have won after a short protest 🙂 Just kidding.
I will now(in a few days) write about how to increase performance that will in fact focus on two things, CPU and RAM.
Did you ever get tired of your hard disk that is always full? Do you want to increase space on your hard disk by removing any useless junk? There are many ways to speed up your computer without purchasing more memory or upgrading your CPU.The following easy steps are simple to follow and almost guaranteed to increase the hard disk space of your computer!
Disk Cleanup
After a lot of use, your Computer's hard disk should be cluttered up with unwanted files that you'll never need. Instead of having to manually go through and delete every unwanted file, your Computer has an easy-to-use built-in method of getting rid of these unwanted junk files.
Open My Computer, Right-click on one of your Disk Drives, and Select Properties Select Disk Cleanup.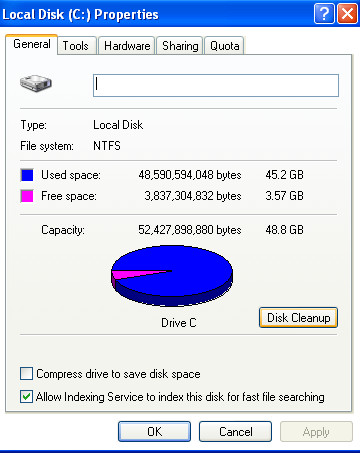 When you click this, a small box should pop up that tells you that it's calculating the amount of disk space it can clean up. This can take several minutes depending on how much clutter you have on your computer.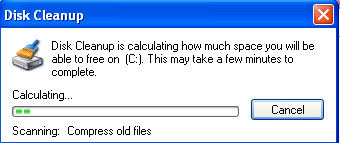 Once it's finished, a small box should pop up, giving you a few options of what you would like to have cleaned up.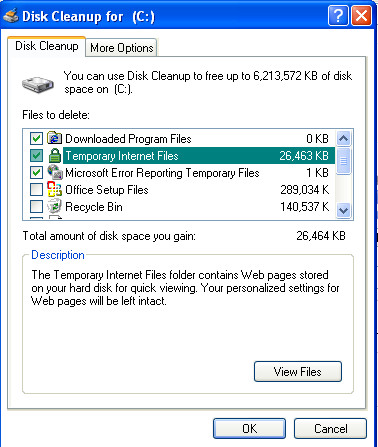 Compress Old Files– Simply compresses all your old files and folders that you don't use anymore. Don't worry, it doesn't get rid of them. If you want to access your old files, it will only take a little extra time before you can open it up. The amount of space that this cleans up is massive.
Temporary Files – Just gets rid of all the temporary files that you accumulate while browsing the internet. Your computer most likely saves these so that you can re-enter the pages faster next time, but the amount of space it takes up is great enough that the time-saving is practically non-existent.
These two are your biggest space-hogs and take up space that you could be using for much more important things.
Now click OK and wait while your computer cleans up that valuable space.
Defragmentation
Another way to improve the performance of your computer is to defragment your hard drive.Basically, defragmenting is putting files back where they belong. With the files in the proper order, your computer will run more efficiently. It's just simple to do, so you don't need to hire a computer expert to defragment your computer. You just need to plan ahead, because if you have a lot of files on your computer, it could take a while. And it's best not to use your computer while defragmenting.
Open My Computer, Right-Click on your Disk Drive and  Select Properties.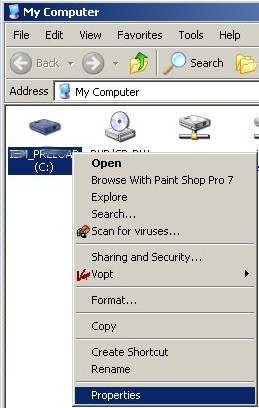 Select Tools and Select Defragment.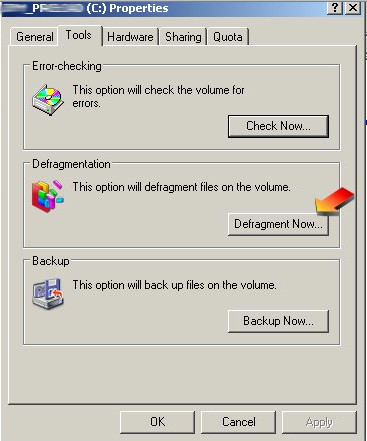 This will open the defragmentation window and will begin to put your files back together. This may take several minutes to even an hour depending on how frayed your files are and how long it's been since you last defragmented . As it defragments, be sure to leave your computer alone, as the opening of a file or folder will cause it to start over again. When it is complete, it may require you to restart your computer for the effects to take place.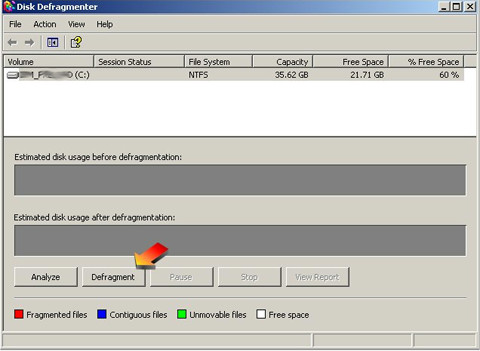 It would be advisable for you to do this about once every 6 months.
Cleaning Your Recycle Bin
A surprising amount of the problems involved with computer speed are involved with the Recycle bin. When you delete unwanted files and folders, they go to the recycle bin. But where from there? Once a week, old files and folders MAY get routinely deleted, but for that time span, they just sit around and take up space. In order to get rid of those old files.
Right-Click on Recycle Bin Select  Empty Recycle Bin.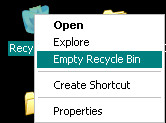 A box will pop up, asking you if you really want to get rid of those files, simply click Yes.

And those files are gone!
Disabling System Restore
Editor's Note: Don't do this if you are a beginner in using Windows XP, System Restore is important when it comes to restore your lost settings. Make sure you know what you are doing before turning off System Restore.
Right click My Computer, and then click Properties. In the System Properties dialog box, click the System Restore tab.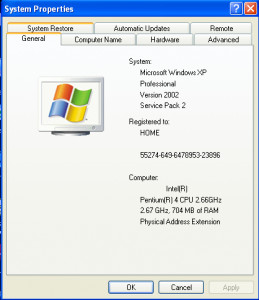 Click to select the Turn off System Restore check box. Or click to select the Turn off System Restore on all drives check box. Click OK.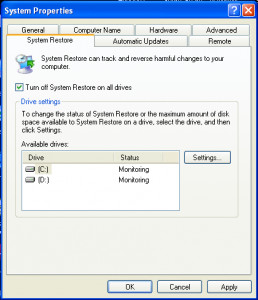 When you receive the following message.You have chosen to turn off System Restore. If you continue, all existing restore points will be deleted, and you will not be able to track or undo changes to your computer, Do you want to turn off System Restore?
Click Yes to confirm that you want to turn off System Restore.
Clearing Internet Explorer Cache Files
All those files stored in your cache take up space, so from time to time, you may want to clear out the files stored in your cache to free up some space on your computer.
On the Internet Explorer Tools menu, click Internet Options. The Internet Options box should open a General tab.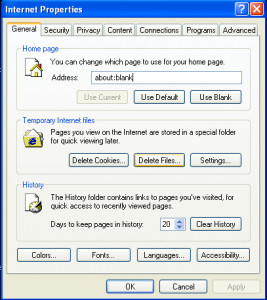 On the General tab, in the Temporary Internet Files section, click the Delete Files button. This will delete all the files that are currently stored in your cache.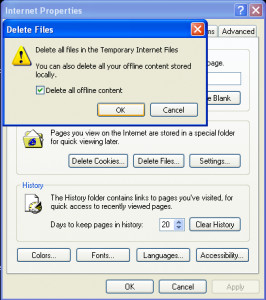 Remove Old Programs
Chances are, you still have those old programs on your computer from years ago. That old game demo you tried, that software that never seemed to work out, and others. Chances are, those programs are still on your computer, taking up valuable space. Get rid of them for good.
Click on Start Menu, Go to Control Panel, Open Add/Remove Programs, Select Sort By Size on the upper menu of the Add/Remove Programs page, Select Uninstall on all programs that you recognize and no longer need.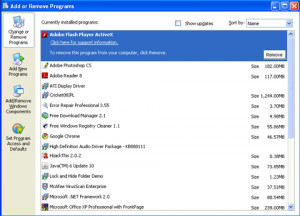 That's all for today, if you think I have missed any tip, feel free to mention it in the comments.
Update: Also have a look at this useful tip to remove useless startup programs "How To Manage Your Startup Programs Easily, An Easy Way To Increase System Performance"