Acronis: Windows Disk Drive Health Monitor Utility
Drive Monitor utilities are abundant and also useful. They provide complete information by monitoring the drive and can be distinctive in attributes. Drive Monitors seemingly have to be efficient and interactive in terms of finding and reporting serious threats & risks along with suggesting possible ways to cope-up with them. Whilst many tools have been developed & praised before, Acronis Drive Monitor is full-featured monitoring tool which informs user on each and every potential threat. It also keeps tab on drive temperature, backup monitoring & utilities, and critical events.
As far as disk health is concerned, S.M.A.R.T(Self-Monitoring, Analysis, and Reporting Technology) interface has been used to thoroughly find out any sort of mechanical and other detrimental problems that may erupts in future. For non-compatible S.M.A.R.T disks customs scripts can play an important role in finding out problems & monitoring disk health. Acronis uses the very same mechanism to measure out the health of your disk drive. Once installed, it sits in system tray and immediately starts monitoring your drive for any potential problems that primarily includes; power on time, disk health, disk temperature, and critical events (reported via Windows Event Log).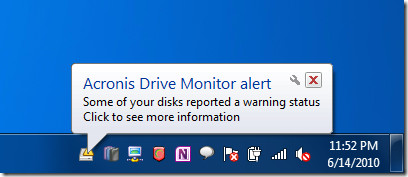 You can open the main interface from system tray icon to view the complete details. Under Summary window, it will summarize the total monitoring results in three groups; Temperature warning, Backup utility monitoring (if installed), and Critical events invoked (from Windows Event Log).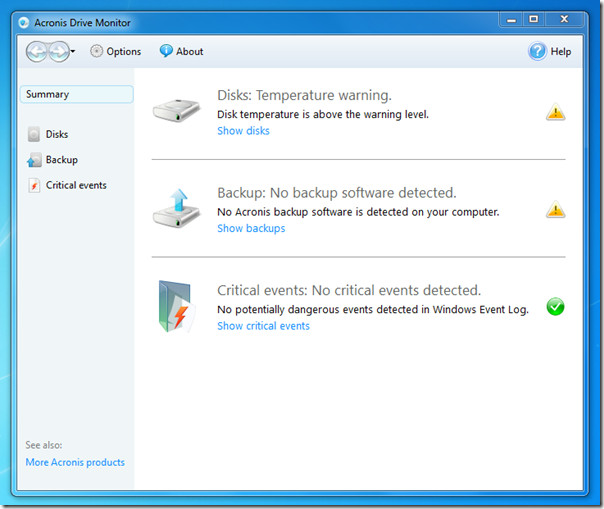 From left sidebar, you can view the details of theses groups. Click Disks to find out the monitoring results related with disk drives. Under Disk overview, it lists down the overall disk monitoring results, from S.M.A.R.T parameters tab, you can view all the parameters it considered while monitoring, and under Events tab, you can view event report generated.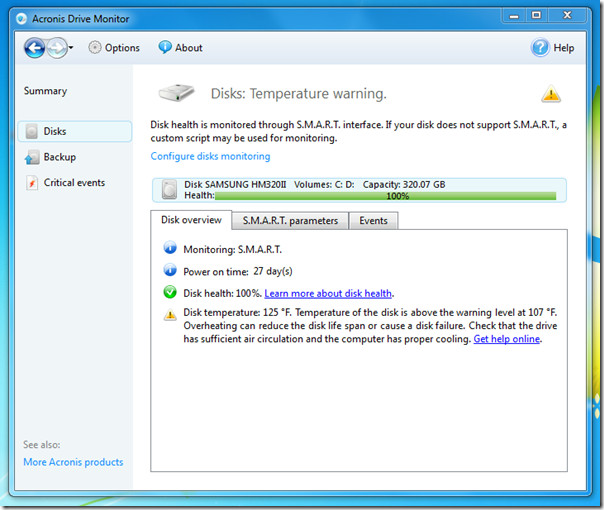 To view monitoring results for Backup tools, click Backup from left sidebar. From Critical Events, you can view all the critical events it captured through Windows Events Log. To view complete details of a specific event, double-click to open Event details.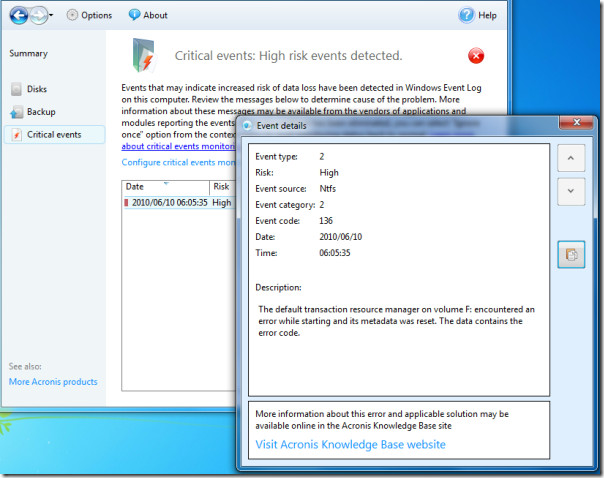 Acronis Drive Monitor integrates perfectly in Windows and generates a useful hard disk report. The utility is simple to use which makes it easier for both beginners and administrators alike.
It runs on Windows XP, Windows Vista and Windows 7. Application was tested on Windows 7 32-bit OS.
Download Acronis Drive Monitor
For more, also check out DiskPulse and DiskSmartView.