Add Applications As Favorites To Quickly Kill Their Processes In ProcessKO
Killing an application's instance needs multiple steps to be taken, as it is required to open Task Manager, find the application's instance and finally end the hanged process. Although application crash is a common phenomena, it does not happen much frequently with stable applications. If you are a developer or a software tester, then you may need to close the ceased processes of the application being tested. To shorten the time to kill its process, you can make use of ProcessKO, which provides a wonderful way for this sole purpose.
Its working is based on three modes, two having more significance, which are Favorites and KO Timer, other is Instant K.O to quickly kill the process. The Favorites section refers to those processes which are likely to be hanged and can cease other program's resources. In this section you can add as many applications as you want, For adding a program, it provides you with a list of system and user instances running the back-end, however you can always pick out a program by specifying the path. KO Timer works more or less in a same way, a subtle difference is that you can set a timer with the set of added programs to be automatically killed.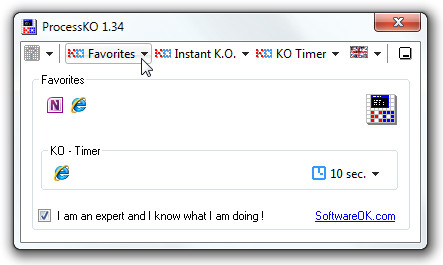 While testing it out we found the application very responsive and actions were triggered as intended. The timer feature works efficiently and forcibly closes the application without asking for confirmation.
It runs on all Windows based OS, testing was done on x86 system running Windows 7.