Add Lyrics To iTunes Music Library Using iTunes Lyrics Adder
Looking for way to add lyrics to iTunes Music Library but don't want the fuss of having to manually add them from Get Info –> Lyrics tab? iOS devices, including iPod, iPhone, iPad can automatically detect lyrics added from iTunes Lyrics tab present in Get Info window which is accessible via right-click context menu, but adding lyrics this way is surely a tiresome process as it requires you to first find lyrics from online lyrics repositories and then add them manually to each track in your playlist. iTunes Lyrics Adder is a miniscule yet powerful application that automates the process of adding lyrics to songs listed in iTunes Music library.
Before you launch the iTunes Lyrics Adder, it's recommended to verify your tag information of your songs present in iTunes library. Since iTunes Lyrics Adder reads tags to fetch lyrics from online sources – azlyrics.com and mp3lyrics.org, make sure that all songs contain correct meta tag information. You can add and edit tag information from Info tab present in iTunes Get Info window or use previously covered MusicBrainz Picard Tagger to automatically add/fix music tags.
Launch iTunes Lyrics Adder after launching iTunes, select a source, and click Search and Add Lyrics. The application will find all songs that lacks lyrics and add one from the online database (of the source you have selected).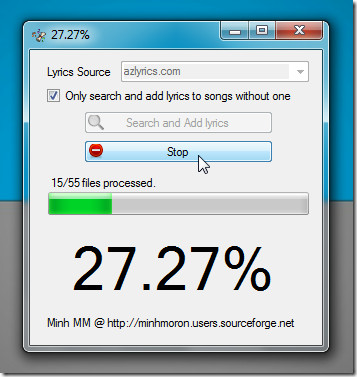 Once the process is finished, a log file will show songs for which it couldn't find lyrics.
Before you start sync process with your iOS device, open Lyrics tab to check whether lyrics have been added to tracks or not.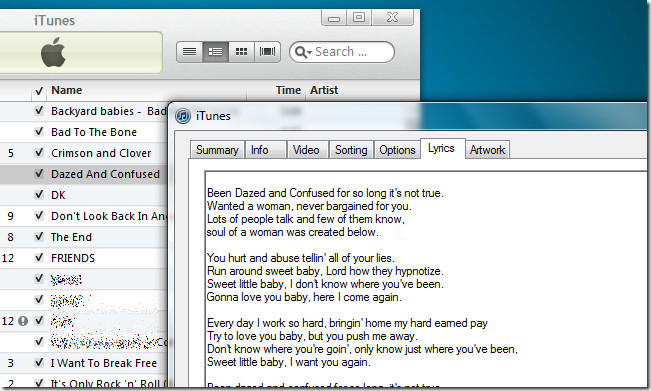 iTunes Lyrics Adder certainly provides one of the easiest solution for adding lyrics to iTunes Music library. It is an open source application that works on Windows XP, Windows Vista, and Windows 7.