ADO SQL Console: Run SQL Queries Under MS Access, SQL Server, Oracle & More
Although Relational Database Management Systems have built-in consoles to query records from databases, they generally don't allow users to open different kind of databases to run multiple queries simultaneously. For instance, if you're working on MS Access, PostgreSQL database, along with InterBase RDBMS, it will become a bit difficult to manage databases separately and query information for doing comparison and data analysis. What you probably need is an application which offers MDI based user interface to establish, connect and query table data from multiple types of databases.
ADO SQL Console is a small, lightweight (takes only 925 KB of disk space) application for Windows which lets you effortlessly handle multiple databases and, importantly, run SQL queries over them without having to open databases separately. The application supports MS SQL Server, MS Access, InterBase, Firebird, Oracle, and many other database servers which can be connected via Open Database Connectivity (ODBC) driver. ADO SQL Console provides separate SQL console for each configured database to run SQL queries without having to open their table listings. Additionally, it lets you save queries results with complete table formatting in most widely used file formats, including, CSV,  TXT, HTML, RTF, Excel (XLS), BIF, and XML. This comes useful in situations where you need to quickly import query results to DBMS which doesn't offer direct data migration support.
ADO SQL Console doesn't confine users to establish connections with database server by specifying connection string. You can simply choose the ODBC driver from the given list, select source destination path and enter login credentials to connect with required server. To specify additional parameters which are not supported by ADO SQL Console, enter complete connection string comprising of source, user name and password, DB name and type, etc.
To get started, launch the application and from Database menu, hit Register Database. Enter DB alias and click Configure to select ODBC driver for your database server. If the required ODBC driver isn't listed, you need to either the refresh the list from ODBC Data Source Administrator accessible from Control Panel or manually add it to the list. Once done, click Next to specify the DB server user credentials.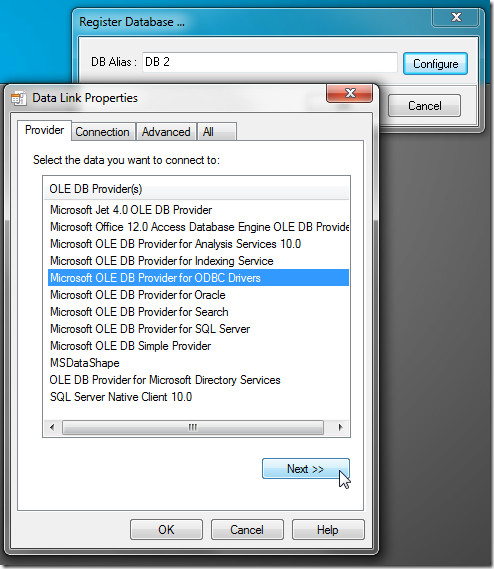 The Connection tab requires specifying all the database server related settings along with username and password. The Connection tab settings vary according to database type. It may require connection string for ODBC data, direct source path for Access database, name of server and database name for SQL Server and so on.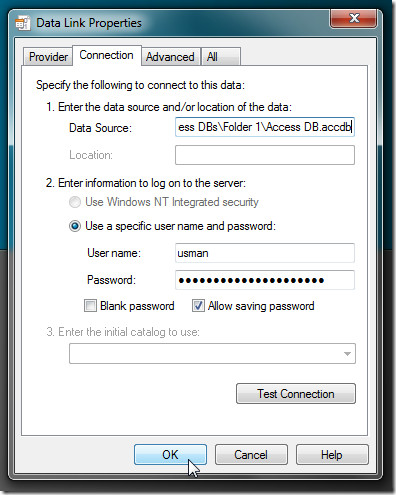 Under Advanced tab, you can define network settings including impersonation and protection level and change default access permissions. The All tab shows the summary of connection with editable values, useful for adding mode, extended properties, connection timeout, and initial catalog name. After you've configured the settings, click OK to list database in ADO SQL Console configured connections list. Now select the connection and hit Connect to establish the connection with database server followed by SQL Console button on toolbar to open SQL console. For each console window, it presents SQL, Result, and Log tabs to run queries, view results, and find errors respectively. You can navigate between consoles from bottom of the window where you will see currently active consoles' aliases.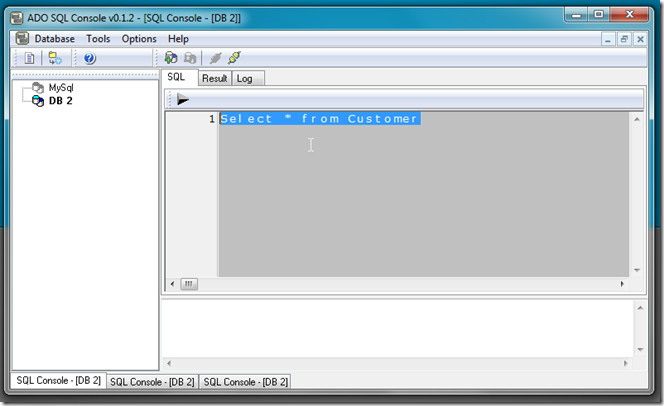 The Result window includes some additional options to export the table data in aforementioned formats and print the current table view. From Log tab, you can check all previously executed SQL queries along with date and time stamps.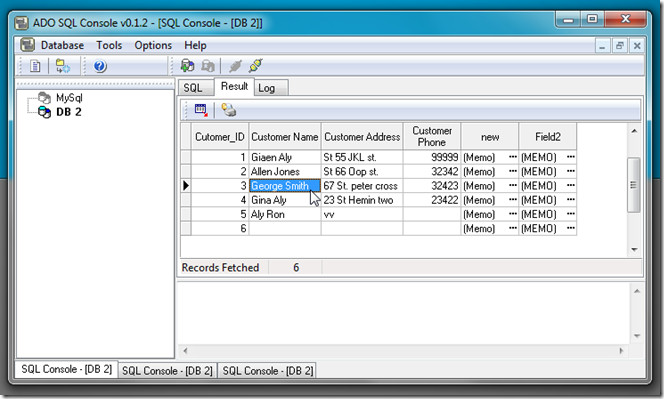 ADO SQL Console lets you customize appearance and table data view. Open Preference to change grid row color, enable alternative row background, toggle flat style and incremental search on/off. The Editor window contains settings for SQL console with layout. It allows you to change default margin, gutter width, fond family, size and color.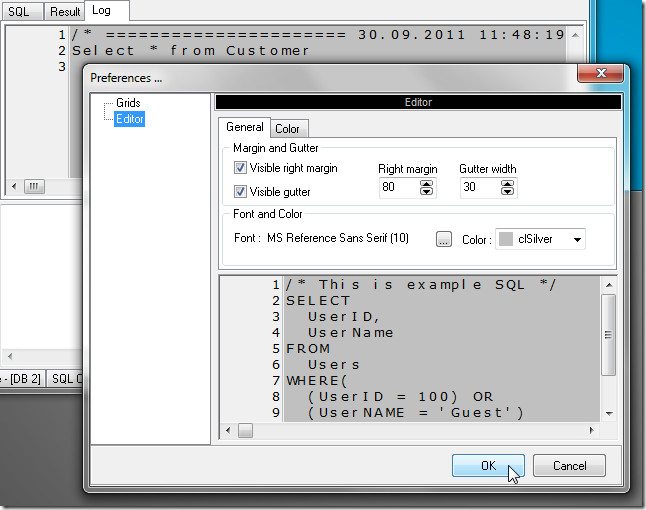 Working on multiple database management systems is surely a cumbersome task especially when it's required to query different kind of table data fields & records to analyze them side by side. ADO SQL Console effectively solves the problem of querying table data from multiple database servers. The only downside is that it doesn't offer pre-defined functions and query formats to quickly fetch table data from databases. It works on all versions of Windows.