Adobe Photoshop Express Now Available On Windows 8 And RT
Photoshop is like air to professional image editors but with its Pandora's box of options and features, it can be quite gushing for novice users. Usually what I'm looking for in an image editor are a few Instagram-esque filters accompanied by some basic styling and editing tools – nothing with a steep learning curve. Adobe Photoshop Express for iOS and Android has been around for quite a while, but now Adobe feels it's time to up the ante and bring it to Windows 8 and RT. Though many would consider the free software 'infantile', here's still a good opportunity to size it up against your favorite image editors, and see if it earns a place at your editing table.
Adobe Photoshop Express is a Windows Store app, and you can install it from the link provided at the end of the post. So, let's get editing! Launch the app and from its home screen, you will be able to browse for image files from your local hard disk via the Pictures Library button, open any photos saved in your Adobe Revel account, or even snap a picture right away using your PC or tablet's webcam.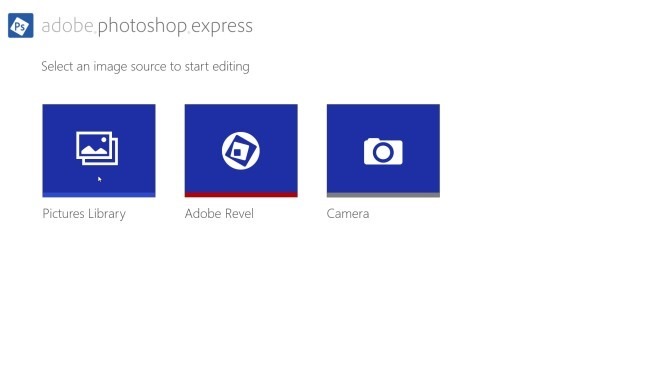 Note that you can also open any picture in Adobe Photoshop Express from desktop mode by right-clicking it, going to the 'Open with…' submenu and selecting 'Adobe Photoshop Express '. Here's the Tarantula nebula for your viewing pleasure.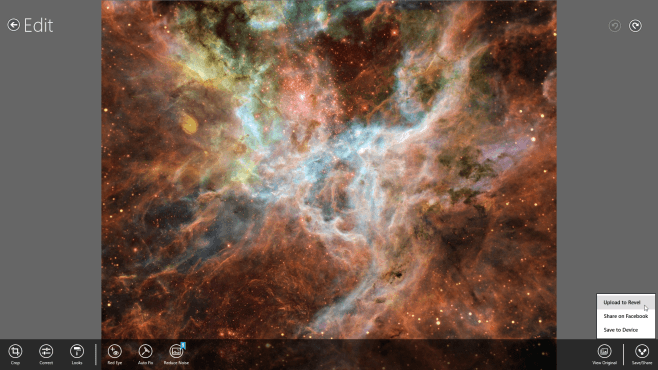 I'm a sucker for Windows Store apps' user interface; 'Modern' apps have that air of elegance others can't quite keep up with. Your editing tools are lined up at the bottom; click any one and choose from the settings therein. There's the usual 'Crop' feature that you'd expect any half-decent photo editor to have, along with a 'Red Eye' removal tool.  'Correct' brings out menus for 'Contrast,' 'Exposure' and 'White Balance,' where you can adjust different sliders to get the desired effect. Some buttons like 'Auto Fix' require nothing more than a click to automatically resolve common issues in the image, and I can name at least one person who'd be more than satisfied with the results.
There are also quite a few eye-catching effects available under 'Looks'. These Instagram-like filters let you instantly turn even a dull image into a masterpiece at a click of a button.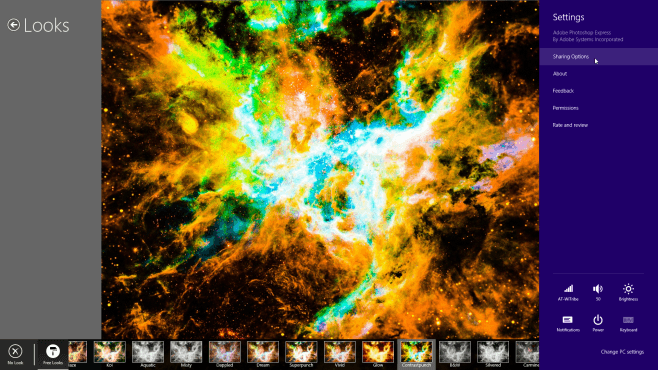 From the charms bar, you can view and change Adobe Photoshop Express's settings & sharing options, and clear cached images. One really swell feature is the 'View Original' button: just click and hold it to quickly see what the image looked like before you changed it. Ultra-convenient, isn't it? You can also share the image to Facebook or Adobe Revel, or save it to your computer, from the icon at far-right.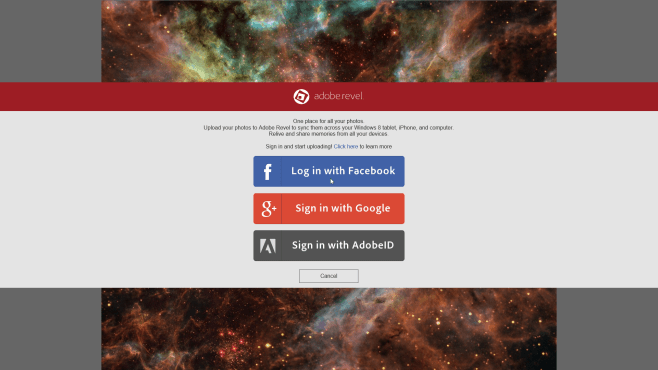 Adobe Photoshop Express also lets you share images via email, or upload them to SkyDrive via the share option in the charms bar, as shown below.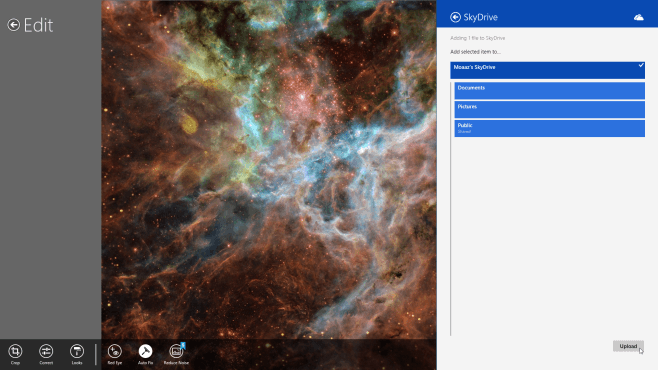 Since Adobe Photoshop Express is a Windows Store app, Windows 8 users can take full advantage of the operating system's multi-tasking features; you can snap the app to a sidebar while working on something else, and resume photo-editing at a moment's notice.
Lastly, there are two paid in-app features; 'Premium Looks' ($2.99) adds a plethora of even cooler filters, and 'Reduce Noise' ($4.99) enables you to smooth out grain and speckling. You can try both these out for free, but you won't be able to save changes a photo with these effects applied, unless you purchase them.
Download Adobe Photoshop Express For Windows 8